One Rule Change That Forever Altered NFL Linemen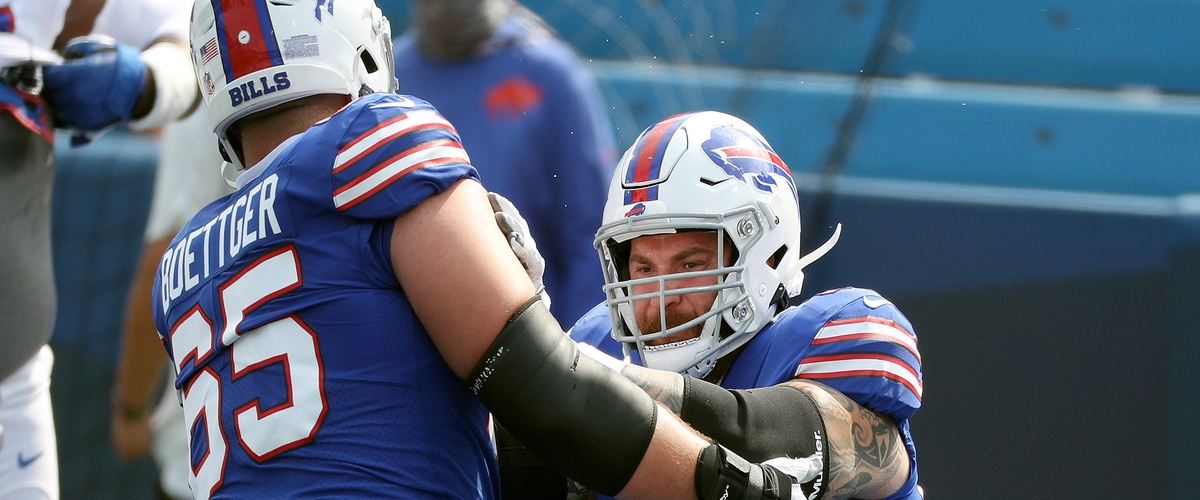 From 1957-1967, the Baltimore Colts had an offensive lineman named Jim Parker. He was a 9-time first-team All-Pro lineman, a Hall of Famer, and made it the NFL 100th anniversary All-Time Team. He also weighed 273 pounds in his playing career. Compare that to recently retired Joe Thomas, he weighed 312 pounds in his playing career. Thomas isn't an outlier here, the average Offensive Tackle in 2018 weighed 314 pounds.
From 1967-1978, Alan Page was one of the dominant Defensive Tackles in the game. He weighed 245 pounds in his playing career. Compare Page to All-Pro Defensive Tackles from this past season in Aaron Donald and Cameron Heyward, Page is outweighed by nearly 50 pounds.
If you watch old NFL films, you will notice these differences as well as other oddities in the style of play. You see smaller linemen that wouldn't even be big enough to play tight end in today's game. While a lot contributed to the change in NFL linemen including the fact that players used to be far less athletic (with the lack of science and training), the fact that the best athletes weren't playing football as much as they might have been playing baseball or boxing. There also is the factor that positions have become more specified over the years and the game itself has improved as such. Yet all these shifts (including the supersized linemen) seemed to roll in after the 1970s and became clear by the turn of the century.
Enter the 1978 NFL rule changes. For years, the NFL had been trying to make the game safer, banning face masks, clothesline tackles, and head slaps (watch Deacon Jones highlights, that was his signature move). In 1978, the NFL decided to make the game more offensive-friendly and end the dead-ball era for offenses. Pass interference became stricter as defensive backs could only hit receivers within the first five yards.
So all this seems to imply gradual change for the NFL offenses and players' safety but where are the rules that affected NFL linemen? So the first one was the rule that allowed offensive lineman to extend their arms and block with open hands. With the addition of the ban on head slaps, this made battles in the trenches more of a hands game and less of an attempt to take out a pass rusher with an elbow. The more major rule didn't come in 1978 but over time offensive linemen could not chop-block or attack a defender with a block below the waist. You can see this difference also in old NFL Films as offensive linemen would dive at the legs of defenders who would try to avoid serious injury.
This rule slowly but surely gave us bigger, harder to move linemen. The game became safer with fewer players suffering career-ending injuries in the trenches. Unfortunately, the unseen consequences have been a more damaging and health troubling post-career for many of the NFL linemen. Many of the players would bulk up and build themselves to block in today's game, the habits, unfortunately, would be hard to stop after retirement, and even when players would change their habits, they would still have health-related issues being the size they were. The NFL is known for having a concussion problem but little is discussed about the issues that retired lineman suffer after retirement including heart condition risks, arthritis symptoms, and other life-threatening or life-damaging risks. The game of football already puts players' health at risk, but the risks that come with playing offensive or defensive line can be pinpointed to one rule change. Simply put, when battles in the trenches moved the "strike zone" from the entire player to only the upper body, they created linemen that wanted to help their team win games but neglect their own long term health to an even greater extent.
The question is what can the NFL do? Where can they go? Part of what makes the game of football so beloved across our country is the controlled violence, seeing players make great hits, tackles, and blocks but not in an out of hand manner. It would be irrational for the NFL to allow chop-blocks to return to the game, a play that has ended more than enough careers and is thankfully out of the game.
So what can be done? Well, that question appears to already be answered in some specific cases and in part to the credit of the league to an extent. There have been examples of recently retired NFL players losing significant amounts of weight upon retiring. Players like Joe Thomas or Jeff Saturday immediately started to change their daily habits and diets to prepare themselves for the life that follows playing O-line in the NFL. Many recently retired lineman can and should take note and there should also be more initiative from the NFL itself to guide players into life after football (we hear of many players getting advice on retirement and financial management but you rarely hear how players can take health initiatives).
On the same note of the NFL, there is credit for the league or particularly training practices that have helped the players. It's no secret that players used to drink and smoke at halftimes of games (google Len Dawson smoking a cigar at halftime of the first Super Bowl) and we have come a long way since then. Player training and development have never been better in the history of the game and with the training comes developed and perfected diets for each position (carbs for receivers, protein for linemen). Player development still has a long way to go (especially for linemen) but with the looming issues for retired players, we can see the league take more initiative in ensuring safer and healthier development of players even before they are in the league.
We live in a country that has been dealing with an epidemic for years when it comes to weight and health issues in relation to weight and diet (this includes my own struggles that include some good weeks and some terrible months). We also look up to our athletes as role models and football is the most admirable sport in America. I don't know if more initiative or awareness can help an underlying problem in our country but it should certainly be thought about. Many coaches across the country encourage or demand their lineman to bulk up from the youth levels and onward, few of them make the NFL see their game preparation pay off. The game doesn't need to change again but the players who are involved need to for themselves and others who watch them.
---