2020 NBA Mock Draft 1.0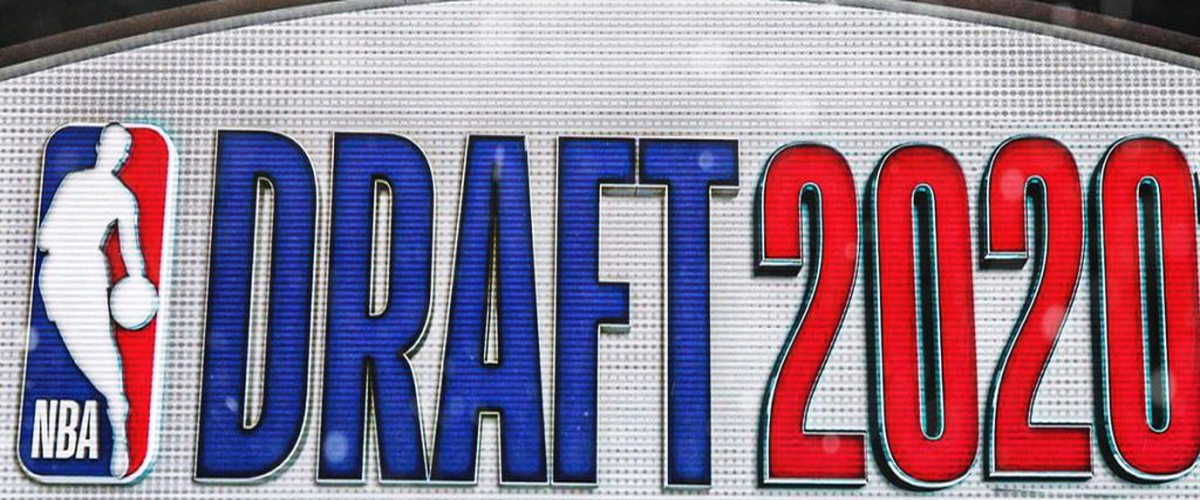 This season has been an absolute weird one. The NBA was shut down when COVID-19 was starting to spread throughout the country. The NBA has since put in the "Orlando Bubble" where the 22 teams still competing for a playoff spot will compete and finish the season. The 8 remaining teams are looking forward to the draft and off-season, which is still a couple months out. Since the draft lottery has not been conducted yet, teams are still unsure where they will be picking. This draft is going to be weird because it lacks in superstar talent, but there are a lot of solid guys who can be contributors in this league for a long time. With this being said, I think many teams will be drafting based on need rather than the talent that is available. In other words, the best guy in the draft may not go number one, it just depends on the team that is selecting and what their situation looks like for the future. In this first installment of my annual mock draft, I will be only do the "lottery teams" and it will be in order based of their records. I will do the full first round mock draft in the second installment once we have found out the actual draft order. Now for the first pick!


1. Golden State Warriors - Center Onyeka Okongwu (USC)
The Golden State Warriors have had a down year after being in the NBA Finals the past 5 years. I fully expect them to be competing for a title soon as injuries crippled this team in 2020. With Stephen Curry, Klay Thompson, Draymond Green, and Andrew Wiggins returning for next season, there is a possibility the Warriors trade Wiggins and this pick for something, but I believe the Warriors will be looking for a big man of the future. I think Onyeka Okongwu is the perfect fit for the Warriors. Okongwu is the prototypical modern era center, he is 6'9 and can really do everything. This skillset makes him very valuable to any team, especially a team like the Warriors who were one of the biggest factors in molding the game into what it is today. In his freshman season at USC he averaged: 16.2 ppg, 8.6 rpg, 2.7 bpg while shooting 61.6% from the field, 25.0% from 3 (only 4 attempts), and 72.0% from the line. While he is still developing the three ball, he does everything else exceptionally well and he is the perfect big to play in the Warriors system. A lot of analysts consider Onyeka the top big in the draft, part of that being because we did not get to see a lot of James Wiseman this year but I think Onyeka is the perfect mold of a center for this modern era of the NBA and I think he has a tremendously high ceiling. "Dread it. Run from it. Destiny still arrives all the same." If the Warriors land Onyeka Okongwu, it will be a scary sight for the rest of the league, and they will instant title contenders again.
My Big Board Ranking: 2
Pro Comparison: Bam Adebayo
2. Cleveland Cavaliers – Forward Deni Avdija (Israel)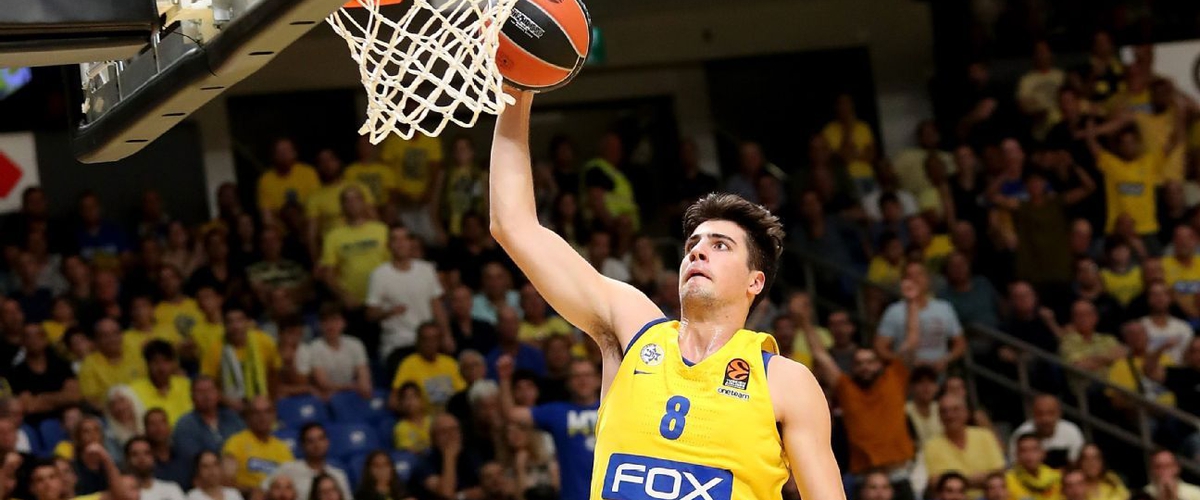 To be honest, I really like where the Cavaliers are going. They were able to snag All-Star Center Andre Drummond at the trade deadline, for super cheap. He fits their timeline and their young core of Drummond, Sexton, Garland, and Porter Jr. should be super fun to watch, not to mention they still have Kevin Love on the roster. I doubt the Cavs go with a guard here, considering they have Sexton and Garland. So, with that being said, I think they should grab Deni Avdija who is a combo forward. He is a swiss-army knife at 6'9 and has a similar skillset to Luka Dončić. He averaged 8.7 ppg, 4.3 rpg, 1.9 apg, while shooting 52.4% from the field, 36.5% from 3, and 55.7% from the line. He is a bad free throw shooter but that can obviously be worked. He is a average defender but I think he will be fine, he isn't really a liability. He has a great feel for the game and could be a primary playmaker if asked too. He is super young and played great competition in Israel, so I think this will help in his transition to the league. He is Luka-esque but not quite to the Luka's magnitude. I think he fits very well with what the Cavaliers are trying to do.
My Big Board Ranking: 7
Pro Comparison: Gordon Hayward
3. Minnesota Timberwolves – Forward Obi Toppin (Dayton)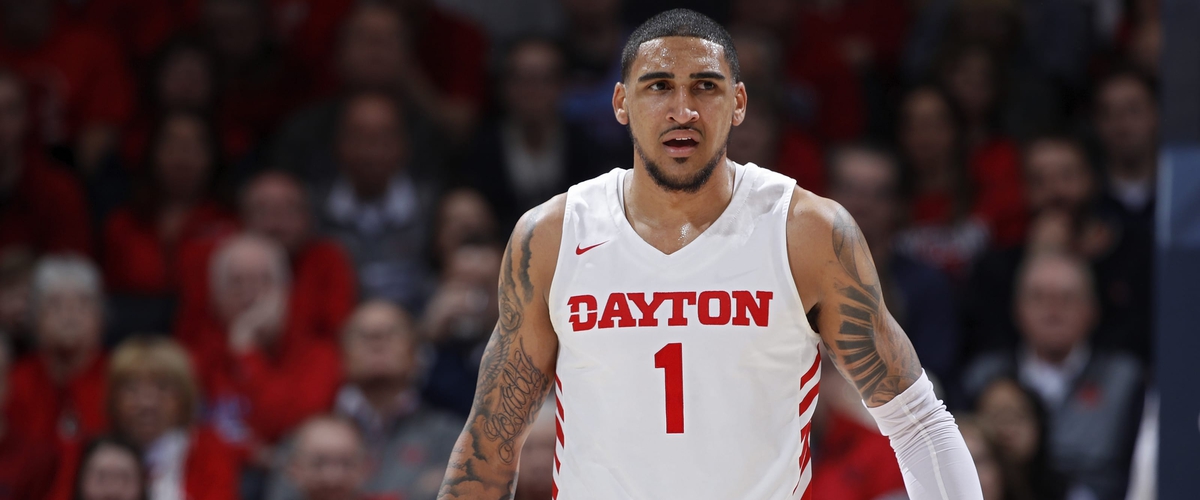 The Timberwolves can do many different things with this pick, they could use a backcourt mate for D'Angelo Russell, or they could get a frontcourt guy to pair with Karl Anthony-Towns. Since they have the rights to Malik Beasley in free agency and still have last year's first round pick Jarrett Culver, I assume they will go with a frontcourt guy with this pick. I think Obi Toppin is the guy for this spot. Obi really burst on to the scene with an incredible year, winning the Naismith Men's College Player of the Year Award this year. Obi is super intriguing and is a guy that could run 3-5 in the NBA. He will really fit well next to KAT and provide some much-needed defense to this Minnesota frontcourt. Offensively, Toppin is highflyer but has a decent handle and shot. He averaged 20.0 ppg, 7.5 rpg, 1.2 bpg while shooting 63.3% from the field, 39.0% from 3, and 70.2% from the line. Obi is an older prospect, which could hurt his stock but he is an incredible prospect and has all the tools that a modern NBA forward/center would need in his bag. I have seen a lot of comparison between him and Blake Griffin and I think that is the good comparison, but I believe John Collins is a slightly better comparison.
My Big Board Ranking: 6
Pro Comparison: John Collins
4. Atlanta Hawks – Guard Anthony Edwards (Georgia)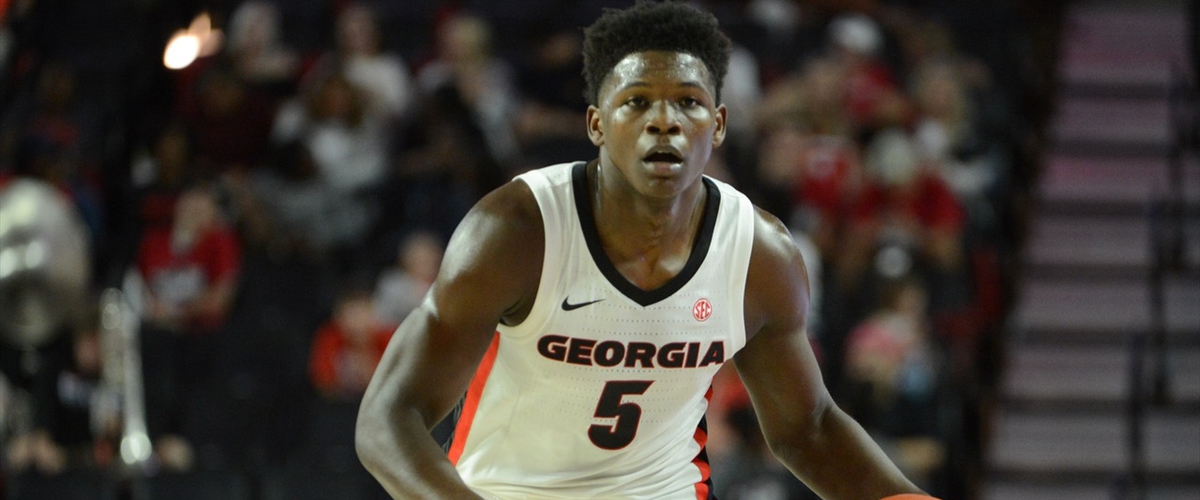 Atlanta honestly surprised me with how bad they were this year, I expected them to make some strides towards fighting for a playoff spot in a weaker Eastern Conference. Unfortunately, they are back in the top 5 of the draft. This year they should go after Trae Young's backcourt partner, which I believe the best fit would be Anthony Edwards. Edwards is 6'5 super athletic guard, who can just naturally scorer. In his freshman season at Georgia, he averaged 19.1 ppg, 5.2 rpg, 2.8 apg while shooting 40.2% from the field, 29.4% from 3, and 77.2% from the line. Anthony Edwards is a guy I am not particularly sold on and the biggest reason is efficiency. He is a shot-tacker, for lack of better words. His shooting splits really speak for themselves, but his only 18 and he can improve. He fits best here in Atlanta next to Trae Young because he can the primary defender and help Trae Young on that end of the floor while also being their third option behind Young and Collins. This Atlanta team is super young but is starting to put the pieces together, especially acquiring Clint Capela from the Rockets earlier this season. If Edwards can clean up his shooting splits, he has potential to be the best guy from this class and I think that alone could even make him a higher selection. If he lands in Atlanta, I think it is a match made in heaven for both sides.
My Big Board Ranking: 4
Pro Comparison: Donovan Mitchell
5. Detroit Pistons – Guard LaMelo Ball (Chino Hills, CA)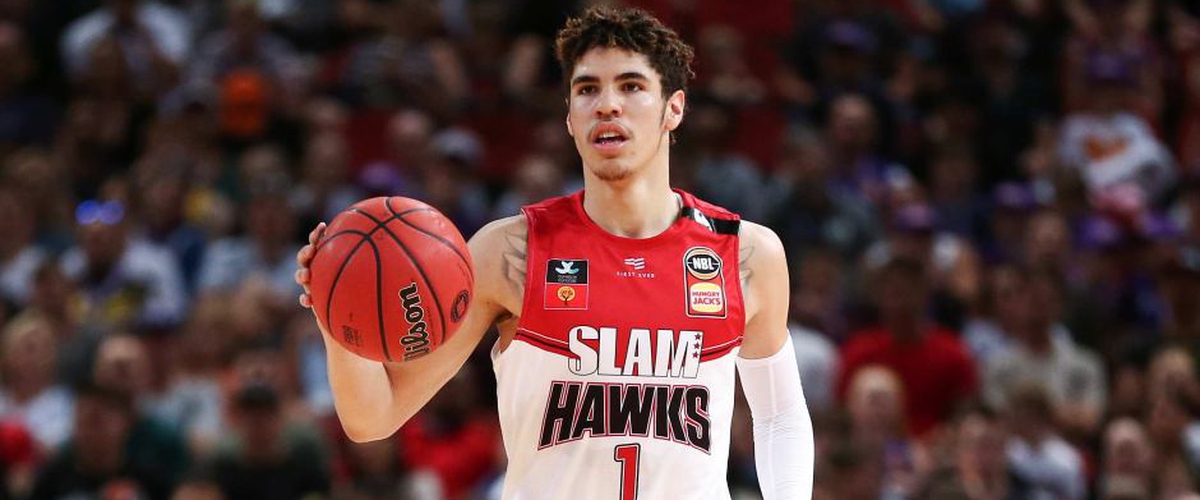 I had such high hopes for my beloved Pistons this season. Blake Griffin coming off knee surgery and would be healthy coming off our first playoff appearance since the '15-'16 season. However, the tide quickly changed as Blake never looked completely healthy, Reggie Jackson missed nearly half the season due to back problems, and Luke Kennard was sidelined with knee tendinitis for nearly half the season as well. Last year's first round pick Sekou Doumbouya showed glimpses of what he could be and the emergence of Christian Wood and Svi Mykhailiuk shows that the Pistons have some pieces for the future, not to mention Derrick Rose is still on the roster. With this pick, the Pistons need a guard for the future, LaMelo Ball is the answer. LaMelo is a 6'7 point guard who has incredible range, a high IQ, and great feel for the game. In Australia this season he averaged 17.0 ppg, 7.6 rpg, 6.8 apg while shooting 37.5% from the field, 25.0% from 3, 72.3% from the line. His shooting splits are not great, but he is confident player who can hit from anywhere on the floor. He has range similar to Trae Young, the frame of Penny Hardaway, the IQ and playmaking of his brother Lonzo Ball. He a below average defender but he is a willing defender, but he can definitely make improvements on the end of the floor. In my eyes LaMelo is the best player in this class, I think he has the highest floor and highest ceiling in the draft. Even if he never reaches his full potential, he is still going to be a great guard who can see the floor well and make any pass that is needed to be made. I really cannot imagine his ceiling; the sky is the limit for LaMelo. I expect LaMelo to be a great player, regardless of where he goes in the draft.
My Big Board Ranking: 1
Pro Comparison: Penny Hardaway
6. New York Knicks – Center James Wiseman (Memphis)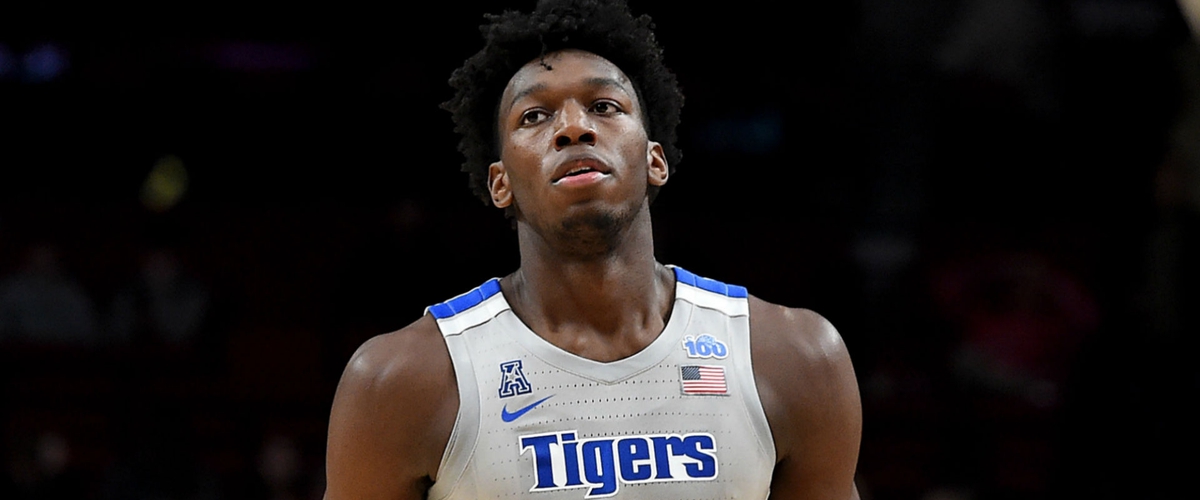 The New York Knicks have hoped every year of landing a big-name guy in free agency or drafting the next star, that has not been the case for years. They landed R.J Barrett last year, who had a decent rookie season. Besides Barrett, I do not really see a valuable piece on the Knicks roster. This year the Knicks should just take the best available guy and let them be a building block with R.J. Barrett. I believe this is the year that the Knicks find their guy and strike big while doing so, I think Wiseman has one of the highest ceilings in this draft. Wiseman only played 3 games because of a suspension due to a NCAA violation. In those 3 games he averaged 19.7 ppg, 10.7 rpg, 3.0 bpg while shooting 76.9% from the field and 70.4% from the line. The one gripe regarding Wiseman is will he be able to develop a 3-point shot. He only attempted 1 in college, which was a miss. With the game continuing to develop, the 3-point shot has become incredibly important for a big. James Wiseman is a more traditional back-to-the-basket big, but he has shown glimpses of a shooting ability and I think if worse comes to worst, he at least will be a very consistent mid-range shooter. If he can add a respectable 3 point shot and reach his full potential, Wiseman can certainly be one of the best centers in the league later down the line. I am a big James Wiseman fan, and I think he will be a great player.
My Big Board Ranking: 5
Pro Comparison: David Robinson
7. Chicago Bulls – Forward Isaac Okoro (Auburn)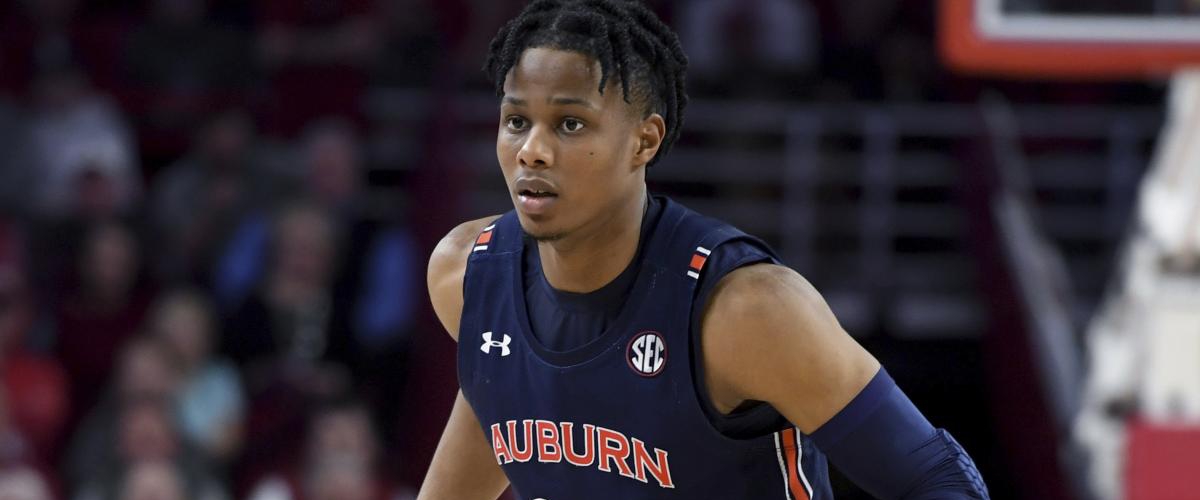 The Bulls were another team I expected to be closer to battling for a playoff spot, but due to Jim Boylen being possibly the worst coach in the league. While they may not have been the best team, they could have a way better record if they had a competent coach. With the Bulls finally making changes in the front office, Boylen could be gone and they could get serious about winning. This is why they will take Isaac Okoro. I could see them going after one of the top guards left, but I think this pick makes way more sense. Okoro is a 6'6 wing that can guard 2-4, this will give the Bulls a young and cheap wing defender to go with the core of LaVine, White, Markkanen, Carter Jr. in for the next couple of years. In his freshman season at Auburn, Okoro averaged: 12.9 ppg, 4.4 rpg, 2.0 apg while shooting 51.4% from the field, 28.6% from 3, and 67.2% from the line. Okoro is not the greatest scorer or shooter but has potential to be a premier 3 and D guy someday. Okoro is getting comparisons to most of the best 3 and D guys in the league, and I think all are pretty accurate. I think at his ceiling, if all goes well, he will be similar to Andre Iguodala, but he really has to work on scoring the ball. Regardless if he hits that ceiling, he will still be super valuable in this league and should be someone similar to O.G. Anunoby.
My Big Board Ranking: 9
Pro Comparison: O.G. Anunoby
8. Charlotte Hornets – Guard Killian Hayes (France)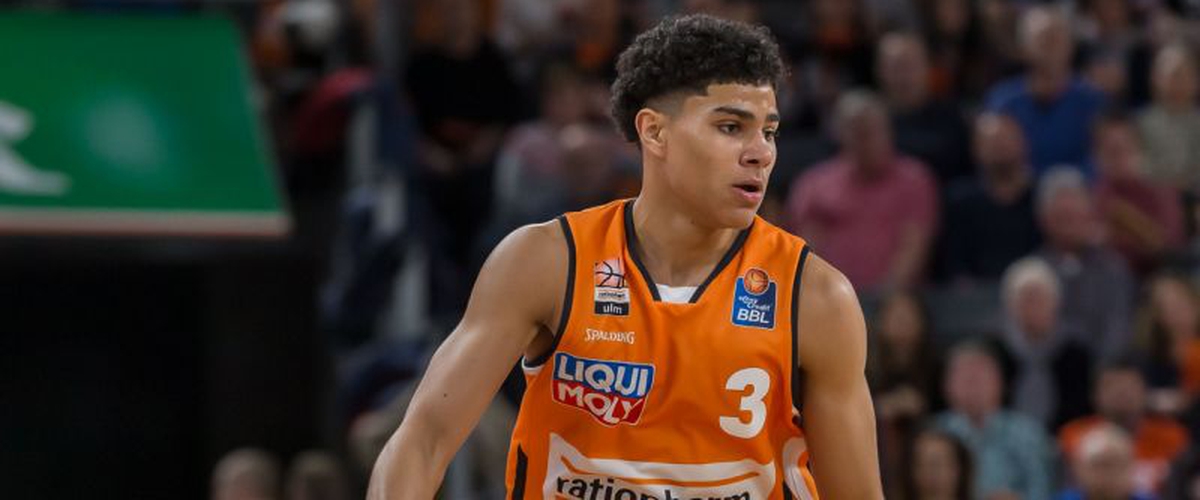 Well to be honest, I thought the Hornets would be the worst team in the league this year, but they were better than expected since the departure of their organization's greatest player Kemba Walker. The emergence of Devonte' Graham showed that they have some pieces in Charlotte, but in my mind, I think they are expendable. If one of the bigs fall, then I expect Charlotte to take one of them here. While they have some good guards in Rozier III, Graham, and Monk, I think they could move off Terry Rozier if they needed too. He is making quite a bag and it will be tough but I think it is possible. With this pick, I think they should just take the best player available so that would be Killian Hayes. Killian Hayes is a 6'5 guard, who is a handful on the offensive end, whether it is scoring or playmaking. Killian could be the best guard in the draft, I do not think he has superstar potential, but he could be your franchise point guard. In Germany this season, Killian averaged: 11.6 ppg, 2.8 rpg, 5.4 apg while shooting 48.2% from the field, 29.4% from 3, and 87.6 from the line. Killian is average scorer, but above average playmaker and he really sees the floor well. He is average about everywhere else, but he has shown glimpses of what he could become in some games this year in Germany. He really picks his spots well on offense, which shows he has no problem getting to his spots. I think he has one of the highest floor's in the draft along with LaMelo. Killian will probably be the safest pick in the entire draft regardless of who drafts him.
My Big Board Ranking: 3
Pro Comparison: D'Angelo Russell
9. Washington Wizards – Guard Tyrese Haliburton (Iowa St.)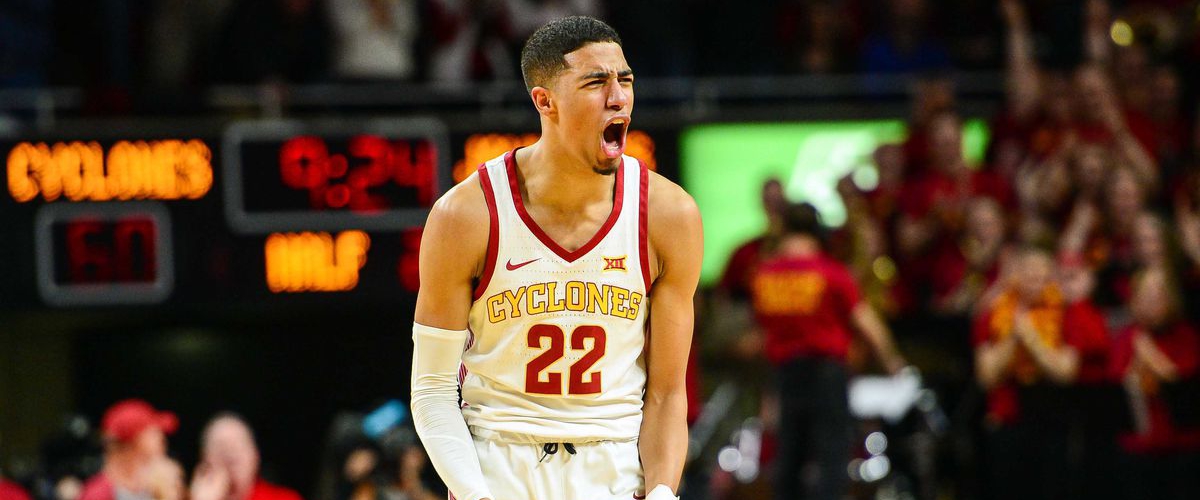 The Wizards are in a weird position. They have the All-Star duo of John Wall and Bradley Beal, although Wall has not played in nearly a year and a half due to some freak injuries. It has Washington looking at a fork in the road, and a decision being made. Decision 1 is belief in John Wall's health and continue to build around him and Beal. Decision 2 is preparing for a future without John Wall. Bradley Beal showed he can be a durable franchise guy, so it's truly up to the front office and ownership. "Plan for the worst, hope for the best" would be the perfect quote for what I think they should do because I think they should do Decision 2, but also making slight moves to help Decision 1. If one of the bigs fall, they will 100% take one of them, if a big does not fall then I believe they will take a guard to maybe eventually pair with Beal. In this case, it's Tyrese Haliburton. Haliburton is 6'5 guard who can do everything but will make his money with his playmaking and defending abilities. He averaged 15.2 ppg, 5.9 rpg, 6.5 apg, and 2.5 spg while shooting 50.4% from the field, 41.9% from 3, and 82.2% from the line. He is incredibly efficient and is a floor general. He has everything you would want in a point guard, and even if they keep John Wall, he can be an incredible 6th man. I really like this kid's game and I would not be surprised if he went higher.
My Big Board Ranking: 8
Pro Comparison: Lonzo Ball
10. Phoenix Suns – Guard Cole Anthony (North Carolina)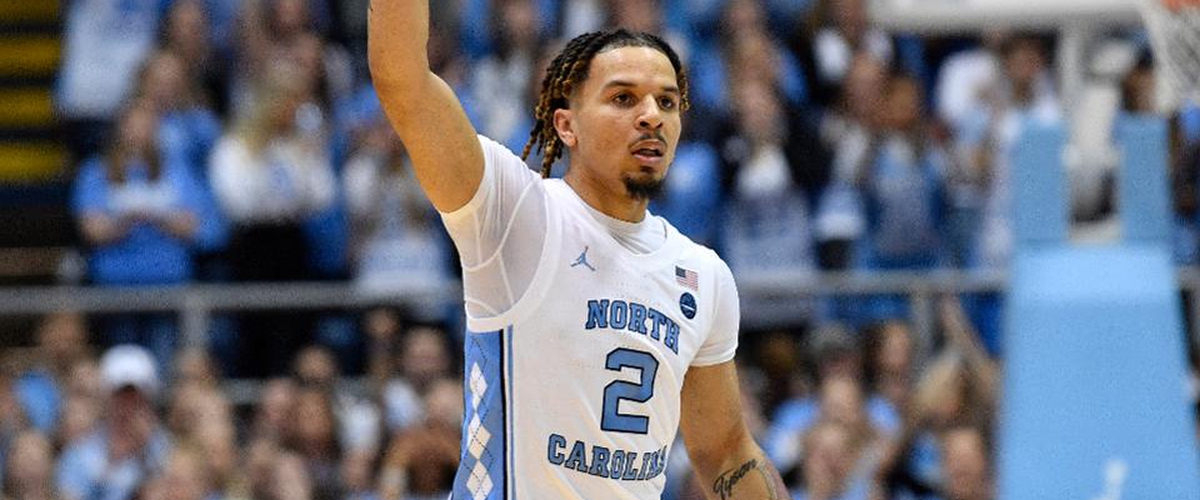 The Suns had nice start to the season with new head coach Monty Williams looking to finally be the piece that the Suns were missing, but after falling off the pace they set early in the season, to me there is still a glaring piece the Suns are missing. In my opinion, the Suns are missing Devin Booker's backcourt mate. The Ricky Rubio signing was good, maybe a little too much money but I don't think he is the long-term solution. This year's draft is super guard heavy and I think they can potentially get their future backcourt guy this year. Phoenix fans meet Cole Anthony. Cole was a projected Top-5 pick this year before he got injured this year, and when he returned, he was not quite the same. GM's should not fear this though, Cole Anthony is one of the best guards in the draft and in the right situation, he is going to make a team very happy. In his freshman season he averaged 18.5 ppg, 5.7 rpg, 4.0 apg while shooting 38.0% from the field, 34.8% from 3, and 75.0% from the line. His efficiency should be something to be aware of, but I think it was more due to his injury still lingering when he returned this season. A big 3 of Booker, Ayton, and Anthony make things interesting in Phoenix, especially with good pieces like Kelly Oubre Jr., Mikal Bridges, and Ricky Rubio still on the roster. If Phoenix is able to land one of the top guards from this draft, I will really like the direction they are heading.
My Big Board Ranking: 10
Pro Comparison: Jamal Murray
11. San Antonio Spurs – Center Aleksej Pokuševski (Serbia)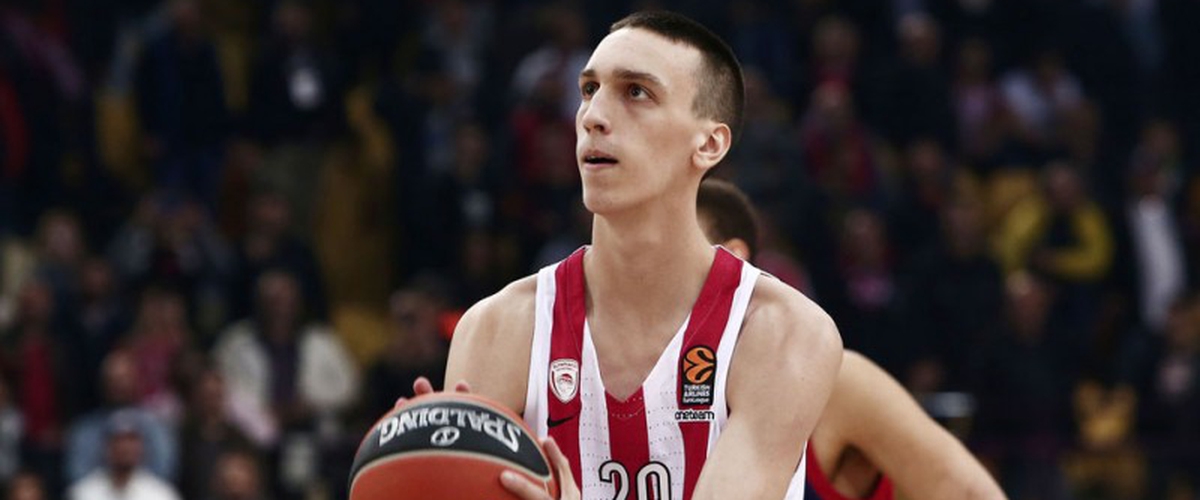 22. That is the number of consecutive seasons the Spurs have made the playoffs, and while anything can happen in the Orlando Bubble, that streak will probably end this year. The Spurs are still a good team, but the Western Conference is getting tougher, especially with the addition of *hopefully* two future stars of the league in Zion Williamson and Ja Morant. With the Spurs still having their All-Star duo in LaMarcus Aldridge and DeMar DeRozan under contract for at least another year and other young pieces like Lonnie Walker IV and Dejounte Murray still improving, the Spurs will most likely be in contention for a playoff spot next year. This is why I expect the Spurs to take a project here with this pick, also the Spurs have one of the best developmental staffs in the league. There are a few lottery-tier projects but there is one that I think will be too enticing for the Spurs to pass on, meet Aleksej Pokuševski (a.k.a Poku). Poku has a skillset that is not really comparable to one player and has arguably one of the highest ceilings in the draft. Poku has so much potential, it's hard to imagine what he will look like if he reaches it. I don't usually use prospects PER 36 stats, but I want to show what he kind of player he could be if things go right. As 18-year-old in Greece this season, PER 36 he averaged: 16.7 ppg, 12.2 rpg, 4.8 apg, 2.8 bpg, 2.0 spg while shooting 40% from the field, 32.1% from 3, and 78.3% from the line. He is stat-sheet stuffer and a special prospect, who can really do everything including handle the ball and play make as 7-footer. He needs to improve his frame and needs a great development staff to work with him. If there is anytime in the league that I think can turn Poku into a nightmarish player, it would be the Spurs. Poku would greatly benefit from learning under Tim Duncan and the rest of that great staff and historical organization.
My Big Board Ranking: 18
Pro Comparison: Kristaps Porzingis
12. Sacramento Kings – Forward Devin Vassell (Florida St.)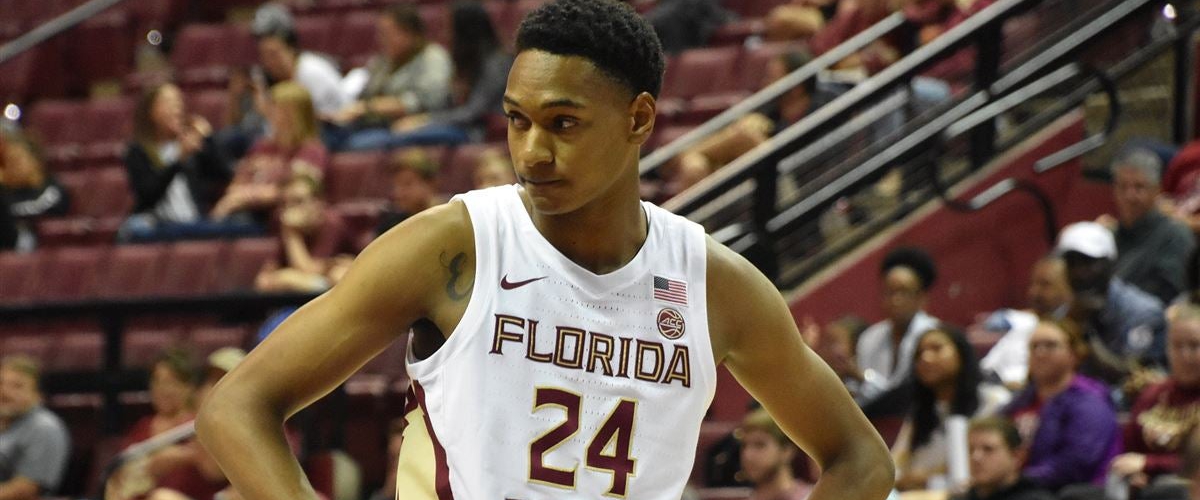 Well to be completely honest, I am unsure of the direction of the Kings. I expected them to be near the bottom of standings again this year (which technically they are) but they received a bubble invite so they were technically in the "Playoff Race". They gave Buddy Hield, this year's 3-pt contest champion, an absolute bag of an extension. This I disagree with, I don't really think he is worth that much but with what the league is today, you really can't put a price on elite 3-pt shooting. So, it is definitely a justifiable deal. One thing the Kings need to improve as they try to become a team constantly in the battle for playoff spot in that tough Western conference is defense. They were average to below average on that side of the ball, ranking 17th in PAPG and 18th in DRTG, according to the NBA. With 3-D players becoming more important, I see the Kings taking the best 3-D player on the board, which is Devin Vassell. In his sophomore season at FSU, he averaged: 12.7 ppg, 5.7 rpg, 1.4 spg while shooting 49% from the field, 41.5% from 3, and 73.8% from the line. If Vassell can continue to keep shooting splits similar to his college splits, I could see down line him becoming more valuable to the Kings than Buddy. Due to the contract and the defensive ability he possesses, this would allow the Kings to shop Buddy and look to offload that contract. If the Kings move up, they could look to take one of those top bigs considering Giles is free agent and the growing concern with Bagley and his health problems. This is important draft for the Kings, they need to hit on this pick.
My Big Board Ranking: 13
Pro Comparison: Mikal Bridges
13. New Orleans Pelicans – Guard Tyrese Maxey (Kentucky)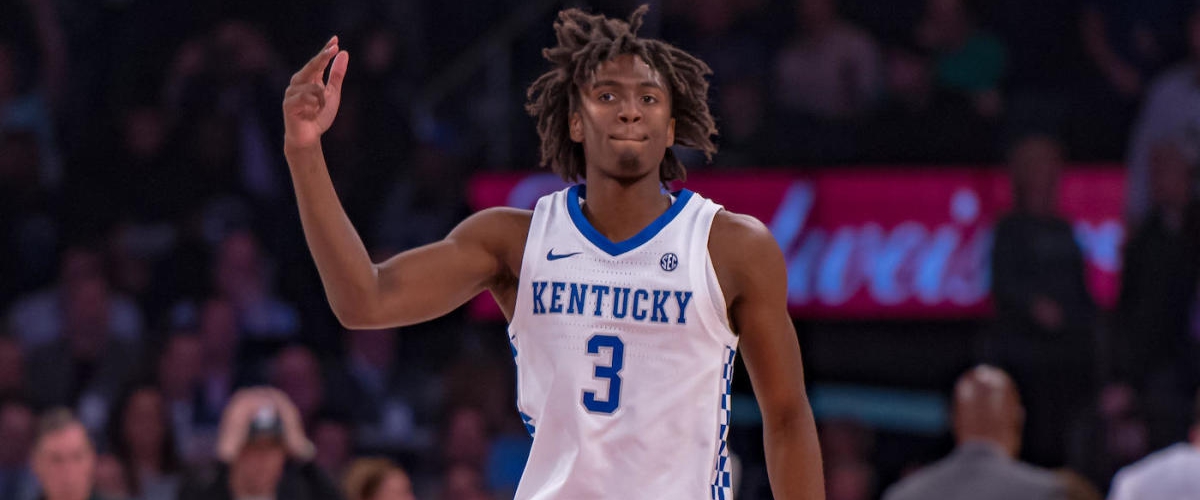 The Pelicans had great luck last year and were able to land Zion Williamson with the 1st pick in the 2019 Draft. Zion would have likely been the Rookie of The Year had he not missed a majority of the season with knee issues. The Pelicans are at a bit of a crossroad concerning future cap space. Brandon Ingram is a RFA this year and deserves a max contract, Lonzo Ball will be up for a next contract in 2 years and he will want a big bag as well. They can sign both, but it can really hurt their cap space in the future. They still have Jrue Holiday on the roster and I think if they want to move forward with their new "Big 3" of Zion, BI, and Lonzo, they will have to draft a replacement this year and move Jrue in next few years. I think Tyrese Maxey is a great guy to take in a let him learn from Jrue Holiday for a few years. Maxey is only 6'3 but can be a great guard to play off the ball. He is a good shot-creator and really defends well for his size, he has potential to become a 3-D guy, who can get his own shot. In his freshman season at Kentucky, he averaged: 14.0 ppg, 4.3 rpg, 3.2 apg while shooting 42.7% from the field, 29.2% from 3, 83.3 % from the line. If the Pelicans decide not to move forward with Lonzo, Maxey could even be a guy that could slide into the 1 spot for New Orleans. I think he will have to develop as a playmaker, but it is certainly possible. The Pelicans could also make the 8th seed in the Orlando Bubble, and could push this pick outside the lottery. If that is the case, I could see a different guy going here.
My Big Board Ranking: 14
Pro Comparison: Collin Sexton
14. Portland Trail Blazers – Forward Aaron Nesmith (Vanderbilt)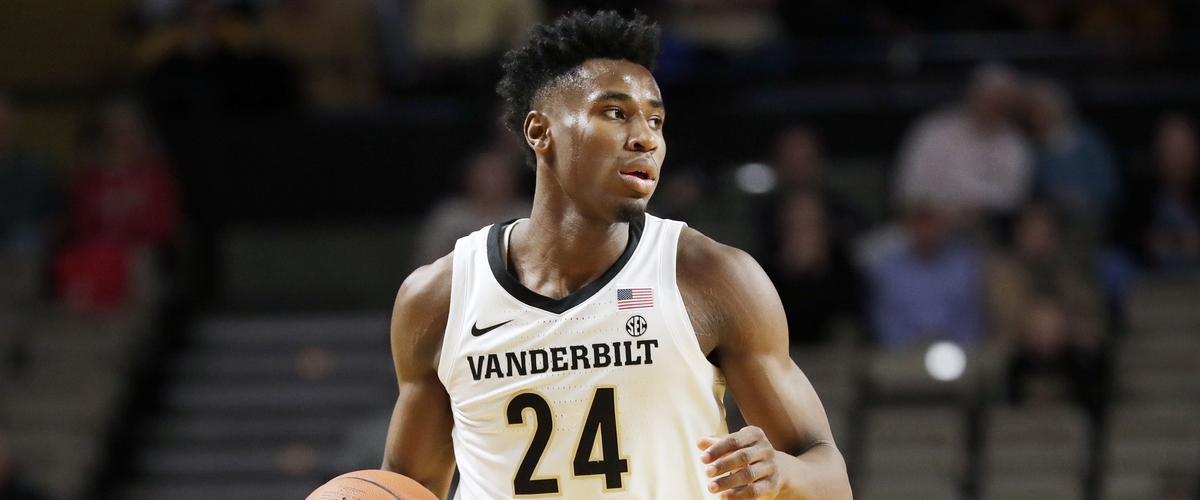 I was honestly surprised the Trail Blazers were bad this season, considering they went to the Western Conference Finals last year. Now, that I think about it, they lost a lot of great pieces from last year's roster. Jusuf Nurkić and Rodney Hood missed basically all of the season due to injuries and they lost Seth Curry and Meyers Leonard in free agency. With all of the being said, I think Portland's window is closing fast. They missed a chance to go to the Finals last year, and the West is going to be competitive for years to come. I think they have another year or two before that window closes, and I think they have to nail every draft pick and make perfect signings. The guy that I think fits well with their team is Aaron Nesmith. Every team that is contending can never have enough sharpshooters. Portland was mid pack in 3-pt % this year in the league. Nesmith can come even add some much-needed shooting to the bench and has potential to become a nightmare on the defensive end. In his sophomore season at Vanderbilt, he averaged: 23.0 ppg, 4.9 rpg, 1.4 spg while shooting 51.2 % from the field, 52.2% from 3 and 82.5 % from the line. These shooting splits give me hope he can be super-efficient in the NBA and will super be valuable to teams. With the Trail Blazers getting Hood, Nurkić, Nesmith, and hopefully others in free agency, the Trail Blazers will look to get back on track next season and try to maximize the window for a championship.
My Big Board Ranking: 16
Pro Comparison: Klay Thompson
This concludes the first installment of my mock draft this year. Once the lottery order is decided, I will start working on my final mock draft for the year. Like I said earlier, this draft could get weird. There are teams that are likely to trade back if the have one guy the like, or trade up if they want one of the top guys that will not fall to them if they can't get luck from the draft lottery. Also, there are some stars in the league that have begin to become "available" so that will also be something to watch in the draft. I am looking forward to the playoffs and this offseason, it should be super fun and exciting. Thank you all for checking out my mock draft!
---