Dougie Hamilton's Play Demands More Attention
The Calgary Flames made a huge splash back in 2015 when they landed one of the NHL's top young defenseman from the Boston Bruins for a package of draft picks. The trade was necessitated by nasty contract talks between the Bruins and Hamilton's camp, and it was easy to get the feeling that Hamilton didn't have any particular attachment to the city of Boston or the Bruins organization. That proved to be a non-issue in Western Canada, as Calgary promptly locked up their new blueliner to a six year, 34.5$ million dollar extension. After acquiring the beleaguered defender, then Flames coach Bob Hartley had this to say about him: 


"We made our blue line bigger, faster and younger. There's no shortage of skills in Dougie Hamilton. He plays basically the same game we play, so it's just a matter of finding the right partner and finding the right game. That's how we're going to go." (Dan Rosen, NHL.com)


By adding Hamilton, the Flames turned an already excellent defensive core into an elite one. No one got more scoring from their back-end than the Flames did with 195 points, spearheaded by Dennis Wideman, T.J Brodie and captain Mark Giordano. Scoring wasn't what made the 6'6 defender so appetizing to an already offensive minded D-core:

"This player is able to go back, retrieve pucks, exit the zone. His ability to deny entries, his ability to create offense both with his passing and legs, his ability to get shots on the net; we think this is a real good addition for us. This is a player who fits where we're going in Calgary. This is not a deviation in terms of the young players that we're building around. To me he adds to it. He's in that peer group."


I absolutely agree that Hamilton fits that mold. At a towering 6'6 and weighing in at 210 lbs, Hamilton can rough up virtually anyone on the ice. He features a heavy, accurate shot and has shown the ability to quarterback a powerplay from the point. He kills penalties, and is historically a terrific puck possession player. If Hamilton is so good, why don't we hear about him more? Easily answered, they've burried him on the depth chart without a real reason to do so. 



Flames Defensive Pairings
| | |
| --- | --- |
| Giordano | Wideman |
| T.J Brodie | Engelland |
| Jokipakka | Hamilton |
Hamilton was shipped North to Canada in the Summer of 2015, in which he'd just completed a 72 game campaign for Beantown. Then just 21 years old, his 10 goals and 42 points demanded the attention of the league, and garnered him 20+ minutes per game on average. There's method to the madness here- if he plays well, let him play. That level of excellence is the same reason he doesn't play on the East coast anymore. He quite literally priced himself out of one of the most expensive markets in hockey. In his first year in Calgary, he scored a career high 12 goals and 43 points, but actually received less playing time than he did in Boston. 

Average Time On Ice
| | | |
| --- | --- | --- |
| Year | Team | TOI (In Minutes) |
| 2012-13 | BOS | 17:08 |
| 2013-14 | BOS | 19:06 |
| 2014-15 | BOS | 21:20 |
| 2015-16 | CGY | 19:46 |
| 2016-17 | CGY | 18:46 |
Hamilton is currently averaging his second lowest time on ice since his rookie season. That is ineffective use of a 5.6$ million dollar defender who has been excellent over the life of his young career. 


Very excited to see Nicklas Grossmann paired with Dougie Hamilton tonight while Deryk Engelland plays 19+ minutes.

— AOL Keyword: Mike (@mikeFAIL) October 25, 2016
That is not good line management. Then I see things like this. 


This is unacceptable. The return for Hamilton would be astronomical, no doubt, but the six year 34.5$ million dollar extension in which the Flames dealt three premium draft picks to acquire was not designed for a rebuilding team- it was destined for a competitor. Hamilton signed that extension to help Calgary win now, and in the future. Trading him is entirely nonsensical.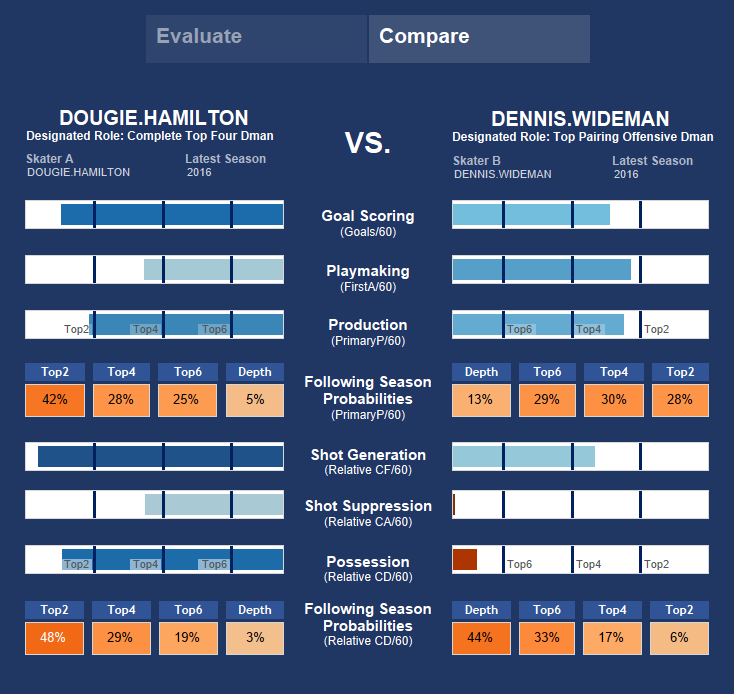 Dougie Hamilton is without a doubt a top-pairing type of defender who, as Bob Hartley even said, can do it all. Seeing him on the third defensive pair is a crime against hockey, because he seriously should be skating with Mark Giordano. Dennis Wideman is an excellent leader and I certainly find him valuable in an offensive role, but he bleeds shot attempts at even strength. Considering the Flames have had some shakey goaltending to kickstart the campaign, that is a situation that needs to be remedied. The easy fix here is to bump Hamilton up the depth chart, while moving the veteran Wideman into a more manageable role. As for what I think of the current 3rd pairing? Well..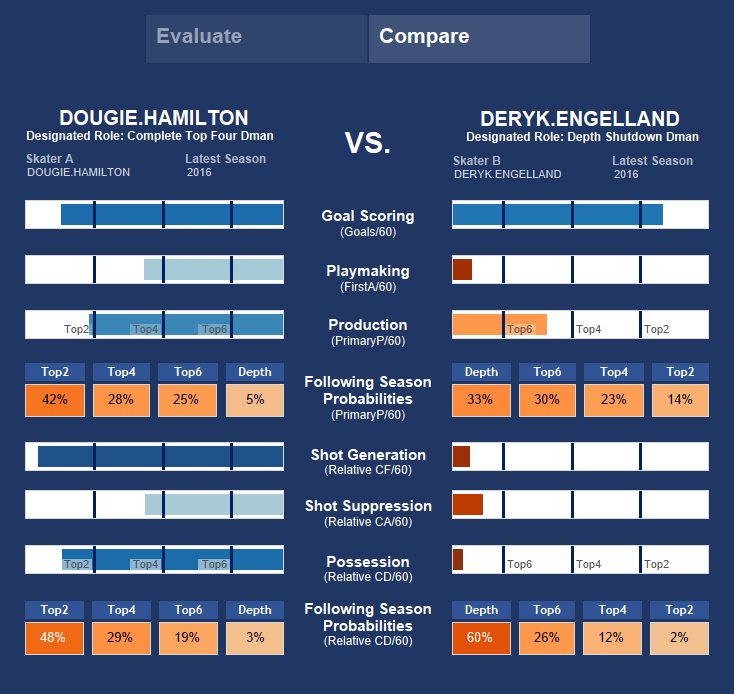 Engelland is loved by his teammates, and is an excellent physical presence on the back end. He'll drop the gloves to protect his teammates, and that's probably the quality that earned him a multi-year contract. That being said, he's not an NHL defenseman in a tactical sense and should absolutely not be getting top-four minutes. That situation is even more dire when you consider that it comes at the expense of one of the games better young defensemen. 


Thanks for reading!



---