Celtics vs Warriors Pregame Thoughts
Now before I start this I just want to say I am a massive Celtics fan. Being from Boston, they are my favorite team which is saying a lot considering the Patriots are so big around here. Tonight the Celtics play the Golden State Warriors who they beat last year in what I thought was probably the best game the Cs played all year. Both teams look different from what they looked like last season. Boston let Jared Sullinger walk (thank God) and replaced him with Al Horford. They also let Evan Turner and his absurd voice walk in free agency then drafted Jaylen Brown. The Warriors look even more different for very obvious reasons. Trading Andrew Bogut, letting Harrison Barnes sigh in Dallas, and bringing in the player everyone hates right now Kevin Durant. Golden State hasn't been perfect so far but are clearly a terrifying team for pretty much anyone playing them.

In terms of how I think this game is going to play out, it honestly might be a bloodbath. Jae Crowder and Al Horford both aren't playing in this game due to injuries. Crowder is probably the best option for the Celtics to guard KD and Horford is their biggest off season acquisition so not having them makes it tough. Now add in the fact that the Warriors have two players who have been the league MVP, a Finals MVP, one of the toughest players/best defenders in the NBA in Draymond Green, and one of the best two-way players the league has in Klay Thompson. Avery Bradley and Marcus Smart are great defensively but they can't slow down the whole Warriors team by themselves. The Celtics defense has been absolutely brutal as a team so the Warriors could have a field day even if Avery and Marcus lock up like we all know they can. If Avery is guarding Klay and Smart is guarding KD then that leaves Isaiah Thomas on Steph Curry which means lots of Steph Curry points. Boston could switch up who is guarding those three scorers however they want but with Jae Crowder out one of those three guys is most likely going to have a match up in their favor.

With all that being said the Warriors do have their weaknesses. For example Zaza Pachulia is their starting Center and he is literally garbage in terms of skill. Zaza, other than having two Zs in his name, cannot guard anyone and really isn't a great on the boards. Golden State's bench also looks a lot different which was a huge strength for them the past two seasons. Andre Iguodala and Shaun Livingston can still ball but the rest of their bench is a little sketchy. Every single time I have watched David West play for GS so far he has turned the ball over like three times because he tried to force a pass to someone cutting to the basket. West is good for throwing a pass into the stands a couple times a game and he has looked rather washed so far. 2K legend Javale McGee is one of my all-time favorites in terms of being goofy and hilarious but he is not a very good player to put it lightly. Patrick McCaw has turned out to be a nice little player for them so I don't really have anything to make fun of him for yet. The Celtics have had some let downs on their bench so far and its mostly from their backup big men. Tyler Zeller is brutal. Absolutely brutal. Some examples of my thoughts on Tyler Zeller (feel free to follow me on Twitter by the way):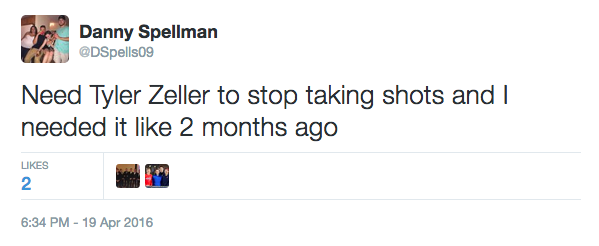 In reality do not put that much stock into this game if the Celtics get smacked because two of their most important players won't be playing. Golden State has three guys that can shoot it from the parking lot. Kevin Durant is going to get booed every single time he touches the ball but might put 35 on the Cs in return for said boos. Draymond Green might kick someone in the nuts if my sources are correct. Don't be surprised if Kelly injures someone by accident like he did to Kevin Love just by being his normal goof idiot Kelly self. Get ready for Marcus Smart possibly trying to fight someone because it is coming and it will be beautiful. In conclusion, Cs Up, fuck Kevin Durant.

---