DeMarcus Cousins Being Trapped in Sacramento is Just Sad
Boogie Cousins needs to get out of Sacramento more than anything needs to happen is sports right now.  Cousins is so good and has such a unique skill set for his size that its awful watching him waste so many years with the Sacramento "Queens" (shoutout Shaq for that sick burn).  There is literally nothing good about the Kings and there is nothing bad about DeMarcus Cousins.  This team is going no where fast with the current roster they have.  Dave Joerger is actually a nice coach but he really has nothing to work with other than Boogie.  Darren Collison is pretty much their only ball handler and he's currently serving a suspension for domestic abuse.  Ty Lawson is their backup PG but he is a shell of himself ever since he became an alcoholic.  Rudy Gay described Sacramento as being "basketball hell" last season which is wild because he is part of the reason.  Rudy Gay is a lot like Joe Johnson in terms of not caring about basketball even the slightest bit but being naturally talented enough to keep stealing money from teams.  Ben McLemore is still on this team so he's good to give this team like 5 extra losses by himself.  Everyone was calling him "The next Ray Allen" but in reality he stinks sooo bad.  The roster isn't the only problem though because the Kings front office is up there with the worst in the entire NBA.  Vlade Divac is so bad I wouldn't even trust him with a high school sports program.  He drafted Marquesse Chris in the last draft at #8 who has a seriously good chance of being a monster in the league.  Immediately after drafting Chriss they traded him for Skal Labissiere who might be the skinniest player of all time and two foreign players that no one has ever heard of.  This team is going no where fast and trading Boogie Cousins honestly might not make this team much worse.  Trading this guy for an insane haul is actually a no-brainer that Vlade could not possibly mess up.  The Kings would receive so many draft picks and/or young talent it'll be coming out their ears.  So please Vlade Divac, I'm begging you to move DeMarus Cousins.  Whether it is to my Boston Celtics or any other team that actually deserves this absolute savage of a person, please pull the trigger.  DeMarcus Cousins is one of the greatest treasures America has to offer, NEED to see this guy play somewhere that actually matters.  
And is anyone actually surprised DeMarcus Cousins doesn't know who Paul McCartney is? 

Last thing about Boogie, giving the ref a thumbs up after getting his first technical foul of the season is peak DeMarcus Cousins.  The king of having no chill.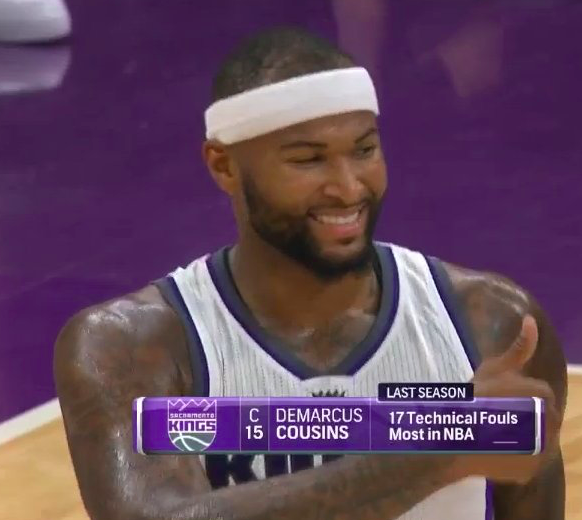 ---