Reasons Why the Knicks Roster is Terrible Part 2
The other day I wrote about how I felt about the Knicks roster. Feel free to go back and read it if you want but I pretty much said that they are going no where fast. It was brought to my attention by a man in the comment section that I did not get into the rest of the roster. He's right about that for sure and I should have been more clear. Folks it takes a man to admit when he messed up. I pulled a Jim Calhoun, I took Caron Butler and Emeka Okafor (if anyone doesn't understand that quote I suggest you look into it because it is phenomenal). So now I want to take some time to talk about how some other pieces of this roster stink and aren't going to help this franchise make progress. A little disclaimer before I start; I don't want the Knicks to be bad at all. Sports are way more interesting when the biggest market teams are competitive. The New York Knickerbockers being good is great for basketball.
I'll start with the payer who gets the most minutes off the bench, Brandon Jennings. A lot of people were jacked up about the Knicks bringing this guy in to play behind Rose and help the bench. Jennings is currently getting 5 assists per game which is pretty good especially considering he doesn't start. His shooting, however, has been so bad I can't even find a word to describe it. Jennings shoots 38% fro the field and almost 31% from the 3 point line, Ricky Rubio kind of awful right there. I can understand people being excited because of him bringing energy and playing into the New York crowd but that doesn't always make up for production. Please refrain from trying to tell me he should start over Derrick Rose because I won't stand for it. Brandon Jennings is washed. Glad he doesn't play for my favorite team. The player who gets the most bench minutes after him is Justin Holiday and he has actually been pretty good for them. Shooting the ball well in the minutes he's getting, can't knock anything he's done to be honest.
Lance Thomas was giving the Knicks some solid minutes last year but he's taken a step back this year. Shooting 37% from the field and has yet to take a single free throw, don't even know how thats possible. His Plus/minus is -16 and offensive rating is at an abysmal 83. New York has this guy signed until at least 2019 so have fun watching him play until then. Lance Thomas is a guy who has never really showed us that much until like last season. Never averaged more than 5 point per game in college and career high was 8ppg last season, atta boy Phil Jackson solid signing.
Willy Hernangomez came over to New York from Spain and is only 22 years old. Theres always a bit of a learning curve with rookies, especially with players who come from playing over seas. That still doesn't get rid of the fact that Will has not been that great so far. He has more total turnovers than he does assists and almost as many turnovers as field goals made. Offensive Rating is way lower than Defensive rating with Hernangomez which is not good for anyone who's wondering. He is young and not totally used to the NBA style of play yet so the jury may still be out in terms of whether he has a future in New York. With that being said, don't ignore the fact that he is currently bad.
Kyle O'Quin is on this roster as well and he is pretty bizarre. Most people know what you're going to get from him on the court. He's a big, strong, and tough guy who pretty much is only bringing rebounding and some defense. Not the best player, not the worst player either. O'Quin is a life long role player that no one will ever want to fight so I'm fine with that. But, has anyone seen this dude's tweets? They're literally gibberish. If someone knows what any of these mean Im begging you to comment on this post and let me know because I have no idea.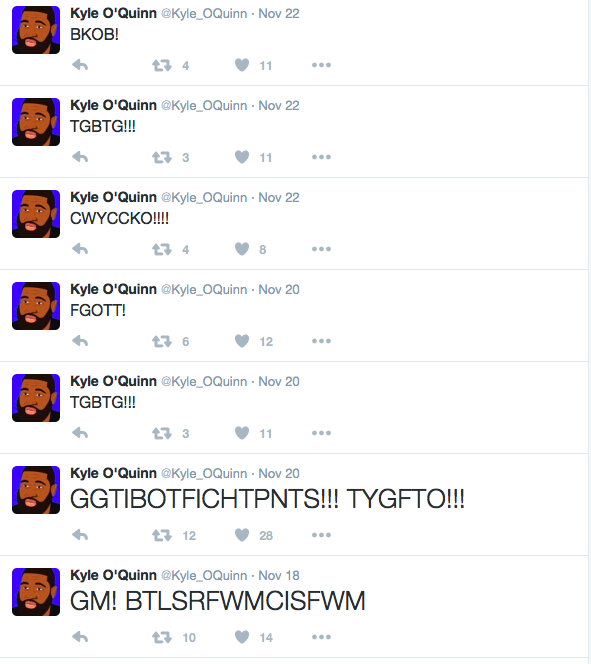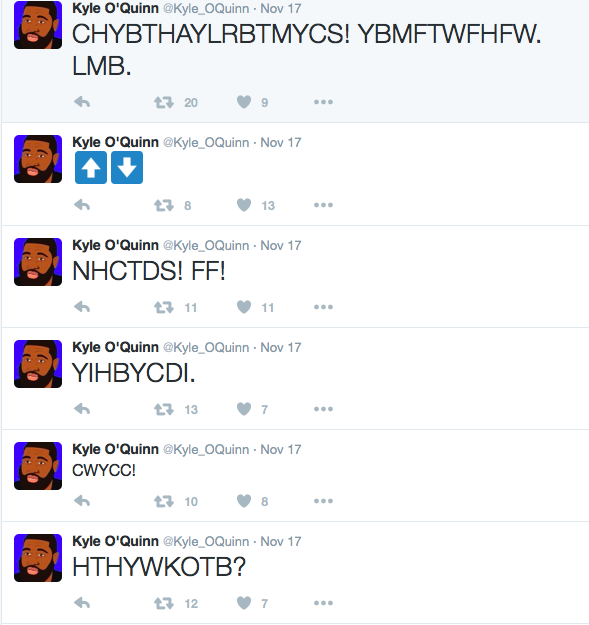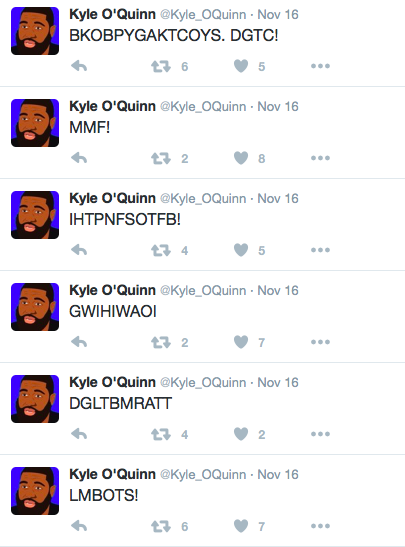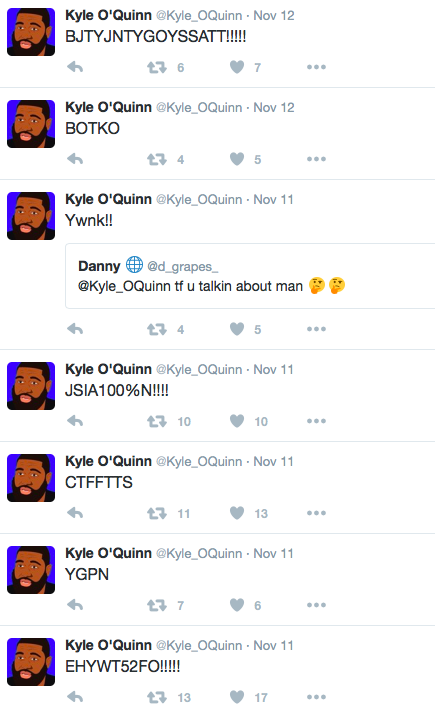 Those have been going on since early November, crazy person type stuff.
Moral of the story is this Knicks roster is weird and makes no sense. They're just asking to finish with like 37 wins which won't get them into the playoffs. That leads to Melo, Joakim, and Rose getting older while Porzingas just continues to be a monster. I didn't mention Courtney Lee at all before because he's just solid and theres no reason to bash what he does. I can't believe they gave Marshall Plume a contract due to the fact he's the worst Plume and its not close. Pretty positive he got sworn into the Army during his senior year at Duke so just a bizarre move all around. The Knicks are going no where, Phil Jackson still doesn't care that much, and Porzingas will continue to ball out when his team actually lets him. Those are just three facts that everyone should know.
---