Are this years Rockies different?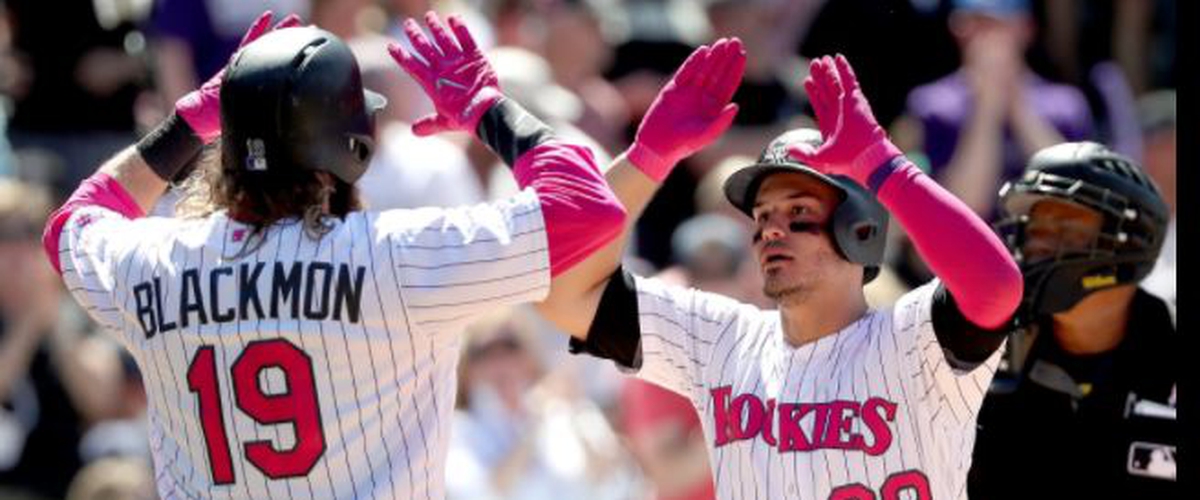 As I sit here on may 15th, the Rockies are in first place in the tough NL West, and are tied for the National League lead in wins. I know we've all seen this before- the Rockies will jump out to a great start and begin the free fall in June, ultimately finding themselves in the cellar of the NL West when fireworks fly at 20th and Blake on independence day. But can we expect the same from this years squad? I believe this team will break the mold and end up playing meaningful games come late August and September.
Let's start with the pitching. The Rockies have been somewhat let down by the guys who were supposed to lift them up this year. Ace Jon Gray has spent most of the season on the disabled list with a broken toe. 2nd year starter Tyler Anderson, who had a promising rookie campaign, boasts an ugly 6.43 ERA/ 1.48 WHIP at this point. Tyler Chatwood continues to pitch well on the road, but can't seem to find his zone at Coors. Enter home grown rookies Antonio Senzatela and Kyle Freeland. Both pitchers sit in the top 13 in the NL in ERA. Senzatela leads the league in wins with 6. Everyone thought these 2 would be somewhat of a mediocre 4th and 5th starter to bridge the gap until Gray got to pitch again. They have been nothing short of Senzational. If the Rockies can get Gray back healthy, Anderson returns to 2016 form, and Chatwood learns to pitch at Coors this can be a very formidable staff. This leaves us with the bullpen. Lead by the MLB saves leader (Greg Holland), GM Jeff Bridich has created a nasty bullpen full of former closers that all have sparkling ERAs. Chad Qualls, Mike Dunn, Adam Ottavino, Jake McGee, and Holland all have shut it down this season, contributing to the Rockies holding a 20-0 record when leading in the 6th inning or later. In past years the Rox have won games in spite of their pitching and bullpen: this year they're winning because of them.
Injuries: we've seen this before. Rockies usual mid summer free fall begins with key players going to the disabled list. This year started that way with their starting left fielder (Dahl), first baseman/ utility man (Desmond) and starting catcher (Murphy) all beginning their season on the DL. Ace Gray, catcher Tony Wolters (hitting .346 in 18 games) and starting shortstop Trevor Story have all found themselves landing on the list as well, yet the Rockies continue to win games. Back up catcher Ryan Hanigan has clutch hit after clutch hit and as a savvy veteran handles the pitching staff well. Mark Reynolds has been a NL MVP candidate at 1st, finding himself in the top 10 of basically every hitting category, while playing good defense at 1st. Backup shortstop Pat Valaika has been solidl; hitting 2 moonshots against the dodgers yesterday once to put them ahead, and then in the 8th to give Holland a 3 run cushion. No ones knows what this roster may look like come June once the Rockies get these guys back, but right now it doesn't matter- they have the confidence to win with whatever combination of guys are on the field.
Inconsistent hitting: Of course the numbers are there, but if you have watched every Rockies game this season like I have, there have been head some head scratchers, especially from an offensive perspective. The Rockies missed out on a sweep of the Diamondbacks in Arizona because they couldn't push one run across in 12 innings!! Dangerous slugger Carlos Gonzalez just raised his average over .200 on the year and before going down Trevor Story was hitting was hitting a measly .180. If the Rockies can get these guys going and this offense starts to click like the pitching, this team could be dangerous.
Buddy Black. After being driven out of town for losing with supremely under-talented teams in San Diego, Bud Black didn't know if he would ever get the chance to manage again. After their former player and high school coach Walt Weiss experiment didn't work out, Rockies brass turned to someone with extensive experience, more specifically in pitching and the NL West. Black has been pushing all the right buttons from opening day. From taking out Jon Gray who was rolling along to allowing starter German Marquez to drive in 2 runs in the 7th against Chicago, he can do no wrong. It seems as if the Rockies struck lightning in a bottle hiring the former pitcher Black, and he seems ready to lead this team into the post-season, a place this franchise hasn't been since 2009.
Only father time will tell if this team can sustain this hot start, but I know as a Rockies fan it sure is exciting to talk about: the 2017 Rockies can be really special.
Follow me on twitter @mrSpenster
Facebook: Spencer Smith