2019 NHL Playoffs Predictions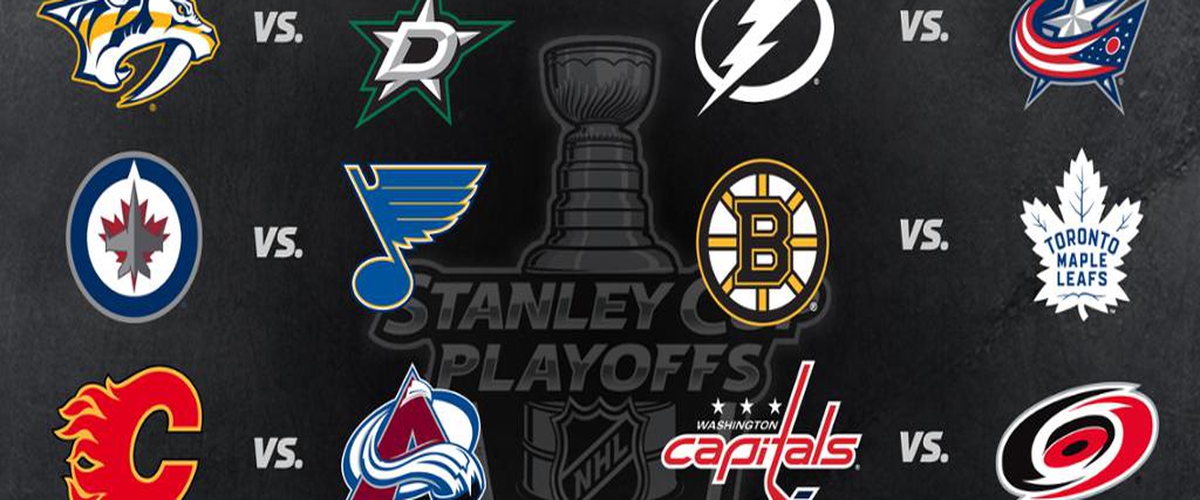 The absolute best time of the year is upon us ladies and gentlemen. The NHL Playoffs start tonight and over the next 2 months, 16 teams will battle for Lord Stanley's Cup. Even though almost every hockey fan hates the current playoff format, we still have some awesome matchups in round 1. We're going to go through every series and I will give my opinions and predictions on who I think will advance. At the end I will give my pick for the 2019 Stanley Cup Champion.
Columbus vs. Tampa Bay
Tampa Bay is the obvious favorite in this series with their historic regular season. Steven Stamkos and Nikita Kucherov will be too much for the Columbus defense to handle. Not to mention Tampa's incredible depth throughout their lineup. Brayden Point has had a career year and Tyler Johnson seems to always show up in the playoffs. Columbus will need Panarin, Duchene, and Bobrovsky to play almost perfect for the Blue Jackets to have a chance in this series. My pick is the Lightning in 4.
Toronto vs. Boston
One of the most exciting matchups we have in the 1st round this year, Boston and Toronto will be an absolute war from start to finish. Last season Boston defeated Toronto in 7 games. However John Tavares was not in the Maple Leafs lineup. Will Tavares be the deciding factor in getting the Leafs over the hump? I don't think so. Bruins in 7 once again.
Hurricanes vs. Capitals
After finally winning the Cup last season, the Caps have a chance to defend their title and it starts with the Carolina Hurricanes. The Hurricanes have had a great season, turning heads with their Storm Surges (@ Don Cherry). However their fun-filled season will come to an end when they lineup against Ovi and the Caps. I believe Ovechkin and the Caps are still hungry. They want to defend their Stanley Cup and bring back to the water fountains in D.C. and go on another bender this summer. Caps in 6.
Islanders vs. Penguins
I don't think anyone, myself included, would think the Islanders would have the season they did after losing John Tavares. Robin Lehner has stood on his head all season. But playoff Sidney Crosby is different than regular season Sidney Crosby. I do not think the Islanders have the depth like the Penguins do, nor the playoff experience. Crosby will take the Penguins onto the next round in 6 games.
Colorado vs. Calgary
Calgary is an absolute WAGON this year. Acquiring Lindholm and Hanifin put the Flames over the hump. Colorado is a very top heavy team and if Calgary can shut down Mackinnon, Rantanen and Landeskog, then Calgary will blow through the Avalanche. Flames in 5.
San Jose vs. Vegas
This is a heavyweight matchup in the West. One thing to be worried about if you're a Sharks fan, is Martin Jones. He has had a terrible season and we all know that a hot goaltender wins championships. Vegas has stocked up for another run with trading for Mark Stone, and Vegas is looking GOOOOD. Karlsson has not been himself completely this year and Joe Thornton's window of getting his cup is closing quickly. Vegas in 7.
Dallas vs. Nashville
Although the Preds have not had a great year, they have a lot of playoff experience and are primed for a deep run. Dallas don't have much after Benn, Seguin and Heiskanen. I think the Predators will get their confidence back in this series and move on from there. Smashville in 5 games.
Winnipeg vs. St Louis
Completely two different stories coming into the playoffs. The Blues have been the hottest team in the NHL since January, while the Jets have fallen off tremendously. They need Patrik Laine to finally show up and play to his potential. If the Jet's don't get their stuff together, the Blues will blow right through them. Binnington and the Blues move on in 6 games.
Stanley Cup Champion
My prediction for the Stanley Cup Champion might surprise some people....the Tampa Bay Lightning. Very original I know, but I truly think that this team will go down as one of the best teams in NHL history. Considering the salary cap, the way the game is played in this era and how good every single team is in today's NHL. I just cannot see any team beating a healthy Tampa Bay team in a 7 game series.
---