2017-18 Training Camp: Predicting the Patriots' 53-Man Roster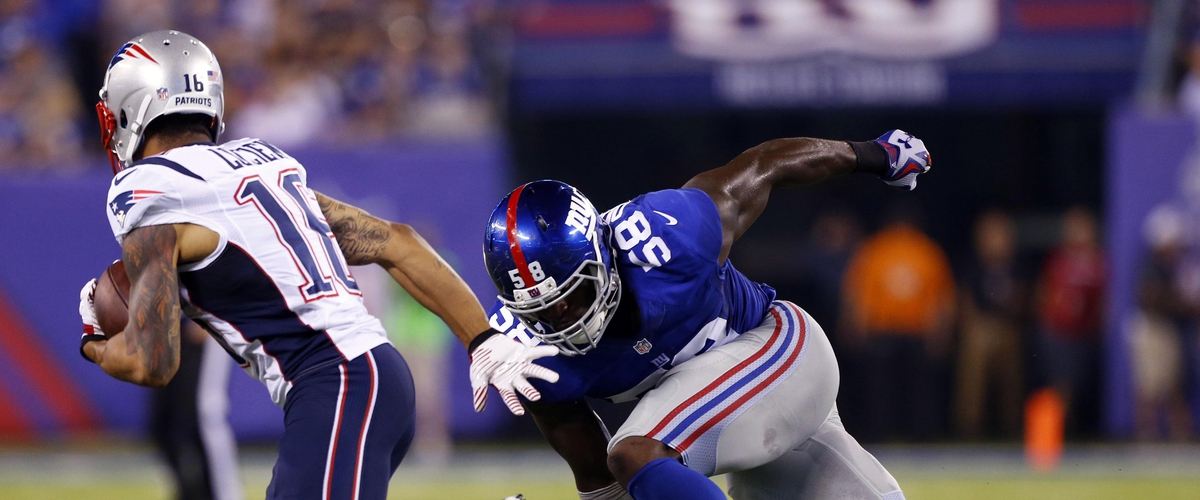 Patriots wide receiver Devin Lucien evades New York Giants defensive end Owamagbe Odighizuwa.
Every team in the NFL this time of year needs to trim the roster to 53 men before the regular season, so training camp serves as an important way for coaches and managers to see players perform and rate players so as to determine how to cut down the roster. The New England Patriots particularly may be faced with a challenge, as the team is full of versatile, talented players that will not all be able to make the final roster. Some of these position battles are more difficult to find a result to than others.
Quarterback
The Patriots are going to keep all three quarterbacks on their roster. End of story.
Predicted Roster Spots (Backups in Parentheses): QB Tom Brady (Jimmy Garoppolo, Jacoby Brissett)
Offensive Line
The Patriots are likely going to keep around a backup line, with the three usual backups (Karras, Fleming, Waddle) as well as others intact. The roster battles will be toughest at offensive tackle, where there is Nate Solder, Marcus Cannon, LaAdrian Waddle, Antonio Garcia, Cameron Fleming, Conor McDermott, and others. To fit with 53 men, I'd predict the Patriots keep 9 offensive linemen, as one player can back up the guard positions. I would keep Fleming over McDermott, the team's fifth round pick, due to experience in the NFL. Ted Karras is the team's most solid interior line backup, but there are others and those who could switch positions.
Predicted Roster Spots (Backups in Parentheses): LT Nate Solder (Antonio Garcia), LG Joe Thuney (moving Cameron Fleming here would make most sense), C David Andrews (Ted Karras), RG Shaq Mason (Fleming or Karras), RT Marcus Cannon (LaAdrian Waddle)
Wide Receiver
The Patriots' current roster lists Brandin Cooks, Chris Hogan, Julian Edelman, Malcolm Mitchell, Danny Amendola, Andrew Hawkins, Devin Lucien, Austin Carr, and Cody Hollister as wide receivers. The team will likely only be able to carry 6 or 7 receivers. Cooks, Hogan, Edelman, and Mitchell are considered as "locks" to make the roster, while Amendola is the frontrunner for the fifth spot. However, the sixth receiver spot could be taken by any of the remaining four. The team seemed to be impressed with the 6'1" Austin Carr, who could be a backup outside receiver to Mitchell, Cooks, and Hogan. Hawkins may be past his prime, but is still a quick receiver. Lucien has been on the roster with little playing time for years, but gets the system and has the ability to make plays. Hollister we haven't seen much of. If I were picking the sixth guy, I'd choose Austin Carr or Andrew Hawkins.
Predicted Roster Spots (Backups in Parentheses): WR1 Brandin Cooks (Malcolm Mitchell), WR2 Chris Hogan (Austin Carr), SWR Julian Edelman (Danny Amendola)
Running Back
The running back position will likely be one of the most difficult for the team to whitttle down. The clear "locks" on the roster are James White, whose contract was extended after his Super Bowl performance, Mike Gillislee, who was signed off a tender from Buffalo, Rex Burkhead, a running back signed from Cincinnati, and James Develin, a fullback whose contract was extended. The team would be wise to go with the usual number of keeping 6 running backs, being 5 halfbacks and Develin as the sole fullback. Others would likely fill the practice squad or, in some cases, be good enough to latch on with other teams. The other two then, would come down to FB Glenn Gronkowski and HBs D.J. Foster, Dion Lewis, Brandon Bolden, and LeShun Daniels Jr. Daniels is the sleeper pick, while Lewis is the closest to a roster lock. He's a quick, sharp-maneuvering running back with the versatility the Patriots' system requires. Bolden has made the roster for years as a special-teamer and situational running back. However, with swiss-army-knife back Rex Burkhead likely filling a special teams role, the team has no real need for Bolden, insteading possibly opening up a hole for the arguably more talented halfback D.J. Foster.
Predicted Roster Spots (Backups in Parentheses): HB1 James White (Dion Lewis, D.J. Foster), HB2 Mike Gillislee (Rex Burkhead), FB James Develin
Tight End
The Patriots may only be able to keep two tight ends, but with six great wideouts, that might not be a great issue. I'd keep just the top two.
Predicted Roster Spots: TE1 Rob Gronkowski, TE2 Dwayne Allen
Middle Linebacker
The Patriots should likely keep 3 inside linebackers and have no shortage of talent at the position. Candidates for the ILB position are David Harris, Elandon Roberts, Kyle Van Noy, and Harvey Langi. However, moving one to the OLB position would ensure that all could stay on the roster in a talented group. I'd move Roberts because he's the most versatile linebacker in the group.
Predicted Roster Spots (Backups in Parentheses): MLB David Harris (Kyle Van Noy, Harvey Langi)
Outside Linebacker
The Patriots have a great group of outside linebackers, but out of 7 candidates, I think the team would only be able to keep 4 (or 7 total linebackers because all 7 can really play anywhere). The candidates are Dont'a Hightower, Elandon Roberts, Shea McClellin, Rob Ninkovich, Jonathan Freeny, Trevor Bates, and Brooks Ellis. Hightower and Ninkovich are the best picks for locks, and McClellin and Roberts are athletic linebackers capable of being no. 1 guys.
Predicted Roster Spots (Backups in Parentheses): SLB Dont'a Hightower (Elandon Roberts), WLB Rob NInkovich (Shea McClellin)
Cornerback
The Patriots have a great group of cornerbacks who all contribute in multiple faucets of the game, but the only locks are starters Stephon Gilmore, Malcolm Butler, and Eric Rowe. Rowe's physicality and size give him the most ability to back up Gilmore against typical no. 1 receivers, while Butler's outstanding coverage skills help him lock down any target. Other cornerbacks on the current roster are Cyrus Jones, Jonathan Jones, Justin Coleman, Dwyane Thomas, Will Likely, and Kenny Moore II. The team would likely be able to carry 2-3 backups. Jonathan Jones has shown promise as a lightning-fast cover corner with special teams ability, and Jones hasn't been given up on yet. The others are unproven options we'll need to see more from. I would put Gilmore as the no. 1 corner because of his size, mainly.
Predicted Roster Spots (Backups in Parentheses): CB1 Stephon Gilmore (Eric Rowe, Cyrus Jones), CB2 Malcolm Butler (Jonathan Jones)
Safety
The Patriots like to use a 3-safety rotation with roster locks McCourty, Harmon, and Chung, and will need backups to fill the roles of injured players. The backups on the current roster are FS Nate Ebner, FS Brandon King, SS Jordan Richards, FS D.J. Killings, FS Damarius Travis, SS David Jones, and SS Jason Thompson. Ebner is a valuable athletic player with special teams value, as is King. Richards has proved himself to be a good safety, but may be cut as the team can only keep 4 safeties according to my analysis. As Chung was disappointing last season, Harmon may see time as the starter.
Predicted Roster Spots (Backups in Parentheses): FS Devin McCourty (Nate Ebner), SS Duron Harmon & Patrick Chung
Defensive End
The likely number for DEs on the roster by the regular season is only 4. The team's star end is Trey Flowers, while Kony Ealy came for a 9-spot-move-down in the draft. Draft picks Deatrich Wise Jr. and Derek Rivers are the leading options as backups to develop.
Predicted Roster Spots (Backups in Parentheses): RDE Trey Flowers (Derek Rivers), LDE Kony Ealy (Deatrich Wise Jr.)
Defensive Tackle
The Patriots have a great group of defensive tackles in Malcom Brown, Alan Branch, Vincent Valentine, Lawrence Guy, Woodrow Hamilton, Adam Butler, Darius Kilgo, and Josh Augusta. Brown and Branch are locks, while the team will probably keep 2 backups and have some on the practice squad as call-ups. Guy and Valentine, as well as Hamilton, are the leaders here because of experience and overall ability.
Predicted Roster Spots (Backups in Parentheses): DT Alan Branch (Lawrence Guy), DT Malcom Brown (Vincent Valentine)
Kicker: Stephen Gostkowski
Punter: Ryan Allen
Long Snapper: Joe Cardona
Best Players Cut: OT Conor McDermott, WR Andrew Hawkins, RB Brandon Bolden, FB Glenn Gronkowski, TE Matt Lengel, OLB Jonathan Freeny, CB Justin Coleman, FS Brandon King, SS Jordan Richards, DE Geneo Grissom, DT Woodrow Hamilton