NFL Preseason: What We Learned In Patriots vs. Texans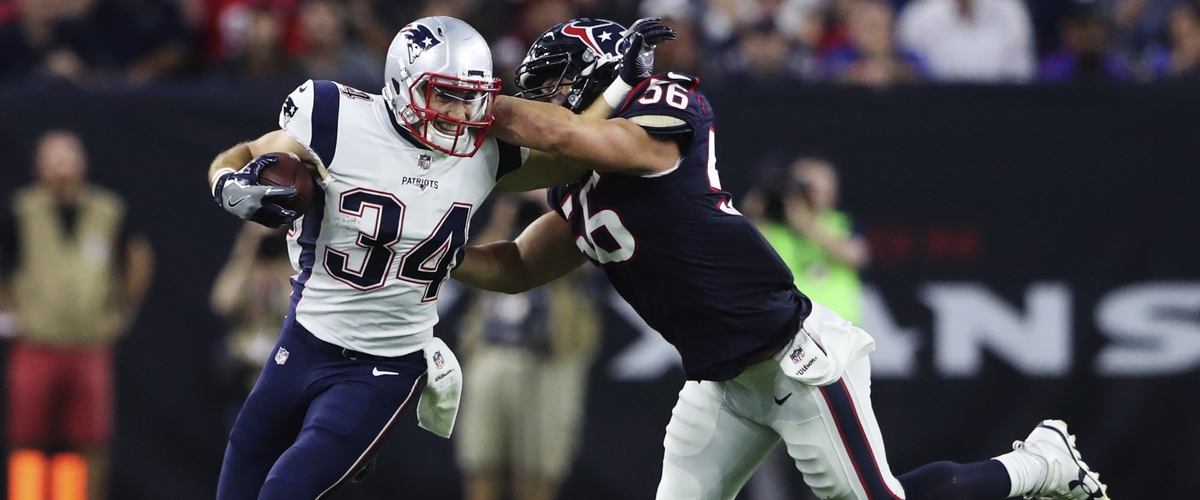 The NFL Preseason is an important time for coaches, and for players looking to make an impact and make the roster come cutdown day. Saturday's Patriots-Texans game was one that showed off a lot of things in full swing. Both the Patriots and Texans showed some things off. Here are some things we learned:
1. Rex Burkhead is making a push for RB1
Burkhead was very impressive against the Texans, with a 22-yard touchdown catch and solid performances on the ground and through the air. Burkhead showed his ability to replace LeGarrette Blount as the between-the-tackles runner, and also looked like a solid receiver, destroying Texans' rookie linebacker Zach Cunningham on an angle route for a TD. Burkhead showed just what the Patriots want in a running back: a guy who can be the durable, short-yardage runner who can also make plays in short spaces in the passing game.
2. The Patriots' running backs make scary receivers
It's always been a main feature of Josh McDaniels' offense to utilize the team's running backs as much as possible. To fit the Patriots' offense, running backs have to be agile, quick, and able as a receiver. The team showed this ability off Saturday, scoring multiple 20+ yard touchdowns on pass plays. Both times, the team's running backs (Burkhead and D.J. Foster) burned coverage before scoring. The team's running backs looked great in small spaces and looked agile in their routes, as well as in running plays.
3. The Texans still have work to do with second-round ILB Zach Cunningham
Cunningham, a relatively small inside linebacker, was drafted in the second round by the Houston Texans, and he was no less than disappointing in the game. Cunningham showed a lack of awareness, agility, and "twitch" on several plays. He was beaten badly on the same route twice by Patriots' backs for long touchdowns, first by Rex Burkhead and then by former undrafted free agent RB D.J. Foster. Cunningham probably won't start too soon with the Texans' linebackers as they are, but for him to contribute like a second-round pick, he'll need to improve his skills in coverage as an inside linebacker.
4. Cyrus Jones is making an impression after a disastrous rookie year
Everyone knew about Cyrus Jones last year. It seemed the second-round pick would be a rare Belichick bust, leading the NFL in muffed punts and struggling in coverage. After a poor first preseason game, Jones had a noteworthy showing, allowing just 3 yards receiving in several snaps and having multiple long punt returns. Jones' performance looked impressive, and if he can continue it, he's got a good shot at New England's roster.
5. Texans WR Bruce Ellington looked electric
With no. 2 wideout Will Fuller V breaking his collarbone in a practice, the Texans have been looking for a new no. 2. In Saturday's preseason game against New England, it looks like Bruce Ellington is making a push to be that guy. In just 4 receptions, Ellington racked up 93 yards receiving, including a stellar 37-yard leaping catch over struggling CB Malcolm Butler. Ellington constantly got open, with catches of 12, 37, 11, and 33 yards in the showdown. Ellington looked agile and quick, and displayed strong hands in the game.
6. D'Onta Foreman could be the next Jamaal Charles
Foreman, drafted by Houston in the third round of this year's draft, had a very impressive game. Running, he did decently, with 7 carries for 17 yards, including an 8-yard burst and explosive touchdown run to cap off the drive. Receiving, however, Foreman was a threat, finishing with 66 yards in just 2 targets, including ripping the Patriots' defense for a 63-yard burst. Foreman looked like a younger, bigger Jamaal Charles with his explosive, head-on running and his burst in the receiving game.
7. Jonathan Jones, Justin Coleman chasing roster spots
Patriots cornerbacks Jonathan Jones and Justin Coleman have been considered as part of a 6-man battle for 2-3 roster spots alongside Cyrus Jones, Kenny Moore, and others. Coleman was impressive down to one play, as his lone allowed reception was a 33-yard one from Bruce Ellington. He played well, breaking up 2 passes and stopping 3 more. Jonathan Jones, a second-year corner with great speed and agility, allowed just 5 yards in coverage. Jones is my sleeper to win the team's slot cornerback position.
8. Elandon Roberts may be in trouble
One of the team's projected starting linebackers, Roberts went down with bruised ribs in the contest. Some say he may lose time (and opportunities) to Harvey Langi and Jonathan Freeny, but I think he will still make the opening day roster. Roberts is a solid zone-cover man with some trouble against quicker backs who can tackle well. Roberts' lone cover in the game turned into a 63-yard reception for RB D'Onta Foreman, but the blame can't be put all on Roberts: he was run into by fellow LB Jonathan Freeny on the play, which led to his injury.
9. The Patriots' defensive end options look okay
Kony Ealy played a decent game for the Patriots, looking solid off the line. The Patriots may also move BYU inside linebacker Harvey Langi to off the edge or run a 4-2 front. Defensive tackle Lawrence Guy was impressive, getting a sack, and could be the guy in a 4-2. Since the Patriots like to run a 4-2 front with a 3-safety nickel package, I think the Patriots could add Langi, Ealy, Guy, DT Vincent Valentine (recorded 1 hurry), OLB Shea McClellin, or OLB Elandon Roberts to the mostly-established Trey Flowers-Malcolm Brown-Alan Branch trio. If not, the team could play Branch outside and put Guy or Valentine inside, which to me seems logical as Branch can swallow up double-teams and generate pressure well.
10. Jacoby Brissett is sort of on track
The Patriots' third-stringer is in a similar place to Garoppolo when he was in year two, and I'm confident Brissett will improve. However, he'll need to improve his pre and post snap reads, and has been "disappointing" in camp. He showed a lack of awareness in the Patriots' final play of the game, a strip that went through the end zone for a touchback. Brissett has work to do, luckily he'll have time before he's thrown into a game.
---