WRT Metric: The 2016-17 NFL Season's Top 10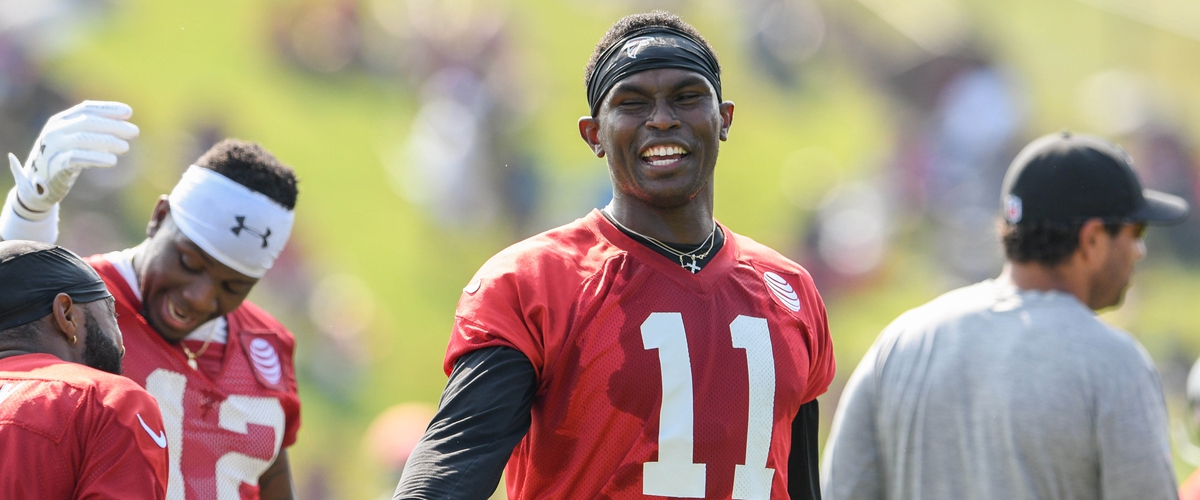 As the 2017-18 NFL Season approaches, let's look back at the 10 best wideouts by my metric, Wide Receiver Total.
The WRT Metric is a project I have been working on for a few months. Recently, I completely redid the metric to better match NFL averages and important statistics, and completely changed the formula, and thus, the results. The new metric is simpler, yet I believe it is a more accurate representation as it only includes some of the most valuable receiving statistics. These rankings do not include the postseason. The new metric tends to favor typical No. 1 receivers over deep threats who don't catch as many passes and slot receivers, but it is still a good representation. Remember, 40+ is a pretty good score, and 60+ is a typical WR1 number. Also for reference, the greatest season ever for a receiver by the metric was Randy Moss for the New England Patriots in 2007, with a mark of 149.42, with a Wins Over Zero rate (see bottom of article) of 5.918. That's not going to happen very often. Here's the 2016-17 NFL Season's Top 10:
*Numbers are rounded to the hundredths place.
10. Tyrell Williams, Los Angeles Chargers - 82.48 WRT - Williams had a breakout season and was a great threat for Rivers.
9. Doug Baldwin, Seattle Seahawks - 86.31 WRT - The metric doesn't favor slot receivers, but Baldwin's lack of drops and 1,128 receiving yards helped him earn this spot.
8. Brandin Cooks, New England Patriots - 87.27 WRT - Cooks falls just below his rookie former teammate as the explosive deep threat, an exception to the metric's tendencies.
7. Michael Thomas, New Orleans Saints - 92.83 WRT - Thomas' big, 1,137-yard WR1 abilities made him the only rookie on the list.
6. Julio Jones, Atlanta Falcons - 103.82 WRT - A toe injury hurt Jones' production, but he still had a very notable season.
5. T.Y. Hilton, Indianapolis Colts - 105.93 WRT - A lack of touchdown receptions hurt the value, according to the metric, of the league's yards leader.
4. Odell Beckham Jr., New York Giants - 106.2 WRT - Beckham was good all around in each category on the metric, helping him earn a top 5 spot.
3. Antonio Brown, Pittsburgh Steelers - 110.08 WRT - Brown was as dominant as ever, with a season putting him in the Top 3.
2. Jordy Nelson, Green Bay Packers - 110.25 WRT - Nelson edged out Brown for second place thanks to his abilities as a touchdown-scoring machine.
1. Mike Evans, Tampa Bay Buccaneers - 117.77 WRT - Evans was the reliable target for Winston in 2016, reeling in 1,321 yards, 12 touchdowns, and 81 first-down receptions.
Another subset of this metric is the Wins Over Zero category, which takes a player's total expected points added score over the expected score of an NFL game's winning team. This is not the main metric because it does not account for quarterback or team performance. For example, Miami Dolphins receiver Jarvis Landry had a Wins Over Zero rating here of 3.189, while Mike Evans had a Wins Over Zero rate of 4.665. Both metrics display a number that can be used to quantify a player's importance to the scoring of a team overall, which was the purpose of the WRT Metric.