MLB16 Chin Music: Angels Weep But Gods Still Favor Pujols & Trout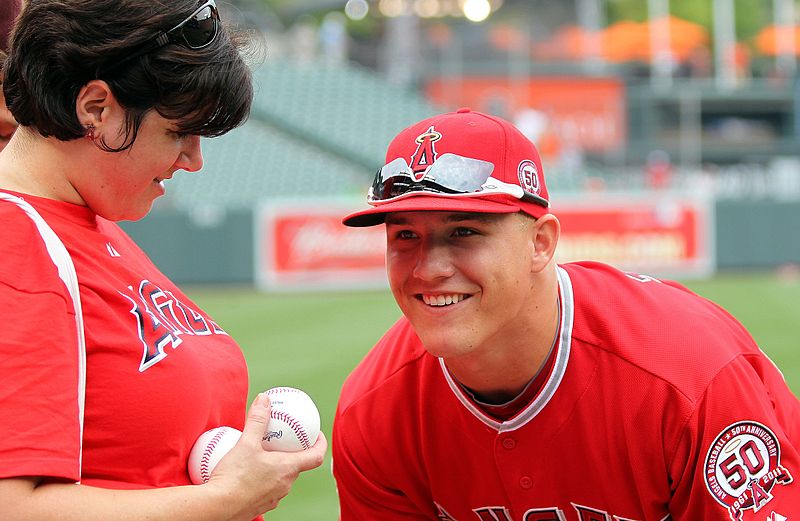 It won't be the question that keeps Anaheim Angels' braintrust fidgeting when their 2016 season ends with conclusion of Sunday afternoon's game against the visiting Astros. More likely it will be the implementation, whenever that might be, of the painful answer they already know: Mike Scioscia has gotta' go.
Mike's a pretty brilliant baseball mind. No doubt on that point (.541 (17)). And in his day, a pretty nifty ball-player, too. A two-time All-Star and champion (1981, '88), he was a mainstay backstop with Southern California rival, the Dodgers.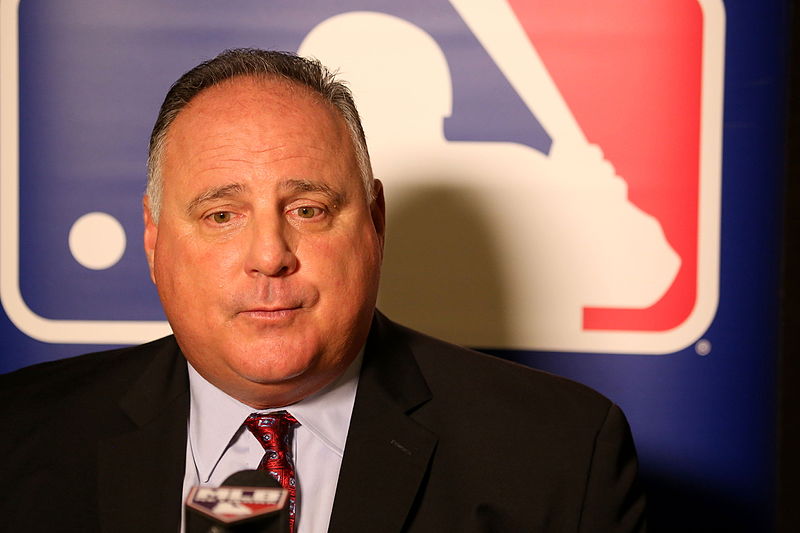 Jim Fregosi (1979-81) and Gene Mauch (1981-82, '85-87) made the Anaheim Angels of Greater Los Angeles Metro respectable but it was Scioscia who finally molded and managed them to that brass ring, the 2002 World Series title (v. SF). To date it's the Angels only pennant and championship.

But if it's not working, and it hasn't been for six of the last seven seasons, it's gotta' be fixed, that is, if you (owner) still have designs on winning again.
It's not just 'not working' at Angel Stadium, it seems to have slipped into reverse. From 98 wins ('14), to 85 ('15) to 70-whatever this 2016.
Apart from that well-meant but somewhat ill-advised Josh Hamilton signing, you can't really lay much blame at the doorstep of Angels' owner Arte Moreno.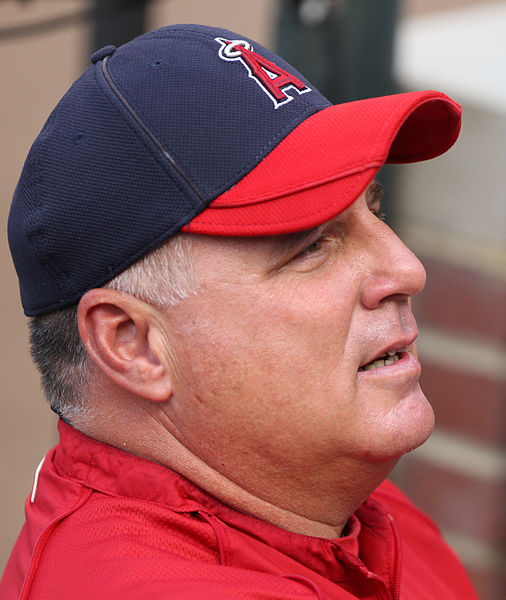 Number one, he's forked out the moolah in massive amounts to top talent in recent years in hopes of re-capturing the glory of early 2000s, stars enough to make a tiny All-Star team, K-money enough to fund a tiny space program but results so small the hardware wouldn't furnish a mantel in a "Tiny House (ugh)."

Two, Arte's loyal, especially to dedicated employee who brought a long suffering franchise their first championship. That's a rare thing today, in big business or small. And then how was Moreno to know Vlad Guerrero would turn out to be post-season pedestrian (17g ('05-08): 1.rbi, 0.hr, 7r).
The ouster of Scioscia is a move many in baseball have probably pondered at each season's end since 2012. That year marked the Halos third consecutive absence from the post-season after having made the grade in six of eight seasons prior in that successful span from 2002 (WS) thru 2009.
Since that well-deserved World Series victory in 2002 the Angels have been ignominiously bounced from six of those playoffs, going 1-12 in four divisional series, just slightly better in the two American League Championships at 3-8.
Point being, the Angels post-title decline has been clear n' steady. There have been respites by way of playoff appearances, some in bunches ('04-09), one set-apart ('14), but none of them at their opening having conveyed a strong sense of World Series Wherewithal (See; Above).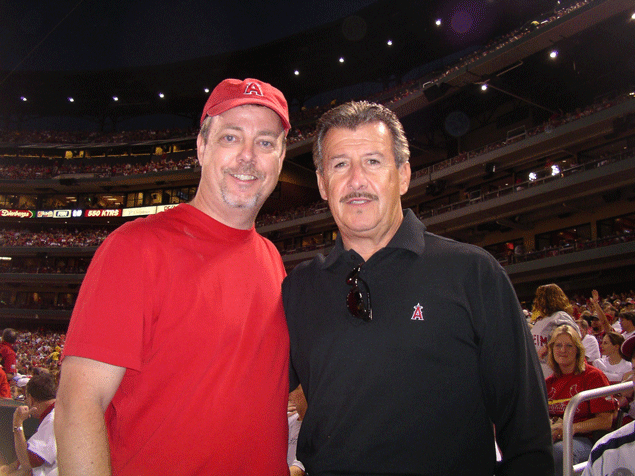 In his defense, the Pennsylvania native (11.27.58) has had his share of untimely injuries (Hamilton, Weaver, etc.) and line-ups somewhat lacking in both pitching (starters - mid - close) and hitting, particularly contact men (.300), though, such bats are at a premium today in free-swinging MLB and Angels 2016 team-BA does trend well (.260 (6-AL)).

Current Halos' GM Billy Eppler, a sabrhead, has only been on the job a year and can't be expected to shoulder much blame for current malaise, though, his number fixation (WAR, OPS, etc.) does not invite hope. Any administrative blame to be doled out must be born by Bill's predecessor, Mariners current GM in Jerry Dipoto (2011-15), along with farm-system (Mike LaCassa) and scouting (Ric Wilson) directors. Get the big bucks, you get to bear the brunt.
But line-up deficiencies, whether they be in All-Star caliber or utility players, those workaday guys that can fly under-the-radar yet meet important team needs that don't necessarily get quantified in sabrmetric - fantasy reports, plague nearly every team in both loops.
Even baseball's 2016 version of the NHL's Presidents' Trophy winner (regular season's best) in the Chicago Cubs (Did I just write that? Good sign, Bruins-backers), have an Achilles heel or two which Joe Maddon and Theo Epstein must lose a wink or two fretting over every nite they hit the hay (Zzzz).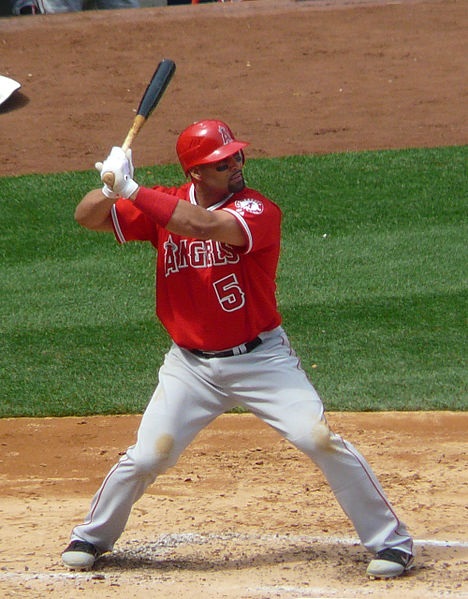 Two men you can't fault for the Angels "free-fall from ecstasy (Skowron)" are Albert Pujols and Mike Trout.

In four full and one partial season (99g / 2013) with the Halos, Albert, finishing his 16th MLB run and a likely 1st-ballot HOF'er after he hangs up his spikes, has clubbed 490 (+/-) ribbies and 146 taters, 29 per, on average. Pretty terrific production for a man in his mid-30s.
How many more runs of bountiful the Sporting Gods afford Al is hard to predict.
He turns 37 in January but is seems a well tuned machine and wouldn't surprise if he produced for 2-3 more years. But one thing this fan, and AP himself most assuredly, would not want to see is that career BA dropping below the .300 mark. It currently stands at .309 but he's been well off that average since exiting the Gateway City and will likely fall below the hallowed marker with 1-2 more full seasons of play. It's something to ponder, anyway.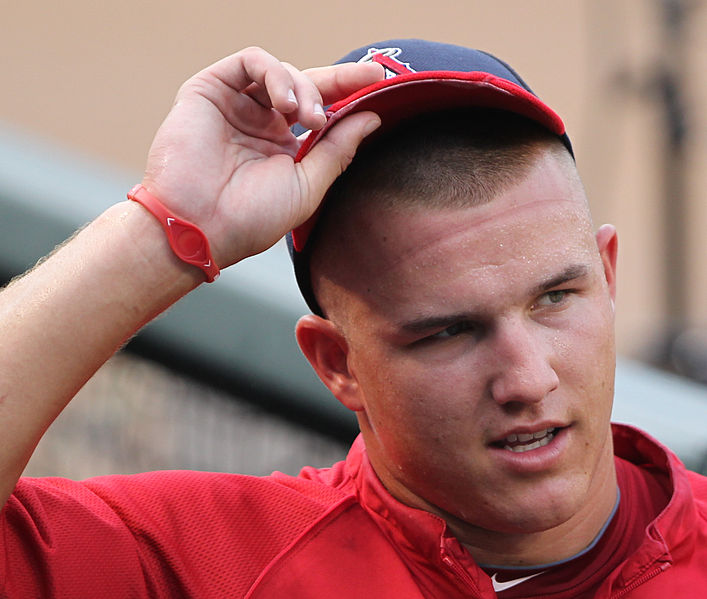 Mike, a fan favorite due to his easy adjustment to the majors, daring style of play and, though seems in need of work on driver attentiveness ("CHP Says…" / ocregister / 9.1.16 / Schwebke & Sudock), shows a spirit for the game and concern for others, finishes up his 6th season in Anaheim and stands as a strong AL-MVP candidate, leading the AL in OB% (.441), BBs (113), likely to reach the 30 and 100 plateaus in HRs and RBIs respectively and has surpassed the 100 mark in runs-scored for the fifth time in his relatively short MLB career. He's presently leading in that latter category (122) in a year when it's a good chance that 20+ players will reach the century mark in runs.

It would not be hyperbole to write that the rise of Hamiltonism (See: Billy (198 runs in 1894)) is in no small measure due to the present rise in Troutonics.
Back to Mr. Scioscia. He is an Anaheim legend and will have his number retired. But Mike and his betters should keep in mind that all good things come to an end and change, too often today instituted haphazardly for no good reason but to keep the pay-checks coming, can in fact work a real benefit, for the franchises and legends in question (See; Curly Lambeau, Tom Coughlin, Casey Stengel & Mike Babcock whose Red Wings record compares to Mike's own).
What the relevant contract between Scioscia and Moreno states in its particulars (term, payout, etc.), this writer need not know. Such writings, if wisely drafted, contemplate the multitude of circumstance, including above postulated.
Steven Keys
Can o' Corn
Photo credit: M.Trout-Fan, wc, 7.24.11, MD, K.Allison; M.Scioscia, wc, 7.23.11, MD, K.Allison; M.Scioscia, wc, 12.9.15, A.Pardavila, WinterMeet; Moreno-Fan, J.Miller, 6.9.7, wc; A.Pujols, wc, 4.14.12, M.O'Leary; M.Trout, wc.cca, MD, K.Allison, MD, 7.23.11; Canned-corn
Posted: 9.29.16 @ 5:45pm EST; Copyright © 2016
---