None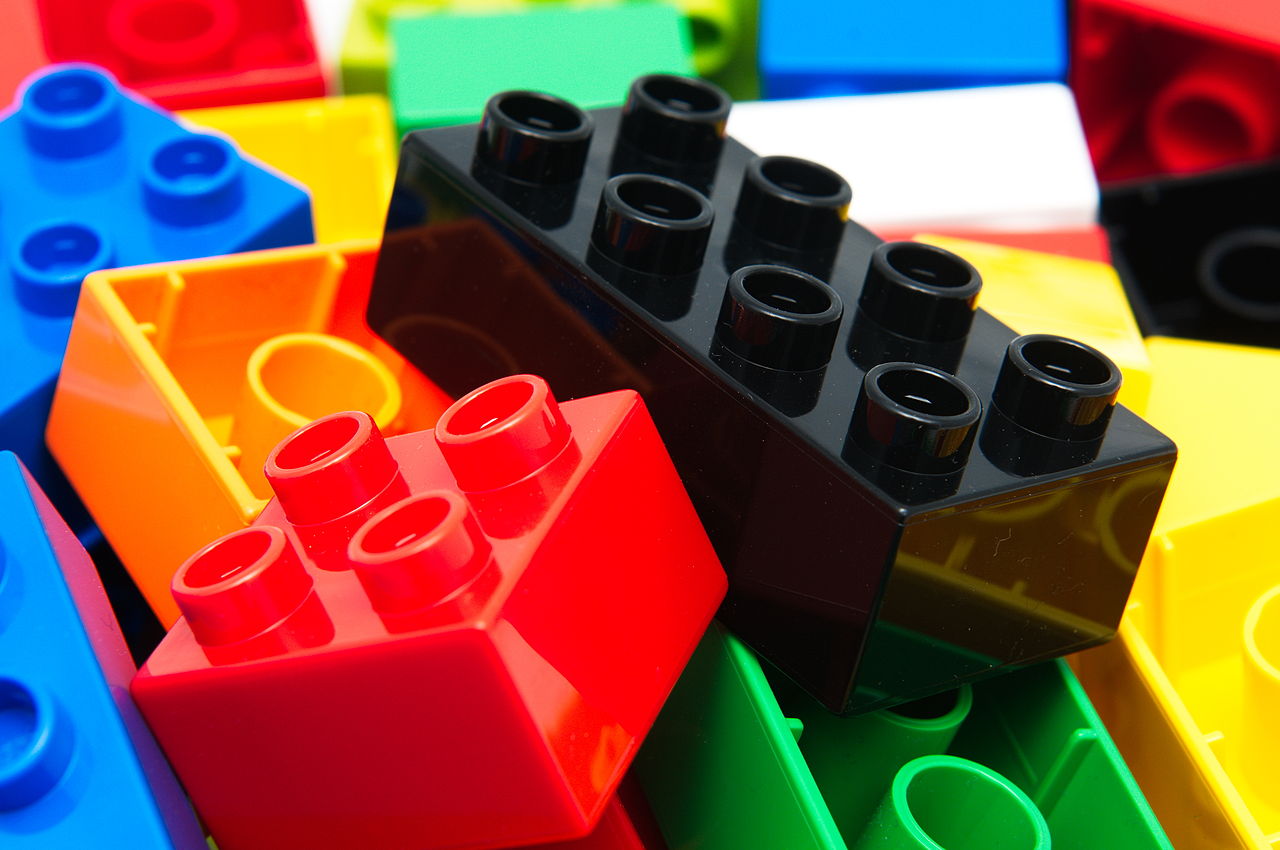 Caring to Coalesce
"It is our task to provide Turkey with the match to inflame the people against Russia."
Words of Nazi "Colonel Robinson (Sydney Greenstreet)" in the George Raft - Brenda Marshall wartime drama, Background to Danger ('43), summarizing for his provocateur charge their sinister plan to draw the neutral nation into war.
--- --- ---
You knew it was gonna' happen. Colin Kaepernick would become a GTG, aka, go-to-guy. For the junior media, anyway.
Now they're going to the Krude one for political insights. The dude with the prison-yard tattoos and, before he got benched and started sitting out the national anthem, seemed to always be tuned out to the world and tuned into his headphones (Beats-by-Dre).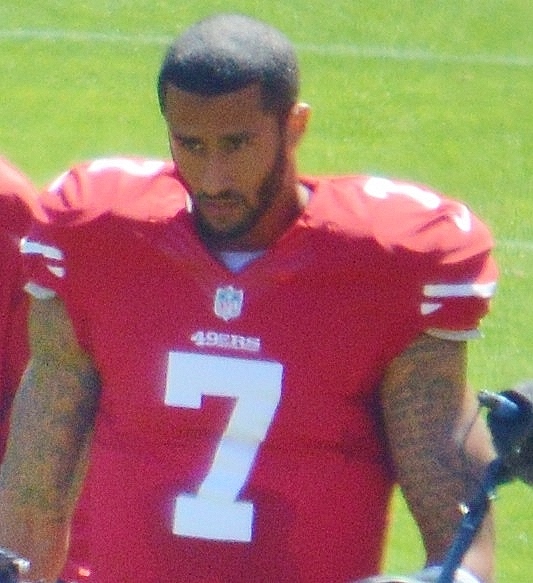 So what does Kaep Krusader think of Dollar Don and Capital Hill? No likey ("lesser of two evils"). The "evil" is a bit harsh but I can't argue with the "lesser (We get what we ask for, or don't, as the case may be)." 'But even a blind pig will find an acorn.'

On the gridiron is where Kaepernick should've been a GTG all along, i.e., tight-end. But Jimbo's offensively-challenged so he decided to bench Alex Smith who had gotten 'em to the cusp of Superduperville (NFCC11 (NYG)), missing out for a teammate with fumblitis, and went with improvisation-on-the-run, i.e., flash-QB.
As for mining for socio-political nuggets from the mind of Colin, you could add his intellect to his personality and it wouldn't fill up a shot glass. So there's that.
Once the 49ers reserve QB (might get a start soon), decided to spark controversy with his national anthem sit n' stew, then tapped into hate with his racist mock-socks (white cops ("pigs") only), an incendiary that leaders Roger Goodell, DeMaurice Smith and President Obama did not see fit to condemn, you knew the Boys & Girls who run our media would take the strike-match Krudesader tossed their way and "inflame" the masses, about 16%, anyway, then paint with broad stroke as racially hostile, anyone in the populace who dared criticize the headphone promoter turned "provocateur."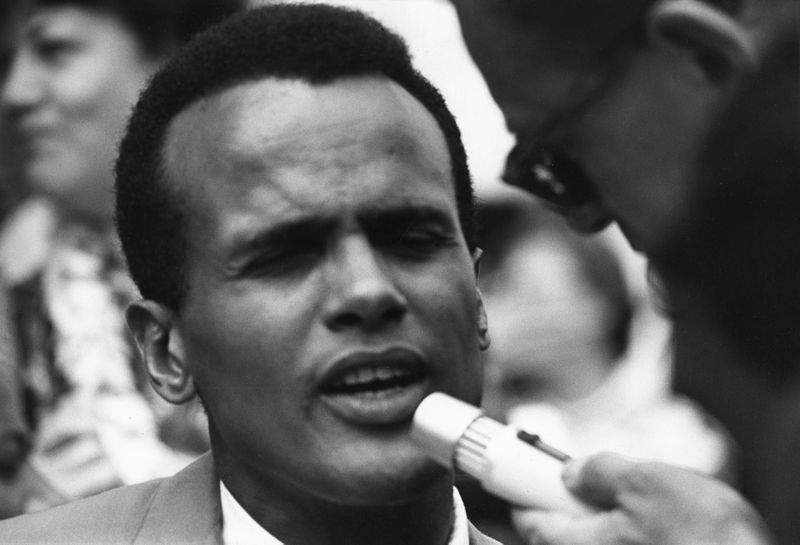 As if Mahatma, Martin or Bobby would've used racist mockery to foment change, and then never get called on it. But those guys were old skool, their problems can't compare to ours today, right (ugh)? Wrong. Goof-think 2016.

Iconic status was never in the cards for Kaep, not like a Rosa Parks or tireless civil rights advocate - singer - actor of 89-years, Harry Belafonte.
For one, it was a whole different ball-game back then, before desegregation took hold with help of federal courts and National Guard units, before southern Democrat President Lyndon Johnson (TX) convinced majority of white America to back his strong-arm of Congress into passing civil rights & voting legislation, and before Affirmative Action made the other two changes worthwhile. We've made real progress in the past fifty years that's as permanent and part of the American fabric as the Stars n' Stripes that grace the flag that Francis Scott Key immortalized in poetry & song.
And two, while Colin's boycott does not come without some risk to his career and probably his person too as there have been reports of threats, and will most certainly test his mettle as not many things before ever did, it's also probably safe to write that the burden he bears, lightened somewhat by the ensconcing effects of a very supportive, almost coddling media, pales in comparison to those which many civil rights volunteers in 1950s - 60s bore in their efforts to bring about change, especially in the South (See; Chaney-Goodman-Schwerner (d.1964)).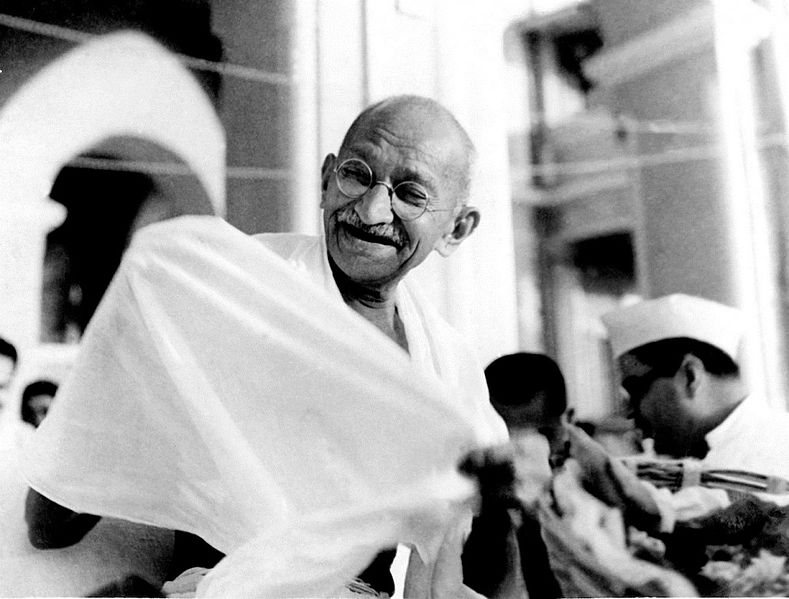 Colin Kaepernick, like all of us, is subject to the era in which he lives. He is shaped by its events and mores, enabled and limited both by the time-space continuum, choosing to alter or satisfy his surroundings . Short of super-human state (Gandhi, King, RFK, etc.) or an H.G. Wellsian "Time Machine," Kaepernick has little control over his circumstances. What he can control is his message: Content, delivery and desired end.

The non-conformity in refusing allegiance to what Colin claims is hypocrisy in America's national anthem was bold enough, but had he kept his protest constructive, conceding the progress we have made as a nation that for 350 years sanctioned slavery and its deformities (Jim Crow, etc.), showing courage and vision in dialoguing, inviting response and actually listening-for-content at the words of his rationally-minded detractors, rather than lobbing grenades (mock-socks), the Milwaukee-native might've been impactful.
Enter LeBron James. He's another GTG, for cub reporters and their betters.
When LeBron speaks, people listen, not because he's the eloquence of a Mahatma ("I want to change their minds, not kill them for weaknesses we all possess"), but because he's the biggest sport celebrity on the planet who sometimes appears to have a mind of his own.
So what does King James of Akron think of the two major candidates for the White House? See no "evil," not in Hillary Diane Rodham Clinton, anyway. He endorsed the former First Lady on Sunday.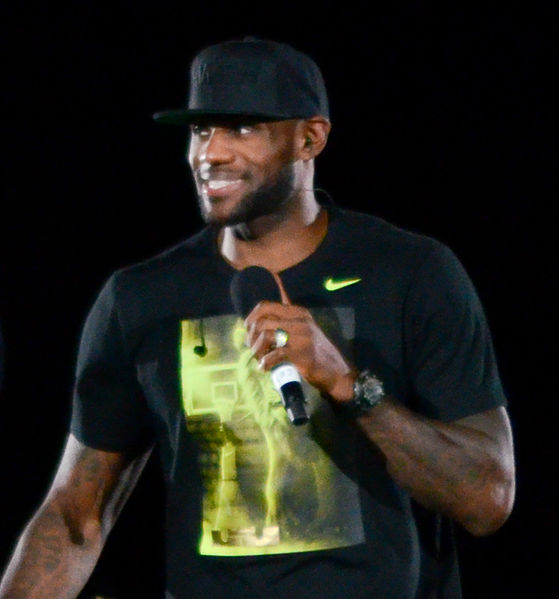 With a net worth of over $250 million, the NBA champion Cavaliers main-man carries considerable clout. It's not in league with Oprah Winfrey ($2.9B), but it's sizable, maybe exceeding that of President Obama whose pathway to power appears not so fraught with serious hardships, never having met an issue he couldn't or wouldn't appease.

Unlike Michael Jordan's slightly less-than-challenged rein of success on the Finals hardwood, most with the Bulls (1985 - 03), James has had to persevere through painful periods of unfulfilled great expectations in his pro journey that began in Cleveland (Phase I) 2003, expectations heaped mostly upon his shoulders alone (See; Wilt-the-Stilt).
Money alone won't buy happiness but battle-scars build character and James persevered, meeting his two prof'l objectives: First, fashioning a title with his 2nd team, the Miami Heat, then in return of the prodigal son to the Forest City in 2014, leading the way for their own long awaited championship, defeating a Warriors team (73 wins) many in the junior media had pre-maturely crowned the greatest of all-time (GAT, not GOAT).
Descending from his earned place in 7th- heaven last week to field questions, James broke ranks with some of his people and peers, those who are hell-bent on hate and finger-point in maligning America's police forces. He responded to a query on the Kaep case, uttering at some point the phrase, "All lives matter."
It was a big moment, catching media off guard. So they did what they normally do when free speech gets too free and pushed his response to the margins.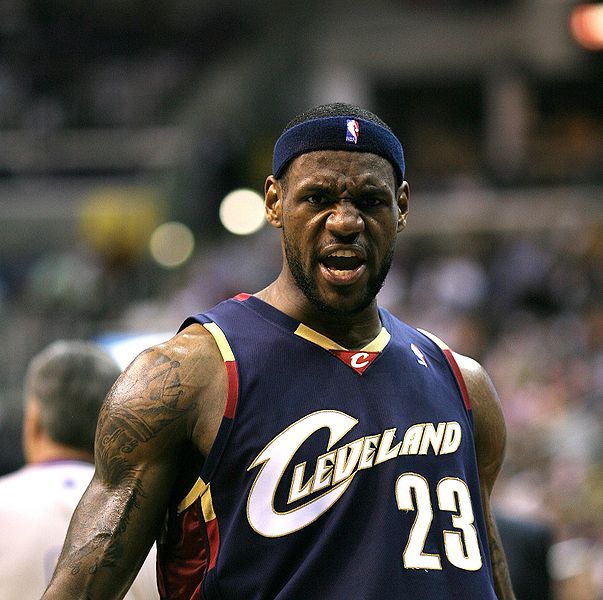 Such generosity conveyed in speaking to "all lives" is never well received by those who're steeped in blinding, egotistical anger. And those who sign-post the way to a better, more progressive place, a destination we never reach without some self-sacrifice & compromise along the way, put themselves in precarious spot, risking popularity and drop in sales receipts, among life's lesser vitals.

James also declared that he won't be boycotting any national anthems.
Lending credence to James' words is the fact that he has not been one to sit on the sidelines when it comes to social issues. Earlier this year Lego® made statement on the very issue of police tactic and, by some, its postulated misuse.
In wearing a t-shirt that read "I can't breathe," referencing to a typical choke-hold law enforcement can employ to immobilize a dangerous suspect but which can also inflict what some deem unnecessary harm, may have been a facilitator to Kaepernick's sit-statement, but at very least puts the basketball player's motives well beyond the reach of reproach.
Different strokes for different folks. When it comes to social engineering, maybe a little social change ($), too, that's Colin Kaepernick and LeBron James.
All lives matter, and all prejudice stinks. And all that LeBron James has done in three little words is more than our sitting President has done for race relations in nearly eight years.
Who says sports don't "matter?"

Steven Keys

Nothing But Net
Photo credit: Lego-BausteineVon, wc, gnufdl, 5.28.14, Roletschek; C.Kaepernick, wc, D.Hartwig, 10.27.13; H.Belafonte, wc, 8.25.63, NARA-USIAP&P; M.Gandhi, wc, pre-1942; L.James-sing, wc, E.Drost, 8.8.14; L.James, wc, K.Allison, 4.28.7; basketball-net, wc, 1995, static.
Posted: 10.3.16 @ 11:44am EST; Copyright © 2016
---