Where Do The Rockets Go From Here?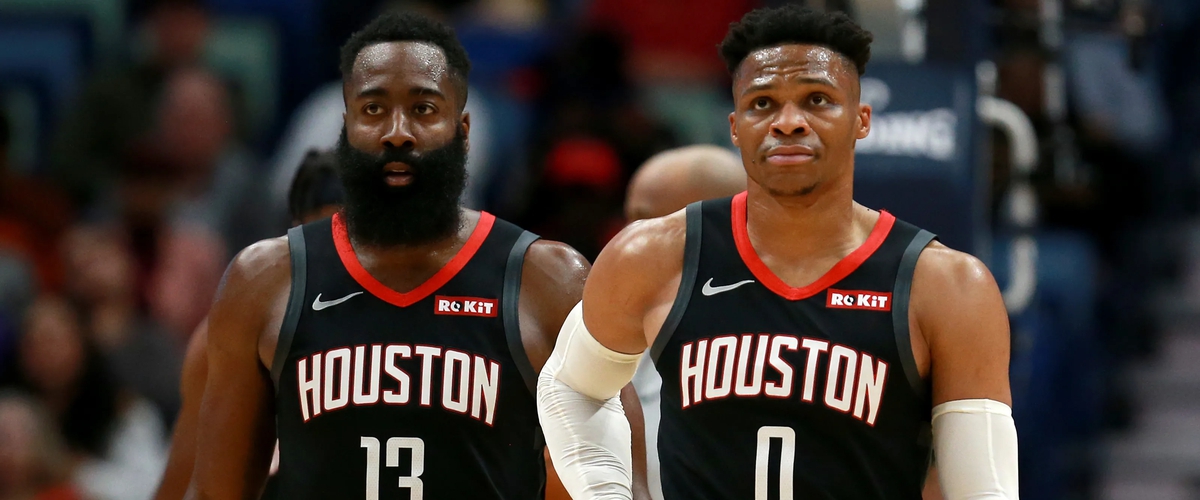 The Houston Rockets are among the most underwhelming teams of the past ten seasons; though they sport one of the game's elite scorers in James Harden and are an analytics-driven team, the Rockets just cannot seem to get things done.
Daryl Morey's "moreyball" strategy was taken to a new extreme this season, as the Rockets rid themselves of any quality big men, instead of employing PJ Tucker, Robert Covington, and Jeff Green at the big man slots to create mismatches on offense. However, this didn't work either, with the team being dismantled by the Los Angeles Lakers in the second round of the playoffs.
The question remains: with the team's assets wasted on Westbrook and no viable big man, where do the Rockets go from here?
Rebuild The Franchise
Houston gave up four first-round picks and Chris Paul to get Russell Westbrook and had to give up a first-round pick in the four-team swap to get rid of Clint Capela.
It is safe to say that the Rockets have depleted their assets through these trades, and with around $118 million already tied to the core of Westbrook, Harden, Eric Gordon, Robert Covington, and PJ Tucker, the Rockets also have virtually no flexibility. If the Rockets want to stick with the team they have, they can do so, and sign a number of other players to small deals or minimums. But, if they have had enough of this roster and want to try with another group of players, it is time to blow it up.
The Rockets' team has many players they can trade to get assets. If they can trade Harden and Westbrook (and their other top players) for picks and young talent, they will go straight into rebuilding mode with a lot of assets. With Danuel House already as a quality player, having many picks and a few other young players should help them prepare for the future.
Commit Fully To Small Ball/Moreyball
While so far small ball has not worked for the Rockets, I believe this is not because those analytics are faulty; Houston just has not been implementing it correctly. Obviously, by going ultra-small, the Rockets are expecting to lose the rebounding and points in the paint battles, but are expected to make it up with their hyper-efficient offense and superb shooting.
While the Rockets love taking three-pointers, they don't employ the greatest shooters, as the team as a whole had the 24th-best three-point percentage in the league (34.5%), and take a look at how their players shoot: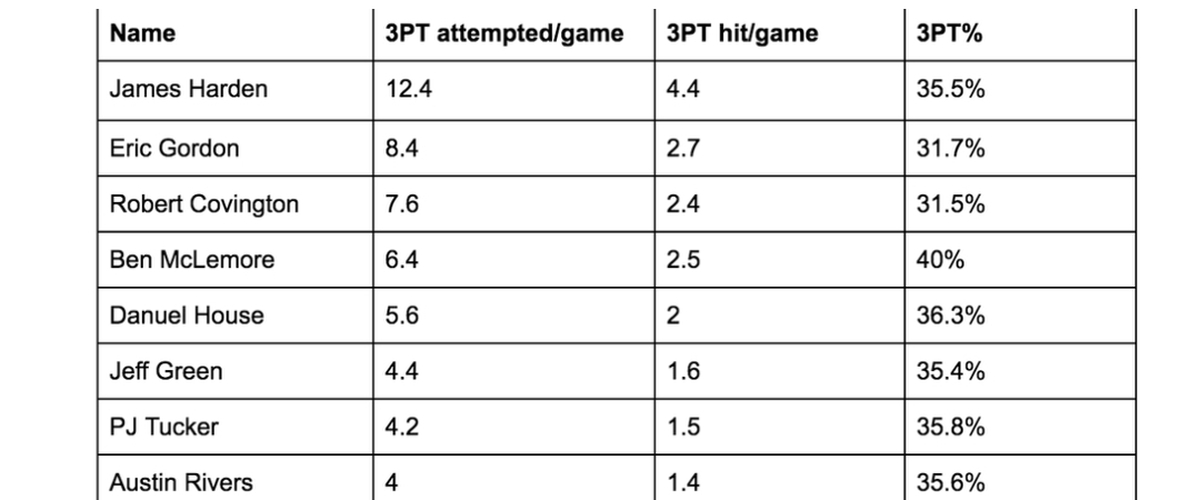 While Houston has one elite shooter, the rest of their main shooters from behind the arc are average at best. How can the Rockets expect this style of play to work, when on an average night they shoot worse than the league average? Clearly, the Rockets' issue is that they don't actually follow moreyball like they claim to; they shoot tons of threes (which is true to their analytically-inclined style), but hit a low percentage of them.
If they really want a chance to go far, the need to trade for players who can shoot the three at an elite level and can defend well. Great trade targets for their type of game would be Khris Middleton, George Hill, Jaren Jackson Jr., and Davis Bertans.
Furthermore, the team needs to get rid of players who are redundant or do not fit their system, most notably Russell Westbrook, as his lack of floor spacing can severely hurt their team.
Ditch Small Ball
The Rockets have tested the limits of three-point shooting and small ball over the last few years, and they have not gotten over the hump. They have struggled with three-point shooting over the past few years, and this year was no different. Moreover, the Rockets got rid of their only real big man, leaving the paint more open for slashers to attack.
It is time for the Rockets to employ a normal lineup, with at least one real big man over the height of 6"8. If the Rockets would like to continue with floor spacers, acquiring a player like Brook/Robin Lopez, Myles Turner, or Aaron Baynes who can space the floor, protect the paint, and grab rebounds.
Or, Houston can go in a different direction, and trade for more traditional big men. Players such as Andre Drummond and DeAndre Jordan are those who have seen their value dip in recent years and may be easier to acquire. This lob threat inside may help create more space for shooters, though it may also clog the lane for slashers such as Westbrook (if the Rockets are inclined to keep him).
While the Rockets have the tools to be a top team in the league, their offseason moves will determine just how successful they can be.
---