Why LeBron James is the GOAT
The way basketball has been played in the NBA has evolved immensely since the NBA's inauguration in 1946. Dominant players ushered in new styles of play by playing the game their own way, and other teams adopted new tactics in order to expose that player's weaknesses. However, due to these dramatic shifts in the types of play, comparing the best players across different time periods can seem nearly impossible when trying to determine who was a better player. This is a major issue in basketball, as fans tend to be biased in their analyses of who they think the best player ever is when comparing stats and numbers across time periods that have no business being looked at the same way. I think there are three ways that players can be looked at through a historical lens to help decide who is the greatest player: Stat conversions and comparisons, success, and sustained greatness. Based on these three measures, I believe that LeBron James is the Greatest Of All Time (GOAT).
STATS
Comparing stats is amongst the most difficult tasks when comparing the players of today to those of yesteryear, and players with lower per-game numbers to those with lower total numbers.
Wilt's 50 points-per-game season is the stuff of legend since the highest points per game of anyone else not named Wilt was Michael Jordan with 37.1 in 1987, which was 13 points per game less than Wilt's dominant season. Furthermore, Wilt averaged 22.9 rebounds per game for his career, while no player has hit even the 19 rebounds per game mark in just one season since Chamberlain himself in the 1971-72 season. However, are we to say that Wilt, based on his stats, is the GOAT? How impressive were these stats actually?
For comparison, I will take six of the best players from different eras: Bill Russell, Wilt Chamberlain, Kareem Abdul Jabbar, Michael Jordan, Kobe Bryant, and LeBron James.
Bill Russell had some incredible stats throughout his NBA career. In 42.3 minutes per game, Russell averaged 15.1 points per game, 22.45 rebounds per game and 4.3 assists per game. Wilt Chamberlain, in 45.8 minutes per game, averaged 30.1 points, 22.9 rebounds, and 4.4 assists. Yet, these two big men played predominantly in the 1960s, which was the largest points and shot attempts decade in NBA history, while having the worst shooting percentages of all time (except for the 1950s, where they eclipsed a field goal percentage of 40% just once). In other words, these two (along with all other players in the era) benefited from the boom in offensive opportunities along with more rebounding chances (along with the absurd minutes per game numbers). This type of quick-paced, low percentage game helped raise their averages to levels we can only comprehend in NBA 2K.
Is this to say that stats from the 1960s should not be counted? Of course not. But because players put up incomprehensible numbers in 1962, we can see that not all basic statistics were created equal.
Kareem Abdul Jabbar played for 19 seasons, from 1970-1989. Therefore, it is not surprising that his lengthy career resulted in him being first in all-time in points in NBA history, third all-time in total rebounds, in the top 50 of total assists, and third in blocked shots (they did not keep blocks his first four years in the league, he may have ended up as the all-time leader). Needless to say, his incredible longevity helped him achieve incredible numbers. On the other hand, his per-game numbers may not be as flashy as they once seemed, when compared to other dominant big men of a later time period, such as Hakeem Olajuwon, Patrick Ewing, and Shaquille O'Neal. Of note is the fact that, along with playing enough to become the league's top all-time scorer, Jabbar also has the most shot attempts in league history.
Kobe Bryant put up amazing numbers in his career, scoring the fourth-most points in league history. Playing such a long career, though, also hurt him, as he holds the record for most missed shot attempts in a career (over 1,000 missed shots more than the next player).
Michael Jordan undoubtedly has some of the most incredible numbers in NBA history. He is first all-time in points per game, third in steals per game, fifth all-time in regular-season points and second in playoff points, and third in playoff steals. However, Jordan played just 15 seasons in the NBA, with two of them contributing a total of 35 regular-season games. This, in turn, has caused his total numbers to be lower than others.
LeBron James seems to be the perfect balance of playing a long career, yet not having a statistical drop-off. He is third in total points, eighth in assists, 13th in steals, and 49th in rebounds, and his career per-game averages of over 27 points, 7.4 rebounds, and 7.4 assists is elite. James is also first all-time in total playoff points and steals, third in playoff assists, sixth in playoff rebounds, and 15th and postseason blocks. This season (his 17th, until the pandemic forced the season to stop), James has been putting up numbers very similar to his career averages, with the only major difference being an increase in assists per game. The only issue is that James being the primary ball-handler, scorer, and passer for 17 years has led him to some high turnover numbers (currently 2nd all-time in turnovers) and high missed shots (8th all-time in missed shots).
SUCCESS
Success is an overused system for ranking players, as success largely depends on the strength of a player's team and the talents of other teams, plus a share of unpredictability such as injuries and media voting bias for voting awards, such as MVP, All-NBA teams, DPOY, and more. Moreover, the definition of success is incredibly subjective. Going, say, 6-0 in the NBA Finals (as Michael Jordan supporters always point out) is an unbelievable feat. Even so, I would argue that LeBron leading his team to 8 straight Finals (9 total so far) is just as impressive. If success was defined purely by rings, Bill Russell would be recognized as the greatest to ever play the game, since he won 11 titles in just 13 total seasons, including 8 straight. Plenty of Jordan supporters will point to Jordan's 6-0 record in the Finals with the claim that winning the title is the highest goal for a player. However, they neglect one thing: winning the title is the highest team goal, and plenty of other factors affect the outcome. The highest individual award is the MVP award, and if greatness was defined just on MVP awards, then Kareem Abdul Jabbar (with 6 MVPs) should be crowned as the NBA's top player to ever play the game (however, this doesn't make sense either, as the voting is highly subjective and can be affected by bias, voter fatigue, and more).
I believe that success can best be measured by seeing if a player's team is consistently in the upper echelon of the NBA. In his 16 seasons in the NBA, James has reached at least the Conference Finals (top 4 teams) 10 times, while in Jordan's 15 seasons he made it 8 times. Jordan also lost in the first round three times, while James has never done so in his career. While people may argue that I am "nitpicking" on playoff success, I would respond with one word: Exactly. Anyone can nitpick their way to make the successes of their GOAT pick sound better than anyone else's, just like I just did for James. This should serve as proof that knocking someone because of how well their teams did in the playoffs and the awards they get is not the best judgment as to how we should rank players individually.
Of course, I am not saying that playoff success should be completely disregarded as a measure of individual player greatness; it should, of course, be considered. But to count only the NBA players' Finals record would be a grave mistake, as turning a blind eye to all the other bumps in the road of a player's career is just plain ignorant.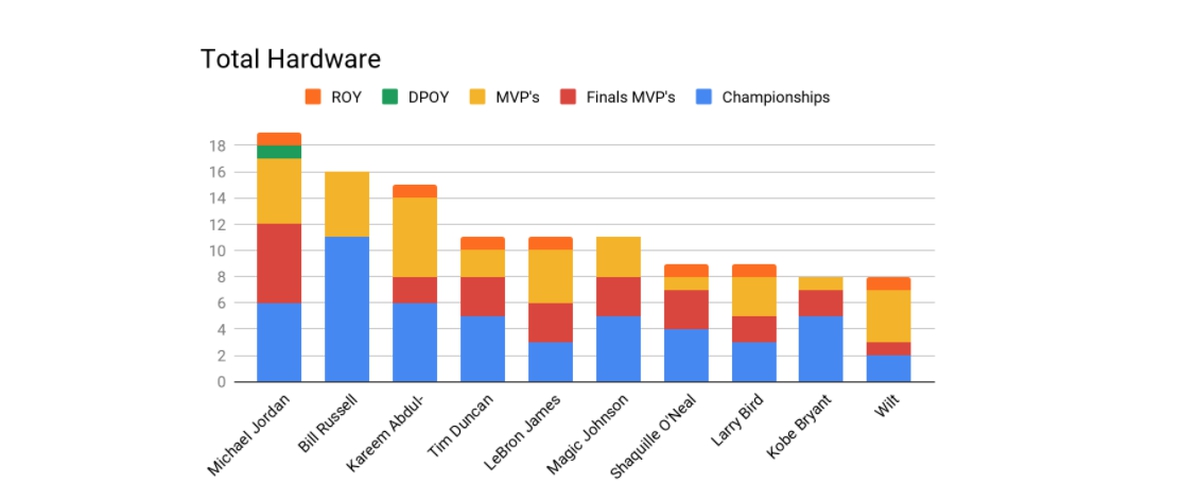 There is more to success, though than just how a player's team does in the playoffs; how a player does in terms of individual awards is also included. Throughout NBA history, there are admittedly a few players who are ahead of LeBron James in terms of hardware. Kareem Abdul Jabbar, Michael Jordan, and Bill Russell have each won more MVPs than James; Jordan has more Finals MVPs (and wins) than James, and James has no Defensive Player of the Year awards (although he did come in second one year). Even though James has not been at the very top all-time in personal accomplishments, he is consistently towards the top of most measures.
By the looks of the chart, it would seem based on these alone that Jordan is the GOAT, but that would be leaving out two important components: that there was no Finals MVP until Bill Russell's last year (he may very well have won several of those 11 potential FMVPs), and that there was no DPOY (because Bill Russell was regarded as an elite defender, he would likely have won many of those as well). I would speculate that, if these awards had been around during Russell's time, Russell's hardware numbers would have been around 25-30 as opposed to 16, putting him on top by a significant margin.
While having awards is nice and certainly helps the GOAT discussion, basing the GOAT on awards that can be affected by media voting bias, injuries, sup-bar teammates and more is not my ideal go-to when discussing an individual player's merits.
SUSTAINED GREATNESS
Sustained greatness is a trait that is severely undervalued, as a player who is better for longer is able to showcase his superior skills against more competition. Certain players who peak for several years and then regress to a lower level of play clearly cannot be considered among the best all-time. Sometimes, this may not even be the player's fault, as injuries may befall a young star and change his career trajectory, as in the case of Derrick Rose. Other times, a player may be a star player but, due to being disliked by teammates or a lack of work ethic or conditioning, may find himself out of the league much earlier than expected, such as Deron Williams. With these (plus many more) reasons, it becomes very hard to stay in the NBA for 10 or more years, let alone be at the top of the league for that long.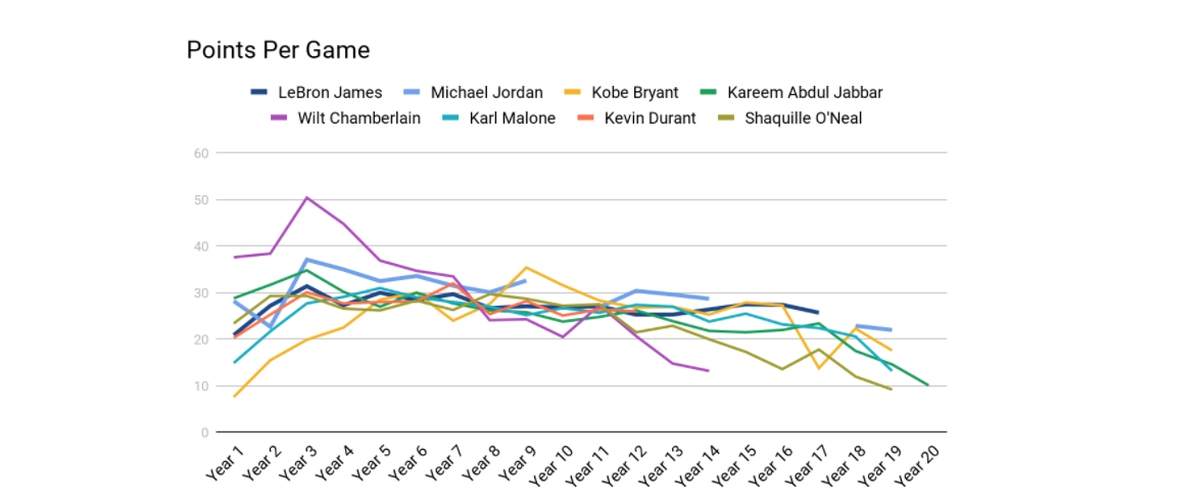 There have only been 20 players who have played for 19 or more seasons. While it is certainly possible for a player to be good for all of those years, it is highly unlikely for someone to be an above-average player, or even a peak performer, for more than 15 years of his career. There have been exceptions such as Kareen Abdul Jabbar, Kobe Bryant, and Shaquille O'Neal. However, in the history of the NBA, there has never been a player who has been as consistent as LeBron James in terms of health and peak performance over such an extended period of time. James is in his 17th NBA season and, at the time of this writing, has played in 92.6% of his teams' possible regular-season games in his career (1258 of 1359), which averages out to almost 76 games per season. This, of course, does not include playoff games, of which James has played in 239 thus far, an average of 15 more games per season. Moreover, James plays 38.6 minutes per game for his career, which is 11th all-time, with none of the 10 players ahead of him playing more than 14 seasons (and in the playoffs, James averages 42 minutes per game). James also shows no sign of slowing down in year 17, as he is averaging 25.7 points, 7.9 rebounds and a career-high (and league-high) 10.6 assists per game (the 16th year in a row he is putting up 25 points, 5 rebounds, 5 assists, far and away the longest streak in NBA history). To further show how consistent James has been throughout his career, he has been on an All-NBA team 15 times (tied for first all-time) and has been on the All-NBA First team a record 12 times.
KNOCKS AGAINST JAMES
In order to be intellectually honest, I would be remiss if I did not mention all the classic "faults" on LeBron James that will continue to follow him wherever he goes. Fans and analysts everywhere (looking at you, Skip Bayless) will criticize James for not being the perfect player while ignoring the faults of their own GOAT candidate. Either way, let's go through these so-called holes in James' career.
The most common mentions are his losses in the NBA Finals. Let's take a look at each one:
2007- The Cavs are swept by the Spurs, with their big three around their prime. While James averaged 22 points, 7 rebounds, and 6.8 assists, and shot poorly, James' two best teammates averaged a combined 20.6 points. James could have been better, but as a 22-year-old with no offensive threats on his team, James quarterbacked the offense, leading to low shooting splits.
2011- James and the Heat fall to the Dallas Mavericks, 4-2. This year is the most popular one to criticize James for, and truthfully, I also criticize James for it. But, as Dallas Mavericks owner Mark Cuban pointed out in his glorious roast of Skip Bayless, James more often than not played the right way, with teammates often not holding their own.
2014- James and the Heat lose 4-1 to the San Antonio Spurs in his third series against the Spurs' dynasty. Everything clicked for James, as he led his team in points, rebounds, assists, steals, and 3pt%, and tied for tops in blocks and fg%. However, when nobody else on his team stepped up, James was left out to dry against one of the most well-rounded teams in NBA history.
2015- The Warriors beat the Cavs 4-2. The Cavs, who were already playing without Kevin Love, lost Kyrie Irving in game 1. Due to the injuries to others, James shot an insane 196 shots over the six games. James averaged 35.8 points, 13.3 rebounds, and 8.8 assists, yet Andre Iguodala won the Finals MVP trophy for "slowing" James down, holding him to 39.8% shooting.
2017- The Warriors, now with Kevin Durant, beat the Cavs in 5. James leads both teams in rebounds, assists, and steals, and is second in points and blocks. James also shot 56.4%, so no one can fault James at all for this loss. In today's pace-and-space NBA, I believe this team was unbeatable, even with James averaging a triple-double (the only player to do so in the Finals).
2018- The Warriors sweep the Cavs. This was no fault of James', as he averaged 34 points, 8.5 rebounds, and 10 assists on 52.7% shooting. James had 51 points, 8 rebounds and 8 assists in game 1, and subsequently played the rest of the series with a broken hand, still playing incredibly well. How is this for those who say that James won't do 'anything' to win?
Another common misconception is that, because James does not always take the last shot, he has no clutch gene or killer instinct that players like Michael Jordan or Kobe Bryant had. However, only three people have more game-winning buzzer-beaters than James (7) -- Jordan (9), Bryant (8), and Joe Johnson (8), and no one has as many as James in the postseason (5). And, by the way, this doesn't include his game-winner against the Warriors back in 2014 that left .1 seconds on the clock. While many criticize James for not being the type of player to shoot it at the last second every time, I actually applaud that.
There are many situations in which it is better to pass than to shoot while double-teamed. It may not always work out, such as his passes to Udonis Haslem and Donyell Marshall, but just because it does not work out does not mean it was not the smarter play. Making the play which puts your team in the best chance to succeed, to me, is having the "clutch" gene. We should not be applauding a player just because he has a "killer instinct" and wants to be the one to shoot the ball. That could cost the team the game. Right, Kobe? And what about that part of Jordan's famous quote where he talks about how he has missed 26 game-winning shots? Could he maybe have passed some of those for higher percentage shots, like his pass to Steve Kerr for the win in 1997?
Last year, James was attacked for the Lakers missing the playoffs. Before his groin injury, the Lakers were 20-14 during James' first year with the squad, a record that placed the team as 4th in the Western Conference. The team finished with a 37-45 record, which means they went 17-31 the rest of the way, with James missing 27 of those games, and not fully healthy when he played. Furthermore, with James on the court, the Lakers outscored opponents by 2.3 points per 100 possessions, while getting outscored by 5.8 points per 100 possessions when James was off the court (for a swing in net rating of 8.1 points), proving he was a huge asset to the Lakers last year.
Another knock on James is his "need" for other star players in order to win. My response to that is this: Name me one star who did not want his team to get better. Tell me any player in NBA history that did not want to improve his team, either with better role players, more star power, coaches, and more. Jordan helped facilitate many trades and inserted his opinion many times. Bryant requested trades multiple times. I cannot think of one championship-winning team that won with only one star.
Yes, NBA superstars like to have competition, and yes, they like to play basketball at the highest stage. However,I have never heard of a player not wanting his team to get better, just so he could look better when his team wins.
The last critique of James has been of him switching teams many times during his career. I believe the opposite though; James switching teams should be looked positively, not negatively. Many players were drafted onto incredible teams with top players and coaches, such as Kobe Bryant and Tim Duncan. Others, such as James, got drafted to an incompetent franchise that had no assets beforehand and could not compile any sort of decent surrounding cast during James' original seven years with the team. I mean, honestly, the Cavs' 2007 Finals lineup was just awful. Then, James went to the Heat to play with stars his team in Cleveland could not get and won 2 championships there. After four years in Miami, it became clear that at that point in their careers, Bosh's and Wade's names were a whole lot more valuable than their presence was on the court, so James decided to go back to his hometown to win a title there. After four more years in Cleveland (and beating the 73-9 Warriors in the Finals), James decided to move one more time, this time to the West coast to play with the Los Angeles Lakers. While they were disappointing in their first season, the Lakers are now first in the Western Conference and are looking like the title favorites (whenever the season is resumed).
LeBron James has obviously not been perfect throughout his career, but there is not one player who has been as great and successful for as long a period as James has been (and continues to be). This, in my opinion, is what makes James the GOAT.
---