Top 5 Fantasy Quarterbacks 2019-20 season
This year the NFL is filled with many top tier Quarterbacks near the beginning or the end of their NFL careers. This is my prediction of the top 5 Fantasy Quarterbacks heading into the 2019-20 season.
1. Patrick Mahomes
Last season the Chiefs went 12 - 4 making it to the playoffs and losing in the AFC Championship to the Patriots, they were lead by Patrick Mahomes. Even after losing Kareem Hunt in the middle of the 2018 season Patrick Mahomes performed at a high level with 51 touchdowns, 12 interceptions for 5,097 yards. This season he has high expectations from his coaches and fans all around the league. He is provided with a high-level tight end,Travis Kelce, who caught 10 touchdown passes for over 1,300 yards this past NFL season. Also Mahomes has a top tier receiving duo, Tyreek Hill and Sammy Watkins, who combined had 15 receiving touchdowns this past NFL season. The Chiefs were the number 1 ranked offense in the 2018 season and is now a Superbowl contender heading into the 2019-20 season.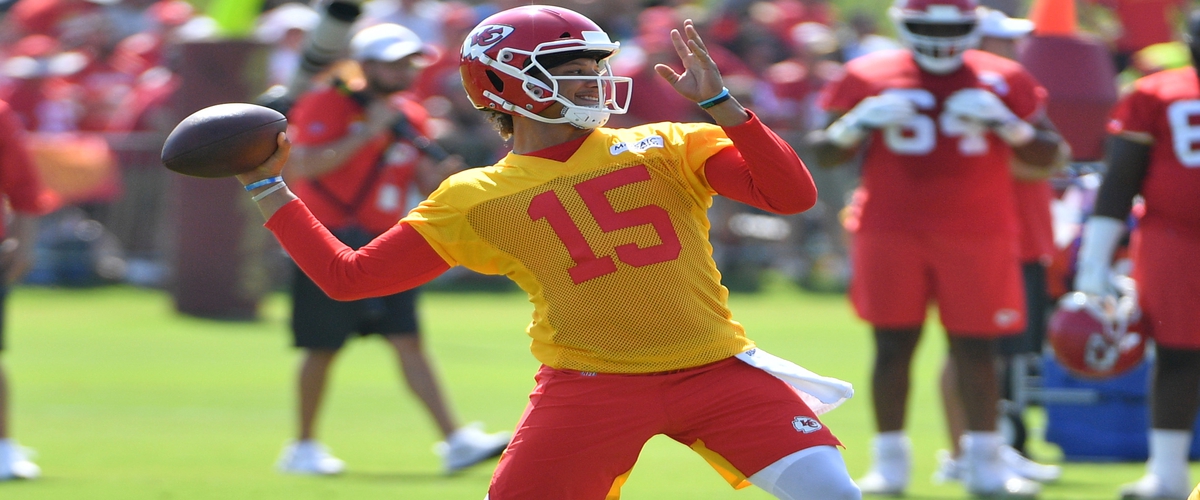 2. Andrew Luck
Last season the Colts went 10 - 6 making it to the playoffs and losing in the second round to the Chiefs, they were lead by Andrew Luck. The Colts have the best pass-blocking offensive line in the NFL only allowing 18 sacks in the 2018 regular season which was the lowest in the NFL. Andrew Luck had a top tier season with 39 passing touchdowns, 15 interceptions, and 4593 passing yards. The Colts have an exciting receiving core including T.Y Hilton, Eric Ebron, and Jack Doyle. The Colts also added a few more receivers to give Andrew Luck some more passing options such as, Parris Cambell who was drafted with the 27th Pick in the 2nd round and Devin Funchess who was picked up in free agency. Andrew Luck has many options that he can feed the football to and earn more points for your fantasy team.
3.Deshaun Watson
Last year the Texans went 11 - 5 making it to the playoffs but losing in the first round to the Colts, they were lead by J.J Watt and Deshaun Watson. Last season Deshaun Watson threw for 26 touchdowns, 9 interceptions, for 4,165 passing yards and rushed for 5 touchdowns for 551 rushing yards. In addition, Deshaun Watson has Deandre Hopkins, a top 3 receiver who had 11 touchdowns, 1572 yards over 115 receptions last season. They also have Keke Coutee and Will Fuller V who combined had 6 touchdowns for just over 800 yards last season. At running back Lamar Miller should be a huge part of the offense last year receiving one touchdown for 160 yards and rushed 973 yards for 5 touchdowns. He has also been a consistent pass blocker for the Texans and Deshaun Watson the past couple years. Deshaun Watson is surrounded by a consistent group of receivers and running backs but, his offensive line needs to step it up since they allowed 62 sacks in the 2018 NFL season.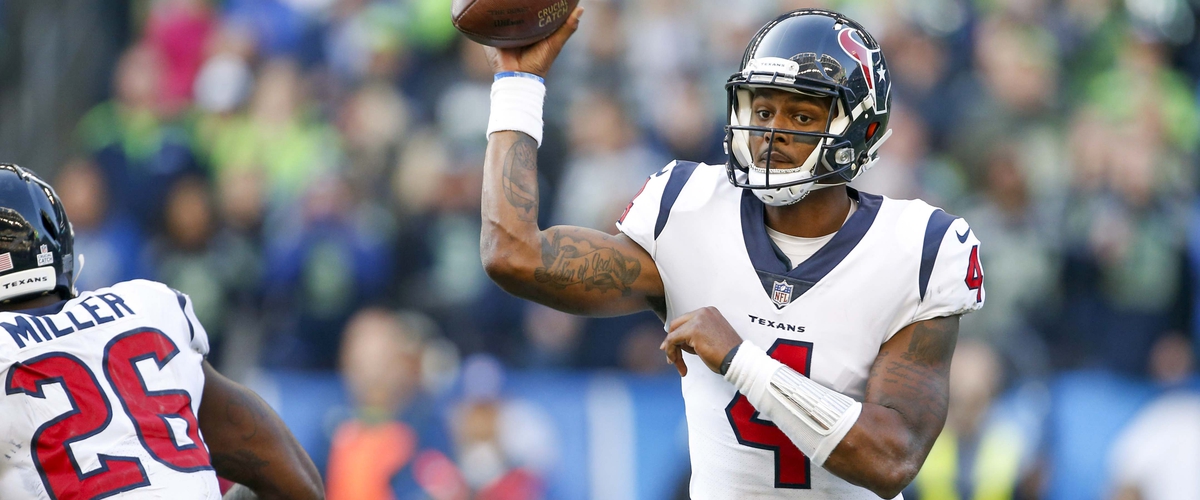 4. Drew Brees
Last year the Saints went 13 - 3 they made it to the NFC Championship and lost to the Rams, lead by Drew Brees. Last season Drew Brees had 32 passing touchdowns, 5 interceptions, and 3,992 passing yards. In addition, Drew Brees has Michael Thomas, a top 5 receiver who had 9 touchdowns, 1405 receiving yards, and 125 receptions. Tre'Quan Smith had a good year receiving 5 touchdowns, 28 receptions, and 427 receiving yards. Alvin Kamara is a huge role on the Saints last season he received for 4 touchdowns, 81 receptions, and 709 receiving yards. The Saints also added veteran tight end, Jared Cook, this year who last season had 6 touchdowns, 68 receptions, and 896 receiving yards. Last year the Saints were 3rd in the NFL for points per game averaging 31.5 points per game.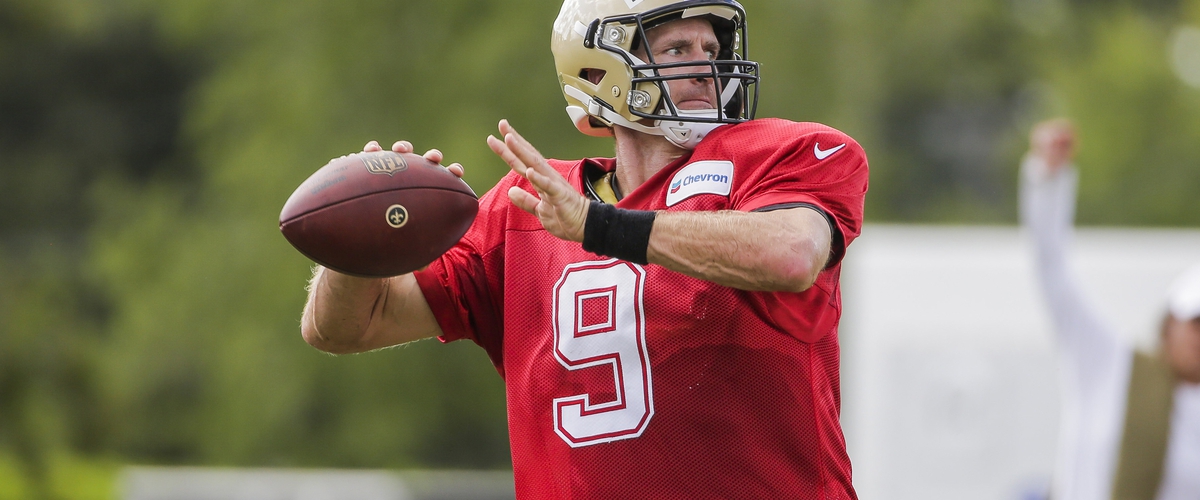 5. Baker Mayfield
Last year the Browns had one of the best years in a decade going 7 - 9 -1 lead by Baker Mayfield and Myles Garret. In Baker Mayfield's rookie season last year, he threw 27 touchdowns, 14 interceptions, and 3725 passing yards. The Browns have one of the best young receiving and running back cores in the NFL. Odell Beckham is a top 10 wide receiver in the NFL, last season he caught 6 touchdowns, 77 receptions, and 1052 receiving yards. Jarvis Landry is a top 15 receiver in the NFL and last season he received 4 touchdowns, 81 receptions, and 976 receiving yards. They also have the running back duo of Kareem Hunt and Nick Chubb, if both of them are healthy they can both be a top 10 running backs in the NFL. David Njoku is a young and promising tight end in the NFL, last season he had 4 touchdowns, 56 receptions, and 639 receiving yards. The Browns also have many more promising young receivers in Antonio Callaway and Rashard Higgins. This gives Baker Mayfield a hand full of receivers and running backs to spread the ball to this NFL season.