AML All For The Glory Results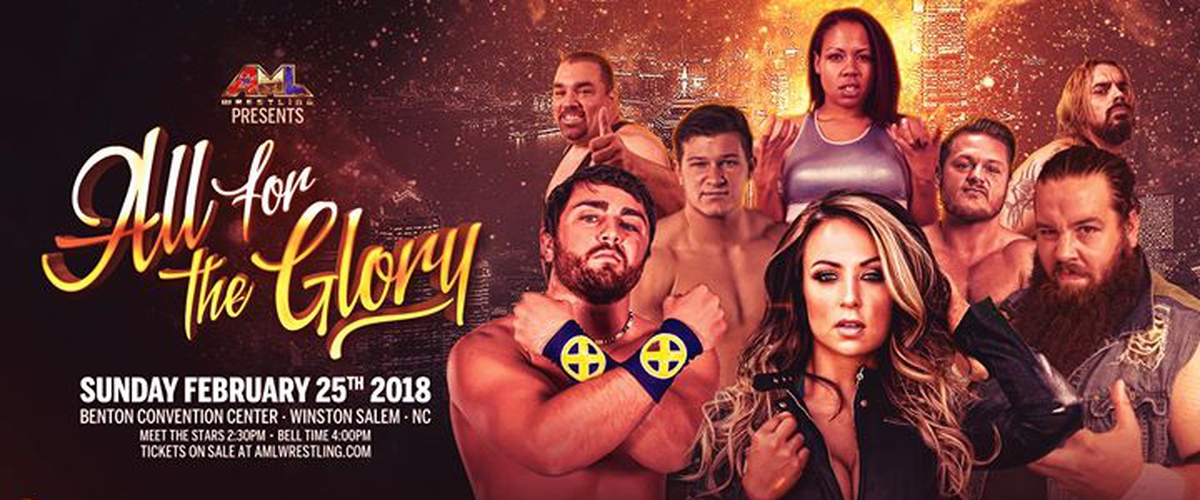 AML(America's Most Liked Wrestling) returned to Winston Salem this past Sunday for their All For The Glory event. It was an event that witnessed the appearance of Tenille Dashwood, formerly known as Emma in WWE, as she faced Savannah Evans. All titles were defended on the show with one changing hands. It also witnessed a surprise reunion of former AML tag team champions. And, one scene that caused stars to come of the locker rooms to break up a fight, which led to a Last Man Standing bout for the next AML event.
For me, it was a rare time that I could make a Sunday show as I've been going through a number of changes recently in life. But with Tenille coming and then later finding out that she was facing my good friend Savannah in a match, that made my decision really easy to go. Plus, it's always good to see many familiar faces at these AML events.
Anyway, you came to read the results and hopefully some notes of things I see and talk about outside the ring, too.
Results:
Triple Threat Match
Jason Cade defeated Movie Myk & Patrick Scott
This was a future stars match to open the card. My friend Dennis Shea had a sign that said "Straight to DVD" as a shot at Movie Myk, who was a heel in this match. Movie Myk's gimmick is a trip though. Cade and Scott are excellent athletes as all three performed well. Cade did a roll into a fishermen suplex at one point in the bout. They each hit a series of dives, too. It looked as if Scott was going to get the win until Cade snuck in and pinned Myk instead. A solid showing for all three here. You'll be hearing more from these guys at shows.
Triple Threat Tag Team Match
Zane Riley & Jake Manning defeated the Monster Squad & Gymnasty Boys
Originally, this was booked as a tag team match with the Monster Squad and Gymnasty Boys. But before the match started, Zane Riley interrupted to say that it was his birthday and that he wanted in the bout. So that led to him bringing out Jake Manning as his tag team partner to make this a triple threat tag team match. This match was hilarious to watch. Jake hit a falling dive onto everyone after reading his scout book from the top rope. Another time, the Gymnasty Boys and Monster Squad were all set to punch Zane and Jake. Zane then said "Time Out!" He and Jake were talking as the other four "paused" their punches. Jake then asked what happens when someone says "Time In?!" which led to the four punching them. Then there was the part about the cake that Zane had with him. Joshua of the Monster Squad was fascinated with the cake. Billy Brash warned him that if he kept messing with the cake that he was going to kick him in the face. That eventually led to everyone else in the match kicking Josh in the face. The end came when Zane and Jake hit a double team into a RKO-type move for the win. After the match, Brash told fans as he was heading to the back that they still hated all of you. All six were hilarious in this match, but they all can perform in a ring, too.
Jaxon Stone & Damien Wayne ended in a Double Countout
I've seen Damien Wayne a number of times, and there may not be anyone that throws stiffer chops than he does. You can hear them every time he lands one as he's one of the toughest guys you'll find in the business. I liked Jaxon's gimmick and the one time in the bout when he said, "Lights, Camera, Jaxon!" These two battled in and out of the ring. Wayne looked like he won the bout when he hit a top rope leg drop, but Jaxon kicked out of it. But the match ended up on the floor as both men were counted out. This was a hard-hitting bout and you expect that when Damien Wayne is involved in it.
AML Tag Team Championship
Extreme Horsemen defeated the Heatseekers(c) w/George South by DQ
Before the match started, South got on the mic and ranted for a long time about how the Extreme Horsemen did not deserve a title shot. Eventually, CW Anderson took the mic from him and reminded the Heatseekers and South what happened at the previous AML event when he superkicked two of them and pinned them. These two teams did get their equal time to shine. The Heatseekers work very well together. The Extreme Horsemen are as tough as they come. It appeared that the Horsemen were going to win the titles when they landed a slingshot into a superkick from Anderson. But before Anderson could get the pin, South interfered and caused a disqualification. However, the Heatseekers remain tag team champions. I'm sure we haven't heard the end of this yet. This was a solid match between them though.
Geordie Street Fight
Mark Denny defeated Sean Denny
The two brothers hit each other with seemingly everything but the kitchen sink in this match. Of course, if there were a kitchen sink at ringside, it would've no doubt been used. Mark showed a very aggressive side that many have never seen before as he suplexed Sean onto a trash can and through a table during the bout. Sean got to show his viscous side as well when he hit Mark with glass bottle after his brother had a bowling ball in hand to use. The end of the match came when Sean was set to spray his mist into the eyes of Mark. But before he could do that, Mark hit Sean with shot to the throat that caused him to choke. Mark then pushed his brother through a table that was laying on the outside of the ring before pinning him for the win. After the bout, Sean told Mark that he did all these things to him in recent months to bring out his aggressiveness. And that he wanted to patch things up and team up again to go after the tag titles. Sean stuck his hand out to shake Mark's, but his brother pushed it out of the way before the hugged in the center of the ring. After this bout, there was an intermission and you could clearly see how tough it was for both of them to get around due to the physicality of the match.
Montana Black promo
After intermission, Montana Black talked about what happened at the previous AML event with him and Yahya. He had one of the AML's trainees in the ring that was involved in the melee at that event. This led to Yahya being suspended from AML. As he was talking, Yahya snuck in the ring through the crowd and attacked Montana. But Montana fought back as talent from the locker rooms cleared to break the two up from fighting. As the fight was broken up, Montana got back on the mic and said how fed up he was of this. He announced that Yahya would face him in a Last Man Standing match at the next AML event in Yadkinville. You can expect quite a bit of brutality in that match as the bitter feud between the two continues to escalate.
AML Prestige Championship
Caleb Konley defeated Brandon Scott(c)
I knew when this match was announced that it would be match of the night worthy. Both of these guys are just that good. They didn't disappoint. Scott took the sign from Dennis Shea before the bout and wrote "Not Today!" on it. Scott is such a great heel. Two times, he teased the crowd as he faked a dive by running completely around the ring, only deliver a eye poke to Konley. Another time, he faked throwing Konley into the crowd as he told fans to move out of the way as he threw Konley into the ring. Konley hit a superplex on Scott as the champion's feet had touched the ceiling when he did so. Both had plenty of near fall victories from there, including when Scott hit a cutter from the ropes on Konley. As Scott argued with referee Jeff Bunton, Konley rolled him up for quick pin to win the AML title after a fast count. However, Konley is the new Prestige champ as Scott looked stunned and upset after Caleb was holding the title after the bout. What a performance for both guys here as I've come to expect from them.
AML Championship
Zane Dawson(c) defeated Axton Ray
Axton got the opportunity to face Dawson for title after beating Billy Brash in January at AML. Dawson attacked Ray to start the match and was control until the challenger hit a dive on the outside of the ring. Ray tried another dive on Dawson, but the champion caught him and threw him into the guardrail at ringside. South and Dawson's brother Dave were at ringside to start the match, but were kicked out of the area. As that was happening, Ray hit a very impressive dive over both South and Dave Dawson onto Zane on the outside of the ring. With South and Dave gone from ringside, it didn't stop Zane from continuing his dominant ways as he hit a viscous clothesline on Ray for the win. He's won with that clothesline plenty of times before. Ray looked strong and impressive in his showing, but Zane is as domiant as ever as AML Champion. After the bout, Brash came out and attacked Ray while leaving him laying in the ring.
Tenille Dashwood defeated Savannah Evans
This is what many fans came for and they didn't disappoint at all. It was so great seeing a women's match in the main event of a show. I usually keep notes on my composition book of what happens in each match, but I didn't here. I do remember Tenille hitting flying bodypress onto Savannah as she was laying down in one of the ring corners. Also, Savannah hit a full nelson slam on Tenille, but she kicked out of that. Tenille also used her Boston Crab in the ropes on Savannah, too. The end of the match came when Tenille hit a low dropkick on Savannah's head to get the win. After the match, Tenille got on the mic and thanked fans for coming out and how she enjoyed AML. She also said that she would sign more autographs and take more pictures because she loves fans so much. She did do just that after the show was over. Both ladies killed it in the main event!
Notes:
-I got to meet Tenille Dashwood before the show. She's very beautiful in person, and I like the Aussie accent since its different hearing it in person than on television. Obviously, her line was long because many came just for her. It's All About Me(well, her) after all. I like that AML lets you take a pic on your phone and one professional one that's shot by Robert Holt. She had a good variety of shirts with her, and a number of fans were wearing them, too. I didn't have cash, but certainly would've gotten one. Nonetheless, as she was signing an 8x10 for me, I told her that I loved her Instagram account. Not only because of her, but due to the many places she's been to. I told her there's so much to see in the world and she's sure seen a lot. Then I shook her hand and I said it was nice meeting her. I didn't tell I liked the one pic on there that she recently posted from a helicopter going over New York. She's awesome, and I'm glad she can work independently when she wants now, too. Those I spoke to about her spoke very highly of her as well. I'm hoping she'll be back in AML soon and maybe for WrestleCade, too. Hint, hint.
-I got to talk with Montana Black for about 5-10 minutes about various things before the show. We talked about the business and how different indy wrestling is from WWE. The conversation first started with him telling me someone took his parking space. That space is reserved for the Monster(him). Since we talked about how important a second income is coming in, maybe he should have that spot marked year round saying(Reserved for Montana Black. Use of this parking space is subject to fee and towing of your vehicle). Haha. Anyway, he did bring up my site and we talked about how it isn't hard for people to be nice. I told him there's enough negativity in the business, and I'm not going to add to it. We then talked about the good and bad of social media in relation to the business. We both said that we like to see what others do outside the business because back before social media, you had no idea unless it was brought up in interviews or talk shows. But the downfall was how it has impacted the belief of storylines and feuds, especially if you are working as a heel. It has helped to build feuds thought, too. He also brought up meeting Arn Anderson, getting valuable advice from him, and how his son was in the business -- which I wasn't aware of. He put over that meeting very well. We also talked about how tough bookings can be to come by especially when you start out or are overcoming injuries and/or ailments. I told him it was the same for me with writing at first, and it still is. He introduced me to two of the AML and High Spots trainees, too. This guy has dealt with some real-life issues in recent months, but has done well overcoming them. I'm no short guy at all, but that guy towers over me. He's a pretty big guy, and he understands the business, too. Just don't take his parking space at AML events. You've been warned. LOL.
-I talked with Movie Myk during intermission as we talked about his match to start the show. He put over both of the guys and told me about some of shows he's been on of late since I haven't made as many shows in the last year. We also talked about the job market and how computers have changed it so much over the years. Then we ended up talking about our friend Aaron Ritchie and what they've been up to when they hang out at Clemson. A few fans came up to him as we were talking and they got a pic with him as he was sitting down in a chair. Then my friend Bobby Huffman did the same with him. I decided to do the same as Bobby took the pic of us. Myk told me he would pass along the message to Aaron to send me his number since my new phone didn't transfer his over, which he ended up doing the following day. Now #Thats30K.
-I got a chance to talk with Savannah Evans at intermission and she was fired up to face Tenille in a match. You could tell how big of a deal it was for her. As most of you know, I used to sit with Savannah at a few shows when she was a fan before she trained to be a wrestler. She's only been at it going on four years now, and those that knew her before she started knew she would be a star at it. She's only getting started, but this will be a night she won't ever forget as she main evented an AML show against tremendous talent. I'm really proud of Savannah, the hard work she's put in, and to see it paying off in a big way now.
-As I was leaving, I caught up with Ian Maxwell as he was helping to take down the ring. I don't know how I did that since he's #FastAsHell. Nonetheless, we talked about various things and promotions outside the US. I do recall him asking me about promotions in France since I had brought a couple of European ones to his attention at around the first of the year. He was saying he and Montana Black were overcoming injuries in recent months and that they were looking to team up again soon. I told him Montana has overcome a lot, but that I was glad he was still able to perform. Hopefully, he'll get some international opportunities going sooner rather than later. I've got to get a #FunkedUpAsHell shirt made sometime since Ian gave me that idea. He's a very chill guy for sure though.
I sat with my friends Lora Lyons and John Walsh on the front row for this event. It was too funny with us teasing Lora as we wanted all the action over where we were at. And wanting one someone to fall on Lora's lap. It nearly happened in the match with Prestige title match.
It was a good time to be back at AML and I hope to be back to another show soon. I'm not sure how many I can make this year since I've got some trips to plan for. But I've always liked the AML atmosphere, and to know quite a few people at these shows. It's also good to know a number of people(even a few I don't know) read my reviews.
I want to leave everyone with this. Wrestling is a tough business to make it in and I can tell that guys(and women, too) at these AML events put on the best shows that they can. It's nice to see Tracy Myers shake hands with many fans and thanking them for making the shows. I usually try to do the same with talent, especially those that I know. The road that many of them take to get in the business is much more difficult than you think. They deal with real-life circumstances like many of us do on a daily business. If you talk to them enough, you'll find out the things they sacrifice to make it. I think that's partly why I can relate to many things in the business is because my line of work involves extensive travel. I respect and appreciate what every talent does, and not just those at AML.
Thanks to the entire staff at AML for the hard work in putting on yet another fun-filled show in Winston Salem.
The next AML event called Seize The Moment will take place on March 31 Yadkinville Elementary School in Yadkinville, NC.
Checkout Fisticuffs Photography on Facebook for photos of this event.
Also, tune into the Live From The Armory podcast, hosted by my good friends Lora Lyons and Bob Delph, on Wednesday nights as they talk about the latest in Indy wrestling and so much more!