WrestleCade 2018 Results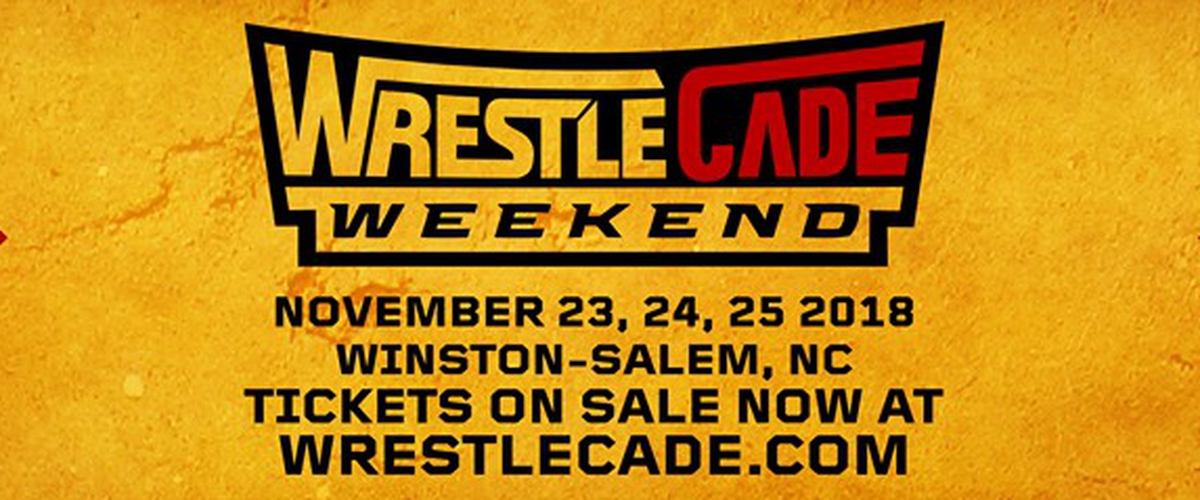 WrestleCade weekend returned to Winston-Salem, NC for the seventh year in a row. The festivities started on Black Friday with the Showcase of Champions event. On Saturday, WrestleCade Fanfest in the afternoon, followed by the Supershow that evening, took place. The NWA Championship match main evented the Supershow as champion Nick Aldis defended the title against Jake Hager. In all, eleven matches took place, which included the pre-show bout for the VCW championship.
Due to going out of town for Thanksgiving and other happenings I have going on, I've had to back off the number of shows I made this year. That includes missing some events during WrestleCade weekend. With that said, Winston-Salem is near where I graduated high school in nearby Kernersville, so WrestleCade for me is much like a homecoming. I decided to attend Fanfest, Supershow, and Queens of Combat this year. Anyway, onto the Fanfest and Supershow review....
Results:
Preshow:
VCW Championship
-Brandon Scott defeated Billy Gunn(c)
The VCW(Virginia Championship Wrestling) Championship was on the line in a pre-show match. Gunn looked jacked and in great shape. Scott has been a great heel in each match I see him in. The bout went back and forth as it looked as if the champion would retain after hitting his "Famouser" finisher. But Scott got his feet on the ropes to stay in the match. Later, Scott hit a low blow on Gunn that enabled him to win the match and title.
Supershow:
-Hurricane Helms defeated Eli Drake
This was the opening match to the supershow. Before it got started, both stars cut promos on one another. Drake's promo skills as top notch as it gets. The funniest line from him was saying that Hurricane was going to be downgraded to a mist after he was done with him. Helms' reply wasn't PG and he told him he was lacking where he should be packing. Anyway, Drake had control of much of this match. But the end result came when Hurricane threw Drake off the ropes and then hit a chokeslam on him for the win. A good opening match, and the hilarious promos both had definitely made me more interested in it.
-The War Kings(Jax Dane and Crimson) w/Road Warrior Animal defeated The Boys
I really loved it that the War Kings had Road Warrior Animal accompany them to ringside. This was a good match that seen the Boys hit impressive outside dives, but the War Kings were just too powerful as they hit their "Off With Their Heads"(I believe that's what it's called) for the win.
-CW Anderson w/John Skyler defeated Kid Kash w/Joe Gertner
ECW legend Jerry Lynn was special guest referee
ECW rules took over quickly in this one. The highlight was when ECW legend New Jack came out and attacked Skyler after his interference in the match. He used a vacuum cleaner and crashed it down on Skyler, low-blowing him with a trash can lid on top of him. A beyond vicious spot, followed by a number of kindo stick shots to Skyler's head. As the match resumed, Anderson hit a super kick on Kash to pick up the win. After the match, Anderson got on the mic to bring out the ECW guys that attended WrestleCade. He briefly talked about the ECW days and told everyone about the session they were going to have the following day. The crowd gave the ECW guys a standing ovation as they stood in the ring.
-Eddie Edwards & Carlito defeated Moose & MVP
They continued to build the Edwards and Moose feud from Impact Wrestling in this one. But before the match, everyone was teasing Carlito about not having his apple with him. This led to a "Where's your apple?!" chant from the crowd. I was sitting towards the side where Moose and MVP's corner was. MVP made some hilarious comments while on the apron and said, "Let those young guys fight" when Edwards and Moose were on the outside of the ring. Then said, "That's why I'm just going to stand here". Too funny. Anyway, Moose and MVP had Edwards in the ring awhile. Then Edwards got the tag to Carlito and turned the match to their favor. The end came when Carlito spit his apple into the face of MVP and Edwards hit a DDT on him to get the win for their team.
No DQ Women's Match
-Taya Valkyrie defeated Penelope Ford
This match right here stole the show. I agree with what announcer Corky Franks had to say on Twitter about it. It's time a women's match main evented the show. Taya was involved in what was the match of the night in the eyes of many last year against Ivelisse. And she was again here. Ford also gold in this match and it didn't take long to see why these two were put in a match against one another. They suplexed each other onto chairs, tables, and ladders. They fought in the crowds and hit each other with some vicious hand chops as well. The match finally ended when Taya blocked a Hurricanrana by Ford off the ropes by power bombing her through the setup table into the ring. I enjoyed all the matches I seen during WrestleCade weekend. But this match alone should make you want to go back and watch this show. It was that good. Much respect to Taya and Penelope for putting on one of the best women's matches I've ever seen live.
Casket Match
-Crazzy Steve w/Sinister Minister defeated Vampiro
This bout took place all over the venue. There was one spot in which Vampiro body slammed Steve onto the casket that dented it, and was very noticeably loud when it happened. The end of the match came when Steve spewed red mist into the face of Vampiro before dropkicking him into the casket before shutting it for the win. Afterwards, Vampiro got on the mic and talked about his battles with cancer as well as a broken back and neck. His promo was far from PG, but I do respect what he's done and the sacrifices he's made in the business. His toughness is off the charts. It is promos like his that gives me better clarity of the kind of pain and difficulties all talents deal with, which is why my respect for all of them will always be there. Also during the promo, he announced he wanted a rematch with Steve in a cage bout at next year's event.
AML Championship
Ladder Match
-Caleb Konley(c) defeated Marty the Moth, Jason Kincaid, Luchasaurus, Mil Muertes, & Psicosis
As expected when you get this kind of talent in the match, it's going to be off the chain. It didn't disappoint either. I joked around with my friends Lora and John Walsh about Luchasaurus being tall enough that he didn't need a ladder to grab the belt. Everyone got their chance to showcase their abilities and I enjoyed the mostly fast-paced tempo of the match. The end came when Konley was stuck upside down in the middle of the stood ladder as Marty attempted to grab the belt. But Konley hit a German suplex on Marty as he was still stuck on the ladder that drew a big pop from the crowd. Konley then re-gathered himself and grabbed the belt to retain the AML Championship. An impressive showing by all in this one.
Battle Royal
-Fallah Bahh wins the Battle Royal
I don't know the exact count, but there were a lot of talent involved in this battle royal. Without question, the entrance of ECW legend Sandman got the biggest pop in this match. I even got a recording of it in my phone of how great it was. But when the legendary George South eliminated him from the battle royal, he was booed heavily for it. I couldn't keep with the eliminations in my notes, but I can tell you the final three were Zane Dawson, Fred Rosser(formerly Darren Young in WWE), and Fallah Bahh. Dawson got eliminated and it left Bahh and Rosser as the final two. The two battled on the outside ring apron and they both mistakenly hit the floor. However, the match was restarted and Bahh used a fireman's carry throw on Rosser to win the match. I think it was announced that the winner gets a future AML title shot, but not completely sure on that.
-Darewolf PJ Black & Johnny Impact w/Taya Valkyrie defeated Juventud Guerrero & Ultimo Dragon w/Sonny Ohno
Impact and Black cut a heel promo on their opponents before the start of the match. All of these guys are amazing and can still go in the ring. A hilarious moment took place in the match after Valkyrie interfered that got Ohno involved. They brawled and it was Ohno that comically hit Valkyrie with "yes" kicks on her. I'm a huge fan of Valkyrie, but I'd be lying if I said I wasn't dying laughing at that sequence. In the end, Black and Impact recovered as the Darewolf pinned Juventud for the win. A solid match filled with athleticism and enough comedy to keep me entertained.
NWA Championship
-Nick Aldis(c) w/Camille defeated Jake Hager, afka as Jack Swagger, w/Catalina
Earl Hebner was special guest referee
The main event of the show was a good one. One of the highlights I remember early on was when Camille stood her ground on the outside of the ring on Hager. Camille is beautiful, but at the same time an intimidating presence on the outside of the ring. Later, her and Catalina got into an altercation as Camille showed her power despite doing so in high heels. This led to both of them getting thrown out of the ringside area. As the match resumed, it looked as if Hager would win the title as he had his Ankle Lock finisher on Aldis three times. The second time was the longest, but Aldis was able to reach the ropes to break it up. Later, Aldis was able to get a quick rollup for the win to retain the title. They both shook hands after the match was over. Both guys looked in phenomenal shape for this bout, too.
Fanfest Notes:
I spent a lot of time catching up with friends at Fanfest that I didn't meet or chat with talent as much as I have in recent years. It had been since February that I made a wrestling show of any kind, so it was good to be back at one while catching up with friends.
-Scarlett Bordeaux
She's the host of Impact Wrestling's Smokeshow for a reason. She was towards the back of the venue in such red attire that it was easy for her to standout amongst everyone in the area. She was the first star I met as I was walking around and she had a number of fans wanting to meet her. I didn't say but a few words to her because of the line behind me. However, she posed for three different pics as the guy that took them took about six of them. I thought that was cool of Scarlett to have that many poses in the pics. She's the Smokeshow, folks.
-Steve "Mongo" McMichael
Mongo was one of the stars I was most looking forward to meet because of him playing for the Chicago Bears and me being a fan of them. I noticed Try Not To Suck shirt(the Cubs version) and that's when he was talking to me about the Cubs and the Brewers. I don't recall the entire conversation, but I do remember the Cubs bullpen got brought up. He'll speak his mind for sure. But I also liked that he'll look at shirts or whatnot to bring up a conversation. I heard two others say they did that to him, including my friend John Walsh, when he teased him about being a Redskins fan. I did get a little time to ask him about what he thought of the Bears, and he said they're getting there. What a lot of people don't know is he's still the Bears all-time leader in consecutive games played with 191. Toughness is most definitely a word to describe him.
-Kane
The Big Red Monster was the only pre-ticket I bought for WrestleCade. His line died down a bit after it was long when I first arrived. As I approached him, he was sitting down at his table and was going to sign an 8x10. He asked me my name, and then asked if I had any relation to Terry or Dory Funk. I told him I wished I did, and that I've gotten that question from many people. He laughed at that, and I told him my mom lived in the Knoxville area. I also know friends from there, too. As he stood up, it was hard to imagine how big he was in person. I knew from seeing him on TV that he was, but the size of his arms alone was quite noticeable. He asked where I lived and all as we were taking pics, and you could tell that in the pics. But he was personable and all fans that met him that I talked to spoke very highly of their experience in meeting him.
-Danielle Moniet aka Summer Rae
I talked about meeting her on Instagram already, and I'll mention it here. After hanging out with my friend Bryan Reynolds, I went up to meet her. She told me she lived in Raleigh after asking where I lived. Then I asked her if she was a Chicago Bears fan, which was to confirm as I already knew she was. That's also my team. So that's when she talked about her time living in Chicago as well as running out of the tunnel for the Bears before a game last season. Afterwards, I was telling her about me going to the Bears vs Lions and staying in Windsor. I also had time to tell her my story of going back through Canadian Customs for the game. From there, we talked about Mitchell Trubisky and Khalil Mack from the Bears. At this time, Bryan took about three pics of us. We said bye, and it was at that point that it dawned on me that her birthday was coming up soon(it was on Wednesday the 28th). I told her mine was the following day, so we wished each other early happy birthdays. Great conversation and what a nice lady she is!
-Barbie Blank aka Kelly Kelly
As I was meeting her, Taya Valkyrie was at Barbie's table holding her dog. Then one fan in front of me was wanting to get a pic with her holding her dog. As I came up to get a pic with her, I was telling her how I admire people that travel with pets – especially those people that fly frequently – since their behavior can be impacted by traveling. She said her dog was well behaved the entire time while on her way to WrestleCade weekend. After that brief conversation, I got a pic with her that those on the WrestleCade Instagram account later shared on their page. I don't think she ages at all. She was great to meet.
-Jeff Jarrett
Jarrett couldn't have been any nicer when I met him. I asked him how much it would be to get a pic with him and he said the price as well as what the combo was. He said whatever you wanted to do. So I decided to get a pic. We had to wait a minute to find someone, but then someone came up to his table. So I had the guy take pics with my phone camera horizontally and vertically. Jarrett even had his cowboy hat on for the pic. After that, I returned the favor for the guy as he got a pic with Jarrett. The recently inducted WWE Hall of Famer was such a nice guy to us.
-Karlee Leilani aka Catrina from Lucha Underground
I met Karlee the first time she came to WrestleCade three years ago. However, that pic was on my old digital camera, and it was stolen later on that weekend. So I was never able to upload it. I guess you could say it suffered a "kiss of death". If you follow her Catrina character, then you know why I said that. LOL. Anyway, I made sure that didn't happen this time around, although I didn't tell her that story. I ended up getting an autograph and pic. She already had one signed that she gave me. Then I had someone take a few pics of us. She was nice and such a very attractive woman, too. And yes, I was able to upload the pic of us on Instragram this time without it suffering a "kiss of death". LOL.
-Jim Ross
There was no way I was leaving WrestleCade and not meeting good 'ol JR, Jim Ross. He was my last stop before they closed the doors at Fanfest. I met originally at WrestleMania 28 in Miami, but the pic I got with him was rushed as I was one of the last people in line. Anyway, after I got a pic with him, I told him I did part of my growing up in Midwest City, OK because my mom got stationed at Tinker Air Force Base. So I mentioned briefly about the Mid-South/UWF promotion and being Sooners fan since my time living out there. I was wanting to get a couple of quick questions in and both were about the Sooners. We talked about the playoff chances for the team and the scenarios as well. Then we got into talking about the offense and defense. I remember vividly asking him about whether or not they needed to switch from the 3-4 alignment back to the 4-3 or get a new defensive coordinator. Or both. I thought this was a fair question to ask because these are the two solutions I hear from fans the most. JR's response was to get a new defensive coordinator. He was telling me about Oklahoma's interest in Alabama's DC. We then talked about Kyler Murray. At this point, the guy managing the table told me they were trying to get the rest of the people up to meet JR. I told JR thanks for the time and he wished my Happy Holidays. I apologized to the guy and he was cool with it. I was just glad I had a couple of minutes to talk with JR this time.
Some of the other local talent I seen this weekend included my friends Montana Black, Movie Myke, Yahya, Mark Denny of the Geordie Bulldogs, and "Fast as Hell" Ian Maxwell. Even though most conversations were brief, it's still nice to know they know me. I had a couple of brief conversations with Tracy Myers as well. Announcer Corky Franks stopped me as soon as I got in for Fanfest and said, 'Man, I need your job because you go all over the place!" LOL. So he and I talked a little about traveling, too.
It was something seeing people mentioning to me about my travels, which including some talent. I flew back from Detroit/Windsor on Black Friday night and got up early from home to go to WrestleCade. What a remarkable six days it was as WrestleCade didn't disappoint.
A few thanks. First, to Lora Lyons for being so generous in giving me her spare ticket because our friend Big Donnie couldn't make it. I hope you're well, Donnie! So I watched the show with her and her boyfriend John Walsh.
Thanks to my friends Bobby Mitchell, Ian Barker, Daniel Pagan, Brandon Lyles, Brandon Lattimore, Chris Dickinson, and Bryan Reynolds. Also to Bob Delph and his son David as well as to anyone else I may have missed mentioning here.These guys are diehard, yet knowledgeable wrestling fans. They also helped with photos when I need it. As a solo traveler, finding someone to take pics can be a challenge at times, and all of them do well taking them. Until the next show, guys.
Finally, a shoutout to the entire WrestleCade team for the work and dedication that showed for the weekend. The amount of exhausting work the staff and talent put in is beyond remarkable. It's always appreciated by me.
Be sure to checkout the Live From The Armory show that's hosted by my good friends Lora Lyons and Bob Delph. The most recent episode had Rip Rogers on it as they talked about the business. Also, Lora and Bob shared their thoughts and stories from WrestleCade weekend.
Fisticuffs Photography also has shots from the weekend up on his Facebook page. Checkout my friend Robert Holt's work from the weekend that was WrestleCade.
I'm going to be launching a new website sometime after the first of the year. It's in the works of being setup now. I do know it'll have my travels on it, and I'm debating about putting my sports history posts and wrestling reviews on it, too. I may just get a separate subdomain for it. But it'll give me more control over posts as well as advertising I can put on it. So the next show reviews maybe on a new site. Thanks for reading!