Queens of Combat at WrestleCade 2017 Results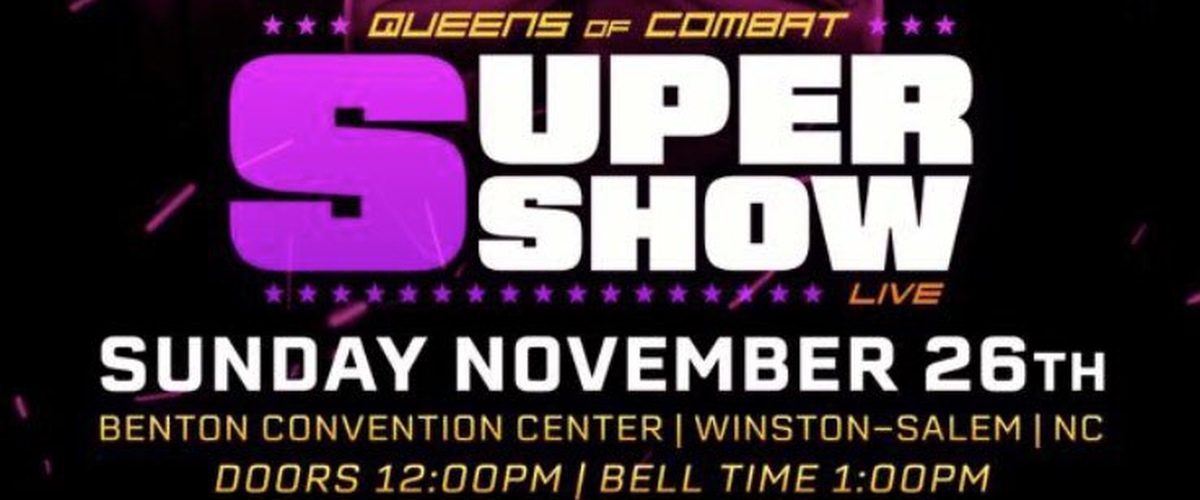 Queens of Combat returned to WrestleCade weekend for a Sunday show for the second year in a row. And just like in 2016, Queens of Combat tore the house down with an excellent card from start to finish.
The show took place after a morning service from wrestling legend George South and a tribute to Smokey Mountain Wrestling that followed. It also followed a tremendous Friday event with Showcase of Champions and Saturday's WrestleCade Fanfest and Super Show.
Here are the results of the show. Due to posting this late -- mainly due to being under the weather recently and work -- they won't be as detailed like I normally have them. So if anyone remembers anymore detail with the matches than what I have here, then message me. Nonetheless, here we go....
Nicole Pain defeated Kylie Rae
This was a rock solid match to start the show from two completely different personalities. I do recall early in the match when Kylie kicked out of a head scissors with a back bridge that drew an applause. I also remember my friend Bob Delph referencing the referee to borrow his glasses because of having trouble "seeing". The end of the match came when Pain hit Kylie with a fireman's carry-type move into a driver for the win.
Madi Maxx, Renee Michelle, and Ivory Robyn defeated Savannah Evans, Kiera Hogan, and Aja Perera
This match is remembered for not how it ended, but for what took place after its conclusion. Madi, Renee, and Ivory did make some funny comments as heels in this match. I do know they won the match and that Perera was the bout a long time. After the match was over, Savannah and Aja were about to fight until Kiera stepped in to break it up. Then Savannah turned on Aja and Kiera after the match with choke slams. Savannah's night was just beginning.
Blonde Ambition(Maria Manic & Penelope Ford) defeated Leva Bates & Brittany Blake
This was my first time seeing Blonde Ambition in a match at a show. Maria is really put together and she got to show her strength in the match. Ford was impressive as well, and I recall her hitting a matrix move into a head scissors during the match. Leva never disappoints with entertaining us, and did so in the match. At one point, she wore glasses and Ford tried to poke her eyes with them on that got a laugh out of everyone in the crowd. So we got a little comedic action and some wrestling in this one from both very solid tag teams. But it was Blonde Ambition that was able to get the win here.
LuFisto defeated Rachael Ellering
Simply put, if you were here, you witnessed these two beating the hell out of one another. Before the match, a young girl got into it was LuFisto and told her she sucked. LuFisto's reply had me laughing really hard when she said, "How are old are you to be saying something like that?" Early in the match, LuFisto hit a stiff shot to Ellering's face that was later confirmed to have broken her nose. From there, the two went back and forth hitting stiff move after stiff move. At one point, Ellering hit a fireman's carry into a RKO type move that nearly got her the win. LuFisto was able to win by submission with, from what I recall, was a Texas Cloverleaf-type move. This was my match of the night. So do yourself a favor and buy the DVD for this match when it's released.
Retirement Match
Zane Riley defeated Miss Diss Lexia
This was a match in which the loser would have to retire from wrestling. Riley debated with Miss Diss Lexia about whether or not they wanted to to do this. He was too funny after repeatedly telling the crowd to stop clapping and to be quiet because he was wrestling. The end of the match came when it appeared Savannah Evans was out to help Miss Diss Lexia. Instead, she turned on her by hitting her with a choke slam that allowed Riley to get the pin fall. Savannah drew a "You sold out!" chant from the crowd after the match as Miss Diss Lexia looked in disbelief after losing the match.
Allie defeated Zoey Skye
This was my first time seeing either them on a live show. This match was kind of under the radar with not as many talking about it before the show in comparison to other bouts. But they delivered a helluva match between them. At one point, Skye hit a DDT on Allie on the outside ring apron(picture Randy Orton's DDT except in the ring). A Russian leg sweep onto the outside ring apron was performed in the match, too. The end of the match came when Allie hit super kick off the ropes for the win. A very solid showing for both here.
QOC Title Match
Su Yung(c) defeated Samantha Heights & Mickie Knuckles
Originally, this was supposed to be Su Yung defending against Mia Yim. But Yim was injured and couldn't compete. So we got this chaotic 3-way bout for the QOC title. Early in the bout, Heights hit a dive onto both Yung and Knuckles right in front of where I was sitting. At some point early, Heights suffered a bloody nose that may have been broken. Later, all three took the fight into the crowd and where the guest tables were at. A DDT was hit in which Heights struck Mickie's body instead of the mat. The referee even intervened when Yung and Heights tried to superplex Knuckles off the top rope. He power bombed all three off the ropes, and the crowd reacted with a "Frankie!" chant. The match came to end when Yung pinned Mickie to retain the title. After the match, all three took a bow as the crowd applauded their efforts in the bout.
Notes:
-Before the show, I met Allie for the first time. My friend Bobby Mitchell was with me at the time, and we had talked about the upcoming event. She said she was loving WrestleCade weekend and looking forward to the show. We didn't talk long, but she was really sweet. She can certainly go in the ring and she showed it at this event.
-In trying to avoid being repetitive here(if you follow me on Instagram then you already know), I met Rachael Ellering again at intermission after her match with LuFisto. This was after suffering broken nose during the bout. She walked by me to say at intermission and I was under the impression that she was going to get her nose looked at. Instead, she greeted fans at intermission and took pics. I talked to her about her injury and such before I got a pic with her. We said "Go Cubs Go!" to each other as I left the table. Her line was consistently 15-20 people deep during intermission. All this should tell you a lot about her. The day before at Fanfest, she was walking by me while I was talking to Bobby as she was on her way to Road Warrior Animal's table. I said, "Hey Rachael!" She then looks at me and my Try Not To Suck shirt and says "Go Cubs Go!' and she gave me a hug. Then she said she was going over to Animal's table. Both Bobby and I joked and said that I think you know that guy pretty well. She's really great and it's nice to see things like this from talent.
-I met Madi Maxx again at intermission. I last seen her at RWA last year. That was just before she graduated high school. She joked and said that was when she was blonde. I asked her a little about college and how that was going. I had no idea she changed schools. For such a young lady, she's done very well for herself in the business while also being a full-time student. Not only is she very pretty, but she's downright hilarious -- especially as a heel -- when in the ring.
-After the show, I wanted to meet Leva Bates again. So I talked to her about the previous QOC show I seen her at back in February. We talked about her and Mia Yim teaming together on that show. I had asked her about what she had been up to, and she mentioned the stabbing incident a couple of months prior to that. I had told her I heard a little about it, but I haven't been able to keep up as much with the business and talent due to my schedule this year. Without even asking for it, she gave me a signed Chun-Li cosplay card. Then we got a pic together again. This is why I meet Leva at every show she's at that I can make. Hopefully, I can make more of them in 2018.
-After the show, I got to meet QOC champ Su Yung. She had a long line of fans wanting to meet her at the end of the show. She took a pic of me with her holding the title belt above her head behind us with a angry look on her face. She makes the best faces for pics. I know I've laughed at them quite a bit since I first seen her taking pics with fans. She's one of the kindest talents in the business, and is very appreciative of her fans, too.
-As I was talking to a couple of friends, I noticed that Bobby was over at Kiera Hogan's table as she was about to leave. I was in the process of trying to get pics of whoever I could before they left. So I rushed over to her table, and was able to get a pic with her. She was nice enough to stick around to do that as Bobby took the pic of us. Thanks again Kiera for that!
-The last person I met after the show was my long-time friend Savannah Evans. Bobby and I were talking to her about her heel turn on the show. I joked with her to say that she's got issues she needs to work out. Then I asked her for a pic and she agreed to it. Bobby took the pic of us. I went back to look at it and I started laughing because of the look on her face in the pic. She gave me the resting b!tch face look because of her heel turn. I told her we can take another and I'll post both of them. But first, her and Bobby got a pic together in a fighting stance that came out great, too. Then her and I got another together with her clinching her fist with a heel-like look on her face. We had talked about fan pics with talent and brought up Sasha Banks and how she felt about stalkers and such. That's why we took another pic. LOL. For those that have read previous QOC reviews of mine on her, I've talked about how Savannah used to be a fan in the stands at Indy shows. Her and I used to sit together with other friends of ours at shows in the front row about 4-5 years ago. Most of those were at PWX. She's been at it for going on four years now. She's has also worked very hard to get to where she's at and continues to get gigs across the country. I'm real proud of how far she's come. She's also one of the nicest people you'll meet outside of the ring. too.
Thanks to everyone at QOC for putting on yet another stellar show that brought the house down. It's always a great time at these shows watching the action and interacting with the talent during and after the show.
The next QOC event will be a double feature on January 20 at the Mid-Atlantic Sportatorium in Gibsonville, NC.
Be sure to checkout the Live From The Armory podcast that's hosted by my good friends Bob Delph and Lora Lyons every Wednesday night. This week, they'll have QOC champion Su Yung on the show!
Also, be sure to check out Robert Holt's Fisticuffs Photography for photos of this event and others from WrestleCade weekend