Why baseball and the sports world will miss Jose Fernandez
It's tough to see someone just a mere three-years older than myself pass away. It really puts things in perspective. Jose Fernandez, the Miami Marlins 24-year-old who seemed to always have a smile on his face, passed away on Sunday after a boating accident off the coast of Miami. 
And the sporting world and the game of baseball is less because of this tragedy. 
Not only did the Miami Marlins lose a teammate, a friend and a hell of a pitcher — they lost a smile and a person who valued others above himself. Now, it would be crazy to assume I could comment on Fernandez on a personal level, but my impression of him was one that he was held in the highest regard by his team and other players. With certain people you get the impression that they are just a joy and a great individual to be around and Fernandez falls into that category.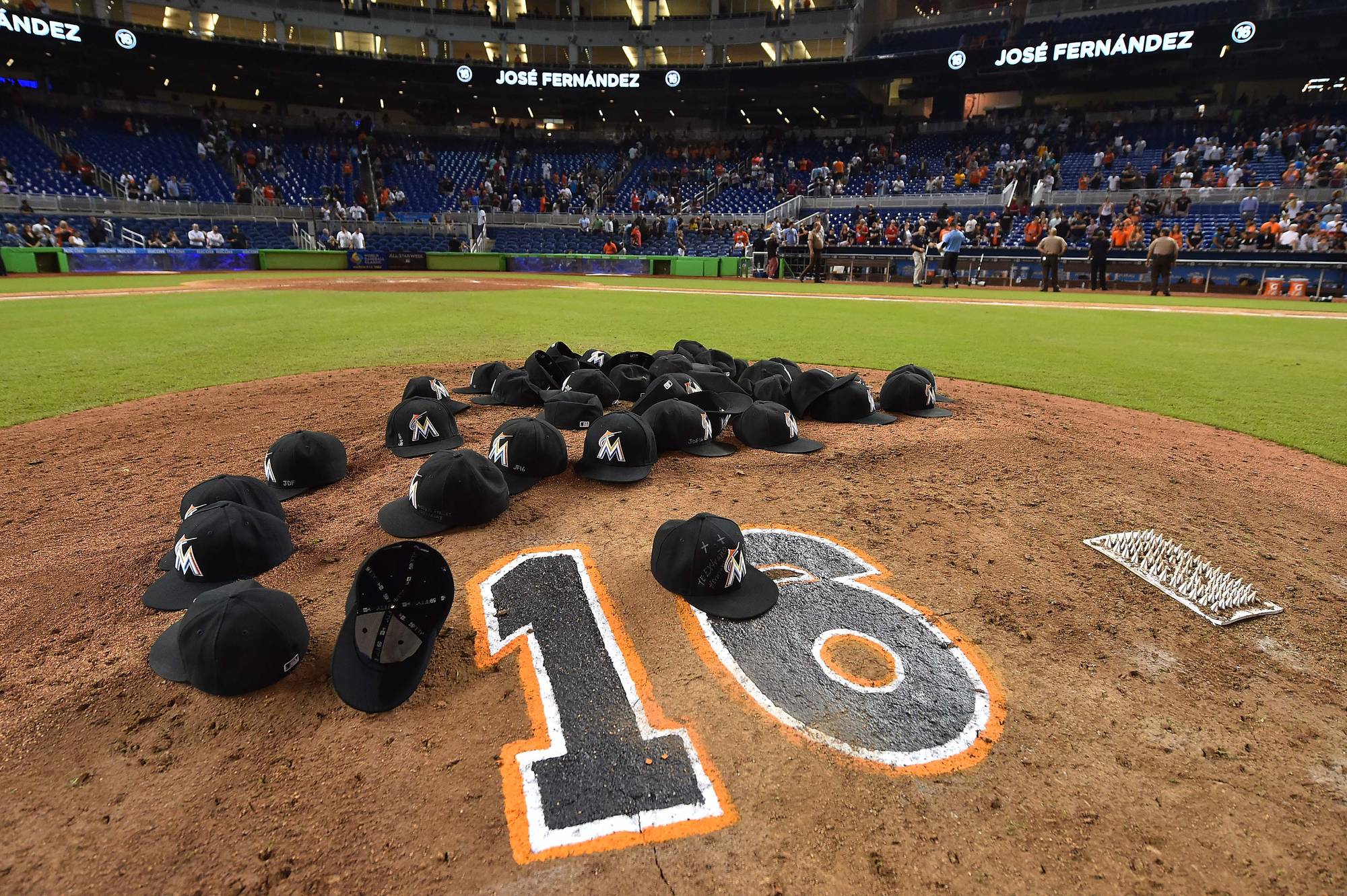 After an emotional game last night against the New York Mets — the Marlins left their caps on the mound in honor of their late teammate.
Jasen Vinlove-USA TODAY Sports
"This is shallow, but the show goes on," Marlins president David Samson said to cbc.ca.com."There has been a lot of talking and a lot of crying and a lot of praying and a lot of trying to make sense of something you can't make sense of. There is no sense to a life ended like that, in a way that is so meaningless." 

"It's our job to make his life matter, so we're going to do that forever, and forever starts today." 
You can even see the joy he brought to baseball and the game after he celebrates a home run hit by his teammate Giancarlo Stanton.

On the mound, the legacy he left behind is a haunting one. Every time he stepped on the hill, it was must-see baseball and his stats back that up. In his short MLB career, he won half of his starts going 38-17 with 2.58 ERA. He even won the National League Rookie of the Year Award in 2013.

The young man who defected from Cuba and finally made it to the United States after four tries, according to ESPN, was beloved by his teammates with a child-like respect and love for the game of baseball. He was dominant — yet did so with a smile on his face. He pitched every game like it was his last, and did so for his mother.
"He pitched for her," Jose's agent Scott Boris said to the New York Times. "I used to tease him: 'Take your mother on the road, because your E.R.A. is a run and a half lower when she's in the stadium.' I'd go, 'Just tell me what advice she's giving you,' and he'd laugh. He was very focused when she was here."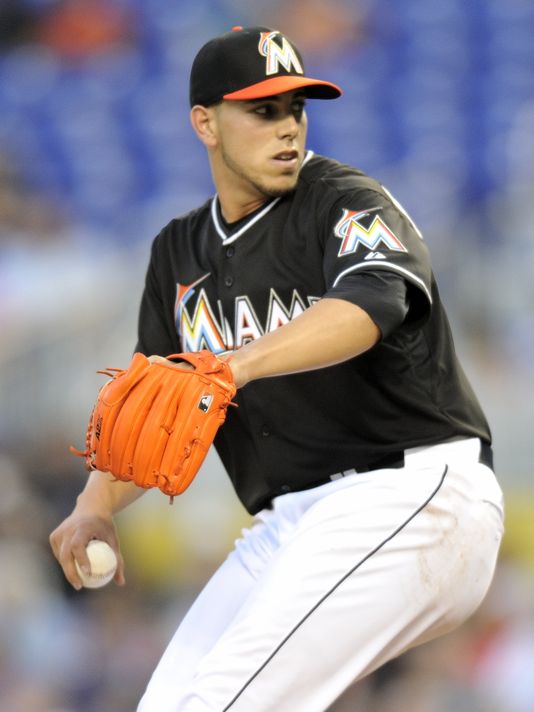 Jose Fernandez had immense potiental at the young age of 24-years old. Photo courtesy of USA Today
I can't even begin to fathom how the Marlins team played a game Monday night after losing Jose on Sunday, but they did.  Dee Gordon paid homage to his teammate.

Gordon seemed to be hit the hardest, but he hit back, sending a pitch in the first at-bat without Fernandez into the seats. Gordon, a lefty, took the first pitch from the right side of the plate and in the stance of his late pitcher and friend. When Gordon launched one into the seats, he broke down as he was rounding the bases, and understandably so.  
"I told the boys, 'If ya'll don't believe in God, you might as well start'," Gordon said to reporters after the game. "I ain't ever hit a ball that far, even in BP. For that to happen today, we had some help."
The worst part about Jose's death — a mother is left without a son, a girlfriend who is pregnant with their child is left behind and the unborn child without a father. He will be sorely missed in the baseball community and the world of sports, but those who loved him the most are clearly hit the hardest.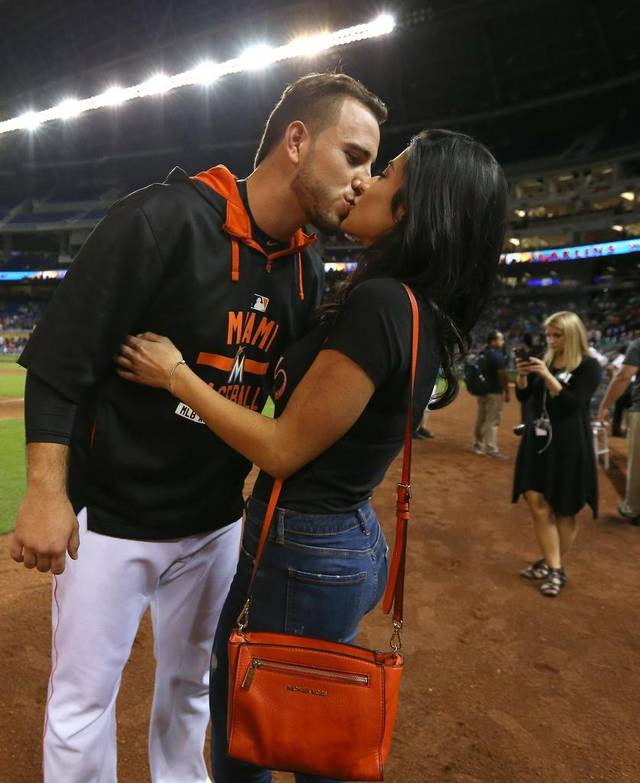 Jose Fernandez and his girlfriend Carla Mendoza. Mendoza is pregnant with the couples' child. Photo courtesy of the Miami Herald.
From the standpoint of baseball analysis and commentators — all that is left is to talk about is what this young man could've been, instead of what he was. Don't get me wrong, Jose Fernandez could've been a first ballot hall-of-famer, a great father and husband, but with what happened we'll never know. That's the real tragedy in all this — a young man with everything going for him and everyone behind him, now in the blink of an eye is gone. That's perspective for you. 

And I'll be damned, because it truly breaks my heart. 
R.I.P. Jose Fernandez 7/31/1992 — 9/25/2016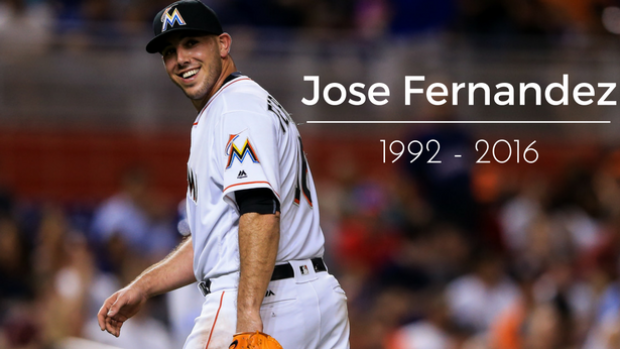 Photo courtesy of cbc.ca.com
---