Alabama and Washington set to face off in College Football Playoff
In two days, the Alabama Crimson Tide and the Washington Huskies battle for a spot in the National Championship game on January 9th in Tampa, Florida.
The Tide come in undefeated with a perfect 13-0 record, while Washington boasts an impressive 12-1 record with the one loss coming to USC, who Alabama beat 52-7 back in the first week of the season.
Some believe Alabama has the best defense of all time, and they'll be put to the test against a high powered Washington offense thats led by sophomore quarterback Jake Browning. Browning threw 42 touchdowns this season and only 7 interceptions. Junior receiver John Ross caught 17 of those touchdowns along with over 1,000 receiving yards. Both will look to find openings in the Alabama defense and try to move the ball down the field quickly.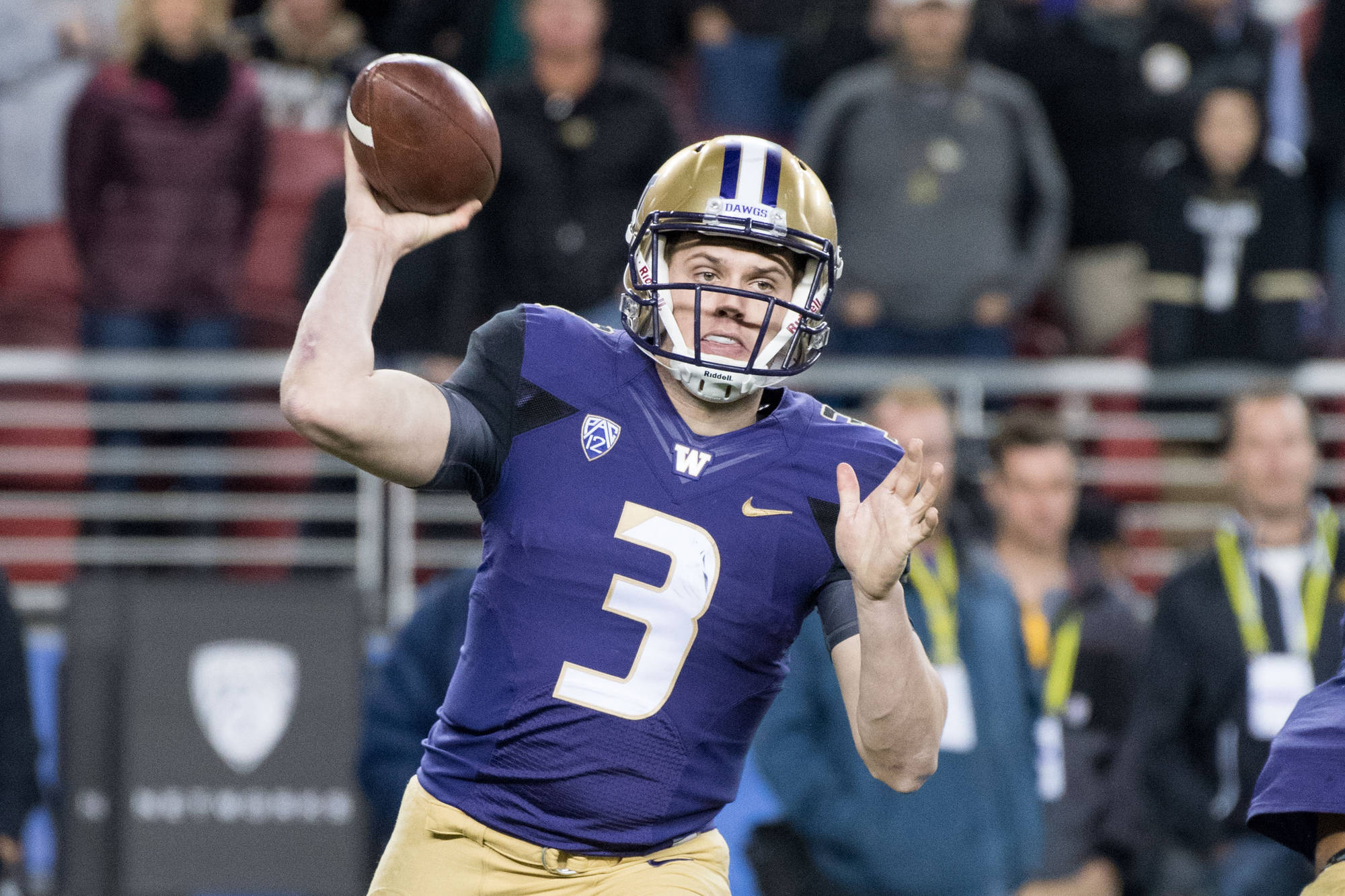 Washington QB Jake Browning will look to shock the nation by defeating Alabama on New Years Eve.
Kyle Terada-USA TODAY Sports
Browning has thrown 6 touchdowns in one game twice this year. Ross caught 3 touchdowns in each of those games, including 208 receiving yards against Cal.
Cal isn't Alabama by any stretch of the imagination, and unless Alabama doesn't take the field, Browning won't throw 6 touchdowns, but if Washington hopes to have any success against Bama's D, they'll have to get the ball to their playmaker and create big plays. The Huskies are embracing the underdog role and believe they can pull it off on New Years Eve.
Alabama's freshman quarterback Jalen Hurts has led this undefeated team offensively. His ability to throw as well as run has made a huge difference in creating big plays for the offense. His demeanor in difficult situations lifts the team up and helps them respond to adversity.
Alabama's defense is full of NFL talent. Johnathan Allen, Tim Williams, Reuben Foster, Ryan Anderson, Marlon Humphrey, among others that bolster this defensive unit that ranks number 1 in total defense are on the hunt for back to back national championships.
Bama also ranks first in rush defense, so expect Washington to throw the ball a ton to try and get the ball downfield quickly.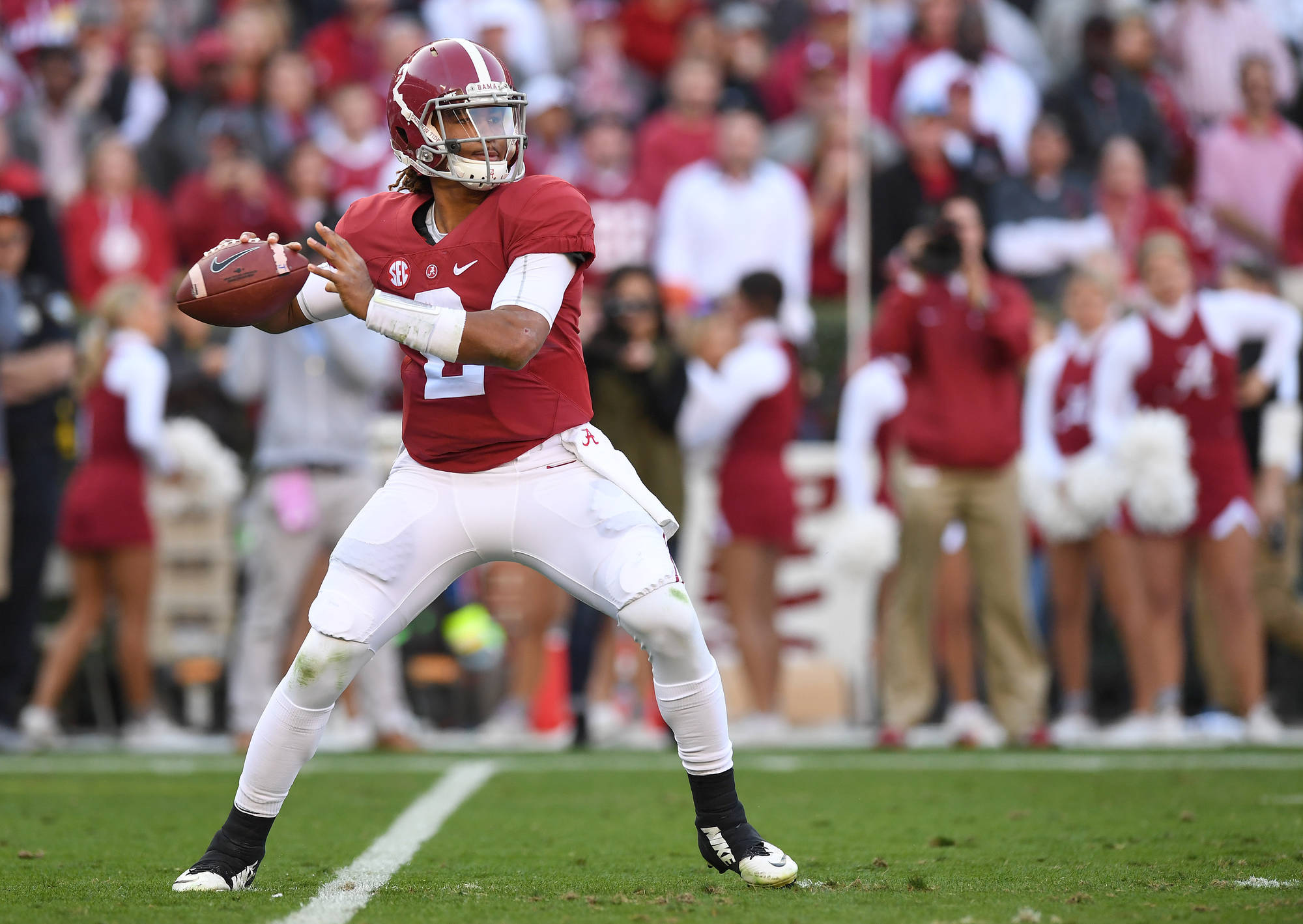 Alabama quarterback Jalen Hurts looks to get to the National Championship as a true freshman.
John David Mercer-USA TODAY Sports
Nick Saban said on media day that he "loves the way his team has responded to adversity." Washington may be an underdog, but the Tide aren't seeing it that way. Linebacker Ryan Anderson said "I feel like people are saying that to try and get us to relax, to get me to relax. I don't like that."
Alabama has the potential to be one of the greatest college football teams ever. They'll have to get through Washington first, who has plans of their own on crashing the party and solidifying their spot in the National Championship.
Prediction: 42-28 Alabama
---