Luke Walton is Out as Coach of the Lakers.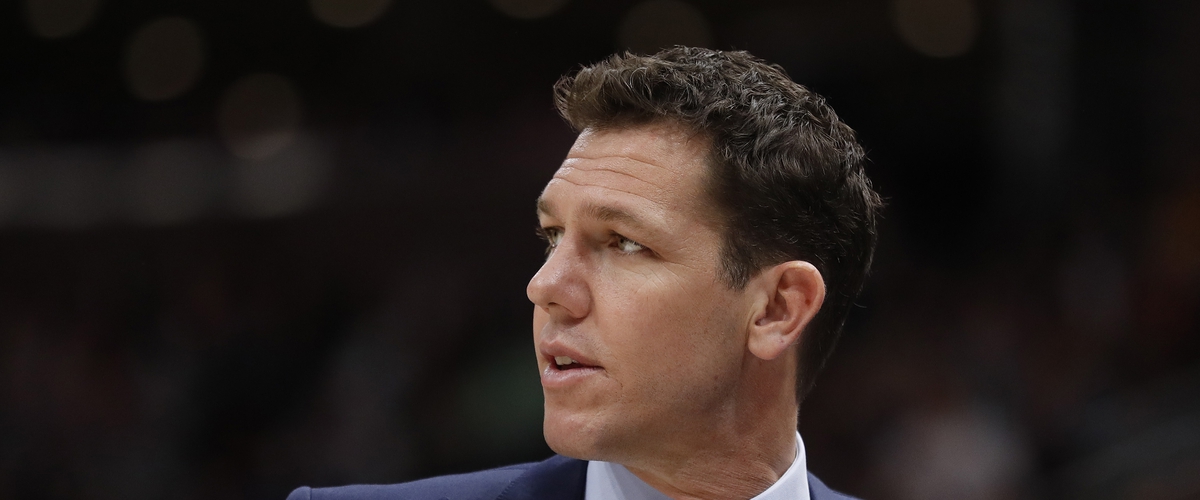 The Nightmare for the Los Angeles Lakers is Not Anywhere Near From Being Over. The Lakers Organization announced on Friday that the Lakers and Head Coach Luke Walton have decided to part ways. This News Comes Three Days after Magic Johnson Stepped Down as President Of Basketball Operations for the Lakers Organization.
Walton Has 2 Years Left on a Five Year Deal. Walton Went 98-148 During his Tenure with the Lakers, Now Here's the $64.000 Question who is the Front Runner to Replace Walton, Well The Lakers Have 2 in Mind.
The First One that Comes to Mind is Former Cleveland Cavaliers Coach Tyronn Lue. He Led the Cavaliers to the NBA World Championship in 2016 when the Cavaliers became the First Team Ever in the History of the NBA Finals To Come Back Down 3-1 to Win it the Series in Seven Over the Golden State Warriors.
The Other Coach in Mind For the Lakers is Philadelphia 76ers Assistant Coach Monty Williams. Williams and the 76ers are Getting Ready for the NBA Playoffs so there will be no talking to Williams Until the End of the NBA Post Season.
The Decision of Hiring The Next Coach Of the Lakers Will Fall upon the General Manager Rob Pelinka. He's The Person Who Will Make the Decision along with Lakers Owner Jeannie Buss, I haven't forgot about Her at All Either.
Right Now the Lakers are a Total Mess and it's Not Funny.
Here's My Take, The Lakers Have tuned into a Laughing Stock in the NBA. Do You Remember when the Lakers were 20-14 on Christmas Night, it sees Like a Longtime ago I Know then the Wheels Fell Off in such Dramatic Style.
LeBron James Suffered a Groin Injury, Then it was Rajon Rondo He Suffered an Injury. Lonzo Ball Was Hurt and Unable to Play. Brandon Ingram Suffered a Blood Clot in His Shoulder and was Sidelined.
Then The Gaffes and Suspensions and the Horrible Play Started to Happen and the Lakers went From Contenders to HUGE Pretenders and Luke Walton was Frustrated and Everybody Knew it.
Let's Face It Everybody The Lakers went from Being the Team to Beat in the NBA To a Total Disaster in Just a Short Period OF Team and the Lakers Need a Savior Now Because if the Don't Get It Soon The Jokes about the Lakers will pile up Even More.