Who are the oldest NBA players in 2020?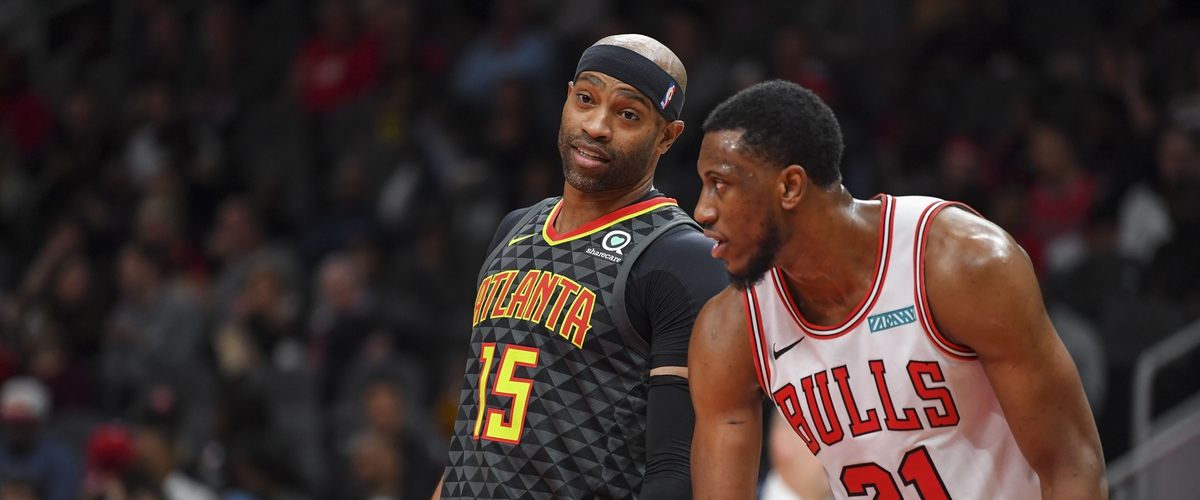 Wondering who are the oldest NBA players in 2020? Here you go…
Vince Carter has been making headlines lately as he entered his 22nd NBA season a few weeks ago. Could you believe that? 22 seasons in the NBA. Some players, like Trae Young, RJ Barrett, and Luka Doncic, aren't even 21 years old yet!
I got curious when I heard this and decided to search up who the oldest players in the NBA are right now. Here's what I found:
11) J.J. Barea - 35-years old
J.J. Barea, who is currently playing with the Dallas Mavericks, was drafted in 2006. That makes this season his 14h season and he's not doing that bad (averaging 11 points a game at the time of this writing). However, he has only played one game whereas most of his teammates have played 10 (please tell me you recognize that joke).
Barea was a go-to guy off the bench in the previous few seasons, but the Mavs are getting younger, so his service isn't needed as much as before.
10) J.J. Redick - 35-years old
J.J. Redick was drafted in 2006 as well and is currently on the New Orleans Pelican's roster. He has a special skill set, where he can shoot the ball really well (averaging 40.7 percent FG% this season), so he is getting more playtime than Barea.
In ten games with the Pelican's thus far, he started six of them and is averaging 12 points a game. But more importantly, he is getting around 25 minutes of court time. This is important because this shows that old guys can still hang with the young wolves and this makes me happy because I'm kinda old too.
9) Thabo Sefolosha - 35-years old
Thabo Sefolosha is currently in his 14th NBA season and he is running with the Houston Rockets.
Sefolosha has always been a defensive specialist and has attained so much knowledge about this end of the court throughout the years. That's why, at this older age, he is still contributing to his team.
He is averaging 11 minutes per with the Rockets and has played 8 games.
8) Andre Iguodala- 35-years old
Andre Iguodala is probably the best player on this list. He was drafted in 2004.
But unfortunately for him, he hasn't played a single game with the Memphis Grizzlies yet due to "undisclosed" reasons. Undisclosed is in quotations because the reason is that he wants to be traded but the team hasn't found a good deal yet and they don't want to waive him.
Regardless, Iggy would be contributing a lot to the team. He has a high IQ for both ends of the court. Last season, with the Golden State Warriors, he played 63 games and averaged 23 minutes a game. He also shot 50 percent from the field, dished out 3 assists a game, and stole the ball once a game.
7) Tyson Chandler - 37-years old
Tyson Chandler has played in the NBA for 19 years.
Drafted back in 2001, Chandler entered the league as a lengthy big man who had two jobs –rebound and block shots. To this day, he is still doing those two things and still doing them very well. In 9 games with the Houston Rockets, he is averaging 7 minutes a game. And with those 7 minutes, he is grabbing 2.2 rebounds and blocking 0.2 shots a game.
6) Nene - 37-years old
Nene was drafted back in 2002.
He, however, has not made his regular-season debut with the Houston Rockets yet as he is currently dealing with an injury. Though, he most likely won't get much playtime because the Rockets are stacked to the brim with younger bigs.
5) Joe Johnson - 38-years old
Joe Johnson was drafted back in 2001 and has had a great career in the NBA.
He is a multi-time all-star and was a member of the 2010 All-NBA Third Team. Though he hasn't played in the league since 2017-18, he was part of the Big3, where he was the 2019 MVP.
Currently, he is signed with the Detroit Pistons but has not yet made his debut.
4) Kyle Korver - 38-years old
Kyle Korver was drafted back in 2003 (yes, the same year as LeBron James and them other legends) making this his 17th season.
Like Redick, Korver is also a really good shooter (but just a tad older and not as athletic). And since he can shoot really well and doesn't need to use a lot of energy to be productive, he gets minutes.
Currently, with the Milwaukee Bucks, Korver has played 8 games and is averaging around 16 minutes a game. In that time, he is making just over 2 triples a game for 7.5 points a game.
3) Pau Gasol - 39-years old
Pau Gasol was drafted in the same year as Chandler.
Gasol is probably the most decorated player on this list. He has won championships and has been voted into many All-Star games and All-NBA teams.
However, he is currently dealing with an injury and has not made his season debut with the Portland Trailblazers yet. He may not even play this season.
2) Udonis Haslem - 39-years old
Udonis Haslem was undrafted back in 2003 but was signed by the Miami Heat. And this is where he is still playing.
In 16 years, Haslem has only played with this one organization, making him the most loyal player on this list. However, he has not made his debut this season yet.
1) Vince Carter - 42-years old
Vince Carter was drafted back in 1998. Yes, in 1998. He has played in the NBA for over two decades and he is still contributing to his team, the Atlanta Hawks. There was even one game this season
where he scored 14 points (50 percent shooting).
Playing 15 minutes a game, Carter is currently averaging 5 points on 40 percent shooting and grabbing 2.1 rebounds a game.
He's 42 years old (turning 43 in January). This guy is impressive!
Well, there you have it. These are the oldest players in the NBA. And doesn't it just make you (the older people reading this) inspired? Don't you (again, the older people reading this) just want to pick up a ball and go shoot some hoops?
For more basketball content, check out my other blog, Old Man Game Tips.
---