Celtics Rumors: Can Boston Land Paul George Without Losing Nets' Picks?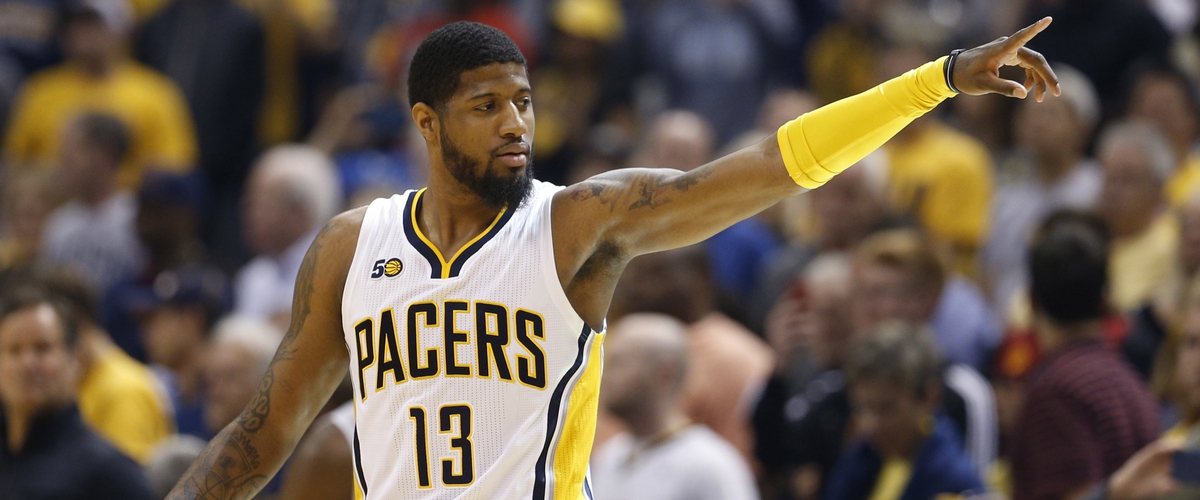 On the heels of a 135-102 season-ending loss to the Cleveland Cavaliers, the Boston Celtics offseason is officially underway. With the No. 1 overall pick in this year's draft and enough salary cap room to land a max player, all eyes around the league will be on Danny Ainge and the Celtics' front office.
One player linked to Boston over the past couple of seasons is Indiana Pacers' star Paul George. George, 27, is set to become a free agent after the 2017-2018 season, when most expect the All-Star forward will sign with the Los Angeles Lakers. However, one NBA expert believes that George could be had via trade this summer -- and the price could be much cheaper than anticipated.
During an appearance on The Chris Mannix Show on Friday, The Vertical's Bobby Marks speculated that Boston can put together the most compelling offer for George -- one that would not include either of the Celtics' highly-coveted first-round picks acquired from the Brooklyn Nets. The Pacers' reported demand for George at the trade deadline was the 2017 Nets pick plus three of four players from the Avery Bradley, Marcus Smart, Jae Crowder and Jaylen Brown pool, which Boston declined.
"I don't see how much leverage Indiana has in this," Marks said. "For the best interest of the Pacers' organization, they'll need to explore the trade market. How many teams have assets that Indiana would like?"
Whether or not Marks is speaking from inside knowledge or is merely speculating is unclear, but its hard to imagine the Pacers' organization could sell a trade involving the face of their franchise for anything less than one Nets pick. Marks later went on to suggest players which Boston could dangle for George.
"A guy like Terry Rozier, a point guard with a couple years left on his contract...I think he could be a starter in this league." Marks said." With Crowder, he's got a couple years left...he's started in this league the past three of four years. We talked about the Memphis pick or another pick there."
Aside from Indiana's refusal to lower their asking price for George in-season, Boston was reportedly unconvinced that they could sign George long-term. Now, even with the Nets picks potentially off the table, one may still wonder why Boston would trade assets if they will still lose George at season's end?
Marks alluded to Boston having a "foundation" in place to back up any assets lost in a George deal, and he's right -- Boston does have a young and talented group of players on their roster. However, the guard-heavy Celtics have players like Isaiah Thomas, Avery Bradley, Marcus Smart and Terry Rozier with contracts expiring over the next season or two. Just as Indiana would be trading a player who is as good as gone after the season, Boston could break up this logjam and part with a player that would likely not return to the team, either.
Given the uncertainty around George and his well-known desire to play for the Lakers, why would Boston want what would essentially be a rental player? There are a couple reasons, and, to me, they all make sense. George would undoubtedly add the consistent scoring threat on the wing which Boston desperately needs, while also lessening the pressure on Thomas as the primary scorer. While adding George alone does not bring Boston even with LeBron James and the Cavs, it does reduce the gap, while keeping Boston ahead of the Toronto's and Washington's of the East. The biggest plus for Boston would be for recruiting other potential stars to Boston in the summer of 2018 -- showing that a legit superstar in the league can not only thrive in Boston, but under Brad Steven's system, would be huge.
Ainge and the Celtics have an established history of taking risks and swinging for the fences, but giving up a Nets pick, or key role players for a one-year rental just doesn't make sense. If the price does indeed fall to an acceptable range, then Boston should absolutely pursue a deal -- but this remains a big "if." Who knows, maybe George will love it in Boston and re-sign? Even if he did leave Boston for the bright lights in L.A., that wouldn't be the worst thing either for a league in desperate need of interesting story lines past Cavs-Warriors finals rematches.
Would you like to see Boston make a move for Paul George? How much is too much to give up? Let us know in the comments section below, and be sure to give us a follow on Twitter @Beantown_beat.
---