David Price: Zero to Hero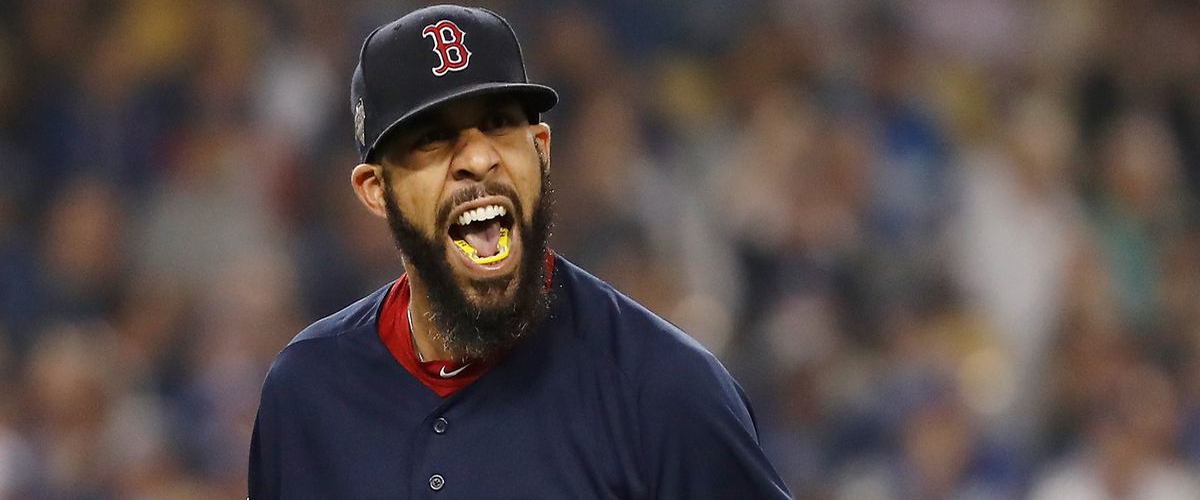 David Price can be described with one word: polarizing. After the Red Sox signed the 6-5, 215lb lefty to a $217 million contract in December of 2015, he's been just that. Even in his debut campaign, which came in 2008, with the American League pennant-winning Tampa Bay Rays, Price made his presence felt, with a memorable outing in the ALCS that sent his current team (Boston), packing, ironically.
Price, a 5-time All-Star, and a Cy Young Award winner in 2012, is beyond the shadow of a doubt, a superstar caliber pitcher. In the regular season. At least, that's what we thought. The 33 year-old had always struggled with one thing: the big stage.
Since joining the Red Sox, nothing had changed. His struggles in the climatic Red Sox/Yankees rivalry persisted. In 11 regular season starts against the Yanks during his time as a Red Sox, Price has allowed 16 home runs, and opposing hitters have slugged a .335 BA against him.
Those big stage struggles lied mostly in the postseason. The numbers were there: entering the 2018 postseason, Price was historically bad in games that took place in the month of October. Amongst pitchers who had made 9 or more postseason starts, a group that totalled just south of 100 players, Price ranked dead last. Posting an 0-9 record with an ERA north of 8 in 11 starts, Price was the true definition of choke.
David had a solid, consistent regaular season, his best of his three seasons in Boston. In Game 2 of the ALDS, Price looked like he was following the same postseason path of his troubled past. Allowing three earned runs, two home runs and getting an early second inning hook at Fenway Park, fans wondered, "can we really pitch this guy again?". The answer, according to first year skipper Alex Cora, was yes.
After the Red Sox managed to win the divisional round without him, Cora casually announced that the 11 season veteran out of Vanderbilt would get the start in Game 2 of the ALCS against the defending World Champions, the Houston Astros. After Chris Sale struggled and the Red Sox fell to the Astros in Game 1, Boston turned to none other than David Price in a must win situation, looking to avoid going into Houston with a 2-0 deficit.
While Price didn't do enough to have a decision in the game, his team won, a first in his postseason career. He didn't pitch great, just four and two thirds 4 run innings, but Price called it "baby steps", and baby steps they were.
After the Game 2 win, Boston turned the tides in the series, winning Game 3 in Houston to take a 2-1 series lead and successfully flip the series into Boston's advantage. In Game 4, Rick Porcello posted a mediocre outing (at best), but Boston's bats and bullpen were very much alive, and the Sox were in prime position to take a 3-1 series lead. Carrying an 8-5 lead into the eighth inning, Boston appeared to be in the clear.
That was, until Boston called upon Craig Kimbrel to get six outs. Kimbrel once again sent Boston's fans into near cardiac arrest, allowing 2 hits and walking 3. Kimbrel allowed one run in the 8th, and nearly another in 9th. As "Dirty Craig's" pitch count rose, Alex Cora had to start thinking about replacing him. That's when David Price offered his services, and he began warming in the bullpen. While Price never entered the game, and Kimbrel closed the door, real progress was made in that bullpen, with Price saying he found something with his changeup.
Whether he found something or not, we will never know, but after that bullpen session, fans witnessed a complete mental transformation in the mind of a player who had been reknowned as a head case. Despite starting Game 2 and throwing a long bullpen session in Game 4, it was Price who got the nod in Game 5 of the ALCS. This time, there were no ands, ifs or whats about it: David Price dominated.
Throwing six shutout innings, striking out 9 and walking none, Price defied the odds in what appeared to be a skewed pitching matchup against Houston's Justin Verlander. Price was finally victorious in a playoff game, Boston fans were pleasantly surprised, but wanted more. After a dominant Game 1 team performance, Boston again gave the ball to Price for Game 2, this time on the biggest the stage of them all: the World Series. And he didn't dissapoint.
Price again, turned in a quality start, going 6 innings and striking out five while allowing just three hits. He got his second win of the postseason, and Boston was in the driver's seat up 2-0 in the series. Game 3 rolled around, and after Rick Porcello couldn't make it out of the fifth inning, and the bats went quiet, the Sox turned to Price again, this time out of the bullpen, to get two big outs. Boston lost the game, but Price made his presence felt, again.
In the Red Sox comeback-from-behind victory in Game 4, Price finished the game warming up in the bullpen, once again on a long session. Chris Sale had been announced as the Game 5 starter, but after Game 4, Cora decided it would now be Price, not Sale, starting, on three days rest, with an outing and warm-up session mixed in the middle.
It was a criticized move, but the move had been made. Price's last outing was his most inspiring and most memorable one yet. Pitching on short rest and relatively unexpectedly, Price went 7 innings, only allowing one run, and three hits while striking out five. If not for Steve Pearce's 3 HR's and 6 RBI's between the last two games, Price would be the indisputable World Series MVP. Some, even, called for co-MVP's, saying Price's performance was too good to be ignored.
Price entered the postseason as a lost hope. With the worst postseason record of all time, he was expected to fail. The fans and the media could hang that over him as much as they wanted.
Then he broke his postseason mental barrier. He made strides. He defied the odds against him. David Price, put perfectly, took the saying "zero to hero" to heart. Price has won over Boston, and 2018 will be remembered as his postseason.
As Price himself said, "I hold all the cards now."