Projecting the Red Sox 25 Man Playoff Roster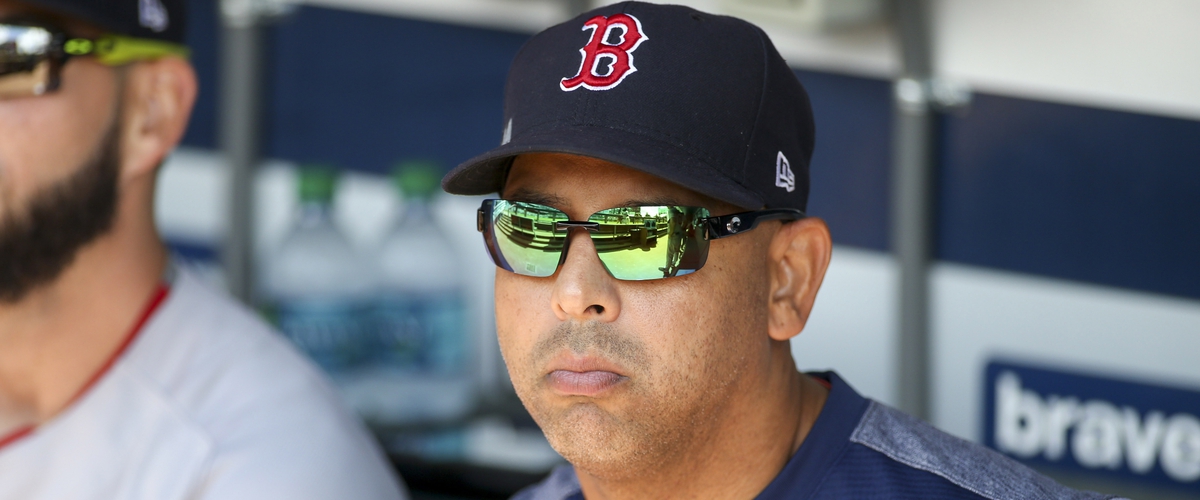 The 2018 MLB season has flew by. It's already September, which means before we know it will be October, and postseason time. Boston currently sits at 100-46, with a 10 game lead in the American League East. While a 2011 collapse is always possible, many say it is safe to say that we will see Boston in the ALDS in 2018. With that being said, the Red Sox almost have too much depth.
Manager Alex Cora has done as great of a job as anyone could have imagined in his first year as the skipper for the Sox, leading his team to 100 wins for the first time since 1946, and managing his superstars, Mookie Betts, J.D. Martinez, Chris Sale, Andrew Benintendi, and others, perfectly, giving them the right amount of rest to be ready to go in the postseason.
His next task, however, may be his toughest. The Sox have the best four man outfield in baseball, a three catcher committee, 3 utility men, and 8 contributors in the infield. The bullpen lies at a logjam, and the back end of the rotation remains to be a question mark. Alex Cora has to find a way, to get his current 40 man roster trimmed down to 25. It's hard to project what that may end up looking like, but, it can't hurt to try!
Position Players (Locks):
OF Mookie Betts
There's no explanation needed here....Mookie Betts is the frontrunner for AL MVP, leading the entire league in WAR, amongst many other categories. This team doesn't win 100 games without him.
OF J.D. Martinez
J.D. Martinez has been the closest thing to David Ortiz that Boston fans have seen since Papi retired in 2016. A true triple crown threat, and arguably the main contender to his counterpart, Mookie Betts, in AL MVP voting, J.D. is another no-brainer.
OF Andrew Benintendi
Andrew, known by Red Sox fans as "Benny Baseball", has been an underrated element to a lethal Boston lineup. Benny has kept his batting average at or around .300 all season, drove in 80 runs out of the 2 hole, swiped twenty bases on the basepaths, ranks top 3 on the team in WAR, has played in the most games for the club by any pure position player, and been nearly flawless playing the Green Monster. He, like the others prior, is a no-brainer.
OF Jackie Bradley Jr.
Jackie's offensive slash line is very deceiving. While is BA rests at a measely .231, Jackie's BABIP (batting average on balls in play) shows that he's contuining to make hard contact, but not put it in spots for a hit. Jackie provides a lot of pop offensively, but it's his defense that saved his spot on the team during some rough stretches earlier in the season, and it's his defense that makes him a lock for the 2018 postseason roster.
1B Mitch Moreland
Although Mitch has cooled down after an All-Star offensive first half campaign, he's still been a conistent presence in the middle of the order, hitting anywhere between the 3 and 6 holes, and has continued to play gold glove defense at first base. If Mitch heats up, it would add yet another element to an already strong Red Sox lineup. He's the clear #1 first baseman, making him a lock.
2B Ian Kinsler
After the Sox traded for Kinsler on July 31st, President of Baseball Operations Dave Dombrowski named Ian the every day starting second baseman, and other than a short DL stint with some hamstring issues, he's been a clear #1, and a serviceable one at that, posting a modest .287 batting average since joining the team, and been a huge part of rallies to help the team win some big games.
SS Xander Bogaerts
Bogaerts, arguably, has been the third best hitter on the team, posting career highs in every area. Those include both basic and general statistics, advanced sabermatics, clutch stats, leverage stats, contact rates, fielding statistics, and so on and so forth. The X-Man has been huge for the 2018 stats, taking a big leap from any season prior, and is an absolute lock to make the '18 Postseason Roster.
IF Eduardo Núñez
If I would have typed this a few months ago, people would have called me crazy. But, after Rafael Devers went down with multiple injuries, Eduardo Nunez caught fire, and asserted himself as the team's starting third baseman. Eddy also adds versatility, with experience at third, second base, and shortstop, further strengthening his case. This versatility, coupled with his newlyfound consistency as the team's third baseman, makes him a lock for the 2018 postseason roster.
C Sandy León
León has struggled offensively, there's no doubt about that, failing to record a hit in his last 25 at-bats, and posting a batting average 16 points under the Mendoza Line, but Sandy's pitching ERA amongst catchers is second to none, not only in Boston, or the AL, but the MLB as a whole. You could make a case that Sandy's defense has been top 3 on the team around the diamond as a whole, and that, coupled with Cora's admiration for Sandy and his relationship for the pitchers, makes him a lock as the number one catcher on the postseason roster.
Running Total: 9/25
Pitchers (Locks):
SP Chris Sale
Sale, a frontrunner and prime candidate for the AL Cy Young Award, has been nothing short of amazing in 2018, with an ERA of 1.96, a FIP of 1.95, and a WHIP of 0.85, all tops in the American League, amongst many other categories. Although Sale has missed a little over a month with shoulder inflammation, Chris Sale is far and away an ace, and far and away a lock on the 2018 postseason roster.
SP David Price
Price may have a poor track record in the postseason, but things are definitely looking up in 2018. Price has, for the most part, shown up in big games, showing signs of finally breaking through his postseason mental barrier. Since the All-Star break, "DP" has shut opponents down, registering the lowest ERA in the MLB in that stretch. There's even some talk of making him the #1 starter in Game 1 of the ALDS. Price is winning over Boston, and asserting himself as a sure thing for the playoff roster.
SP Rick Porcello
After Porcello through a complete-game, one hitter against the New York Yankees at Fenway Park on August 3rd, Red Sox fans were delighted, and were exicted to see more in the postseason from Porcello. Since then, he's been shaky. However, he's consistently been what he's been: a starter who keeps the Red Sox in games. He may give up four runs per game, but when the Sox are scoring five or six runs, that doesn't matter. Porcello has been conistent at what he is, and will be included in the postseason rotation, either as the #3 or #4.
P Eduardo Rodriguez
While some are still unsure whether or not E-Rod will land a spot in the playoff rotation, he will most certainly make the roster. It is very likely he and Porcello will fill the two back end roles in the rotation, there's a slight, very slight, chance E-Rod lands in the pen. E-Rod is a high strikeout guy who loves pitching in big games, and is a lock for the '18 playoff roster.
CL Craig Kimbrel
This one is almost as big of a lock as Sale. The path to get to Kimbrel in the bullpen may be rocky, but Kimbrel's role as the team's closer is far from in jeopardy, and is big of a lock as their is on this list.
RP Matt Barnes
You can flip a coin on who will be the Sox setup man in the postseason, but of the candidates, Barnes has been the most consistent, other than a couple of bad outings this season. His high strikeout rate, coupled with great stuff and pitch arsenal, makes him the only lock of the relievers not named Craig Kimbrel.
Running Total: 15/25
Position Players (Roster fillers/non-locks):
1B/OF Steve Pearce
Pearce was acquired in what was supposed to be a move purely for the sake of depth, but Steve has found a crucial niche on this team: a starting first baseman against lefties, effective pinch hitter, and clutch performer. Steve will be on the roster, and is as close to a lock as it gets (without being one).
C/UTIL Blake Swihart
If you told anyone in Boston that Blake Swihart would make the postseason roster in the month of April, you just may get a random drug test from Commissioner Manfred himself. But, here we are. Swihart has played his way into a utility role, and backup catcher spot, showing the best offensive ability of the three catchers, and showing up in high leverage spots. Blake will be on this team beyond the regular season.
C Christian Vázquez
Woah, woah, woah, three catchers on one postseason roster? It's certainly uncommon, but, manager Alex Cora hasn't ruled it out, and has said we could very well see it. Boston extended Christian in the offseason, with the intentions of making him the team's starting catcher, however, injuries stopped him from being that throughout the regular season. But, now he's back and healthy, and Cora has been referring to Vázquez like a starting catcher in recent pressers. This may be a surprise, but he should be on the roster.
UTIL Brock Holt
Originally, I had Brock off this list, but his recent play lands him a spot on this roster. Of course, Holt has hit the two clutch pinch hit home runs recently, but his role as a pinch hitter has shown flashes of success all the season, and when given the opportunity, Holt has flourished as a plug-in guy you can play anywhere, and his versatility is second to none on the team.
3B Rafael Devers
I know, fourteen position players sounds excessive, but when it comes to the 2018 Red Sox, it almost leaves Alex Cora with no other choice. Devers has seen a reduced role recently, but the power Devers provides lands him a spot in the playoffs. This one is very much questionable, and this spot could go to another relief arm. But for now, Devers makes the roster.
Running Total: 20/25
Pitchers (Roster fillers/non-locks):
P Nathan Eovaldi
Nasty Nate, as Red Sox Nation knows him by, supplies a 100 MPH fastball and a swinging slider in his pitch arsenal. He was acquired from Tampa Bay at the trade deadline, and started his Red Sox career with 15 scoreless innings. Sense then, he has scuffled out of the rotation. However, he's made his debut out of the pen with Chris Sale performing in an "opener" role, and he's looked sharp. Eovaldi's stuff out of the pen could be deadly in the playoffs, and help clear the water in a logjam of a bullpen.
RP Ryan Brasier
Well, people would be very confused if they read this during spring training. But, Brasier is almost a lock in the bullpen. His K% is top 3 in the major leagues, and he's kept his ERA under 2 all season. Brasier has been a pleasant surprise for Boston in 2018, and part of the team's success rests heavily on Ryan's shoulders this postseason.
RP Steven Wright
Wright, a knuckleballer, a now rarity, provides an element out of the pen almost any other team can't: deception. With pitchers generally needing to throw 90+ MPH consistently to be successful, Wright's slow, buckling knuckleball that can sometimes come in at or under 70 MPH, it can easily confuse hitters and be very effective. Of course, sometimes the knuckle isn't "dazzling" as they say in baseball, but Wright's role and rotation experience gives him a spot on the playoff roster in a Tim Wakefield type of role.
RP Joe Kelly
Joe has without a shadow of a doubt had his ups and downs this season, but when he's on, he's on. Joe offers a 100+ MPH fastball, and nasty offspeed pitches, but hasn't performed well in big spots. Nonetheless, Joe will find himself on the playoff roster, as he's kept a relatively large role in the pen all season long.
RP Brandon Workman
This final spot was hard to judge, but Workman gets the edge, as he has the only 2013 World Series experience of anyone on the pitching staff. Workman has been used in many different situations all throughout the season, and has experienced success wherever he's been used. Workman's versatility out of the bullpen and his prior World Series experience gives him a role in the Sox 2018 postseason.
Snubs/Near Misses/Honorable Mentions:
RP Heath Hembree
RP Tyler Thornburg
RP Bobby Poyner
RP Hector Velazquez
RP Brian Johnson
IF Brandon Phillips
RP Drew Pomeranz