Why It Is Time For The Red Sox to Give Up on Drew Pomeranz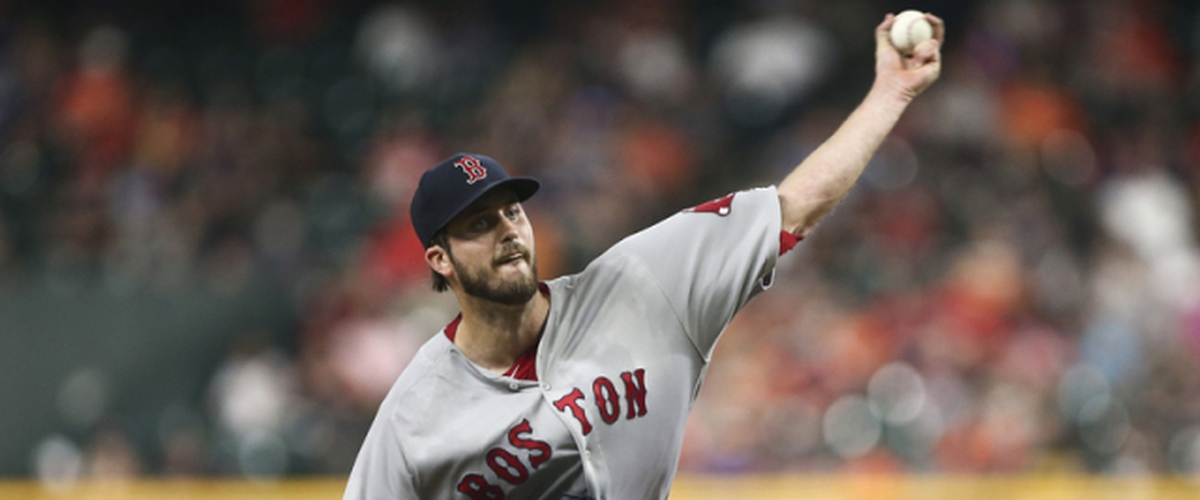 It's no secret that Red Sox southpaw Drew Pomeranz has had his fair share of struggles in his short 2018 campaign. For starters, Pomeranz started his season on the 10-day disabled list, with a forearm strain. Now, he finds himself sitting on the 10-day disabled list once again, this time with bicep tendinitis. His ERA rests at a pitiful 6.81 through 8 starts, and he has survived five or more innings in just half of his starts.
Why so many short outings, you ask? His pitch command has been a big reason why. Through his eight starts, Pomeranz has a K/BB ratio of 36 to 21. That's a ratio of 1.71. To put that into perspective, Cleveland Indians starting pitcher Corey Kluber, (the league leader in the statistic), has maintained a ratio of 9.50 to this point in the season. When walking such a high amount of batters, this creates longer, more stressful innings for Pomeranz, which couples with higher pitch counts and shorter starts. Pomeranz's pitch counts cooralate with that belief. Pomeranz has averaged 90 pitches per start, and thrown 100 or more pitches in two outings, one of which was through just four innings.
Now on to the more obvious part of Pomeranz's struggles: wins and losses. Pomeranz only has one win on the season, which came on May 2nd against the Kansas City Royals, who sit in 4th place in the worst division in baseball. His line for that game was still mediocre. Six innings pitched, in which he scattered eight hits, allowed three runs, and walked two batters compared to just the three he struck out. The start was one of two quality starts he has turned in all season, by far the lowest amount of any starting pitcher on the Red Sox.
The team has managed to win in 4 of his 8 starts, but Pomeranz hasn't exactly been leaving starts on good terms. Pomeranz has only exited two of his eight starts with a lead, and both times he left with two runners on base. In each of these starts, he exited inside of four innings and didn't get a decision. Pomeranz has also exited four of his starts with his team behind, two of which with his team down four runs inside of five innings. The statistic WPA (Win Probability Added By Pitcher) is another indicator of just how mediocre Pomeranz has been this season. Pomeranz is the only Red Sox starting pitcher with a negative WPA, with his WPA resting at -1.053. This means that rather than adding wins to the team, he's taking them away. He's lowering their chances at winning games.
Besides, before his time in Boston, Pomeranz spent the majority of his career as a reliever, and he thrived in his role. Since becoming a starter, Pomeranz's walk totals have inflated, and his health has deprived, spending time on the disabled list in every season he's spent as a starter. It wasn't long ago Drew was a lockdown arm out of the bullpen for the Oakland Athletics.
So, the solution to this is simple: take Drew Pomeranz out of the Red Sox starting rotation so the Red Sox can win more games. It's not like the Red Sox don't have valid options to take his place in the rotation.
Red Sox fans have seen knuckleballer and 2016 All-Star Steven Wright pitch fabulously all year in a long-reliever role out of the bullpen. Wright was finally rewarded with a spot start Tuesday night against the Detroit Tigers. Wright didn't dissapoint. He pitched seven shutout innings, and allowed just two hits while striking out 6 and walking two. He improved to 2-0 on the season. If Wright's knuckler stays dazzling, he could be back to All-Star form.
Wright isn't the only one getting spot starts. The Red Sox called up LHP Jalen Beeks from AAA Pawtucket on to make his MLB debut. He will make his first major league start on Thursday against these very same Tigers. Beeks is 3-3 in 10 starts for Pawtucket. He's maintained a 2.56 ERA, and struck out 80 batters compared to just the 16 he's walked all season. If Beeks pitches well in his debut, you'd have to think he could give Pomeranz a run for his money. Regardless, it's considered unlikely that Alex Cora keeps Beeks up for a long time. Then again, he did DFA fan favorite Hanley Ramirez out of the blue, so who knows?
Wright and Beeks aren't alone in the spot start game though. RHP Hector Velazquez has also gotten spot starts during the season, and has been a huge factor out of the Red Sox pen in his bullpen role, sitting at a pretty 5-0, with a 2.12 ERA through 29.2 innings. He too has done a better job with pitch command, walking just eight batters all season, and striking out twenty. Velazquez has outpitched Pomeranz all season, the question is just whether or not he wants to consistently be a starting pitcher.
Wright, Beeks, and Velazquez all offer more valid and safer options in the Red Sox starting rotation opposed to the struggling Drew Pomeranz. Yes, GM and Director of Baseball Operations Dave Dombrowski invested a lot in Pomeranz by trading a star-studded pitching prospect for him, (SP Anderson Espinoza), but if Pomeranz is hurting the team more than he's helping by starting, than why is he starting at all? Move him to the bullpen where he's been more comfortable. And if he doesn't like it, he could easily be DFA'd. The Red Sox already have three long relievers (Wright, Velazquez, and LHP Brian Johnson) in the bullpen, and there isn't nessecarily a need for a fourth. Alex Cora and Dave Dombrowski need to make a move, and they need to make it fast.