2018 NFL Mock Draft 1.0 / Picks 1-10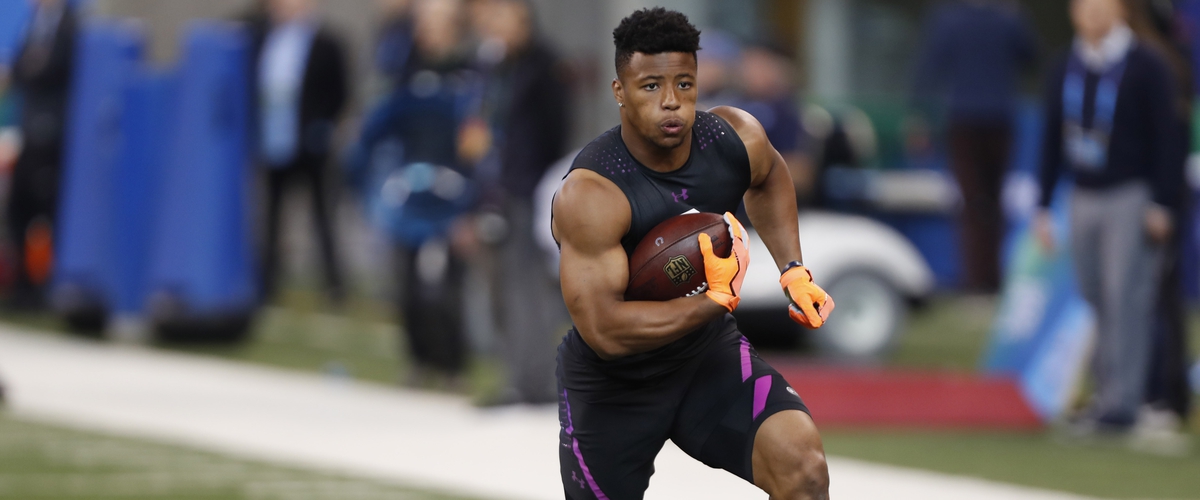 2018 NFL Mock Draft 1.0 / Picks 1-10
Browns- Saquon Barkley, RB
After an extremely impressive combine performance, Saquon Barkley will be selected #1 by the Browns. This pick makes sense because the Browns will be looking for that one two punch every great team needs. Browns went defense in the 2017 draft with Myles Garrett and Jabrill Peppers, and they're hoping to revamp their broken offense from 2017 and they can still get their QB at pick #4.
Giants- Josh Rosen, QB
Josh Rosen is the most NFL ready and accurate QB in this draft class. The Giants will hope Rosen can sit and develop behind Eli or become an immediate starter from week 1. Anyways, they need to look towards the future with their QB situation.
Colts- Bradley Chubb, DE
Before Malik Hooker went down with a season ending injury, he lead the league in interceptions. The Colts can pair the best defensive prospect in this draft with Malik Hooker and have a good defense for years to come.
Browns- Josh Allen, QB
Josh Allen has the best arm of a prospect since Jamarcus Russell. Many scouts think Allen has the best upside of the QB's in this draft. Now a young offense with Saquon Barkley, Allen, Njoku, and Coleman will be great for years to come.
Broncos- Quenton Nelson, OG
Assuming the Broncos sign Kirk Cousins in FA, the Broncos will select the best o-lineman in this class. The Broncos don't want to wait on a QB to develop, while a defense in their primes just ages away. They want to go back to the competitive team they once were, and signing Kirk Cousins and drafting Nelson will do that.
Jets- Sam Darnold, QB
With Josh McCown on an expiring contract the Jets will select Sam Darnold. The 3rd QB off the board in just six picks. It is clear the Jets need to address the QB position.
Buccaneers- Minkah Fitzpatrick, S
Fitzpatrick might be the most pro ready player in this draft, with him falling to the 7th pick the Bucs will pair Fitzpatrick with Hargreaves in a young Buccaneer secondary.
Bears- Tremaine Edmunds, OLB
The Bears could draft Calvin Ridley with this pick, but after the Bears released pass rushers Pernell McPhee and Willie Young. They draft Tremaine Edwards. The 19 year old freak athlete from Virginia Tech and pair him with Leonard Floyd.
49ers- Denzel Ward, CB
With the 9th pick, the 49ers take the first corner off the board. Ward with tremendous upside and athletic ability will help a weak 49ers secondary from week 1.
Raiders- Roquan Smith, ILB
The Raiders clearly need inside linebacker help, and Jon Gruden gets his guy at pick #10. Roquan Smith is the best inside linebacker in this draft.