History of Alabama vs Clemson series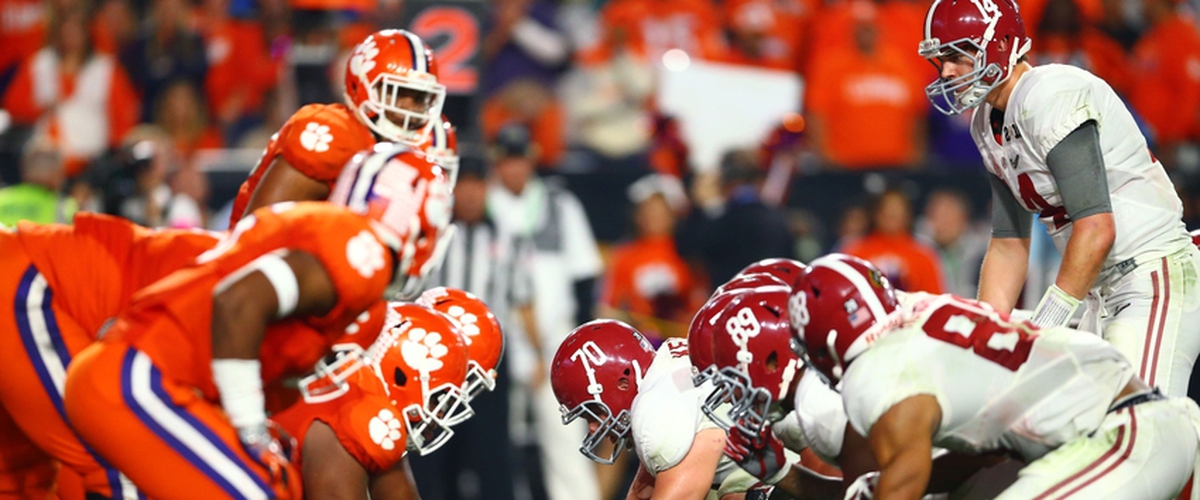 Alabama meeting Clemson in the playoffs and for the national championship is becoming an annual event. This will be the fourth meeting in the last four years of the playoffs and the third time in the last four years they have met in the national championship game. Overall this will be the 19th meeting between these two southern football powers. Alabama owns a 14-4 advantage in the previous eighteen meetings. Clemson won the first three meetings between 1900 and 1905. Then Clemson would not beat Alabama again for 112 years as Alabama won thirteen straight during that time until Clemson ended the streak to win the 2016 national title. Here is a brief recap of the previous eighteen meetings between Alabama and Clemson.
1900 - First game between Alabama and Clemson was played on Thanksgiving Day in 1900 in Birmingham at the North Birmingham Park. Clemson dominated the game in route to a 35-0 victory over Alabama.
1904 - The second meeting was played in Birmingham at the West End Park. Clemson shut out Alabama again 18-0.
1905 - Alabama traveled to the South Carolina State Fairgrounds to take on Clemson. For the third straight game Alabama failed to score suffering a 25-0 defeat to the Tigers.
1909 - This game took place at the Birmingham Fairgrounds. Alabama scored their first points in this series with a field goal. That field goal was good enough for a 3-0 victory.
1913 - Clemson traveled to Tuscaloosa to play Alabama on the Quad. Alabama recorded their second consecutive shutout 20-0.
1931 - This massacre took place at the Cramton Bowl in Montgomery. The biggest margin of victory by far in the series. Alabama kept the scoreboard operator very busy in the 74-7 victory over Clemson.
1934 - Clemson would travel to Tuscaloosa to take on undefeated Alabama in Denny Stadium. The Tide would not be challenged in the 40-0 shutout of the Tigers. This would be a national championship season for Alabama coached by Frank Thomas. Alabama would finish the season 10-0 with a Rose Bowl victory over Stanford. Alabama was chosen national champions in the pre-poll era by five different national championship selectors.
1935 - Again the game would take place in Denny Stadium and again the game would end in a shutout as Alabama beat Clemson 33-0.
1936 - Same venue, same result. Alabama defeats Clemson 32-0.
1966 - Thirty years did not change anything. Alabama defeats Clemson 26-0 at Denny Stadium. First time Alabama plays Clemson during the Bear Bryant era. Alabama would go on to an undefeated 11-0 season and a 34-7 route of Nebraska in the Sugar Bowl but not good enough for the pollsters to earn Alabama a national title.
1967 - Alabama travels to Clemson and squeaks out a 13-10 victory.
1968 - Alabama escapes with a 21-14 victory in Tuscaloosa with a fourth quarter touchdown.
1969 - At Clemson Alabama raced out to a 28-0 lead before Clemson found the end zone. Alabama would go on to an easy 38-13 victory.
1975 - Clemson had no answer for Alabama's wishbone offense and had no answers on offense to find the scoreboard. Bears boys cruised to a 56-0 win in Tuscaloosa.
2008 - This game would signify that Alabama was back as a football power under Nick Saban. The 24th ranked Crimson Tide dominated the 9th ranked Clemson Tigers in the Chic-fil-A college kickoff game in Atlanta. Alabama's defense shut down the Thunder and Lightning duo of C.J. Spiller and James Davis to only 20 rushing yards. Alabama jumped out to a 20-3 halftime lead and cruised to a 34-10 victory. After the game Alabama would appear on Sports Illustrated's cover titled Bama's Back.
2016 - The second national championship game of the playoff era began with #2 Alabama versus #1 Clemson in Glendale, Arizona on January 11, 2016. In a back and forth game Clemson entered the fourth quarter leading 24-21. After an explosion of offense in the fourth quarter, Alabama would come away with a 45-40 victory over Clemson.
2017 - In a rematch for the national title, Alabama/Clemson part II would end up more heart stopping than the year before. It looked like freshman quarterback Jalen Hurts was going to be a hero when he lead Alabama down the field and scored on a 30 yard run with 2:07 left in the game. But 2:07 was 1 second too much for a tired Alabama defense that had been on the field for much of the second half. Hunter Renfrow would score on a two yard touchdown pass from Deshaun Watson with only one second left on the clock to give Clemson their first national title since 1981. Danny Ford was the coach of the 1981 Clemson national championship team. Danny played at Alabama under Bear Bryant from 1967 to 1969.
2018 - The trilogy rematch would take place in the Sugar Bowl in the semi-final round of the playoffs. #1 Clemson would struggle this time to find any offense against #4 Alabama. Alabama did just enough on offense and scored a defensive touchdown in the third quarter to advance to the national title game with a 24-6 victory over Clemson. Alabama would go on to win the national title with a thrilling 26-23 overtime victory over Georgia.
---