Preview and prediction of Alabama vs Clemson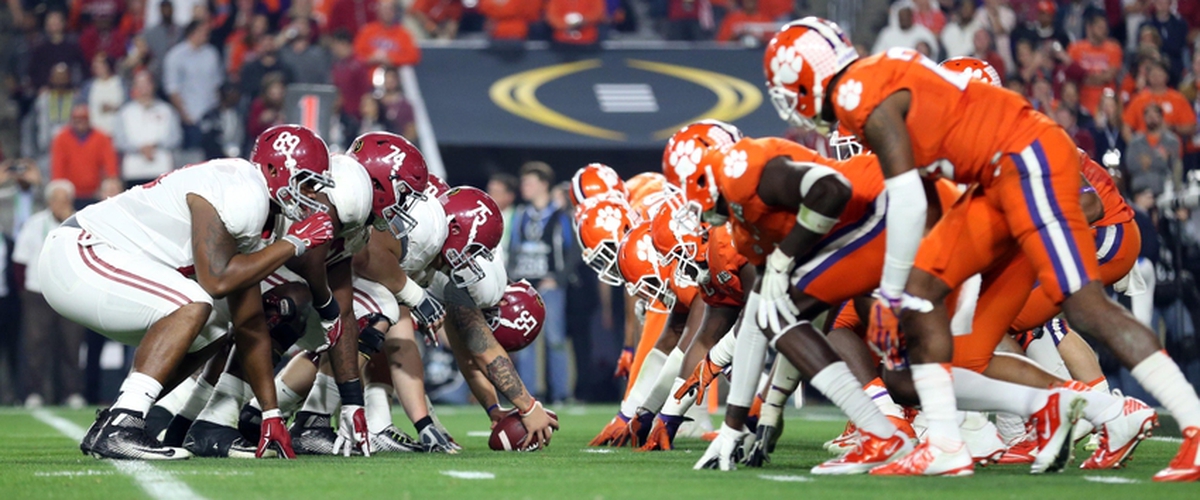 Alabama and Clemson meeting each other in the college football playoff reminds me of the Rocky movies of the 70's and 80's. This year we are up to Alabama vs Clemson IV. Third time they have met in the national title game in the last four years and fourth time to meet in the last four years in the college football playoff. Overall Alabama has played Clemson 18 times winning 14 of those meetings. Clemson won the first three meetings between 1900 and 1905. Clemson would not beat Alabama again for 112 years when they finally defeated Alabama in January 2017 for the national title. During that time frame Alabama would win 13 straight times against Clemson.
The past month the debate has really heated up about expanding the playoffs to eight teams that would include conference champions as automatic qualifiers to give more regional interest to the rest of the nation. This year there is debate on who the third and fourth team should have been but there is no debate on who the two best teams in the country are this year. Alabama and Clemson are on a bus by themselves while the rest of college football is on the ROY (rest of ya'll) bus. A term coined earlier this year by Dabo Sweeney when he was jokingly saying Alabama was on a bus by themselves and Clemson was on the ROY bus. Both teams enter this game with perfect 14-0 records. During the regular season Alabama was not tested, but was mightily tested by Georgia in the SEC championship game and handled Oklahoma without much trouble in the semi final playoff game. Clemson was tested twice during the regular season holding off a rallying Texas A&M at College Station 28-26 and had to rally from behind at home to defeat Syracuse 27-23 with Trevor Lawrence on the sideline with an injury in the first half. Dabo's team had no problem whipping Pittsburgh in the ACC championship game and thumping Notre Dame in their playoff semi-final game.
Here are some stats for both teams entering the national championship game.
Total offense; Clemson #3 - 530.4 YPG, Alabama #4 - 525.1 YPG
Yards per play; Alabama #2 - 7.6 YPP, Clemson #3 - 7.2 YPP
Rushing offense; Clemson #10 - 256.8 YPG, Alabama #32 - 202.9 YPG
Passing offense; Alabama #7 - 322.2 YPG, Clemson #22 - 273.5 YPG
Scoring offense; Alabama #2 - 47.5 PPG, Clemson #4 - 44.0 PPG
Total defense; Clemson #3 - 283.3 YPG, Alabama #11 - 311.3 YPG
Yards allowed per play; Clemson #1 - 3.9 YPP, Alabama #10 - 4.5 YPP
Rushing defense; Clemson #2 - 90.8 YPG, Alabama #11 - 109.2 YPG
Passing defense; Clemson #23 - 192.5 YPG, Alabama #33 - 202.1 YPG
Scoring defense; Clemson #1 - 13.4 PPG, Alabama #4 - 16.2 PPG
When we look at the statistical numbers between these two teams at first glance you would think Clemson might be the better team leading Alabama in 7 of 10 major categories. Statistically on paper Alabama looks a little better on offense while Clemson looks much better on defense. For people who only look at stats and not the story behind these stats, these are a little miss leading. According to Teamrankings.com Alabama is #1 in strength of schedule rankings and Clemson is ranked #9. What that means is the overall competition Alabama faced was stronger than the competition that Clemson faced. Therefore it is easier to accumulate more impressive stats against lesser competition as a whole. Also Alabama was playing reserves by the third quarter in almost every game this year. If you only counted first half stats Alabama would likely lead the nation in most categories. Alabama's defense gave up a lot more second half yards and points from playing a lot of reserves. You really have to dive deep to understand what these statistics mean. One thing they do mean is these are two of the best teams in college football. They are both great on both sides of the ball with few weaknesses.
On the field Monday night we will see two great rosters. According to 24/7 Sports roster ranking, Alabama is ranked #2 while Clemson is ranked #6. Here are the potential starting lineups for Alabama and Clemson with the star ranking for each player.
Alabama offense;
QB - Tua Tagavailoa, SO, 5 star
RB - Damien Harris, SR, 5 star
WR - Jerry Jeudy, SO, 5 star
WR - Henry Ruggs III, SO, 4 star
WR - Devonta Smith, SO, 4 star
TE - Irv Smith Jr, JR, 3 star
RT - Jedrick Wills, SO, 4 star
RG - Alex Leatherwood, SO, 5 star
C - Ross Pierschbacher, SR, 4 star
LG - Lester Cotton, SR, 4 star
LT - Jonah Williams, JR, 5 star
Alabama defense;
DE - Isaiah Buggs, SR, 4 star
NG - Quinnen Williams, RS SO, 4 star
DE - Reakwon Davis, JR, 4 star
JACK - Anfernee Jennings, JR, 4 star
SLB - Christian Miller. SR, 4 star
MLB - Mack Wilson, JR, 5 star
WLB - Dylan Moses, SO, 5 star
DB - Saivion Smith, JR, 4 star
FS - Deionte Thompson, JR, 4 star
SS - Xavier McKinney, SO, 4 star
DB - Patrick Surtain Jr, FR, 5 star
Clemson offense;
QB - Trevor Lawrence, FR, 5 star
RB - Travis Etienne, SO, 4 star
WR - Tee Higgins, SO, 5 star
WR - Amari Rodgers, SO, 4 star
WR - Hunter Renfrow, SR, NR
TE - Milan Richard, SR, 4 star
RT - Tremayne Anchrum, JR, 3 star
RG - Gage Cervenka. JR, 3 star
C - Justin Falcinelli, SR, 3 star
LG - John Simpson, JR, 4 star
LT - Mitch Hyatt, SR, 5 star
Clemson defense;
DE - Clelin Ferrell, JR, 4 star
DT - Christian Wilkins, SR, 5 star
DT - Albert Huggins, SR, 4 star
DE - Austin Bryant, SR, 4 star
SLB - Isaiah Simmons, RS-SO, 3 star
MLB - Tre Lamar, JR, 4 star
CB - AJ Terrell, SO, 4 star
SS - K'Von Wallace, JR, 3 star
FS - Tanner Muse, JR, 3 star
CB - Trayvon Mullen, JR, 4 star
Alabama is currently a 5 point favorite over Clemson. The biggest difference in this game is Alabama has two quarterbacks with national championship game experience while Trevor Lawrence has not faced this type of competition on this kind of stage. Both Tua and Jalen brought their teams back in the fourth quarter of the last two national championship games. Tua with a walk-off touchdown pass in overtime last year to beat Georgia while Jalen put Alabama ahead on a 30 yard touchdown run with 2:07 left in the title game against Clemson two years ago. The difference, two years ago Clemson had an upper class quarterback in DeShaun Watson that brought Clemson back for the win with one second left. Trevor is already one of the best quarterbacks in the nation and will likely be a great one before he leaves Clemson, but can he pass the biggest test by far he has faced in his first year at Clemson? Both teams look similar in most phases of the game. The biggest difference is the big game experience at quarterback. Last year freshman Jake Fromm of Georgia stood toe to toe with Alabama in the title game. Can Trevor Lawrence do the same? The experience at quarterback should be the difference in this game. Clemson got shredded a couple of times defensively this year. The difference in this game should come down to Alabama's defense forcing Clemson into more bad plays than the Clemson defense can produce against Alabama. Alabama has too many weapons and the field generals to get the job done on offense and Alabama's defense comes up with enough ways to confuse Trevor Lawrence to keep Clemson below their seasonal averages on offense. Alabama wins 38-20.
---