Is Greatness Defined By Championships? Part One: Phil Jackson
Phil Jackson has won 1,155 games in his coaching career, placing him 6th all-time in coaching wins.
Phil Jackson has Thirteen Championship Rings. More than any player or coach ever.
Phil Jackson boasts a .704 winning percentage. The highest winning percentage outside of the man who coaches the Western Conference All-Star Team that we call the Golden State Warriors.
This is simply the tip of the iceberg in terms of successes for Phil Jackson. With this how dare I consider his greatness?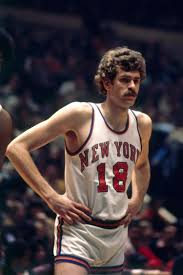 It's with the continuing struggles with the Knicks that made me wonder if he's fit for the job as executive. Looking back seeing what's different between when he was winning as a coach and a player he always had the perfect personnel.
1970, the year of Phil's first ring, Phil Jackson did not play a single game that year, he was recovering from injury. He was surrounded by star players like Walt Frazier and Willis Reed on the roster that gave him his first ring. By the time 1973 rolled around, Phil Jackson was no doubt a solid bench piece but it was stellar play by Frazier, Dave Debusschere, Earl "the Pearl" Monroe, and Willis Reed that brought the Knicks to the big stage to win another win in 1973. Admittedly Jackson is known more for his 11 other rings as a coach but even his coaching championships can't be contributed to his genius alone.
Phil Jackson has been known for his triangle offense. The triangle offense has always been tied to Phil Jackson as if he invented it. It was actually assistant coach Tex Winter who suggested the Bulls try the triangle offense to counter the Pistons "Jordan Rules". Tex Winter also was assistant coach for all six Bulls rings under Phil Jackson. Not to mention he was the assistant coach of the Lakers during their three peat at the turn of the millennium. Oh, and it should probably also be noted that he was a consultant for the final two of Phil Jackson's rings. I'm not discrediting Phil Jackson from utilizing the triangle effectively but it should be noted he didn't make the triangle offense, or even introduce it to the NBA. Tex Winters really was the one who brought the Triangle offense to Phil's attention. Phil Jackson then took it and made it famous by having some of the best personnel of all time surrounding him.
The triangle offense thrives when there's a two players on the perimeter, one on the wing and one in the corner, and with a big man down low in the post. Jackson always was given the pieces he needed for this to work. Michael Jordan and Scottie Pippen were both very capable of handling the ball, shooting, driving, and finding open teammates. Along with the rest of the team contributing, Phil Jackson was effectively able to win three rings. Without two hall of fame caliber players, one of which is arguably the greatest of all time, would these three rings would have been won? I think the answer lies in the season following Phil Jackson's first three peat. The next two seasons MJ retired and the Chicago Bulls were not able to stay NBA champions. Phil Jackson had effectively got his team to the postseason but was not able to catapult his team to the same success. In the 1996 season MJ returned and went on to win another 3 rings. So if the Bulls won 6 out of 8 years, and Phil Jackson was on the team for all the seasons, what was the reason for losing those two years? The reason was that he didn't have the greatest player of all time. Jackson didn't have the personnel he needed to win the rings.
So it's 1998, Michael Jordan retired and also Phil Jackson left the team. Jackson took the following year off and in the 1999-2000 season he was ready to join forces with Kobe Bryant and Shaquille O'Neal. After joining this duo of future hall of famers, Phil Jackson won another 3 championships consecutively. Then things start to go downhill, tensions started to rise between Jackson and Bryant and Jackson demanded Bryant be traded. The next season the Lakers had one of the best teams on paper of all time. They acquired hall-of-famers Gary Payton and Karl Malone and the Lakers seemed destined to win their fourth consecutive championship. The team lost in the NBA Finals thanks in large part to the crippling defense played by the Detroit Pistons. Contract negotiations with Phil Jackson went south after the season, he expressed having no interest to coach if Bryant remained on the team. The front office announced the departure of Phil Jackson which many believe to be Kobe's wishes. Soon after O'Neal, another person Kobe clashed with, was traded away. This ended an era in Lakers history. The next season the coach quit and there was speculation Phil Jackson would come back and take over for a second stint.
The second stint proved how much Jackson depended on his personnel. He had Kobe Bryant and Lamar Odom leading the team for the first few years and not much was getting accomplished. They were making the playoffs yes, but Jackson didn't look like the greatest coach in the NBA. Then in 2008 the Lakers acquired Pau Gasol. Immediately the addition of this All-Star caliber player pushed the Lakers into NBA Championship Consideration. That year they went to the NBA Finals and lost to the Celtics and the next two years the Lakers won it all. Winning the NBA Finals 2 out of 3 years is quite the feat but with a roster that had Kobe Bryant, Pau Gasol, Lamar Odom, a young and promising young Andrew Bynum, along with a slew of solid bench pieces, was it that much of a challenge? I imagine Phil Jackson isn't the only head coach capable of driving that lineup to success.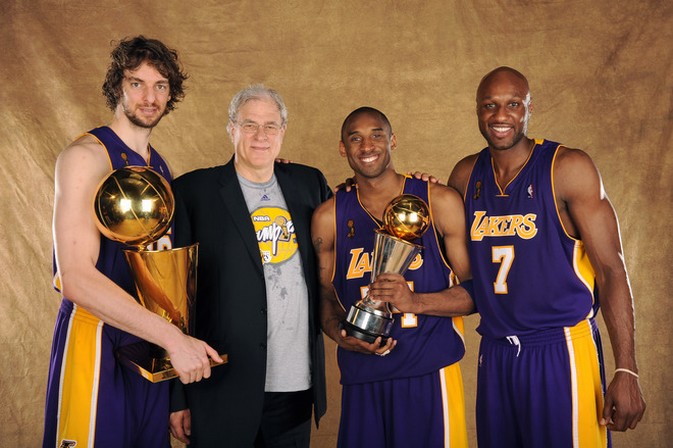 Phil Jackson does have 13 rings. More than anyone else ever to play the game. Would he have been able to reach that milestone without the likes of Walt Frazier, Willis Reed, Earl Monroe, Michael Jordan, Scottie Pippen, Dennis Rodman, Tex Winters, Shaquille O'Neal, Kobe Bryant, Jeannie Buss, Lamar Odom, and Pau Gasol? The answer is no. He would have been a great coach but the personnel he had at his disposal elevated him into the upper echelon of all-time greats in coaching. Without the talent, he isn't scrapping together any playoff runs. He always needed at least two stars to catapult him into the Finals. A great coach should be able to elevate his players into realizing their own potential. Phil Jackson was able to win the rings that he should've won. When he had the best lineup on paper, odds were that he was going to win. What he was unable to do was take a group of guys who were not great but still good and make a playoff push for a ring. As an owner, Phil Jackson is in a unique situation. A man who was able to translate good line-ups brought to him into success now faces a new challenge. As president of the Knicks, it is now hsi responsibility to assemble the team so Jeff Hornacek can be successful.
Unfortunately this has not gone to plan. Phil Jackson has a team put together that would have been relevant when he retired from the Lakers in 2011. Derrick Rose, Joakim Noah, Carmelo Anthony, and Brandon Jennings. 5 years ago this would be a stingy and almost unimaginable lineup. We are a few years removed from Joakim Noah's "point-center" days. This was a time where he didn't put up crazy scoring outputs but still possessed the court awareness, size, and defensive tangibles to be a lock-down defender while keeping the ball moving in the offense. Derrick Rose is now 6 years removed from his MVP season that was supposed to set the tone for his career. Brandon Jennings was doing his thing for Milwaukee, running the offense. Carmelo meanwhile was a gifted iso-scorer who put up points in bunches. This is a reminder this was over 5 years ago. We are now looking at players who's careers have been shattered due to injuries, an inability to produce on offense, and an offensive mentality that turns the player into a black hole on offense.
The complimentary pieces around the Knicks looks good and so does the drafting of Kristaps Porzingis but the core frame the Knicks were built around truly shows that Phil Jackson does not have a knack for assembling this Knicks roster. I think for the Knicks to be successful they need to look at a rebuild that only focuses keeping Kristaps Porzingis. A complete stripping of the organization is what I believe to be messy. Phil Jackson got caught in the Big Apple with some monstrous contracts and some under performers. Phil should start now. Each year Carmelo Anthony looks less and less appealing to potential buyers and the same can be said for Derrick Rose. Joakim Noah would be lucky to yield a 2019 second round draft pick and some over performers like Mindaugus Kuzminskas need to be traded before their value falls. The time to act is now.
I'm a firm believer that Phil Jackson's success has been dropped into his lap. As president of the Knicks he can change my mind. He has the opportunity to assemble his own squad. He can show he does in fact have the knack for seeking out basketball talent and creating a team talented enough to win the NBA Finals. Until he proves he can build a team that's capable of winning, I'm going to assume he is one of the luckiest personnel in basketball. He played alongside all-stars, he coached 3 generational talents in MJ, Shaq, and Kobe, along with a slew of other hall of fame caliber players and all-stars. It's his turn to show he is capable of elevating the players success, that he isn't just on the sidelines while legends are accumulating accolades for him.
Did Phil Jackson's greatness come from the rings, or his true brilliance as a coach? I am going to have to say the former. He is for sure a talented coach but without a doubt in mind without the personnel he had, he wouldn't have finished with 13 rings. Without those 13 rings he is no longer the basketball god we all believed him to be. His time he spent coaching without the legendary talent is too telling to not believe this. When the roster wasn't composed of the very best, Phil Jackson wasn't going to win and that's what I believe makes a good coach great. If Phil Jackson can prove to the basketball world that he is in fact capable of assembling a good team and not just getting lucky by having good teams waiting for him I will certainly have more respect for his greatness but right now with his legacy being tarnished by his struggles with the Knicks, it is all too easy to look back and say that maybe he wasn't one of the greatest coach of all-time but in fact a benefactor of being able to coach the premier talent that the league had to offer.
---