The Missouri Football Team of 2017 Will (Not Surprisingly) Suck, Again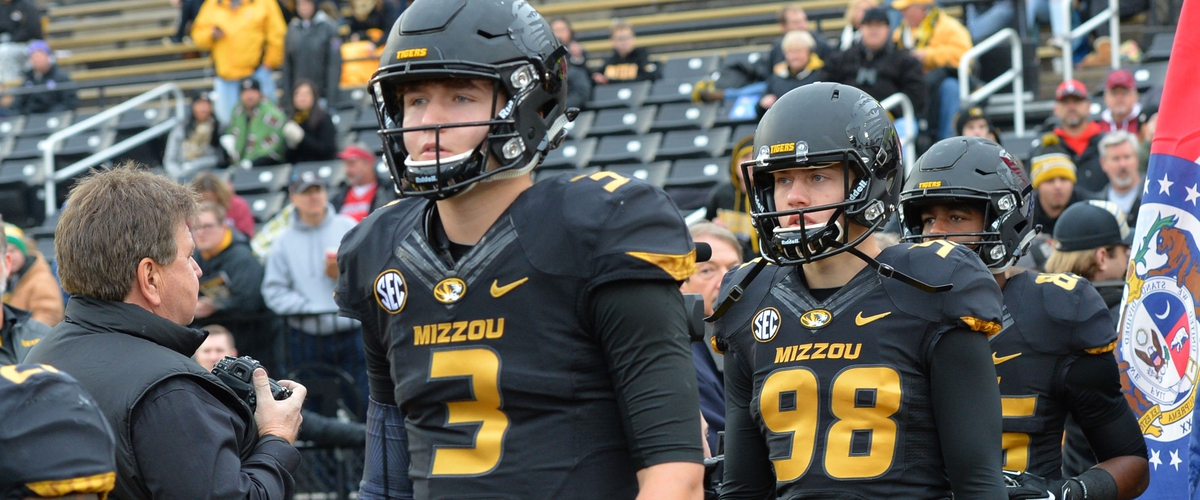 If you are a Mizzou football fan expecting positive change and some sign of player growth, and development, you are dead wrong. The Mizzou football team of 2017 will not get better, but they might get worse.
Since the end of the Gary Pinkel era, which ran from 2001 until the end of the 2015 season, saw the Tigers make 10 bowl appearances, winning six of those games, and capturing the SEC East title two seasons in a row (2013 and 2014) before stepping down after a severely disappointing 5-7 record in '15.
Now, the Mizzou football team's fate rests in the hands of a complete buffoon, Barry Odom, who had some head coaching experience before being named head of the team, on the high school level for two years!
The 4-8 record in Odom's first year at the helm is Mizzou's fewest wins in a season since Larry Smith was in charge in 2000. And this team has absolutely no business being this bad! The facilities, school backing, and overall support for the team and all athletics at the school is overwhelming. It ranks as one of the best in the SEC for sure.
Yet, the football team continues to struggle, and there is no sign of progress in this offseason. Odom is lucky to see his team rank 42nd in the country in recruiting, after pulling in 26 signees, signing ZERO four-star or five-star recruits.
Looking back to Pinkel's class of 2012, the Mizzou football legend signed five-star wide receiver Dorial Green-Beckham, and three four-star recruits.
So a team with no depth to start with, added no depth through recruiting, and had one of the highest transfer rates of any team in the nation this summer, what are the expectations this season? At best, 6-6? 5-7? I don't see this team reaching a bowl or even reaching 5 wins, based on personnel, the coaching staff, and the schedule.
Four games at home to start the year will be nice for the team, but will any fans show up to support a side that lost their homecoming game to MTSU last season, got blown away by an average Kentucky team, and blew a late lead to Georgia? I'm skeptical.
There is no question Mizzou will beat Missouri State, and they should take care of business against an even worse Purdue team, but, can the Tigers beat South Carolina and Auburn? I really don't think so. The Gamecocks thumped the Tigers 31-21 in Columbia east, and Auburn are prepared to ride transfer quarterback Jarrett Stidham to the bank.
Although there aren't very man tough road games all season, can Mizzou win at Connecticut? A team they beat 9-6 at the beginning of the '15 season at home, or at Vanderbilt where they lost 10-3 in the same year? I could honestly see Mizzou losing four out of five on the road this year.
I can't even go in depth on quarterback Drew Lock and how terrible he is. Everyone loves to look at Lock's gaudy numbers from last season, but upon further inspection, it's clear that pretty boy Drew padded his stats (substantially) against non-power five opponents, as Saturday Down South commenter Nobleman69 points out, "In their 9 games against power 5 teams (SEC schedule + WV), they scored 179 points (19 per game). Then against THREE (3) non-power 5 teams, they scored a whopping 191 points (Middle TN 51, Delaware State 79, and Eastern Michigan 61), or 63 per game!! They basically got fattened up vs. weaklings."
Right you are sir, right you are. To further Nobleman's astute observation, Lock's individual numbers against non-conference teams, were amazing, throwing for 13 touchdowns, 0 interceptions, and 1,413 yards in just four games!
Against SEC opponents, Lock threw for 1,986 yards, 10 touchdowns, and 10 interceptions, while being sacked 10 times, in 8 games.
There isn't a backup option to Lock either, as both redshirt sophomore Eddie Printz and redshirt freshman Marvin Zanders both transferred away from the program earlier this year, leaving at the end of the season in January. There are still three other players listed on the depth chart to backup Lock, but none of them have seen a snap in a game.
The team of 2016 wasn't just bad, they were one of the worst teams I've ever seen play. And I'm a lifelong Vanderbilt fan. That won't change in 2017, as Odom has no coaching talent or ability, his quarterback can't handle important games at all, and his defense is set to be woeful, again.
I certainly won't be watching Mizzou football this year, as I want to watch a fun and competitive team. Not a bunch of dudes who think they are all big and mighty just because they are "SEC football players."
How about you win more than 9 games in two years, and compete? Then, and only then, can you call yourselves true SEC football players.