Why Portland has the Brightest Future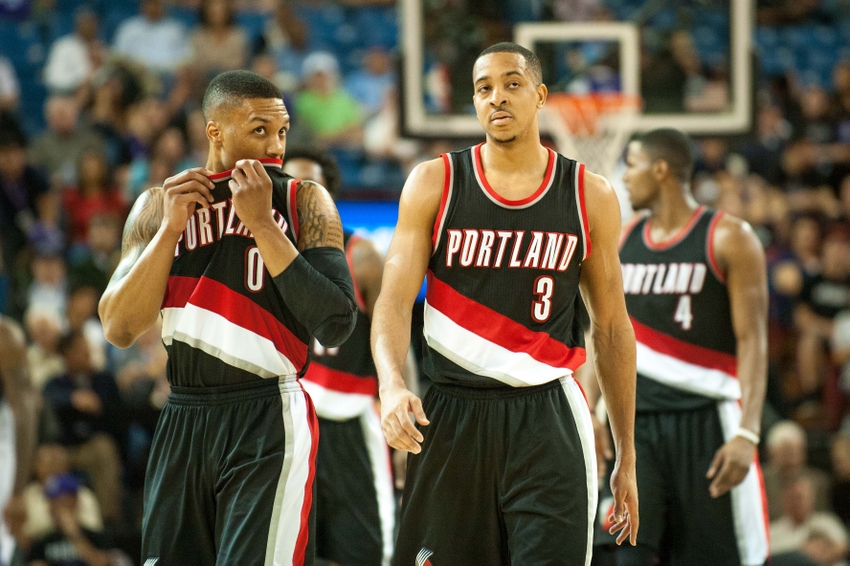 The Portland Trail Blazers were the team you looked at in the summer of 2015 and said, "Wow; they're going to fall off the map." After finishing 51-31 on the season, Portland took a massive blow in free agency when LaMarcus Aldridge packed his bags for San Antonio. Not only that, but Nicolas Batum, Wesley Matthews, and Arron Afflalo departed the Pacific Northwest as well.

What these guys all had in common was their average of over 30 minutes per game that season.

Obviously, the roster took a huge turn for what appeared to be the worse. Other than Damian Lillard, there was really nothing left. What once seemed like a dynasty in the making quickly became a rebuilding process.

Little did anyone believe that the Blazers would finish stronger without those guys than they did with them. That 51-31 season led to a disappointing 4-1 series loss to the Memphis Grizzlies in the first round of the 2015 Playoffs. The following season though brought much more excitement, as Portland defeated the Los Angeles Clippers 4-2 in the opening round. And despite falling in the Conference semis to Golden State 4-1, the Blazers put up a compelling fight against the NBA's powerhouse. Their finish to last season left a bold statement for the rest of the league, being that this youthful roster was one not to overlook.

How was that possible? With such a revamped roster, it wasn't totally surprising to see Portland crawl into the postseason, but doing it in the fashion they did was definitely not expected. Not only did Damian Lillard have to step up in a big way, but so did the unproven group surrounding him.

One of the biggest bright spots on the roster was, and still is, C.J. McCollum. After averaging roughly 15 minutes per game in 2014-2015, McCollum leaped to nearly 35 minutes in this past season. Along with that came a jump from 6.8 points and 1 assist per game to 20.8 points and 4.3 assists. Without McCollum's ability to step up in the spot light and perform the way he did, Portland definitely wouldn't have been the team they were.

Other members such as Meyers Leonard and Allen Crabbe saw tremendous strides in their statistics too, as both nearly doubled their points and minutes averages. Newcomers such as Al-Farouq Aminu and Mason Plumlee not only added to the youthfulness of the team, but boosted the overall theme of the roster, being a healthy mixture of athleticism and a heavy dose of relentless energy.

So, where does that leave Portland for the 2016-2017 campaign? With a roster set at a 25.0 age average, the Blazers have contained the majority of their roster from the previous season. The summer of 2016 was also extremely productive. New faces in Festus Ezeli and Evan Turner were crucial acquisitions as they complemented the backcourt's offensive-minded style. Whether it be through rebounds or blocked shots, Ezeli's incredible ability to dominate the post on both ends of the court was key in boosting the team's defensive ammuntion. Plus, any basketball wiz would know Evan Turner is one of the premier lockdown defenders in the league, so to add two different types of defensive weapons was just what the Blazers needed.

The biggest reason why I believe Portland has the brightest future in the league is simply because we know their future is set in place. Many fans around the league are constantly in states of anxiety when summer rolls around, as they fear their top players will desert them and chase a championship somewhere else. For example, who truly thought Kevin Durant would've left Oklahoma City? It was fun to picture him ganging up with Golden State or San Antonio, but until it happened, it was hard to imagine it actually occurring.

Even Cleveland doubted that LeBron James would depart his own city until it became reality. Why is it that unlike any other major sports, the NBA's greatest talents transition from team to team so often? Basketball has become a sport where certain players feel the only way to win a ring is to join a super team. The slogan, "If you can't beat them, join them," was coined when Durant joined Golden State after losing in the Western Conference Finals to them last season.

So, this brings the question of how Portland will contain their stars. For one, the Blazers took care of that when they signed Lillard to 5-year extension and McCollum to a 4-year this offseason. But second, and most importantly, Damian Lillard has already expressed his feelings on joining a potential super team.

"I wouldn't do it, that's just not who I am," Lillard said prior to this season. "I might have too much pride for that or be too much of a competitor where I couldn't bring myself to do it. It also makes it more fun. You get to take a monster down and that's always fun."

Too many teams build their franchises around one central piece, but when that player is suddenly gone, everything spirals downhill. Fortunately, Lillard has demonstrated his commitment to remaining in Portland for the long haul, and believes in building a championship caliber team in the Pacific Northwest. Knowing McCollum will also be in the mix for the foreseeable future, along with the list of other young prospects gives Blazers fans a feeling of hope.
---