New Jersey Devils and New York Islanders Bring in Defensemen
The New Jersey Devils announced on Wednesday that they signed defenseman Kyle Quincy to a one-year, 1.25 million-dollar contract.
Quincy, 31, spent the past four seasons with the Detroit Red Wings where he put up 14 goals and 34 assists in 256 games. In eight seasons between the Red Wings, Colorado Avalanche and Los Angeles Kings, he has scored 30 goals and 110 helpers, with 495 penalty minutes in 495 games.
In 54 post season contests, he has added eight assists with 38 penalty minutes. The left-handed defenseman was selected by the Red Wings, 132nd overall, in the fourth round of the 2003 National Hockey League Draft.
The six foot two, 215 pound Kitchener, Ontario native played in the Ontario Hockey League, with the London Knights and Mississauga Steelheads prior to joining the NHL. He scored 35 goals and 68 assists in 189 games, throughout his three OHL seasons.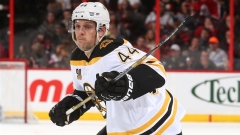 The New York Islanders also announced on Wednesday, that that added a defenseman for the 2016-2017 NHL season as well.
Former Boston Bruins defenseman, Denis Seidenberg will be heading to Brooklyn with a one-year, one million-dollar contract. The 35-year-old defenseman is currently representing Team Europe in finals of the World Cup of Hockey.
This past season Seidenberg put up a goal and 11 assists in 61 games with the Bruins. In 758 NHL games over a 13-year career, the past seven with Boston, he has scored 39 goals and 185 assists.
Seidenberg became an unrestricted free agent after the Bruins bought out the final two seasons of his contract in June. He is expected to join the Islanders after the completion of the World Cup.
---