Panthers Name MacKenzie Captain, Devils Sign McLeod; Huberdeau, Merrill, Bjugstad & Gazdic Hurt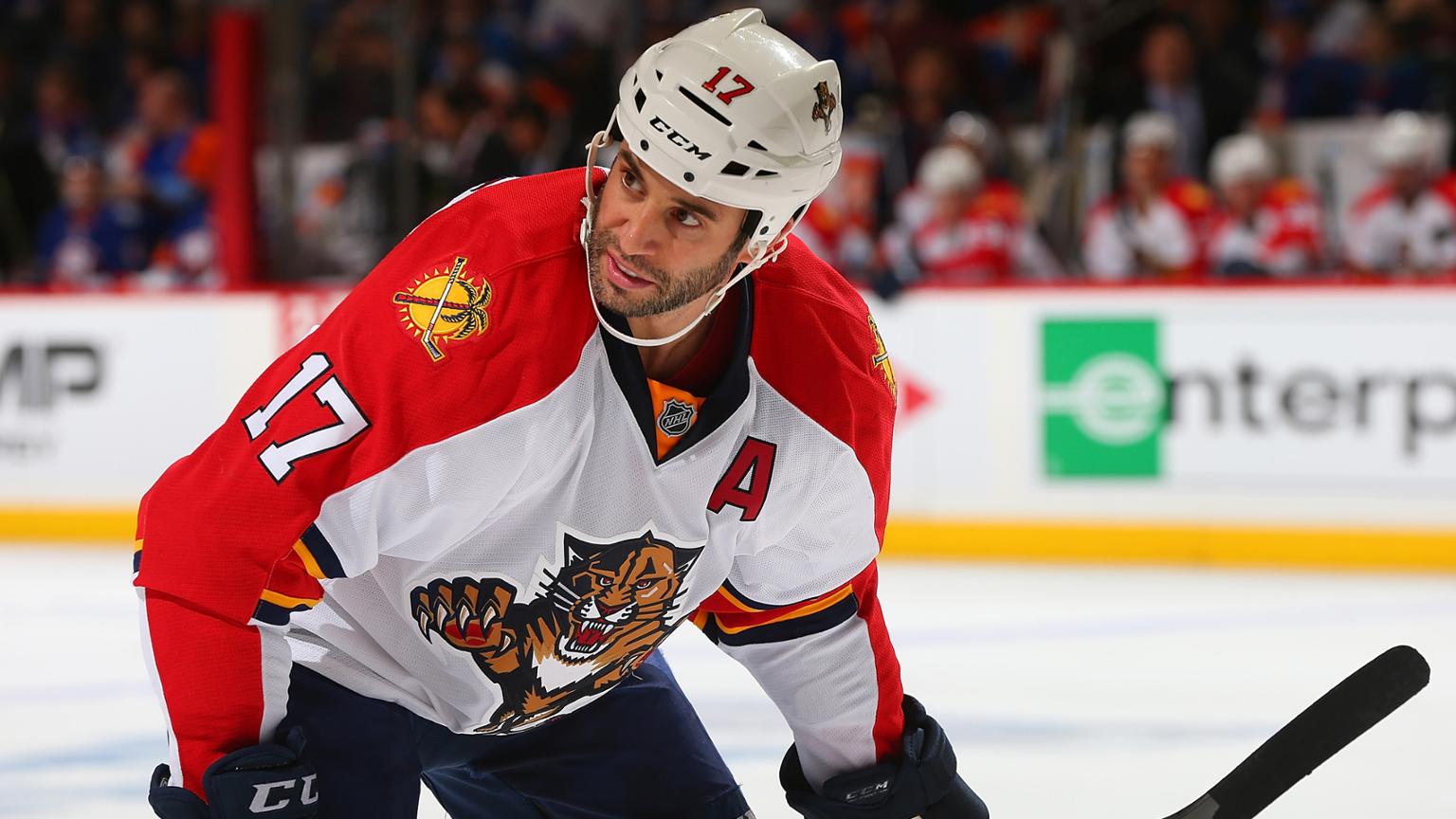 The Florida Panthers announced on Sunday that they have named Derek MacKenzie as the team's ninth captain in franchise history.
On Saturday night, MacKenzie wore the C, as the Panthers took on the New Jersey Devils at the United States Military Academy in West Point, New York. He replaces Willie Mitchell, who served as the team leader for the past two seasons, as the Cats captain.
On the Panthers website, MacKenzie said, "It is hard to put into words right now. It is a little overwhelming. Obviously we did this a few years ago with Willie Mitchell it will be tough shoes to fill but we have a great group of guys. It could have gone to a handful of players. For them to think of me, it is pretty special It is something I will never forget."
Entering his third season with the Cats, MacKenzie put up six goals and seven assists in 64 games last season. Over the summer, the 13-year veteran signed a two-year extension to remain in Sunrise through the 2018-2019 season.
Dale Tallon, President of Hockey Operations said, "Derek embodies the type of character and work ethic we want to Florida Panthers to possess. He is a respected leader both on and off the ice in this organization and within the South Florida community. We are excited to move forward with Derek as our team's captain."
Panthers' coach, Gerard Gallant told the Miami Herald on Friday, that the decision was made earlier in training camp, but that it had been a tough one at that. He added, "It was not just mine; it was management, mine and assistant coaches."
With the Panthers naming a captain, that leaves only the Toronto Maple Leafs and Carolina Hurricanes as the only two teams without a captain. Defenseman Aaron Ekblad and forward Jussi Jokinen will serve as the alternate captains.
The Panthers also announced that Jonathan Huberdeau will miss three to four months with a leg injury.
With a just under seven minutes, left in the opening period at Tate Rink on the campus of the US Military Academy in West Point against the Devils, Huberdeau and Devils forward, Sergey Kalinin were behind the net when, Kalinin's right skate inadvertently cut Huberdeau's left ankle.
Huberdeau recently signed a six-year extension on September 7, which kicks in prior to the 2017-2018 season. Gallant told the Miami Herald, "We are hoping for the best with Jonathan. You just do not replace a player like that."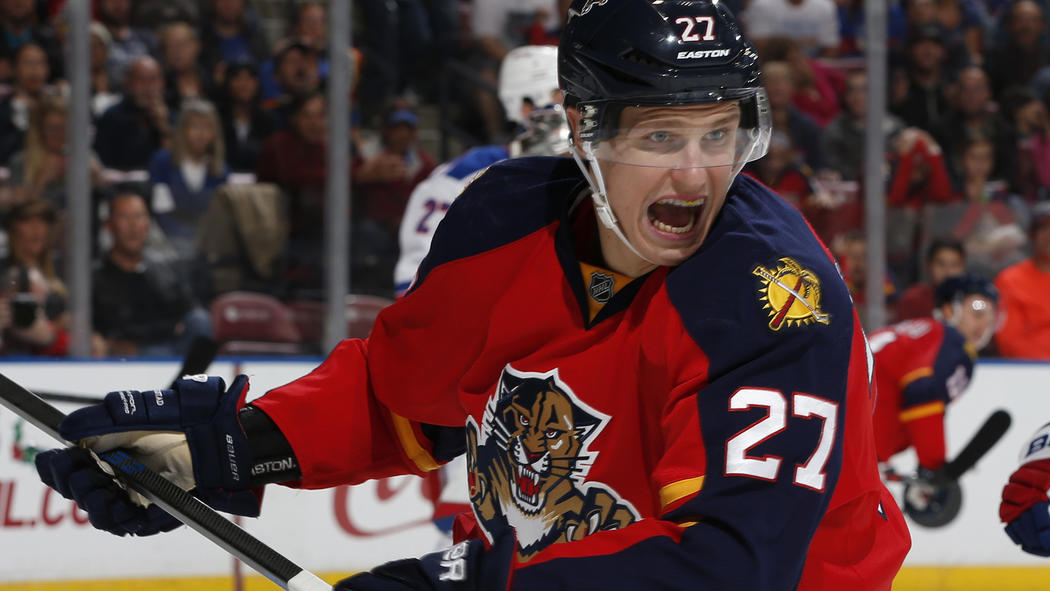 Earlier this week the Panthers also announce that forward Nick Bjugstad would miss four weeks with an injured hand.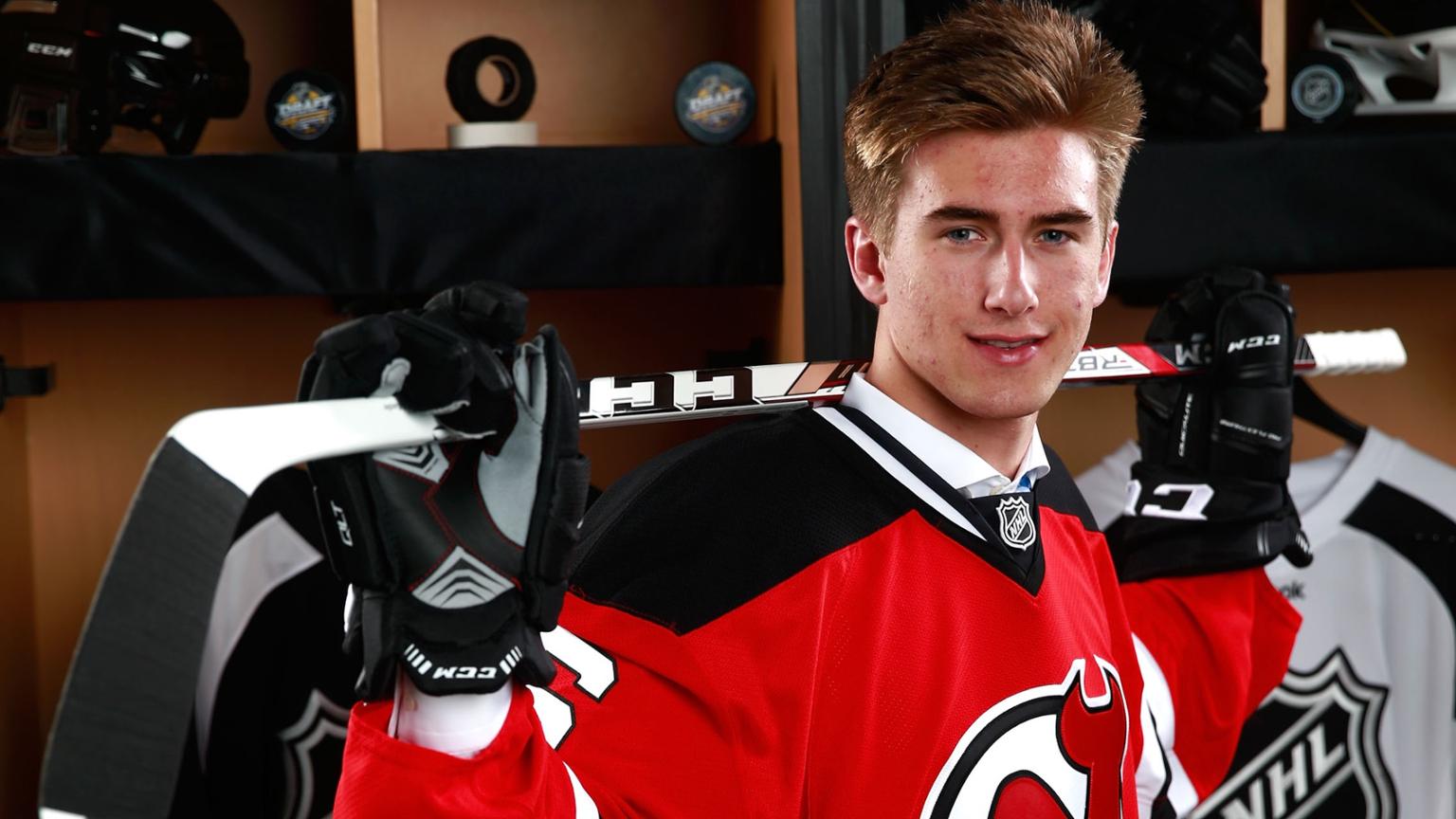 On Friday, the Devils announced that they signed 2016 first-round draft pick, Mike McLeod, to a three-year entry-level contract. McLeod, 18, just finished his second season with the Mississauga Steelheads, of the Ontario Hockey League, this past season.
He scored 21 goals and 40 assists with 71 penalty minutes in 65 games during the 2015-2016 campaign. In seven OHL playoff games, he added three goals and six assists. McLeod helped Team Canada capture the gold at the 2015 Ivan Hlinka Memorial Tournament and Canadian Hockey League Top Prospects game.
During his rookie season in the OHL, he scored 12 goals and 17 assists with 33 penalty minutes in 63 games. McLeod recently attended training camp in Newark, New Jersey with the Devils. He was reassigned to the Steelheads on October 1.
In two preseason games with the Devils, McLeod lit the lamp one time in two preseason games. Prior to the start of training camp, he represented the Devils at the Prospects Challenge in Buffalo, New York.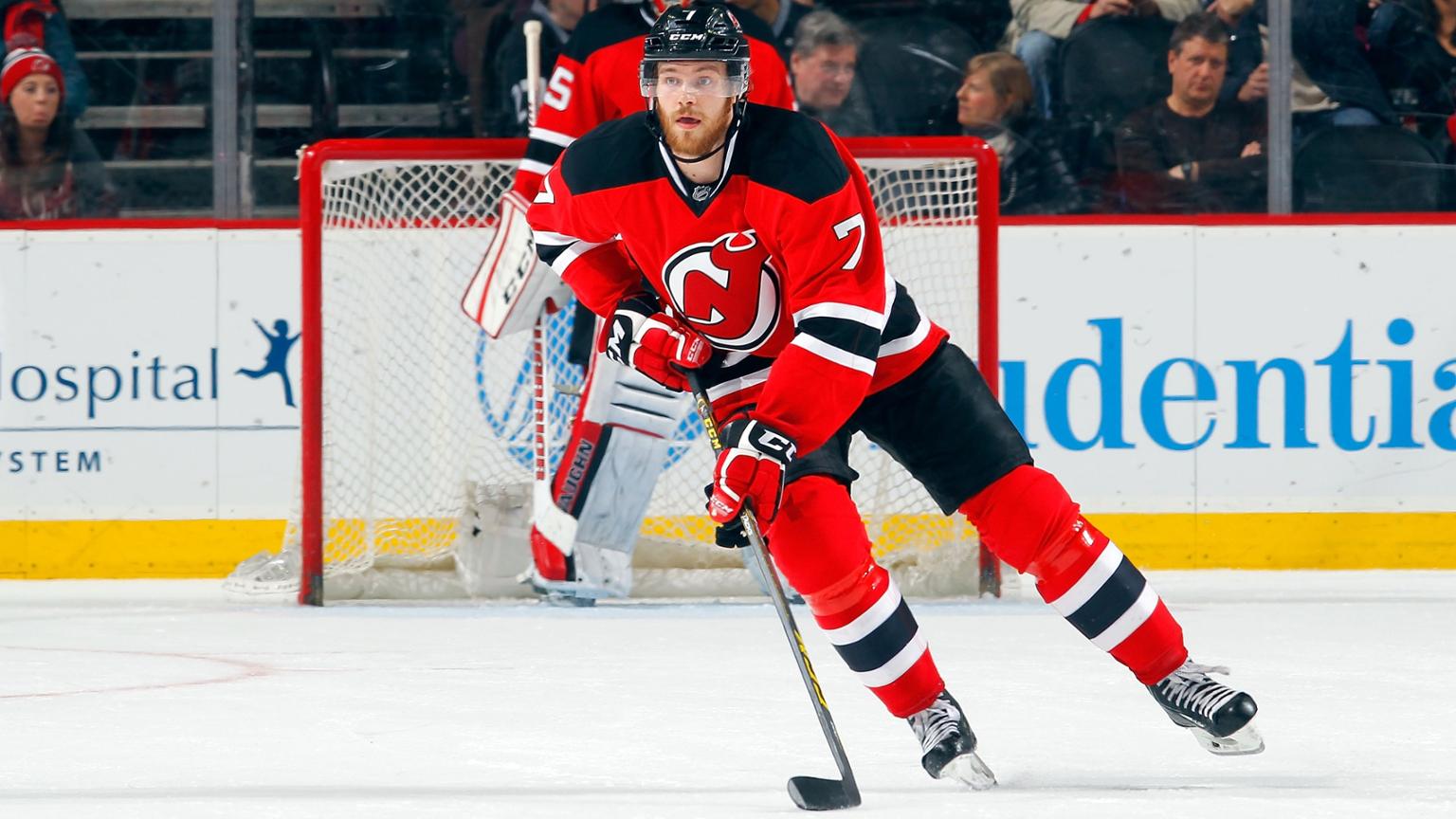 The Devils also announced that defenseman, Jon Merrill and forward Luke Gazdic will each miss about four weeks due to injuries.
Merrill, broke his index finger while blocking a shot against the New York on October 1. Gazdic, sustained a broken left foot after blocking a shot against the Philadelphia Flyers on September 26.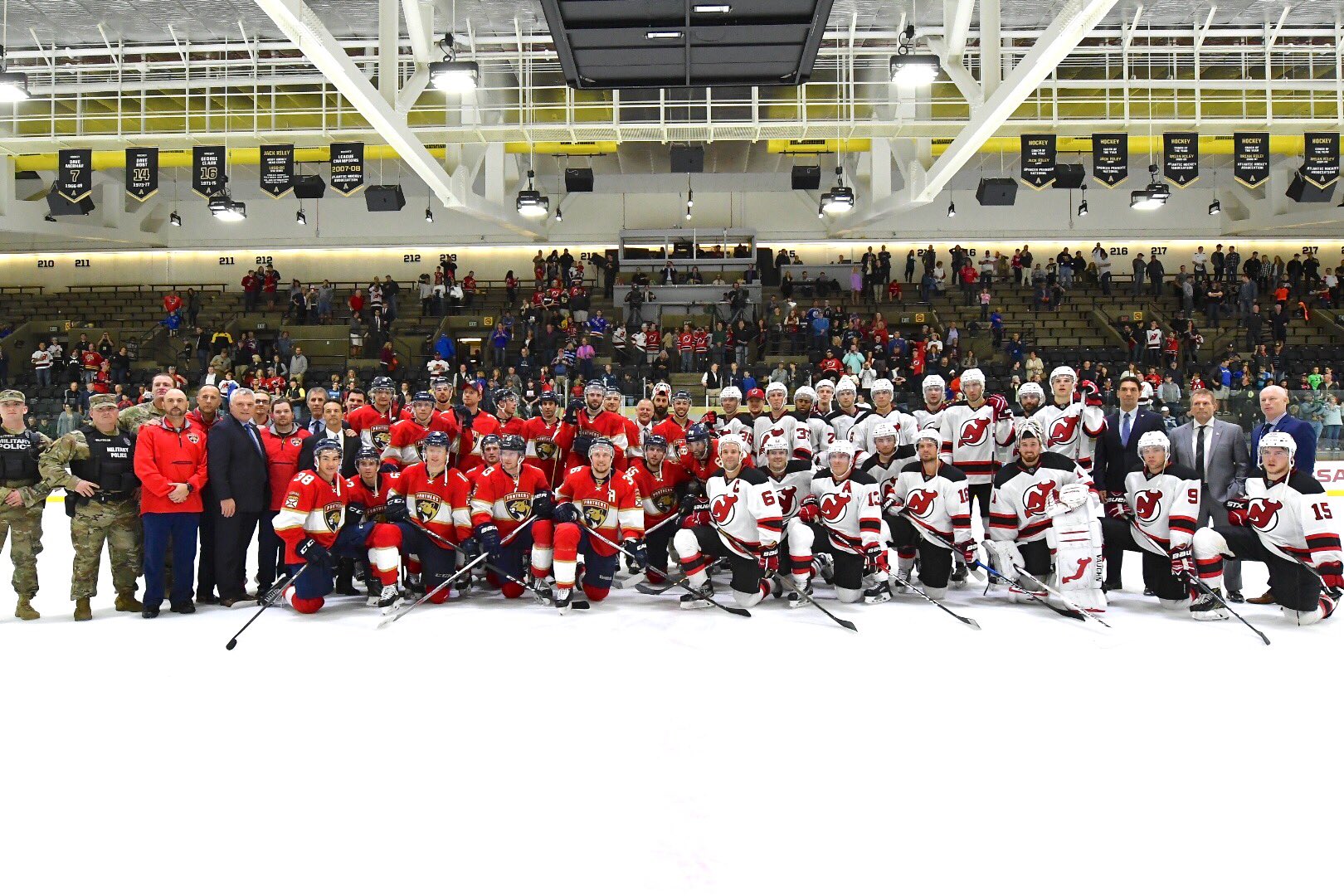 The Panthers defeated the Devils, on Saturday night, at Tate Rink in West Point, New York, by a score of 4-2 in both teams' final preseason tune up. Both teams posed for a group photograph at center ice.
The two teams will face off again on October 13, at the BB&T Center in Sunrise, for the Panthers' home opener.
---