None
You may have forgotten about me but I'm back in your business with some NBA thoughts. The playoffs have just started, and everyone has chosen their favorites. I've heard how great Westbrook is, I've heard how amazing Harden and the Rockets are, and I've heard how Golden State is rested and ready to run the table. I also have certainly heard about Lebron and Kyrie and Kevin and the rest of the defending champion Cavs. All those teams are good. Shit, all those teams are really good. But….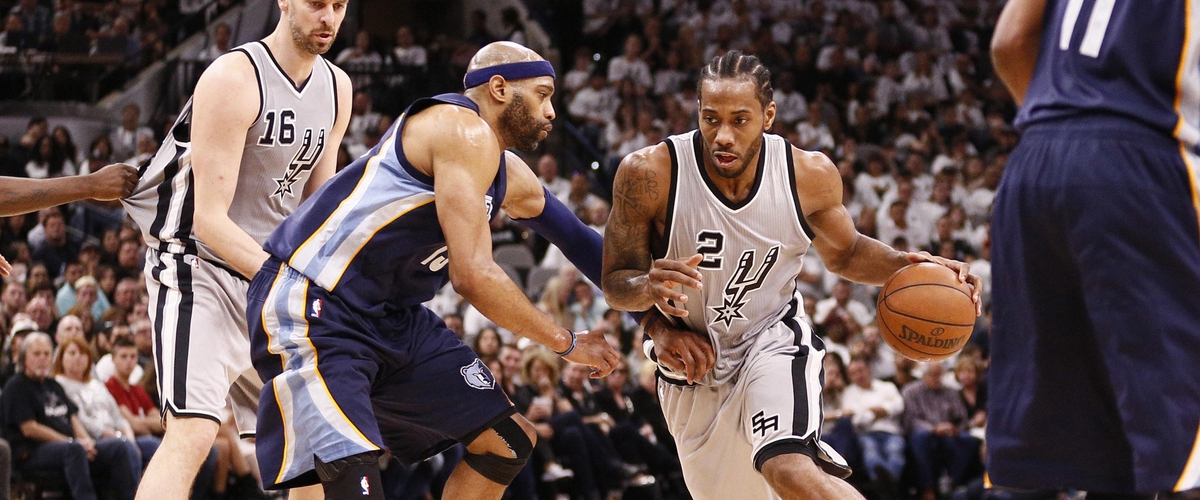 The Spurs are better.
Why are they better? Well, there are a lot of reasons. The first is the guy that sits on the bench, the guy that rarely gives anything close to an informational interview, and the guy that has put together one of the most impressive dynasties in modern professional sports. The Spurs have a culture of winning, and its starts with Gregg Popovich.
The Spurs finished a quiet 61-21 this year, and before the last two games, Popovich preached and pleaded that his team show him "discipline and consistency." These are the types of coaches that win championships and compete every year. I remember when the College Football Playoff Hoopla was going on, ESPN ran a sizzle reel where all the coaches were making their cases about how "they were the best team out there" or "how they accomplished this and conquered that." The reel got to Nick Saban, who said something along the lines of "we aren't as good as we want to be right now, and we have to get a lot better." (Yes, I know Bama lost to Clemson, but they shouldn't have and that's another story.) BUT, those are the types of coaches that build traditions of winning. Saban and Popovich have their difference, but they both demand a winning attitude and a complete buy in to a proven system. A team that has 60 wins almost assuredly has a lot of things, and discipline and consistency are part of the deal. The Spurs also have talent.
Who is the MVP of the NBA this year?
I don't know. Westbrook will probably get it and did some crazy stuff this year statistically. Harden probably deserves it for taking a Houston team to new heights and doing some crazy impressive things night in and night out with better percentages and more wins. Lebron is still a beast and has had his best statistical season since returning to Cleveland (26-8-8). But who is my MVP? Who is the player in the NBA I would like to play with more than any other player? Who is putting up offensive efficiency numbers that only exist in legend and is the best perimeter defender in the NBA? Well that would be Kawhi Leonard.
I love watching this dude play. And I'm a basketball purist. I love the fact that Leonard has more steals, more blocks, and less Turnover's per 100 possessions than any of the others. I love that he has the most wins. I love that he isn't showy and just get things done night in and night out like a MACHINE. He probably won't win the MVP, but it's super hard to find any arguments for why he shouldn't.
Kawhi is the man on this team in a post Tim Duncan era, but he is certainly not the only weapon. The "supporting" cast starts with LaMarcus Aldridge, and I cringe to say supporting because he's one of the best post players in the league. Pau Gasol is getting up there, but this guy is still one of the most versatile Bigs in the league and can do everything on the offensive end of the floor. David Lee has surprised me this year as well with some efficient backup minutes at either post position.
The guard depth is also impressive. All of these guys are winners, and the leadership starts with TP and Manu. Not the players they were a six or sever ago, but still efficient and perfect cogs in the Spurs system. They remind me of the Toby Keith quote, "I ain't as good as I once was, but I'm as good once, as I ever was." They are still really good. The backup guard duo of Patty Mills and Danny Green shoot the absolute piss out of the ball and keep defenses honest and spurts of scoring long. And finally, I love the energy of Jonathon Simmons. For me, he is the flash and swagger that the Spurs every now and then need to humanize the efficient machine everyone else is running.
Put that all together and you have my pick for the NBA Champion this year. Will I tell you right now how they will matchup against the other teams picked to win? No, I will not. We will get there when we get there. They are in the process of running through Memphis like spicy Chinese food runs through my brother's digestive system, but when they get to the big boys, I will be hear to remind you what to look for. For now, all you need to know is that the Spurs are my pick, and put them on your radar. And do it NOW.
I have two songs this week for the readers to get up in. Both are great, both are infectious.
The first is my current country jam and will probably be my summer Jam in general. It is Sam Hunt, "Body like a Backroad." Same theme, same general vibe of a great summer country tune. Find a beautiful tan girl, put her in the passenger seat of your car, roll all the windows down, and drive somewhere with her feet out the window and this song turned up. It just works, and it makes you smile.
The other song is Zedd and Alessia Cara, "Stay." A little different in the fact that it's a little bit of a heartbreaker disguised as a club banger with a great beat and catchy chorus. I love this jam though and it's my most recent ITunes download. And in an attempt to appeal to the full range of peeps out there, I gave you one song for the summer love crowd and one for the summer hurting hearts group. Either way, music is an incredible outlet and you gotta stay positive regardless. When a young tyke CJ used to get down after a lost game or a setback, my mom used to quote, "Come what, Come May, Time and the Hour runs through the roughest day."
With that, I'm out, and you just have to respect the versatility; I gave you some MacBeth, a contrarian view towards the outcome of the NBA playoffs, some incredible song suggestions, and a memory of my Mom quoting to a bowl-cutted Blonde little dude. That's range, and I hope you all have a great weekend. CJ is off to the Bahamas to work on his tan at a Bachelor party. Will check in soon, Peace out my friends,