Opinion Column: Trae Young is Better than Luka Doncic
Dallas Mavericks rookie guard Luka Doncic has garnered a wave of media attention like nothing we've ever seen before, and for good reason. The Slovenian stud has been the star of the NBA season so far, leading rookies in scoring, averaging nearly 21 points a game, along with seven rebounds and close to six assists. At this point in the season, it seems like Doncic has run away with the Rookie of the Year award. However, in my opinion, it's not as runaway as people - the media, mostly - think. Atlanta Hawks rookie guard Trae Young, for whom the Hawks traded Doncic on draft night, has come on big time for the Hawks in the past two months after a rocky start to the season. I believe that Trae Young is better than Luka Doncic in a majority of aspects of basketball. Here's why.
Trae Young is averaging 7.7 assists per game on the season, which is 6th in the entire NBA. His best teammate is second year forward John Collins, and he doesn't have much help outside of that. Before the Mavericks unloaded their entire starting lineup, Luka was still only averaging close to six assists a game, and the team around him was loaded with NBA talent. Young's career high in assists is 17, which came against the Clippers on November 19th, a game in which he also scored 25 points. Doncic's career high in assists in only 12, with much more NBA talent around him. Young has recorded games with the following number of assists: 12, 14, 15, and he's had multiple double digit assist games this season (20). Trae Young is arguably the best passer in the NBA at the tender age of 20, and while Doncic is a good passer, he's nowhere near Young.
Both the Hawks and Mavericks are pretty bad teams, but the Mavericks are only 6.5 games ahead of the Hawks in terms of record. So how much of an impact is Luka Doncic really making for the Mavericks currently? I understand, it's not fair to judge rookies on their ability to make their teams win this early, but comparing Trae Young and Luka Doncic, it comes up in conversation. In fact, the Hawks actually score more points, get more assists and steals, block more shots, shoot a better percent from the field, from 3, and the free throw line. Trae Young is helping the Hawks more than Doncic has in almost every statistical offensive category, even though it hasn't reflected in their record (which, in the long run, is better for Atlanta anyway.)
When it comes to the defensive side of the basketball, Trae Young's impact is felt more so than Doncic. Although Doncic averages just slightly more steals (which is not indicative of how good a defender is), Trae Young is very good at playing passing lanes and disrupting ball handlers. Doncic is rather larger in stature for his position, and he isn't the most athletic player. I believe Young is better on the defensive side of the ball than Luka Doncic.
Scoring wise, Trae Young is a better finisher than Doncic is. Young is shooting 41% from just outside of 5 feet to Doncic's 33%, and he is also shooting 47% from just outside ten feet to Doncic's 40%. Young's FG% is also better from 25-29 feet, shooting 32% to Doncic's 16%. The overall numbers favor Young, although the efficiency is in Doncic's favor. Young's range is also much farther than Doncic's, as he is able to pull up from just a few feet past the half court line and knock down a 3, which is incredibly difficult for defenses to game plan for, and defend.
While the media attention and Rookie of the Year race may favor Luka Doncic because he is an extraordinary player, Trae Young deserves just as much, if not more consideration for the award, and he deserves to be praised just as much as Doncic. Doncic and Young are both wonderful young players who are going to be stars in the league for years to come, and although the consensus is seemingly that Doncic is far and away the better player, I believe that the masses should reconsider and shine some light on Trae Young, the better player.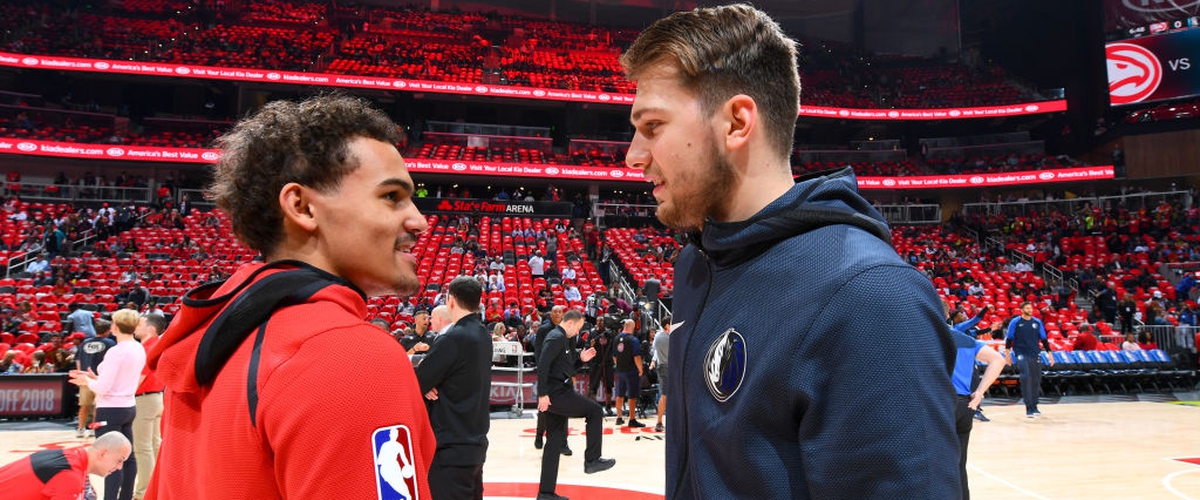 ---