2018 NBA Mock Draft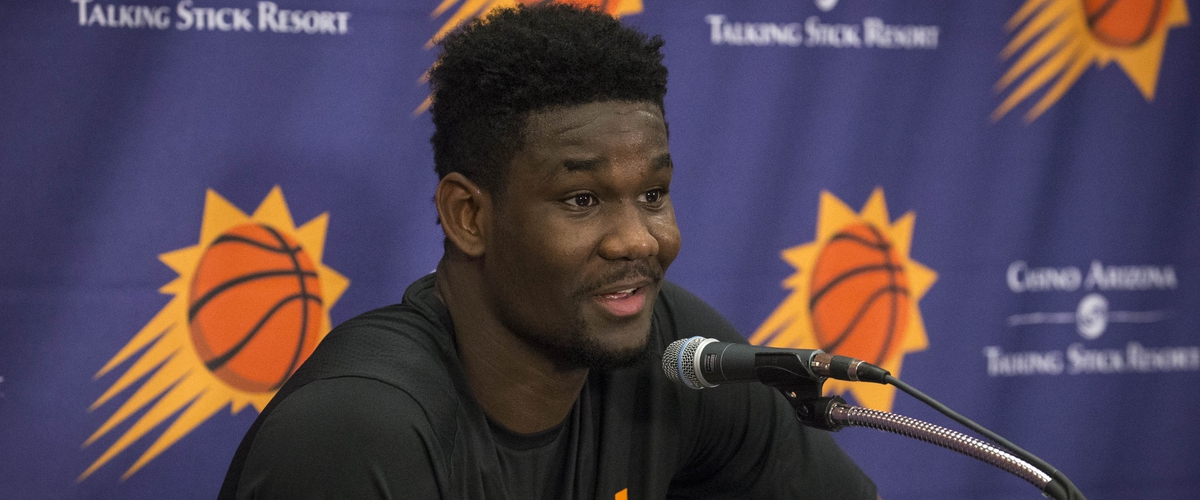 With the NBA Draft coming up tomorrow, I leave you with my 2018 NBA Mock Draft. I will project trades to acquire a pick that was not originally possessed by the trading team, but I will not project trades for a draftee that occur right after a player is selected. These trades are documented in my previous article (https://www.sportsblog.com/clarksports/2018-nba-offseason-prediction/).
1.) Phoenix Suns: Deandre Ayton C, Arizona.
2.) Sacramento Kings: Marvin Bagley III PF, Duke.
3.) Atlanta Hawks: Luka Doncic SG/SF, Slovenia.
4.) Memphis Grizzlies: Jaren Jackson Jr. PF/C, Michigan State.
5.) Dallas Mavericks: Mohammed Bamba C, Texas.
6.) Orlando Magic: Trae Young PG, Oklahoma.
7.) Chicago Bulls: Michael Porter Jr. SF, Missouri
8.) Cleveland Cavaliers (from Nets): Collin Sexton PG, Alabama.
9.) New York Knicks: Wendell Carter Jr. PF/C, Duke.
10.) San Antonio Spurs (via trade with 76ers): Mikal Bridges SF, Villanova.
11.) Charlotte Hornets: Kevin Knox SF/PF, Kentucky.
12) Los Angeles Clippers (from Pistons): Shai Gilgeous-Alexander PG, Kentucky.
13.) Los Angeles Clippers: Robert Williams PF/C, Texas A&M.
14.) Denver Nuggets: Miles Bridges SF/PF, Michigan State.
15.) Washington Wizards: Lonnie Walker SG, Miami (FL).
16.) Phoenix Suns (from Heat): Donte DiVincenzo SG, Villanova.
17.) Milwaukee Bucks: Zhaire Smith SG, Texas Tech.
18.) San Antonio Spurs: Mitchell Robinson C, USA.
19.) Atlanta Hawks (from Timberwolves): Omari Spellman PF/C, Villanova.
20.) Minnesota Timberwolves (from Thunder): Troy Brown SG, Oregon.
21.) Utah Jazz: Keita Bates-Diop SF, Ohio State.
22.) Chicago Bulls (from Pelicans): Chandler Hutchinson SG/SF, Boise State.
23.) Indiana Pacers: Aaron Holiday PG, UCLA.
24.) Trail Blazers: Elie Okobo PG, France.
25.) Los Angeles Lakers (from Cavaliers): Khyri Thomas SG, Creighton.
26.) Philadelphia 76ers: Jalen Brunson PG, Villanova.
27.) Boston Celtics: Moritz Wagner PF/C, Michigan.
28.) New Orleans Pelicans (via trade with Warriors): Brandon McCoy C, UNLV.
29.) Brooklyn Nets (from Raptors): Grayson Allen SG, Duke.
30.) Atlanta Hawks (from Rockets): Jacob Evans SG/SF, Cincinnati.
---