2020 MLB Season Prediction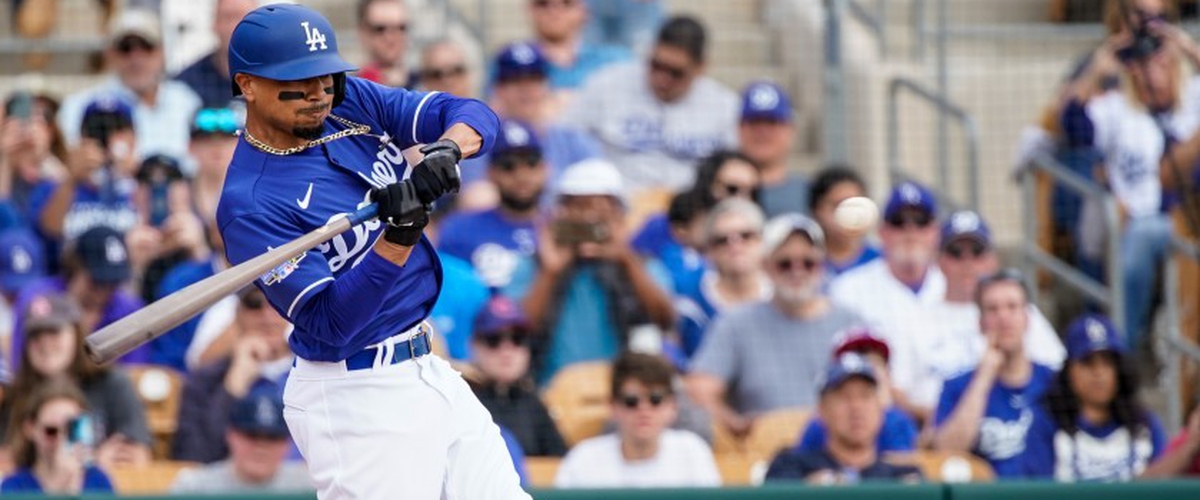 Photo by: Kent Nishimura-Los Angeles Times
What seemed like a fantastic offseason slowly turned into a nightmare, as a worldwide pandemic delayed Opening Day and shortened the season. After many botched negotiations between the MLB and MLB Players Association on how to start their season, the original proposed plan of a 60 game season with full prorated salary prevailed. While this may not seem like a big issue now, it may become one when the current collective bargaining agreement expires after the 2021 season. That's a discussion for a later time however. This is my best crack at what teams will do in a very weird 60 game 2020 season!
Z=Clinched Homefield, Y=Clinched Division, X=Clinched Wildcard.
*National League
-NL Central
1) St. Louis Cardinals, 39-21. (Y)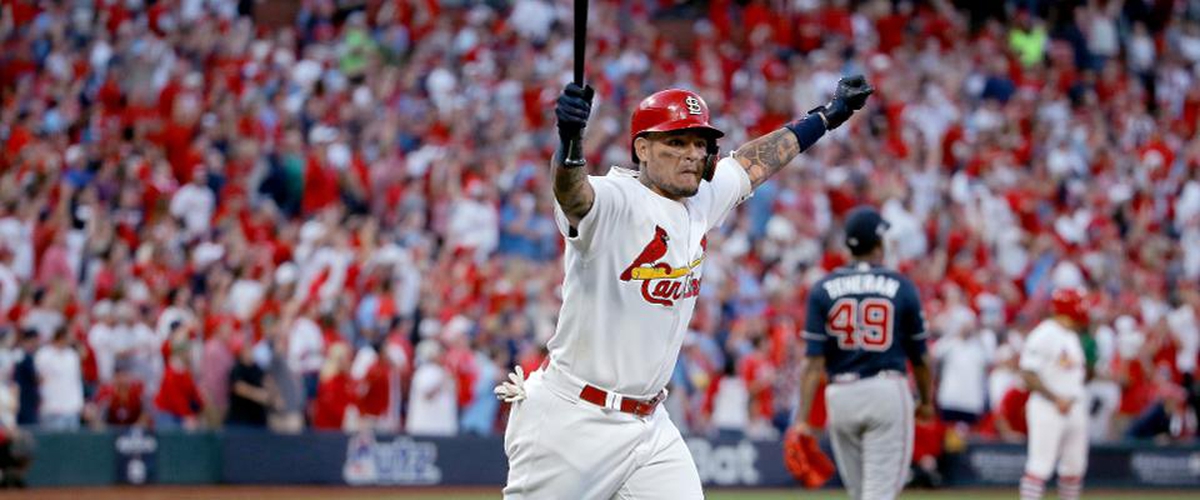 Photo by: Scott Kane-Getty Images
-The Cardinals won the NL Central just last year, and they have a pretty fair shot to do so this year. They have a very solid lineup and rotation, but they could definitely use some bullpen help. The NL Central is certainly up for grabs, but in the long run I think the Cardinals may have a leg up on other teams in the division because a lot of their roster has spent multiple years together. Maybe this offseason wasn't the worst to not bring in many significant free agents.
2) Cincinnati Reds, 35-25. (X)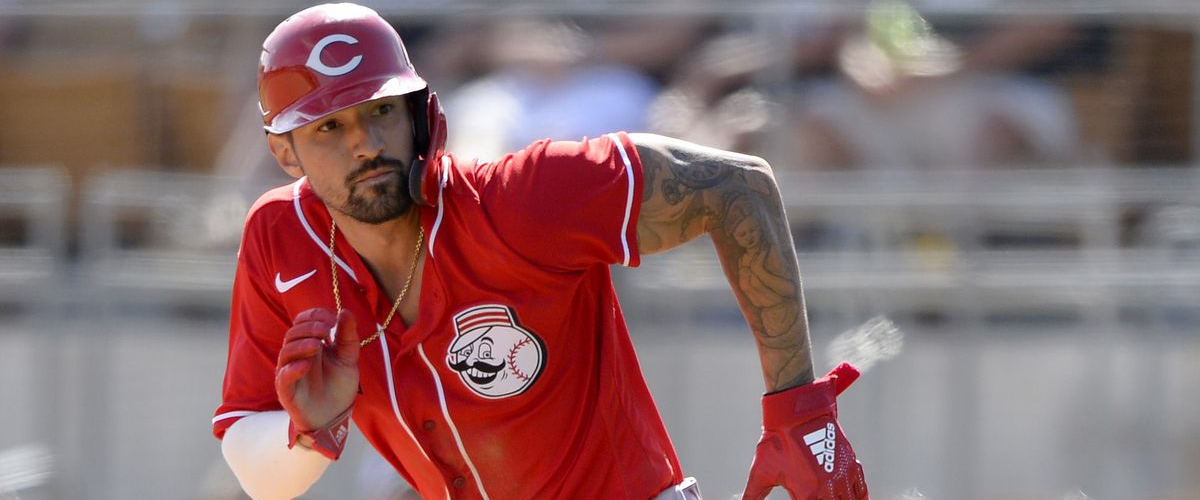 Photo by: Ron Vesely-Getty Images
-The Reds spent over $150 million this offseason to upgrade their roster, and their chances of making the Postseason seem fairly high. My main worry with their team is that they have many players who have never played together before. Offseason additions infielder Mike Moustakas, outfielders Nicholas Castellanos and Shogo Akiyama, and starting pitcher Wade Miley will have to play well in 2020 for the Reds to make the Postseason. It may be a lot to ask of team that lacks the chemistry of others in their division, but with one of the best rotations in the league and an improved lineup, I think the Reds can handle it!
3) Milwaukee Brewers, 34-26.
-The Brewers suffered some significant losses this offseason when infielder Mike Moustakas and catcher Yasmani Grandal departed. Even with those losses, the Brewers bought in some pretty decent replacements and still have one of the most threatening lineups in the National League. Their rotation is weak, but their bullpen is deep and good. The Brewers have made the Postseason in each of the last two seasons, and they certainly have a shot at making it three straight years. For now I'm going to put them outside of the Postseason by just a single game.
4) Chicago Cubs, 33-27.
-Oh what an interesting few seasons/offseasons this could become for the Cubs. A team once considered a shoo-in for the Postseason every year has become a bit of a question mark. Their rotation is aging, and their young, talented lineup is seeing a lot of players hitting free agency in the next few years. For now, the Cubs stand a fighting chance at the Postseason though. In order to make it their aging rotation will have to have a much better season than they did in 2019, and their young hitters will have to remain consistent.
5) Pittsburgh Pirates, 17-43.
-After trading outfielder Starling Marte and firing Manager Clint Hurdle, outfielder Gregory Polanco is the only remaining piece of the Pirates that made it to the 2015 NL Wildcard game. The Pirates now lack talent and are clearly in rebuilding mode. They don't really stand anything to gain by winning too many games this season, and they likely won't. New manager Derek Shelton has his work cut out for him trying to rebuild these Pirates in a very competitive NL Central.
-NL East
1) Washington Nationals, 38-22. (Y)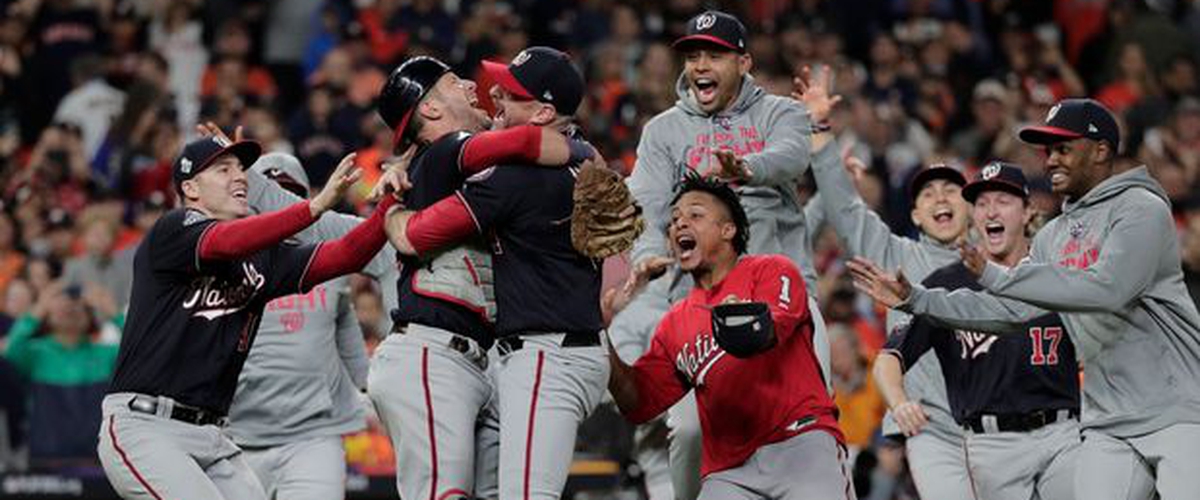 Photo by: David J. Phillip-Associated Press
-Last years World Series champions suffered a big loss this offseason when Anthony Rendon left for the Angels. Still, the Nationals may have the best rotation in all of baseball. They certainly have the best top three at least with Max Scherzer, Steven Strausburg, and Patrick Corbin. With those three slated to start 36 of their 60 games, they should at least win 25-30 of those games. They also spent plenty of money upgrading their bullpen this offseason. As long as Aníbal Sánchez and whoever the Nationals fifth starter is, pitch decent, the Nationals will be a shoe-in for the Postseason.
2) Atlanta Braves, 37-23. (X)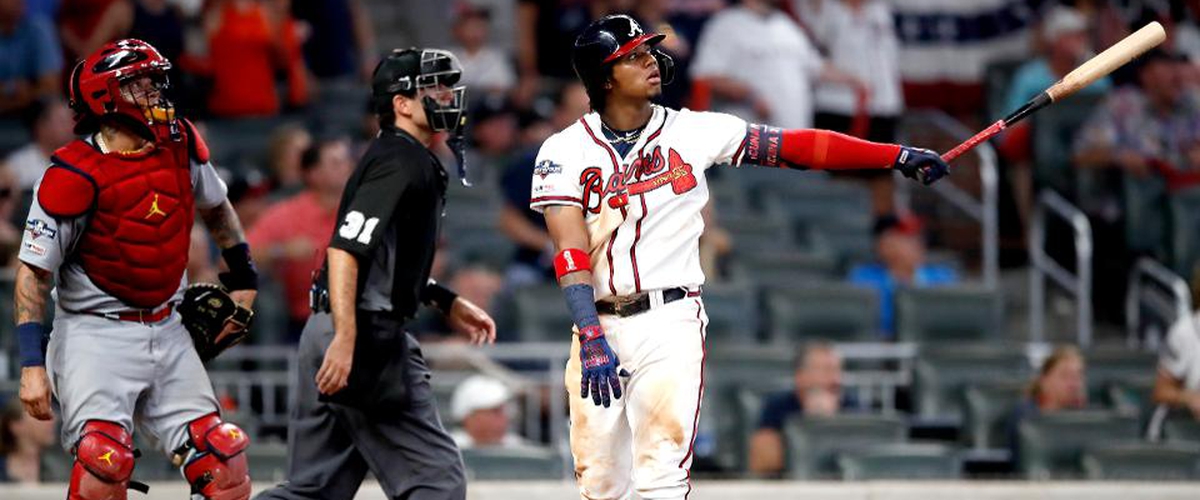 Photo by: Todd Kirkland-Getty Images
-Man do I love watching the Braves. They have one of the most exciting young cores with Ronald Acuña Jr., Ozzie Albies, Mike Soroka, etc. They also have the MLB's no.13 prospect, Cristian Pache, almost ready to hit the Major Leagues. But enough about their future, the Braves have one of the best teams in the league right now. They only got better this offseason when they brought in veteran starter Cole Hamels to sure up the back end of their rotation, and signed veteran reliever/closer Will Smith to be the centerpiece of their bullpen. If Freddie Freeman can return to full form after coronavirus and get back to the field, I don't think there are too many teams in the MLB better than the Atlanta Braves.
3) Philadelphia Phillies, 31-29.
-Well, the Phillies moved on from manager Gabe Kapler this offseason and replaced him with former World Series winning manager Joe Girardi. In the long run I don't think this could be anything but a major upgrade for the Phillies. In the meantime, I'm afraid their investing way too much money and attention into their lineup when their rotation really isn't that good. If the Phillies want to remain in the race for this division, pitching needs to become their top priority.
4) New York Mets, 28-32.
-Don't get it twisted, the Mets do have one of the best rotations in baseball still and their hitting has improved. While Jacob deGrom should still have a Cy Young quality type of year, losing Noah Syndergaard for the year and the recent injury to Marcus Stroman will hurt this team. They're by no means out of the running for the Postseason this year, but I can no longer make them favorites to make it there. Let's see if their hitting and bullpen can make up for the loss of Syndergaard this season.
5) Miami Marlins, 22-38.
-The Marlins have been one of the worst teams in baseball the last few years, and they were virtually a lock to lose 90+ every year. Well not anymore, this team isn't one of the better in baseball but they're no longer pushovers. Additions such as Jonathan Villar and Corey Dickerson should at least give this team some level of respectability. The Marlins won't make the Postseason but they might be able to play spoiler for some other teams.
-NL West
1) Los Angeles Dodgers, 42-18. (Z)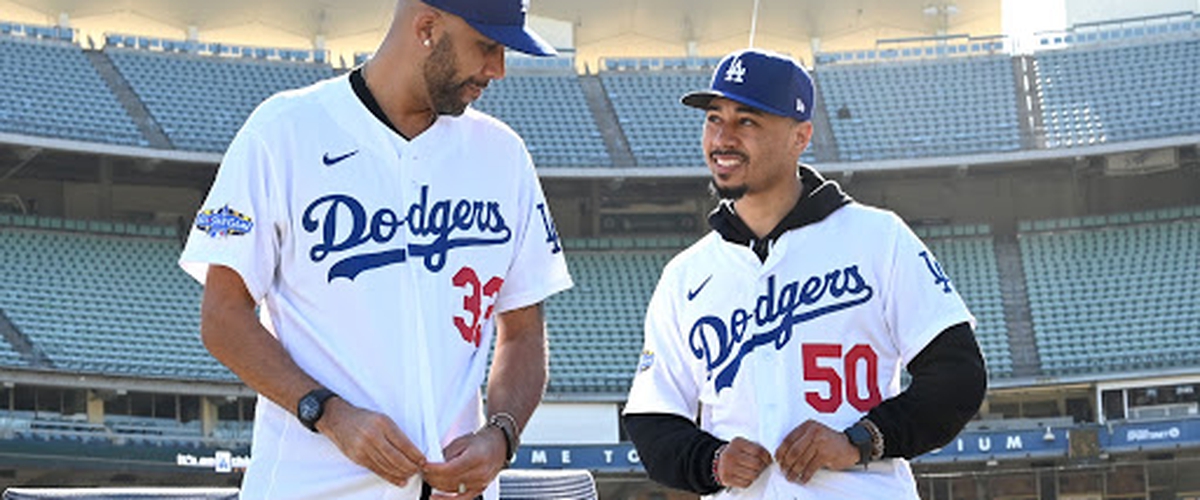 Photo by: Jayne Kamin-Getty Images
-The Dodgers made the biggest splash of the offseason when they traded for star outfielder Mookie Betts and starter David Price from the Red Sox. The Dodgers didn't really give up too much in the deal either. Unfortunately for them Price opted out of this season, but even with Price opting out the Dodgers might have the best team in all of baseball. Especially with 2019 NL MVP, Cody Bellinger already on their roster.
2) Arizona Diamondbacks, 34-26.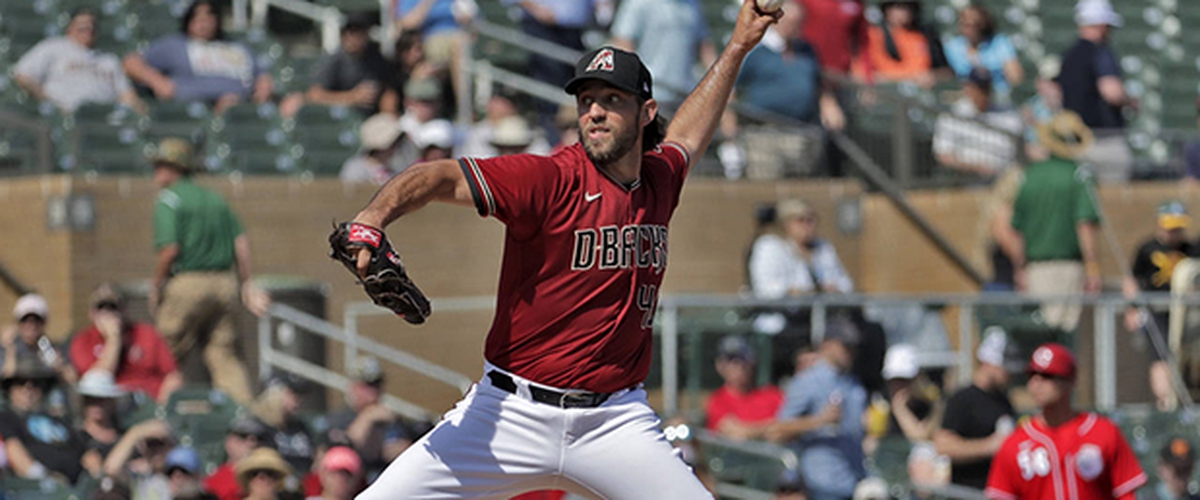 Photo by: Matt York-Associated Press
-The Diamondbacks put together a pretty solid offseason by signing outfielder Kole Calhoun, trading for outfielder Starling Marte, and signing for former World Series stud Madison Bumgarner. The latter from a division opponent. The Diamondbacks have a solid rotation, good bullpen, and bolstered their lineup. They should be in the mix for a wildcard spot down the stretch.
3) San Diego Padres, 33-27.
-The Padres had a pretty interesting offseason, trading away a potential young stud infielder Luis Urías for starting pitcher Zach Davies, and trading for Emilio Pagan and Tommy Pham from the Rays. They have a solid young core on their active roster and a stacked farm system, but they're still a year from being real Postseason contenders in my opinion.
4) Colorado Rockies, 29-31.
-The Rockies have a good lineup, even with Ian Desmond opting-out of the season. Their pitching needs a ton of work though. In the offseason they were rumored to be looking at potential trades for star third baseman, Nolan Arenado. I doubt that they'll trade him at this years deadline, but they might look into it in the offseason. They might be able to fix their pitching issues much faster if they do trade Arenado.
5) San Francisco Giants, 23-37.
-Giants long-time manager Bruce Bochy retired at the end of the 2019 season, and replaced him with former Phillies manager Gabe Kapler. I think this is a serious downgrade, but this roster already lacks talent as it is. The bullpen is one of the best in the league, but outside of that there's not much to look forward to on this ball club.
*American League
-AL Central
1) Minnesota Twins, 39-21. (Y)
Photo by: Aaron Gleeman-The Athletic
-The Twins are coming off a 100 win season in which five players hit over 30 home runs. Then this offseason they spent big money securing Josh Donaldson, only making their lineup even more dangerous. The Twins also upgraded their rotation, signing veterans Homer Bailey and Rich Hill, and trading for Kenta Maeda. The Twins are dangerous and could make a splash this season.
2) Chicago White Sox, 37-23. (X)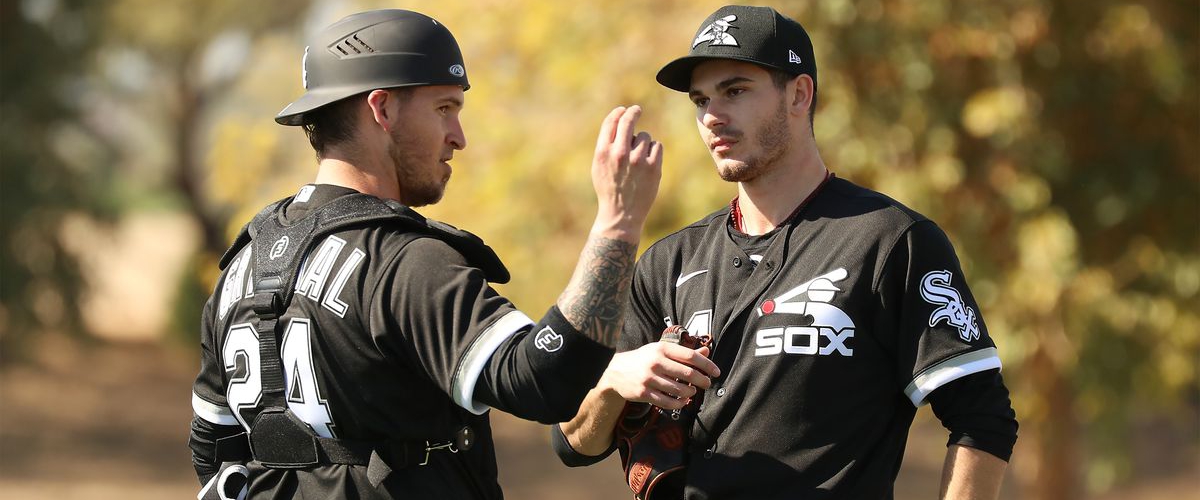 Photo by: John Antonoff-The Sun-Times
-The White Sox had a very busy offseason, signing Dallas Keuchel to bolster their rotation, and bringing in Yasmani Grandal, Edwin Encarnación, and Nomar Mazara to upgrade their lineup. There isn't many holes on this ball club, but their young players will have to step up if they want to make the Postseason in 2020. I'll go out on a limb and say they do.
3) Cleveland Indians, 31-29.
-Most of the noise around the Indians this offseason centered around them potentially trading star shortstop Francisco Lindor. They didn't trade Lindor but they did trade former Cy Young award winner, Corey Kluber. The Indians still have a pretty solid rotation headed by Mike Clevinger and Shane Bieber. The Indians have some holes in their lineup, but I don't think they're that far away from being a Postseason type ball club. Not trading Lindor might be the right move for them.
4) Kansas City Royals, 24-36.
-Another year, the same old Royals. Since winning the World Series in 2015 the Royals have been bottom dwellers. Another inactive offseason should see them making little noise in 2020. At least Salvador Pérez is still around.
5) Detroit Tigers, 16-44.
-The Tigers were the MLB's worst team last season, and for good reason. The Tigers roster lacks talent and has very few standout players. The standout players they do have will likely be traded away to build for the future. Thankfully they have a great farm system and could make some noise in the next 3-5 years.
-AL East
1) New York Yankees, 39-21. (Y)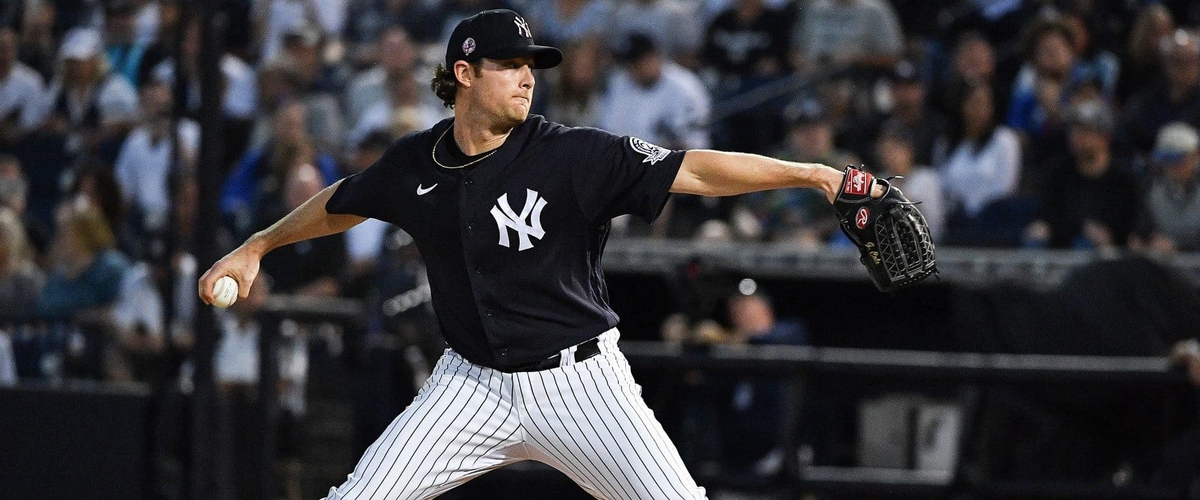 Photo by: Mark Brown-Getty Images
-The Yankees went all-in this offseason, signing star pitcher Gerrit Cole 9 year/$324 million deal. Equally as big as landing Cole was taking Cole away from the Astros, who have taken down the Yankees in two of the past three Postseasons. The Yankees have a top tier lineup, great bullpen, and a solid rotation when healthy. My only worry with the Yankees is that their rotation isn't healthy at the moment. Still, there's no way the Yankees shouldn't make the Postseason in 2020.
2) Tampa Bay Rays, 35-25. (X)
-A postseason team last year, the Rays have one of the best pitching rotations in baseball and a strong bullpen. Their lineup needed some work and they brought in plenty of power this offseason, trading for Hunter Renfroe and José Martínez. They definitely didn't acquire these guys at no price, but they still have one of the better rosters in the league and one of the best farm systems too. It's a shame the Rays play in the same division as the Yankees, because I truly believe the Rays are a top 5-10 team in the MLB.
3) Boston Red Sox, 29-31.
-The Red Sox biggest splash this offseason was trading away Mookie Betts and David Price, a deal that netted them young outfielder Alex Verdugo and hitting prospects Jeter Downs and Connor Wong. In the long-run this could be a good trade for the Red Sox, but for now it only hurts their rotation and lineup. With Chris Sale set to miss the whole season too, this Red Sox team has a very slim Postseason chance.
4) Toronto Blue Jays, 22-38.
-The Blue Jays have one of the best young cores in baseball with Vladimir Guerrero Jr., Bichette, and Cavan Biggio. This lineup has a chance to be elite in just a few short years, but for now they're middle of the pack at best. As for their rotation, they signed Hyun-Jin Ryu and Tanner Roark to help bring some stability. Blue Jays top pitching prospect Nate Pearson also looks close to making the Majors. You can probably disregard the Blue Jays as Postseason contenders in 2020, but keep your eyes on this team going forward.
5) Baltimore Orioles, 15-45.
-The Orioles have been bottom dwellers for a few years now, and that's not going to change in 2020. The roster just doesn't have much talent, and the talent they do have should be up for sale at the Trade deadline. Offseason signee shortstop José Iglesias is coming off a solid 2019 campaign, and if he can keep that momentum going into 2020, he may be the Orioles most valuable trade piece. On the bright side, the Orioles have a pretty good farm system and could be alright in a few years.
-AL West
1) Houston Astros, 40-20. (Z)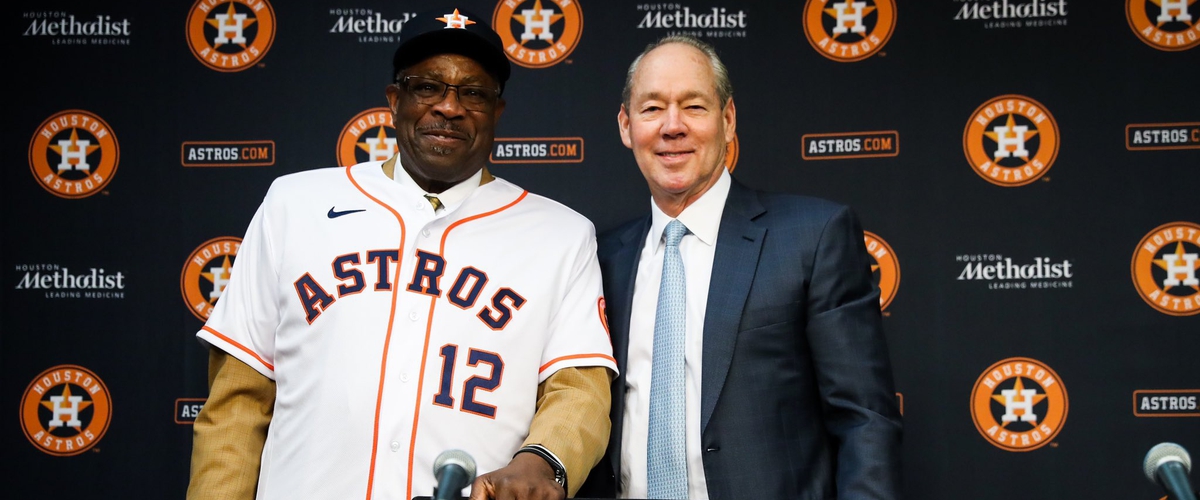 Photo by: Jim Crane-Afram News
-Safe to say not many baseball fans are in love with the Astros right now. News of a huge cheating scandal amongst the Astros team from 2017-2019 broke this offseason, and it only makes matters worse that they won the World Series in 2017. Since the news broke prior manager A.J. Hinch was fired, GM Jeff Luhnow was fired, the Astros were fined $5 million, they lost their first and second round pick in this years draft and will lose those two rounds picks in 2021 too.
A lot of the ramifications of these punishments effect the team more later than it does right now, and I think that has some fans very angry. I personally won't comment on the matter. I do think the Astros made a good decision hiring Dusty Baker to be their new manager, I just feel bad for Dusty because he's a lovable guy coaching an unlovable ball club. Regardless, the Astros have a phenomenal roster and shouldn't have much of a problem making the Postseason again in 2020.
2) Los Angeles Angels, 33-27.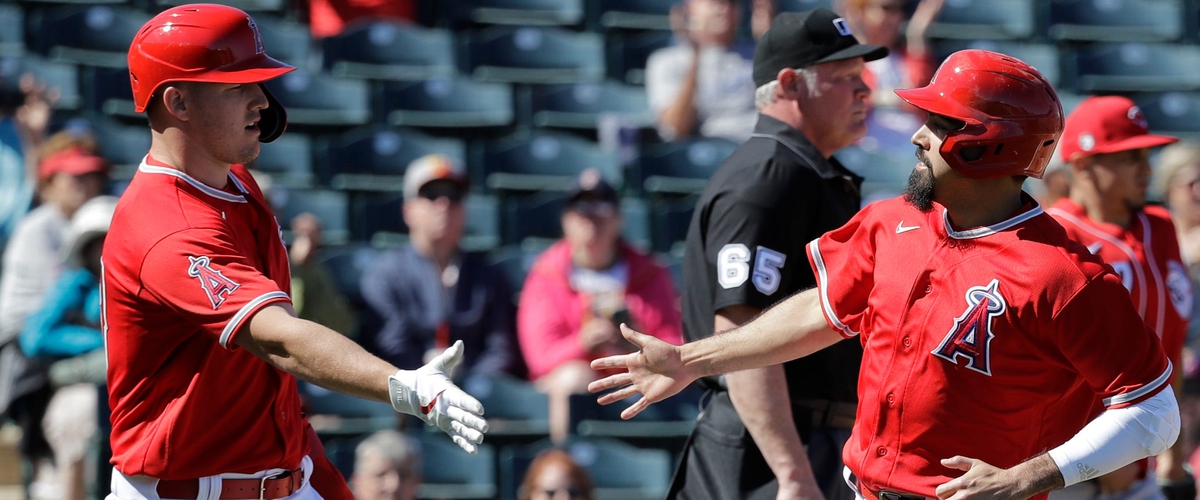 Photo by: Gabe Lacques-USA Today
-The Angels had a pretty busy offseason, hiring new manager Joe Maddon, signing star third baseman Anthony Rendon to a 7 year/ $245 million deal, and bringing in starting pitchers Julio Teherán and Dylan Bundy. These moves certainly have the Angels on the right track to being a Postseason team soon, but I still think their rotation needs some help. Sadly, I believe another Postseason will see no Mike Trout.
3) Oakland Athletics, 32-28.
-The Athletics have made the Postseason in back-to-back seasons and they're one of the teams I hate predicting. Their lineup is very good and their bullpen is above average, but their rotation is composed of old guys, inexperienced guys, and injury prone guys. Somehow they'll still make it work though. The Athletics are a good ball club, I'm just not sure they're a good enough ball club to make the Postseason in 2020.
4) Texas Rangers, 22-38.
Photo by: Jeff Wilson-Fort Worth Star-Telegram
-The most exciting part of the Rangers offseason was probably finishing their new stadium. Outside of that, it was a relatively slow offseason for them, despite being in the running for numerous big name free agents. The current Rangers roster is middle of the pack at best and isn't a serious Postseason contender. Maybe they'll put together a solid 2021 offseason and take advantage of an aging Astros team (especially pitching wise).
5) Seattle Mariners, 13-47.
-The Mariners, much like the Tigers and Orioles, lack talent. Their rotation is lackluster, their bullpen is maybe the worst in the league, their lineup is a mismatch of veterans and young guys with not a ton of potential, and the worst part is that they don't have a ton of valuable trade assets. Guys like Kyle Seager and Marco Gonzales should be on watch though, they have a decent chance of being shopped at the deadline. The Mariners are at the start of a slow and steady rebuild.
*Wildcard games
-National League
Cincinnati Reds @ Atlanta Braves // Braves win 5-4.
Photo by: Dale Zanine-USA Today
-This should be a pretty great wildcard matchup. The offseasons big spender vs. one of the brightest young teams in the league. Both have prolific lineups, the only difference? The depth of their bullpens. The Reds don't have the sort of bullpen depth that the Braves do. In a must-win game the Braves will shut the Reds down during the stretch in a solid effort from their improved bullpen.
-American League
Tampa Bay Rays @ Chicago White Sox // Rays win 5-3.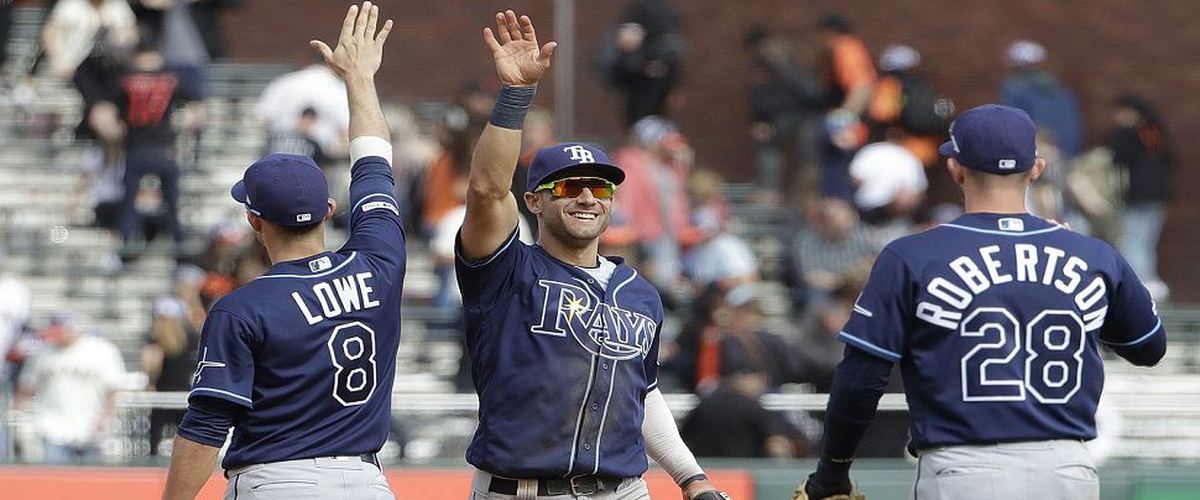 Photo by: Spectrum News File Image
-The Rays won last year's AL wild card game on the road in Oakland, this year they'll win it on the road in Chicago. The White Sox have a talented ball club, but I don't think too many teams are more talented than the Rays. It won't be a cake walk game but the Rays will setup a rematch with the Astros in the ALDS.
*Division Series
-National League
(1) Los Angeles Dodgers vs. (4) Atlanta Braves // Dodgers win series 3-1.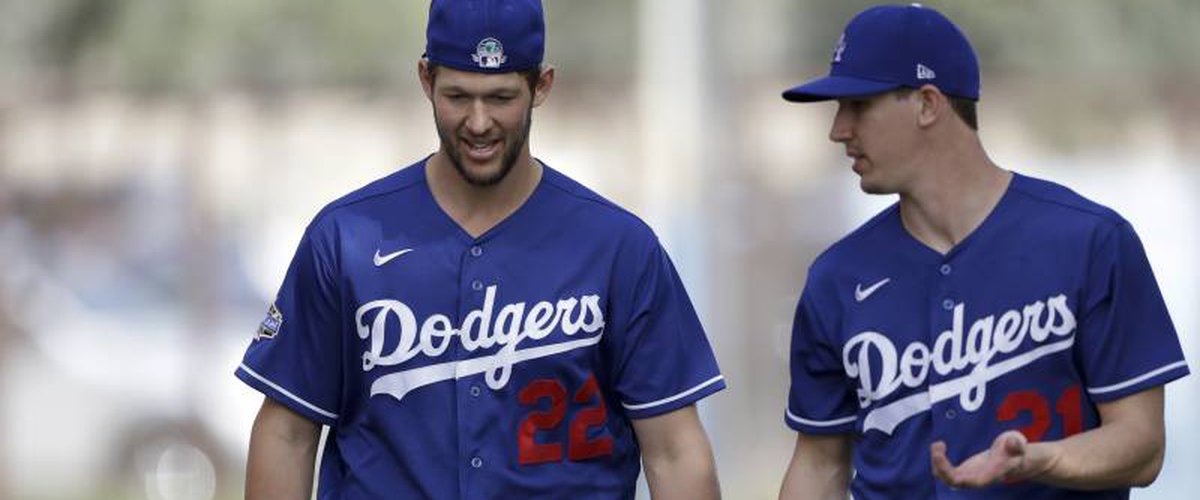 Photo by: Gregory Bull-Associated Press
-It would stink to see the Braves exit in the NLDS for the third straight year, but the Dodgers have a better lineup than the Braves, a better rotation than the Braves, and maybe even a better bullpen than the Braves. It's not going to be an easy task for anyone to take the Dodgers out this year, I don't think the Braves will be up to the challenge.
(2) St. Louis Cardinals vs. (3) Washington Nationals // Nationals win series 3-2.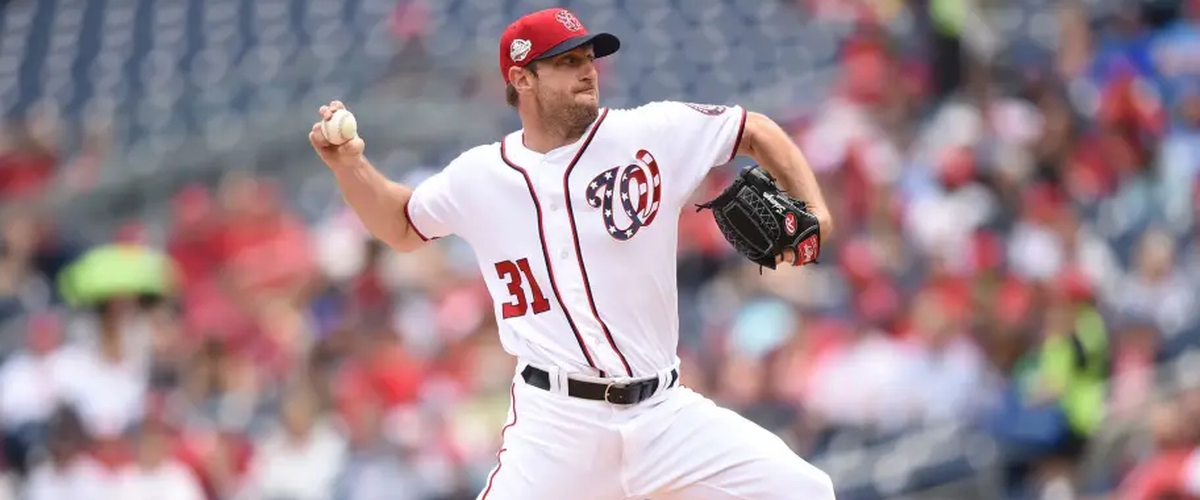 Photo by: Mitchell Layton-Getty Images
-The Nationals swept the Cardinals in last years NLCS on their way to a World Series title. This year they meet in the NLDS and the series will be much tighter. If this series comes down to five games, the Nationals would likely be sending Max Scherzer or Stephen Strausburg to the mound, and those two are better than any pitcher the Cardinals have. Give me the defending World Series champions in the NLDS.
-American League
(1) Houston Astros vs. (4) Tampa Bay Rays // Rays win series 3-2.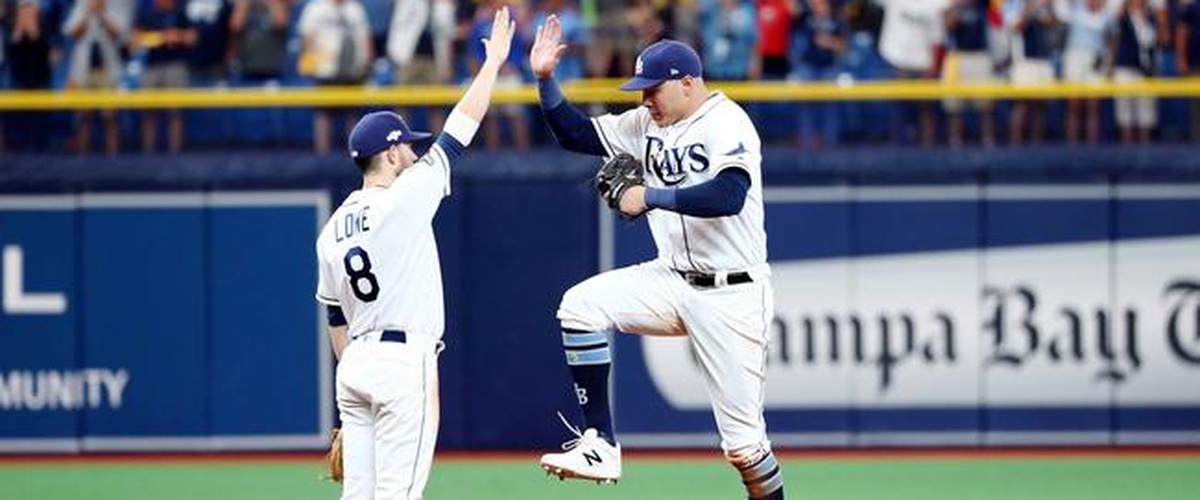 Photo by: Kim Klement-USA Today Sports
-In last year's NLDS the Astros and Rays went to a game 5 and this year they'll do the same. This time it won't be the Astros claiming game five though, it'll be the Rays. The Rays already had the pitching, but they upgraded their lineup this offseason for a series just like this. Much to the delight of many baseball fans, the Astros are eliminated in the ALDS.
(2) New York Yankees vs. (3) Minnesota Twins // Yankees win series 3-1.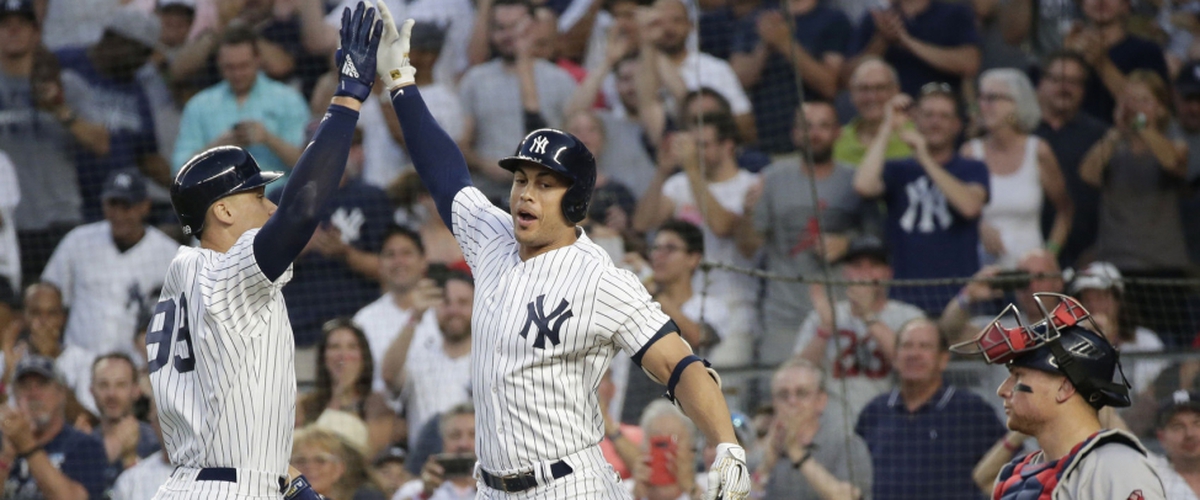 Photo by: John Angelillo-UPI
-These two teams met in last year's ALDS and the Yankees pulled off a quick three game sweep, things won't be too much different this year either. These teams lineups matchup well, but the Yankees have the better rotation and bullpen. I'm concerned the Twins pitching will not be enough to keep the Yankees from moving on to the ALCS.
*Championship Series
-National League
(1) Los Angeles Dodgers vs. (3) Washington Nationals // Dodgers win series 4-2.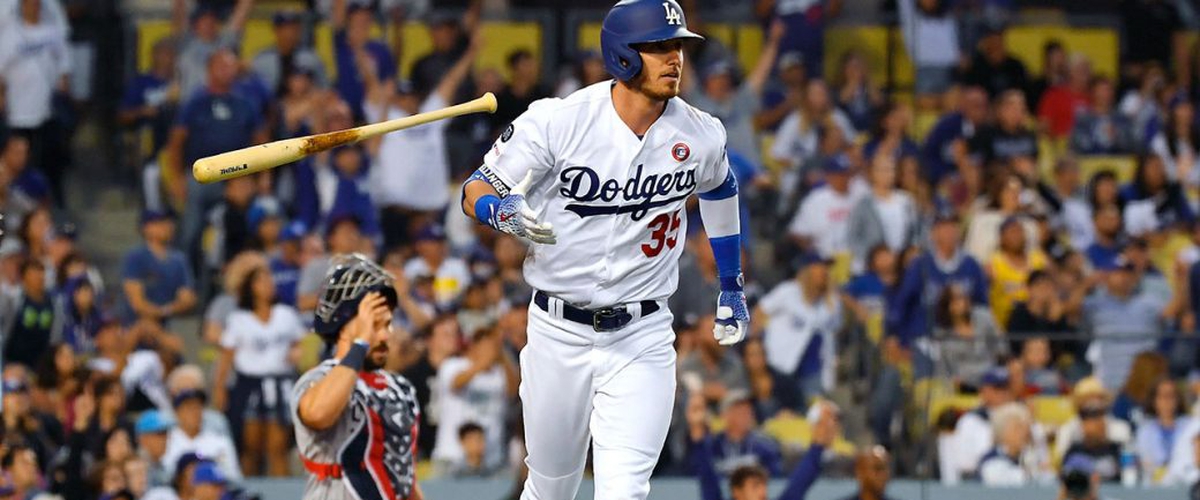 Photo by: Mark J. Terrill-Associated Press
-If there's any team in the National League capable of eliminating the Dodgers it's the Nationals, I mean they did do it just a year ago. Now I think the Dodgers are just too good to be stopped by purely good pitching. The Nationals certainly won't go down without a fight, but I think the National League is the Dodgers to lose at this point. The Dodgers will advance to the World Series for the third time in four years.
-American League
(2) New York Yankees vs. (4) Tampa Bay Rays // Yankees win series 4-2.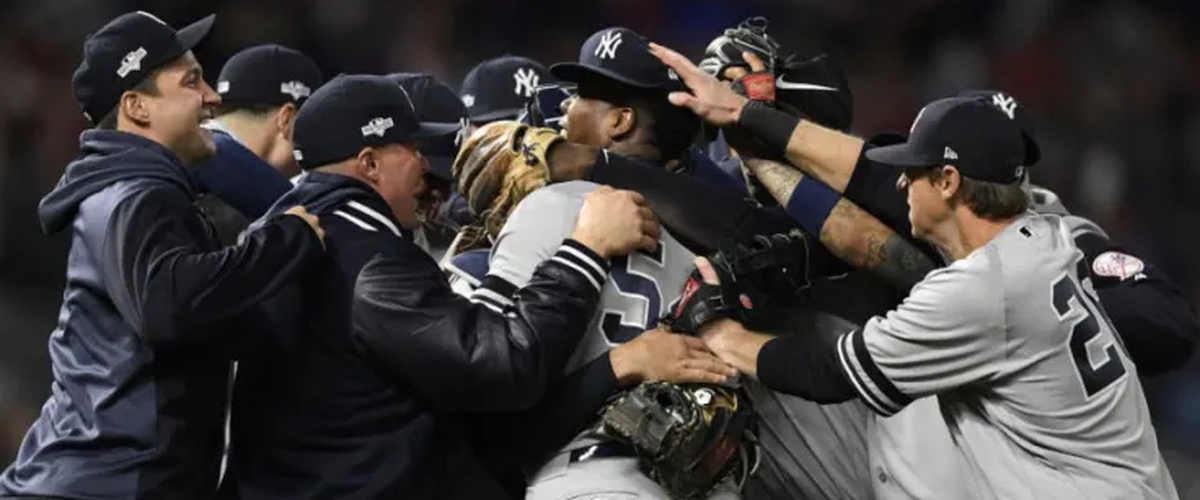 Photo by: Hannah Foslien-Getty Images
-These teams are no strangers to each other, they'll face-off ten times this season before this series even happens. I think these teams matchup pretty well too, both teams have a good rotation and bullpen, but the Yankees offense is still substantially better than the Rays offense. The Yankees will win this series between division foes in six games and advance to the World Series.
*World Series
Los Angeles Dodgers vs. New York Yankees // Dodgers win series 4-2.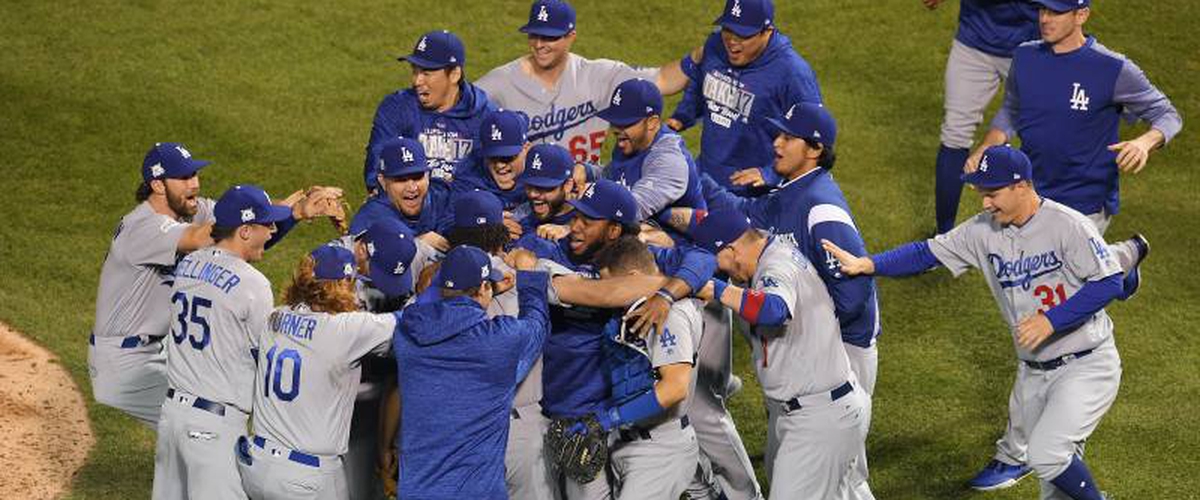 Photo by: Dylan Buell-Getty Images
-You've got to feel for the Dodgers a little, they lost the World Series in 2017 to the Astros who were proved to be cheating at the time, and then followed that up by losing the World Series in 2018 too. I don't think we'll be talking about them losing three World Series in four years though. This Dodgers team on paper is probably the best in the league and the Yankees are probably second best, so this World Series matchup is probably not uncommonly predicted. The Dodgers do have a slightly better rotation than the Yankees and there's not much separation on any other parts of their rosters. After acquiring and extending superstar Mookie Betts, 2020 just feels like it belongs to the Dodgers. The Dodgers claim a World Series title in one of the oddest seasons in MLB History!