Ranking All of the New Head Coaching Hires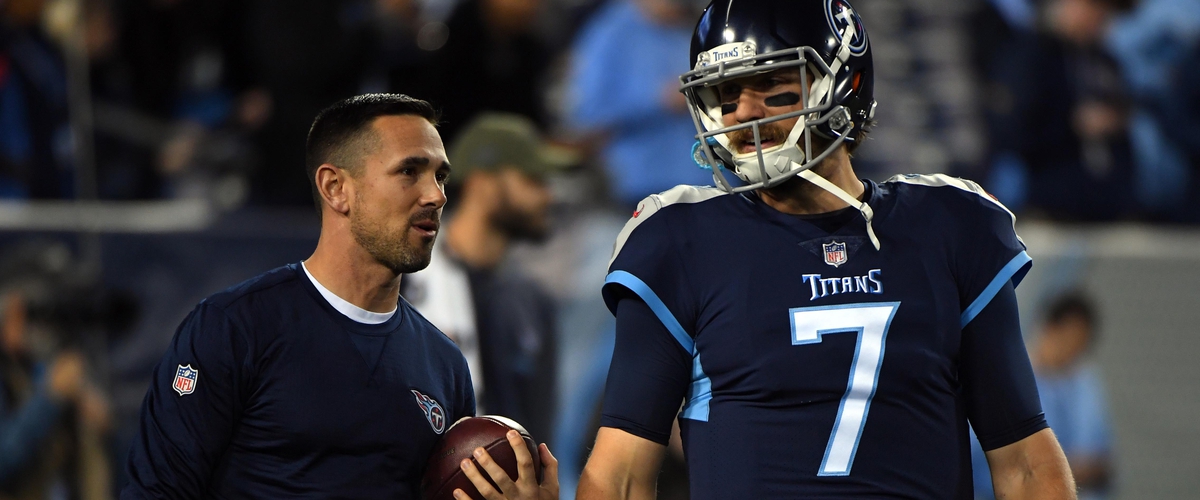 1) Matt LaFleur, Green Bay Packers.
-Not too often the first hire ends up being the best one, but I think that might just be the case here. LaFleur was seen as a bad hire to some because he was the Offensive coordinator of a below-average Titans offense last year. What those people don't realize is that LaFleur was the Offensive coordinator of a 2017 Rams squad that lead the NFL in scoring, and the Falcons QB coach in 2016 when Matt Ryan went on to have an MVP campaign. This shows me that LaFleur is not only capable of helping lead one of the NFL's best offenses, but is also capable of getting the most out of the NFL's best QB's. This is the perfect hire for Aaron Rodgers, who the Packers will need to play at an MVP caliber level if they want to make the Playoffs in 2019.
2) Bruce Arians, Tampa Bay Buccaneers.
-Just three short years ago Bruce Arians coached the Arizona Cardinals to a 13-3 record, NFC West title, First-round bye, and an NFC Championship game appearance. Now, after taking the 2018 season off from coaching he's back to coach the Tampa Bay Buccaneers. There couldn't have been a better time for the Buccaneers to land Arians. Arians helped resurrect Carson Palmer's career in Arizona, getting him to a near MVP level. The Buccaneers will need Arians to help resurrect fifth-year Quarterback Jameis Winston's career now. A lot of the Buccaneers success in 2019 rides on how well Winston performs. I think he'll perform well under Arians and will get a nice extension after the season. Even if Winston doesn't progress, Arians hire looks to be a sign of good things to come for the Tampa Bay Buccaneers in the coming years.
3) Vic Fangio, Denver Broncos.
-Vic Fangio finally gets his chance to be a Head coach at the age of 60, and after 32 years of NFL coaching experience on various teams. If you're a true football fan you can't help but feel good for Fangio. Vic Fangio was the Defensive coordinator of a Chicago Bears team who was top 5 in the league in 2018. When the Broncos are at their best their defense is the focal point of their team, and with the hire of Fangio their defense should improve. This is maybe the only team where hiring a defensive-minded coach made the most sense. The Broncos have the outline of a good defense, it's just a matter of filling in the holes at Middle Linebacker and finding one or two more quality Cornerbacks.
Leave it to the front office to draft the proper pieces to fix the offense, Fangio will get the defense back to a Playoff level. I wouldn't exactly fear the Broncos in 2019, but in 2020 or 2021 I expect to see the Broncos back in the Playoffs.
4) Freddie Kitchens, Cleveland Browns.
-I would put Kitchens hire higher on the list if I didn't feel like any halfway decent coach could get the Browns to the Playoffs in 2019. Kitchens was instrumental in the 2018 development of rookie Quarterback Baker Mayfield, and it makes sense to keep him around for Baker's sake alone. Now, I know I'm supposed to be purely looking at the Head coaching hires alone but I can't ignore the staff Kitchens has put around him. Todd Monken at Offensive coordinator, and Steve Wilks at Defensive coordinator... Whew, that's an impressive staff right there. I'd go as far as to say you could argue that the Browns now have the most well-rounded coaching staff in the entire NFL. With the incredible depth of young talent on the Browns roster and now a great coaching staff in place, the Browns are setup for success in 2019 and many years going forward. This team's inevitably only going to get better so long as Kitchens can just hold the team together, that's my main reason for putting Kitchens at four and not higher.
5) Zac Taylor, Cincinnati Bengals.
-Taylor was this Offseasons NFL's youngest Head coaching hirecoaching hire at 35-years old. Being number 5 on the list doesn't seems so great, but I was a fan of nearly all of the Head coaching hires this year. Taylor has been coaching for the last 10 years in both the college and NFL ranks, including a 2016 stop as Offensive coordinator at the University of Cincincinnati. While that one year stop with UC doesn't sit so well with some Bengals fans, it really shouldn't be of concern. Taylor's done fantastic work in the NFL. He was the Quarterbacks coach in Miami for the best years of Ryan Tannehill's career (2013-2015), and as the Rams Quarterbacks coach this season he's helped in continuing the progression of Rams QB Jared Goff. So let's disregard Taylor's stint at UC, because the Bengals are not a College Football team...They don't run a college system, they have more talent than a college team, and Taylor's shown to be more than capable of coaching well in the NFL level. What's unclear is whether the Bengals will let Taylor coach a new QB of his choice via the 2019 draft, or try to see if Taylor can coach Bengals Quarterback Andy Dalton to new heights. My bet is on the latter. Regardless, at 35-years old there's a lot of long-term upside to hiring Taylor. Not only am I a fan of this hire, but I'm a Bengals fan, making this hire just a little bit better to me.
T-6) Brian Flores, Miami Dolphins.
-Flores is well respected in the NFL with the work he did in New England, not only as the Patriots Linebackers coach but for also practically functioning as the team's Defensive coordinator this last season. I was pretty shocked Flores wasn't offered a Head coaching job prior to the 2018 season, but it's nice to see him getting his shot now. It's even nicer to see him get a chance to prove himself in the same division as the team he's spent the last 14 seasons on the coaching staff with (New England Patriots). Obviously the main goal for Flores and the Dolphins is to dethrone a Patriots team who has won the AFC East title for the last 10 seasons. This is likely going to be way too hard of a task for the Dolphins to accomplish in 2019. Especially when there are rumors circulating that the Dolphins want to land one of the top Quarterbacks in the 2020 Draft, meaning they'd either have to tank or trade up. My only question with this hiring is why the Dolphins are bringing in a defensive-minded coach, when they're planning on drafting a new Quarterback in 2020? This may not actually mean anything for the Dolphins next QB's success. I like this hire, because not only is Flores a well respected coach in the league, but Flores is also only 37-years old so there's still plenty of long-term upside to this hire.
T-6) Kliff Kingsbury, Arizona Cardinals.
-This is the coaching hire that I think would rank last on a lot of people's lists. I'll cut the hire some slack and move it into a tie for 6th place with the Dolphins hiring of Brian Flores. Kingsbury's biggest piece of criticism is not only that he was brought straight from the College level to the NFL, but he didn't even have a winning record as the Head coach of Texas Tech. What he did do in Texas Tech was give play a pivotal role in the development of now young NFL stars Patrick Mahomes and Baker Mayfield. He also was the Texas A&M Offensive coordinator in 2012 the year that Texas A&M's then Freshman QB Johnny Manziel won the Heisman Trophy. Of course Manziel didn't pan out in the NFL, unlike Mahomes and Mayfield have so far. The success of Mahomes and Mayfield at the next level have made NFL teams look at Kingsbury as a potential QB guru. The team who felt they most needed a potential Quarteback guru's help? The Arizona Cardinals. It's no secret that in 2018 Josh Rosen may have performed the worst out of the five first round QB's from his draft class. That reason alone at least explains the thinking behind the Cardinals firing first-year Head coach Steve Wilks in favor of Kingsbury. Was it a good move? I'm not sure we'll find out until 2 or 3 years down the road. If Rosen progresses than I'd say yes, if he regresses than it's a no. Outside of Rosen the Cardinals still have a lot of holes on their roster, which would explain why they're picking no.1 in this year's Draft. What they also have though, is a ton of cap space to potentially lure in a big name free agent or maybe even two. I like the Kingsbury hire, but I don't love it. There's not too many years where a 39-year old Kingsbury would be the third youngest hire, but youth at the Head coaching has become a bigger deal to NFL team's in the last few years. Just like Taylor and Flores, there's a lot on long-term upside to hiring Kingsbury.
8) Adam Gase, New York Jets.
-Finally, to the one Head coaching hire I didn't like to any degree. Gase to me is an Offensive coordinator who keeps getting opportunities to be a Head coach. After three seasons and a 23-25 record as the Miami Dolphins Head coach, Gase is now the New York Jets Head coach. Odd how the AFC East just keeps trading coaches and assistants between each other..When Gase was brought into Miami he was coming off a 2015 season where as the Offensive coordinator Chicago Bears he helped Bears Quarterback Jay Cutler reach a career high in QBR. At the time that hire made since, the Dolphins expected Gase to take Ryan Tannehill to the next level. While Tannehill never did Gase any favors by missing the end of the 2016 season and all of the 2017 season, Tannehill never took the next step under Gase. So why exactly do the Jets expect rookie Quarterback Sam Darnold to take the next step under Gase? I'm not sure. Gase's best job coaching up a QB to new heights was with a 10 year veteran, not a Quarterback going into his second NFL season. Maybe Gase is a QB guru, but just not to young QB's. I just have a gut feeling that the Jets messed up this hire, and will have to begin another Head coaching search in the next 2-3 years. For their sake hopefully I'm wrong and Sam Darnold progresses well, but if that doesn't happen I can say I called it. It's an odd choice to me, take in a coach who just guided one of your Division foes to a losing record over the last 3 seasons and expect it to go better for you. Good luck Jets, prove me wrong!