First around Winners and Losers from 2017 NFL Draft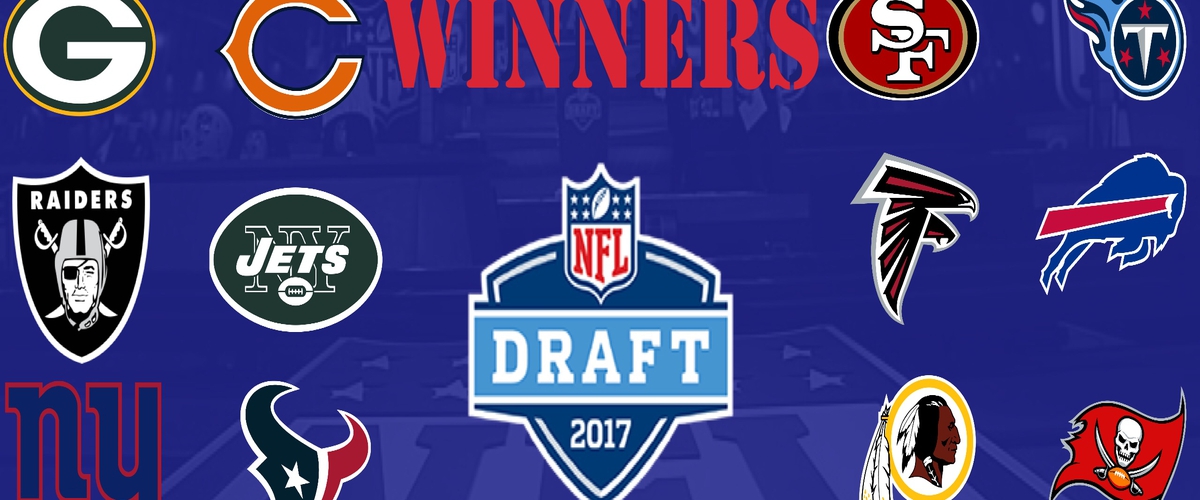 The first round has passed and it was
entertaining to say the least. Seven trades happened last night that saw a couple of teams move up over 13 spots to grab a QB. Three WRs went in the first nine selections. That's just a sample size of the craziness that was the first round of the 2017 NFL Draft. You always have winners and losers, right? Let's take a look at which teams are candidates for those designations.
Winners
San Francisco 49ers
Rookie General Manager, John Lynch, was busy in his first ever NFL Draft. The 49ers pulled of a robbery...excuse me, they pulled off a trade with Chicago early on. The Bears moved up just one spot, from three overall to the second spot. Lynch was able to capitalize and gain two extra picks in this years draft (3rd and 4th round) and a third round pick in next years draft.
San Francisco selected the terrorizing DE from Stanford, Solomon Thomas, with the third overall pick. Thomas will be the finishing piece to the 49ers defensive line. Adding him to the same corps as Arik Armstead and DeForest Buckner will deprive opposing QBs of sleep the night before games.
The 49ers weren't done there. After Seattle traded traded back from 26 to 31 with Atlanta, San Francisco felt the need to move up three spots to get their man. Lynch and company shipped off their second and fourth round pick in this years draft to Seattle for the 31st overall selection. Within minutes, the pick was in, and the 49ers took Reuben Foster, LB out of Alabama.
Once thought of as a Top-5 pick in this years draft, Foster fell down the board due to off the field issues. The addition of Foster to a LB corps that already houses NaVorro Bowman and Ahmad Brooks could make this one of the best in the league.
Cleveland Browns
They didn't reach! Yes you read that right, the Cleveland Browns did not reach in this years draft. With their first selection, the Browns to the inevitable player, Myles Garrett. At Texas A&M, Garrett was able to get ample amounts of pressure on opposing QBs. The best pure rusher in this years draft, Garrett immediately boosts the Browns defensive line.
One reason Cleveland didn't reach, maybe, is because their target at the QB position was taken with the very next pick. The Browns had two picks in this years draft from the beginning. Sitting at 12, and their initial QB prospect off the board, Cleveland needed a lot to go right if one of the others were going to fall to them. That didn't happen though. Kansas City traded up with Buffalo to take Patrick Mahomes. The Browns actually traded back from 12 to 25 with Houston where the Texans grabbed Deshaun Watson.
With the trade Cleveland pulled off with Houston, they were able to gain Houston's first round pick in 2018 as well. Moving back to 25, the Browns selected the versatile Jabrill Peppers out of Michigan. Peppers can play both safety and linebacker. Somewhat of a Su'a Cravens type with the Redskins.
Cleveland wasn't done their though. The Browns traded up from 33 overall to 29 overall with Green Bay. With that selection, Cleveland took David Njoku, TE from Miami (FL). A major weapon after losing Terrell Pryor via free agency, Njoku should help spread the field.
Washington Redskins
It was no secret that the focus for Washington this offseason was to find players that can get pressure on opposing QBs. They were able to tackle that with the selection of DT, Jonathan Allen. Like his teammate Reuben Foster, Allen was was a highly touted prospect entering the NFL Draft, but slipped a little.
Allen is a very versatile defensive lineman. He can play at DT or DE which will allow Washington to move him around to maximize the matchup they face.
Losers
Chicago Bears
*insert face palm here* The Chicago Bears gave up three draft picks to move up just one spot. Many believed they were trading up to possibly take one of the best safety prospects, Jamal Adams, but that ended up being the furthest from the truth.
Chicago took QB Mitchell Trubisky with the second overall pick. A team with many needs, gave up a kings ransom to move up one spot, and take a position that they don't need.
Jay Cutler is no longer a Bear, but Chicago did go out this offseason and sign former Buccaneers QB, Mike Glennon, to a 3-year, $45M deal. That's a lot of money to dish out for a QB that now you may think isn't your future. The selection of Trubisky basically contradicts what they did with the signing of Glennon.
The Bears had many avenues they could've gone when it came to their selection, even if San Francisco had not traded their pick. This is a move that could put Chicago in the hold for the next decade.
Houston Texans
Let me first off say I like the pick of Deshaun Watson. The cat wasn't let out of the bag when someone said the Texans needed a QB. They were able to get their guy, but it came with a price. As stated earlier, Houston traded up from 25 to 12 with Cleveland so they could draft Watson.
The reason I have them as a loser is because if everything that went with this process. A year ago, the Texans signed Brock Osweiler with the thoughts of him being their Franchise QB. Osweiler was given a 4-year, $72M by Houston, but that lasted only a year. This offseason, the Texans traded Osweiler AND a 2018 second round pick to Cleveland for a 2017 fourth round pick. Houston swallowed their pride and admitted that they made a mistake with that contract.
Fast forward to last night, and the two teams work together again. This time, Houston trades up 13 spots with Cleveland and they give away their first round pick in 2018. For those keeping count at home, the Browns have the Texans first and second round picks in 2018.
In total to ultimately draft Watson, Houston paid out $21M and traded their first two round selections in next years draft.