CSC Preseason Top 25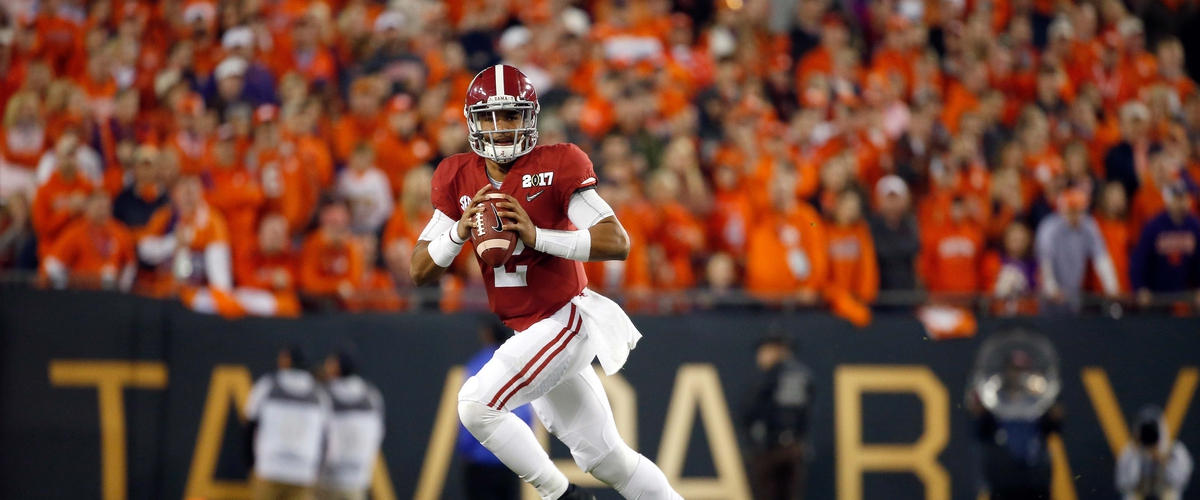 College football is so close you can smell it. In fact, the season kicks off on Saturday and if you aren't excited I don't want you reading this. While everyone in the CFB world knows that preseason rankings don't matter, its always fun to give it a shot at ranking the teams.
1. Alabama (AP #1: Alabama)
For the second year in a row the Tide tops my preseason rankings. However before you think about Saban raising another national championship trophy, Alabama has never won a national title in a year they were the preseason number one. But with a backfield duo like Jalen Hurts and Bo Scarbrough, with Calvin Ridley at WR, and a dominant as always defense the Tide should yet again cruise through the SEC. The Tide face #3 FSU to open the season, their toughest test of the year and biggest opening weekend game ever.
2. Ohio State (AP #2: Ohio State)
Ohio State is coming off a Playoff appearance, albeit disappointing, but they should be back in the hunt. They bring back potential Heisman candidate JT Barrett, leading rusher Mike Weber, along with 80 career starts on the O-Line. They bring back 7 starters from a very good defense, but only return 1 of 4 DBs. DBs and WRs are my biggest question mark for OSU as Urban Meyer loses 63% of his recieving yards from last season
3. Florida State (AP #3: Florida State)
Florida State has Deondre Francois an incredible QB, thats a huge plus, but it comes with a huge negative. Florida State only brings back 57 starts on the O-Line, and loses their top 2 linemen from a line that allowed 36 sacks last year. After Francois the Noles don't have much QB depth, keeping him standing is the key to their success, especially against Alabama. On the other side of the ball the Noles will be dominant, as they bring back 9 starters from last years defense, and Derwin James who in my opinion is the best player in the nation.
4. USC (AP #4: USC)
USC may finally be back to the powerhouse we all know them as. Sam Darnold is a projected top 3 pick after breaking out in a huge way last year. They bring back a thousand yard rusher in Ronald Jones. They have 73 career starts returning to block for them, and have young talent at receiver. They bring back 2nd team all Pac 12 linebacker Cameron Smith and 6 other starters from last years defense. The Trojans have to travel to Notre Dame but draw Texas, Stanford, and UCLA at home all while avoiding Washington.
5. Penn State (AP #5: Clemson)
Penn State brings back 15 starters from a B1G Championship team that, in my opinion, should have been in the Playoff. They bring back breakout QB Trace McSorely, RB Saquon Barkley who will become the schools all time leading rusher if he replicates his 2016 season, and despite losing their leading receiver they bring back all but one player who made a catch last year. They lose a bit more on defense but return their leading tackler Marcus Allen. I really like the Nittany Lions chances to repeat as B1G champions
6. Washington (AP #6 Penn State)
Washington has so much talent coming back I don't know where to start. Jake Browning had an unreal season last year, Myles Gaskin has had back to back thousand yard seasons and even though they lose John Ross, I think Dante Pettis can easily replace his production. The secondary takes a bit of a hit losing Budda Baker and Kevin King, but Taylor Rapp and his 4 INTs are back along with 4 of the 5 leading tacklers from last years CFP run. I really think they can be unbeaten when the reach the Pac 12 title game, and have a legit shot to make the CFP again.
7. Clemson (AP #7: Oklahoma)
Clemson loses a LOT on offense. Deshaun Watson, Wayne Gallman, Mike Williams, Jordan Leggett, and Artavis Scott are all gone. They bring back 4/5 linemen (83 starts), and WRs Deon Cain and Hunter Renfrow. A dominant defensive line will carry the Tigers as Dexter Lawrence, Clelin Ferrell, and Christian Wilkins are all back along with the #2 and #3 tacklers from last year LB Kendall Joseph and FS Van Smith. Finally, I really like what newly named starting QB Kelly Bryant brings to the table and we should yet again see the Tigers in contention in the Atlantic.
8. Oklahoma (AP #8: Washington)
OU doesn't have to replace much, but what they do have to replace will be difficult to do. Most importantly Head Coach Bob Stoops retired over the offseason, leaving new coach Lincoln Riley in charge. The Sooners also lose WR Dede Westbrook, Joe Mixon, and Semaje Perine. But they do bring back explosive QB Baker Mayfield, who has his entire starting O-Line from last season to protect him. They bring back a pretty good defense, but we know offense is what matters in the Big 12. I don't really feel confident saying OU is a playoff contender but I'm fairly sure they'll be in an NY6 bowl
9. Oklahoma State (AP #9: Wisconsin)
I can't describe how much I love this Cowboys team. Mason Rudolph is already #2 in school history in terms of passing yards and will easily pass the #1 mark by week 3. James Washington is in my opinion the best WR in the nation, and this group of receivers is the best group in the nation. RB Justice Hill is explosive out of the backfield, posting a thousand yard season in his freshman year. The O-Line has 95 career starts between them. Defense is kind of spotty but there's no doubt the guys that are returning can get to the QB. I'll say it right now; OSU will run the table, win the new Big 12 title game, and we'll see Mike Gundy's glorious mullet in the College Football Playoff
10. Wisconsin (AP #10: Oklahoma State)
I don't know if I really love this Wisconsin team, but I do know they draw a relatively easy schedule. The Badgers face Northwestern and Michigan at home and avoid Ohio State and Penn State out of the East. The defense will be as strong as always and they bring back their two leading receivers but I don't think I trust Alex Hornibrook to get them the ball. The lack of established rushing frightens me especially for a team that likes to play a powerful style. Overall I'm not quite sure I see them even escaping the West division
11. Michigan (AP #11: Michigan)
Michigan only returns 5 total starters, but they return 55 lettermen and lots of talented freshmen. Wilton Speight is back along with a couple O-Linemen. I'm really intrigued by the young talent the Wolverines will be forced to play this year like former #1 ranked recruit Rashan Gary (DL) and two true freshman WRs who are expected to start in Tarik Black and Donovan Peoples-Jones. Michigan should be a pretty good team, but I see this as a bridge year to develop the talent and get them experienced for next year's season where they shuld contend for the Playoff.
12. LSU (AP #12: Auburn)
When you think about LSU football in 2017 there's one name that matters; Derrius Guice. Guice rushed for nearly 1400 yards last year all while playing second fiddle to Leonard Fournette but now as the feature back Guice could have one of the best seasons ever in my opinion. Danny Etling was LSU's better QB last year and will be starting for the Tigers this year. LSU loses a lot on defense but with SEC talent and Coach O at the helm, the Tigers should be lockdown on D yet again
13. Georgia (AP #13: LSU)
The Bulldogs bring back 17 starters from Kirby Smart's first year as a head coach. Jacob Eason, Nick Chubb, and Sony Michel are all back, along with a majority of their receiving yards from last year. The scariest thing is that a defense coached by Kirby Smart that was ranked 16th in total defense last year brings back 10 starters. I legitimately see Georgia going on an SEC East Title run this year.
14. Stanford (AP #14: Stanford)
Stanford sneakily went 10-3 last year despite not being ranked for most of the year. They bring back 16 starters from that team including both of their QBs who played last year, but I expect Keller Chryst to start. The main focus point, whoever, is that they have to replace Christian McCaffery. But that may not be difficult as his replacement Bryce Love is as good as a replacement can be, rushing for 783 yards last year. I don't think Stanford can contend with Washington but they should be pretty good as always.
15. Auburn (AP #15: Georgia)
Auburn brought in Baylor transfer QB Jarrett Stidham after a few years of QB struggles and he makes them a legit threat to Alabama's reign as SEC West Champs. They bring back 2 RBs who combined for 2000 yards last year in Kamryn Pettway and Kerryon Johnson. On defense the 3 leading tacklers are back, along with 3 guys who each had 2 INTs. If they can top Clemson early in the year we could see Auburn in Playoff contention quickly.
16. Florida (AP #16: Louisville)
Florida, like Auburn, brought in a highly touted transfer QB to a bad QB situation as they grabbed Malik Zaire from Notre Dame. They already bring back tons of talent on offense like RB Jordan Scarlett and WR Antonio Callaway. However, the Gators open up with Michigan without Callway, who is perhaps their best player. They still have the talent but a loss early without him could derail their Playoff darkhorse hopes.
17. Louisville (AP #17: Florida)
Louisville loses a lot of talent from their surprising 2016 season, but the biggest name in college football is back as Heisman winner and preseason 2nd team All American Lamar Jackson is back to hopefully add to his phenomenal highlight reel. On defense they return their whole secondary, including last years team leader in INTs Jaire Alexander. I'm not quite sure the talent around Lamar is enough for the cardinals to repat last year where they spent 8 straight weeks in the top 10.
18. South Florida (AP #18: Miami)
USF lost head coach Willie Taggart to Oregon last year, but made an outstanding hire when they brought Charlie Strong back to his old conference. With Strong at the helm we could see stud QB Quinton Flowers have a dominant season. The Bulls lost RB Marlon Mack but Flowers was still their leading rusher last year. With guys like Auggie Sanchez on defense we could very well see the Bulls run the table straight into a New Years bowl game
19. Miami (AP #19: USF)
Miami brings back 15 starters from Mark Richt's first year at the U, but sadly for Hurricane fans the school's all time leading passer Brad Kaaya is not one of them. But, Malik Rosier has all the tools to be a strong replacement. Despite losing Kaaya, thousand yard rusher Mark Walton has the talent to put the offense on his back and get his strong defense a lead. In, a weak Coastal division, we could easily see the Canes in a title game
20. Kansas State (AP #20: Kansas State)
The Wildcats bring back 14 starters from a team that quietly went 9-4 with a bowl win vs Texas A&M. QB Jesse Ertz wasn't outstanding through the air last year, but was the teams leading rusher. Ertz and a tough Bill Snyder defense should lead to another solid season in Manhattan.
21. Texas (AP #21: Virginia Tech)
After a 5-7 season last year Charlie Strong was swiftly kicked out of Austin and replaced by Tom Herman. Herman brings back 17 starters including young QB Shane Buechele (who we thought was bringing Texas back to the national spotlight after the Notre Dame game). Buechele has a world of talent but will likely struggle without 2000 yard rusher D'Onta Foreman. However, the Longhorns defense brings back 10 starters and should be one of the best in the conference
22. Virginia Tech (AP #22: West Virginia)
Virginia Tech loses starting QB and leading rusher Jerod Evans from their 2016 Coastal champion team. However talented redshirt freshman Joshua Jackson will likely be handed the keys to the castle for VaTech. This will probably be a down year following the surprising 10-4 season in Justin Fuente's first season. This will be used as a developing year for the Hokies to contend for the ACC next year.
23. TCU (AP #23: Texas)
TCU had a bad season last year, but they bring back 10 starters on offense, and in the Big 12 offense is what wins titles. Kenny Hill had a sneaky good year last season and is joined in the backfield by thousand yard rusher Kyle Hicks, and Hill will be throwing to receivers that totaled 3,367 yards combined last year. Pair that with a defense that returns two 120 tackle players and all of their INTs the Horned Frogs could be legit in 2017
24. Oregon (AP #24: Washington State)
The Ducks have tons of talent for Willie Taggart to put to use in his first year in Eugene. The Ducks bring back their four leading rushers, led by Royce Freeman, a talented young QB Justin Herbert, and an outstanding line to block for them. On defense the Ducks bring back four of their leading tacklers and should have a bounce back season.
25. Tennessee (AP #25: Tennessee)
The champions of life bring back a lot of talented players like RB John Kelly, but lose a lot such as Alvin Kamara, Josh Dobbs, and Jalen Hurd. The defense brings back a lot of tackles, but loses Derek Barnett. With talented guys and a pretty easy schedule, the Vols could sneak their way to a big time bowl game.