Team Previews: #48, Toledo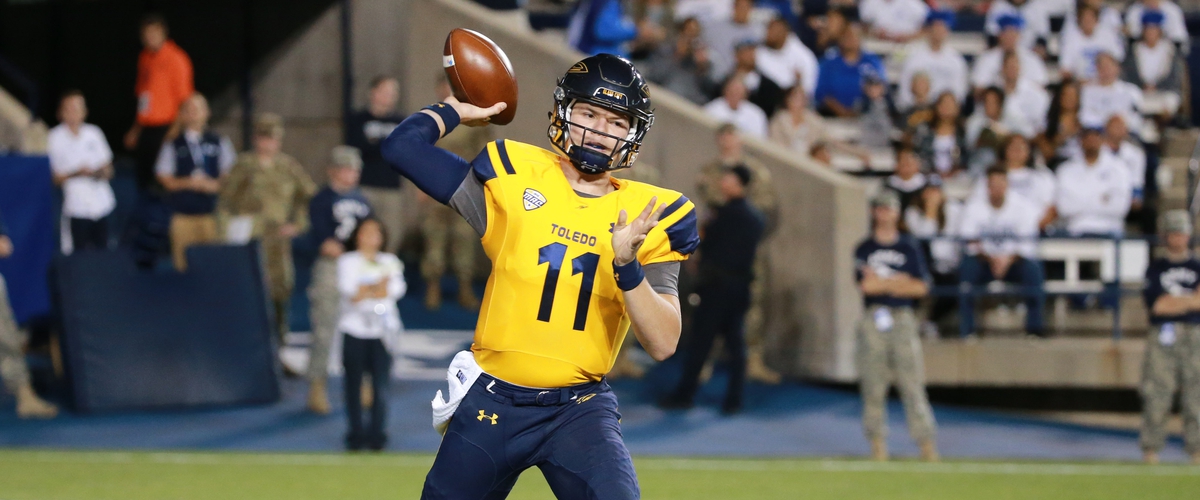 Welcome to the 2017 CollegeSportsCoverage Top 50 preview. Every other day we preview a new team in my top 50 rankings. Todays team is:
The Toledo Rockets
Conference
MAC (West)
2016 Record
9-4 (Lost Camelia Bowl)
Head Coach
Jason Candle (9-4, entering 2nd year)
Coordinators
OC- Brian Wright
DC- Brian George
Players Lost
RB Kareem Hunt
WR Corey Jones
TE Michael Roberts
Key Players
QB Logan Woodside
WR Cody Thompson
RB Terry Swanson
CB Trevon Mathis
Recruiting
National Rank: 79
MAC Rank: 1
Top Recruits
OL Kedonis Haslem
OLB Tadarrius Patterson
DT Tyrone Chambers
TE Drew Rosi
2016 Recap
The problem for the Rockets last year was very clear. It was the defense. In Toledo's four losses the offense averaged 8.8, 7.5, 8.4, and 6.9 yards per play. The team was lead heavily by running back Kareem Hunt, but with Hunt now out of the picture QB Logan Woodside and RB Terry Swanson need to step up. Fortunately for Jason Candle, Logan Woodside posted a passer rating of 183.3 in his first year, which was second in the FBS. Alongside him in the backfield, Swanson has rushed for 2,238 yards and 17 TDs in 3 seasons. On the other side of the ball, there are questions at the safety positions, but DC Brian George is loaded with talent at corner and in the front seven. With a much weaker schedule than last year, we might just see Toledo in a New Year's 6 Bowl.
Schedule
Aug. 31: Elon
Sep. 9: at Nevada
Sep. 16: Tulsa
Sep. 23: at Miami (FL)
Oct. 7: Eastern Michigan
Oct. 14: at Central Michigan
Oct. 21: Akron
Oct. 26: at Ball State
Nov. 2: Northern Illinois
Nov. 8: at Ohio
Nov. 15: at Bowling Green
Nov. 24: Western Michigan
Record Projection
W
W
W
L
W
W
W
W
W
W
W
W
(11-1)
MVPs
Logan Woodside
Terry Swanson