Tigers Can't Be Too Cavalier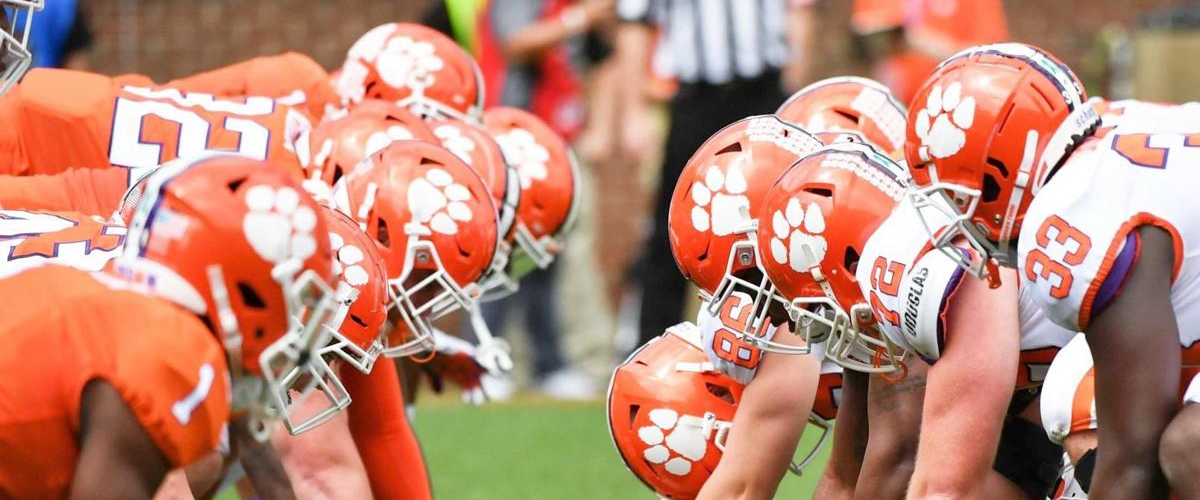 Let's just be honest right off the top, folks! Clemson was a machine in their first two games of the season. My hope is they were able to locate Trevor's helmet since he took it off in the 2nd quarter. This past weekend was an open date which I still think was too early because this means we have to go eight straight. With so many teams dealing with cancelations or postponements, I have a hard time believing the Tigers will get through this part of the schedule without something bizarre happen.
Let's enjoy while we can! This Saturday, the Virginia Cavaliers will come riding into town on their horses while wielding their sabers in a rematch of the 2019 ACC Championship Game. I realize last December seems like two decades ago so allow me to remind you what happened. For those with a weak stomach or a faint heart, please stop reading. Virginia tied the game at 7-7 midway through the first quarter, but that was as good as it got for the Hoos. Clemson lead 31-7 at halftime on their way to their 19th ACC Title (more than any other school) by a final of 62-17. But, that was last year and both teams have several changes so let's talk about 2020.
It was always going to be tough to start a season without one of the greatest QBs in UVA history in Bryce Perkins. Lightening rod Joe Reed has also exited stage left. The first thing people would think is Offensive Coordinator Robert Anae will have to change the way the Hoos play. Slow your roll y'all. Virginia opened their season last Saturday in a victory over Duke and what I saw was the same exact offense just with a different signal caller in Brennan Armstrong. Brennan's numbers are a mixed bag going 24/45 for 269 yards along with 2 TDs but also 2 INTs for a QBR of 48.2. His go to receiver was Billy Kemp IV who snagged 7 passes for 70 yards.
Tailback Wayne Taulapapa, who doubles as a bowling ball in his other life, totted the rock 16 times for 95 yards. He's only 5'9" but 210 lbs and incredibly tough to bring down. The thing I found most interesting is Armstrong had 10 carries for 47 yards so Clemson can't sell out and not account for Brennan. I have concerns about the Tiger secondary considering The Citadel and Wake Forest had opportunities down the field and a better set of receivers will haul those passes in.
What I would do is blitz Armstrong through the A and B gaps (that's over the center and guards for those of y'all who aren't down with the football jargon) to force him outside the pocket which will cut the field in half. The Tiger linebackers are fast enough to run him down and Taulapapa isn't gonna run away from anybody. Virginia will hook up on some long pass plays and will put up points but will it be enough? Advantage Clemson but closer than most think.
Everyone has watched Trevor and Travis continue to slice and dice defenses, almost at will. Boy howdy does Amari Rodgers look great which is fabulous to see! Having said that, the Cavalier defense will be the best unit the Tigers have faced this season by far. Under Head Coach Bronco Mendenhall, the Hoos have been very aggressive defensively sometimes to their own detriment.
Last Saturday vs Duke, Virginia forced 6 turnovers and their run defense was stifling. HOWEVER, I noticed they were very susceptible over the middle with seam routes, post and skinny post patterns. That's great news for Clemson's plethora of talented receivers. The one caveat is those patterns take time to open up so the Tiger offensive line is going to have to give Trevor time. They've done that so far this season so let's see how they handle to exotic blitzes of the Hoos.
The linebacking corp for the Cavs is pretty scary with Zane Zandier and Charles Snowden who's 6'7" 240 lbs but can fly to the football. You'll notice that Defensive Coordinator Nick Howell will move Zandier around, almost Isaiah Simmonsish. Virginia will use Nick Grant and De'Vante Cross to smoother Amari Rodgers so another Tiger receiver will have to step up. I look for Frank Ladsen, Jr. and Joseph Ngata to have big games. If (or when if you're that confident) the 2nd stringers come in for the Tigers, they HAVE to get better. Didn't score a point against The Citadel and you know that didn't sit well with Dabo and Tony. We also know Dabo rotates players like Reba McEntire changes clothes at the old ACM awards. I'm curious when that rotation will begin, however. Advantage Clemson.
B.T. Potter and Will Spiers have been spot on so far this season. For all the heartburn they caused me last season, I have to tip my hat to both of them so far in 2020. Let's hope that great work continues. Virginia counters with PK Brian Delaney and P Nash Griffin. Delaney was All-ACC last season going 20-24 on field goals and 50-52 on PATs. Griffin can boot the football like Clemson golfers teeing off.
He can hang it high or just light into one. His avg last season was 41.9 but his long was 78. He punted 7 times vs Duke for an avg of 43.9 and a long of 54. What this means is Clemson will have to sustain drives because more times than not their field position won't be the greatest. In other words, there won't be many short fields, if any at all. This area is a push.
From 1955 through 1989, Clemson absolutely owned the Cavaliers winning 29 straight including that infamous game in 1966 when Howards Rock made its first appearance. The nationally ranked Cavs led by 18 with only 17 minutes to play. Clemson came back to win 40-35 and the legend was born. Since 1990, however, the series has been a lot more competitive with the Tigers holding a slender 10-8-1 lead.
Here are a few things to keep in mind…of the 8 victories for the Hoos, only 3 were in Death Valley. Virginia hasn't defeated Clemson since 2004 and hasn't won in Death Valley since 2001. Clemson hasn't lost a game in the last 202 Saturdays. Yes, really! Vegas has the line at 28 but the under is 55.5. I'm not so sure about those numbers. Virginia will wield their sabers with confidence but it will be Clemson who will have the sharper edge. See what I did there? ;-). I'm going with Clemson 47 Virginia 20!