Philadelphia 76ers vs Melbourne United: Recap & Analysis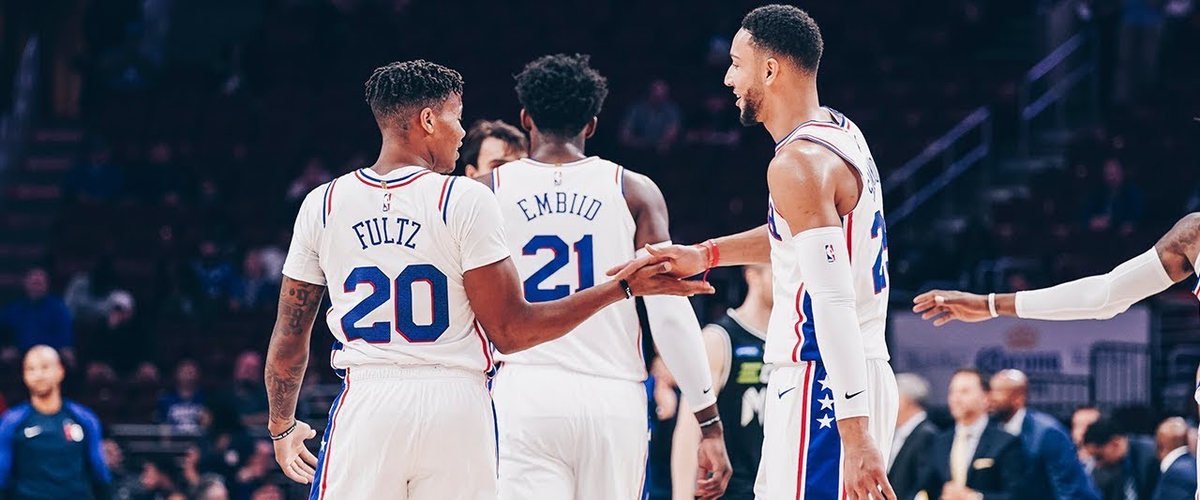 The Philadelphia 76ers tipped off their 2018-19 season Friday night against Melbourne United, an Australian NBL team. While just a preseason contest, Brett Brown and Ben Simmons had to enjoy facing an opponent from where they have professional and personal ties. Brown's coaching career began in 1988 with a cold call to Melbourne Tigers head coach Lindsay Gaze, ultimately leading to an assistant coach job. Simmons was born in Melbourne, while his father Dave played under Brown with the Tigers (now Melbourne United). This family connection is a reason there is a great deal of mutual respect in regards to Brett and Ben's relationship.
Brett Brown gave Markelle Fultz the starting nod over JJ Reddick at the two spot, citing a boost to Fultz's confidence as one of the reasons for this decision. Simmons and Fultz played well off each other in their first action of the season, with Ben finding Markelle on a number of backdoor cuts when the defense collapsed the paint. Fultz's ability to find open space in the half-court when playing with Simmons will prove vital this season, especially if his jump shot isn't back to 100%.
I would like to see Saric come off the bench and lead the second unit as a go-to playmaker. Dario's ability to see the floor and make pinpoint passes are a skill rarely utilized in sets with Simmons and now Fultz on the court. Offseason addition Wilson Chandler didn't see much time in his first action with the team after being ruled out with a hamstring injury in the first half. Chandler, acquired in a trade with the Denver Nuggets, has battled hamstring injuries throughout his career. TJ McConnell didn't enter the game until the 4th quarter, with Jerryd Bayless getting the nod over the Arizona guard. It will be interesting to see how Brett Brown manages the rotation throughout the season, especially if he continues to start Fultz over Reddick.
Markelle Fultz
The story of Markelle Fultz's rookie season was well documented across the NBA. Fultz claims the disappearance of his jump shot was due to a shoulder injury, while skills trainer Drew Hanlen described Fultz's situation as the "yips." Despite the lack of a definitive explanation, it was clear Fultz wasn't anything close to the player we saw during his freshman year at the University of Washington. In a Players' Tribune article published before training camp, Fultz released clips of his improved jump shot while claiming the mechanics are better than what they were in college. While Fultz's jump shot mechanics are definitely improved since his rookie season, I don't agree with the sentiment they're better than at Washington. Similar to his return at the end of last season, Fultz is hesitant to take shots outside 16 feet. If this continues as the season progresses, it will be difficult to play Simmons and Fultz together against the top-tier teams of the NBA.
While there is a lot to improve when it comes to the shot, I thought Fultz showed the court vision and effortless driving ability which made him the top selection in 2017. Fultz has the size and length to make accurate entry passes into the post from the perimeter, while his patented spin move allows for drives to the lane at ease. His crafty play around the rim showed improvement in last night's matchup, but Markelle still needs to improve finishing through contact (not a real surprise for a 20-year old guard). Fultz's ability to play off-ball is overlooked. He has a great feel for the game, shown by his ability to find soft spots in the halfcourt and open lanes for backdoor cuts. At Washington, Fultz was a wizard in the pick and roll due to his ability to hit pull-up jump shots if a defender made the mistake of going under the screen. Now, with Fultz's inability to hit or even shoot above the free throw line extended, defenses are able to shrink the floor and passing lanes. While his confidence showed major improvement, Fultz will have a long road back to full recovery and it's clear he's not there yet.
Ben Simmons & Joel Embiid
The two young superstars for the Sixers showcased their array of skills against a Melbourne United team who were overmatched from the beginning. Simmons and Embiid both had their share of sloppy turnovers, but that's to be expected in their first game of the season against a clearly inferior opponent. Simmons is an absolute wizard with the ball in his hands, finishing with a game-high 14 assists and a +19 point differential. His size allows him to find passing lanes only a select few of players in the league are able to execute. He's also becoming a master of figuring out new ways to find his teammates:
Simmons is known for his size and passing ability, but NBA fans don't understand just how great of a defender he is right now. Ben made that a point of emphasis right from the tip against Melbourne, locking down his opponents on the perimeter and in the post. At 6'10" 250lbs, Simmons is lightning quick for his size and has the ability to guard any position in today's small ball NBA. He's also quick off his feet, often blocking opponents' shots when trying to finish over him at the rim.
Joel Embiid, ranked a top ten NBA player by ESPN, played his easiest game of the season against Melbourne United and it showed. The behemoth big man made his presence known in the post right from the tip, with no Melbourne defender being able to match his size and physicality. In just 23 minutes, Embiid had a quiet 20 points, 10 rebounds, and two blocks. Brett Brown made it a priority to get Embiid the ball on the low block, a strategy Sixers' fans should hope increases compared to last season. Embiid went through the first healthy offseason of his professional career, and the team expects the Kansas product to be the focal point of their half-court offense. If Embiid is to reach his full potential, he must learn to live on the low block. There isn't a player in the league who can stop him that close to the basket.
Next Game: Monday, 10/1 vs Orlando Magic
---