Volunteers Continue to Drown in Sheer Incompetence
Has there ever been a head coaching search this mismanaged? In case you've had your head in the sand for the past week, I'm referring to the crumbling of the Tennessee Volunteer football program.
Let's recap real quick. Butch Jones was fired November 12th after a 50-17 loss to Missouri. The Vols finished 0-8 in the SEC. They were the only team to go winless in the conference. After initial (and delusional) excitement that Jon Gruden would take the job, athletic director John Currie appeared to have a deal complete with Ohio State defensive coordinator Greg Schiano, who is most known for rebuilding Rutgers. But when Tennessee fans got wind of the deal they revolted via social media based on Schiano's time at Penn State during the Jerry Sandusky years, and the deal fell through. Since then a multitude of personalities have elected not to come to Rocky Top (Mike Gundy, David Cutcliffe, Jason Witten, Dave Doeren, etc). After a week of one misfire after another, Tennessee fired Jon Currie today and replaced him with Philip Fulmer, who coached the Vols from 1992-2008. Fulmer was introduced as interim athletic director by school chancellor Beverly Davenport in a press conference this afternoon. A press conference that should have went without questions because Davenport and Fulmer provided next to no answers. If you don't believe me, watch for yourself.
https://www.facebook.com/VolsUpdate/videos/10155926099087460/
Now that you've caught up I'd like to take the opportunity to share another detail with you. Yesterday I was wondering what candidates with somewhat of a pedigree still remained that could somehow be brave (or crazy) enough to take this job. One of the names that kept popping up in my head was Washington State's Mike Leach. Leach has been successful at Texas Tech and Washington State. Anyone remember his Red Raider teams that could put up 50 points in the blink of an eye? Wouldn't that be fun to watch? A Mike Leach offense running rampid in the SEC. Then you consider Mike Leach's personality. The guy just doesn't care. He will say what's on his mind and he has the type of persona that could perhaps get Tennessee turned around and survive what has been a circus of a week Barnum and Bailey couldn't match. Maybe John Currie had a similar mindset when he met with Leach Thursday. But just when it seemed Currie had finally ended this scavenger hunt, he was called back to Knoxville Friday morning and is pretty much out of a job. It is only fitting that the first question asked to Davenport and Fulmer was what happened to the negotiations with Mike Leach. Davenport didn't even try to answer the question.
Currie has faced plenty of criticism and I'm not trying to absolve him. But I am really starting to think this circus extends much farther than just the athletic director. If John Currie hired Greg Schiano and then unhired him because "Vol Nation" got mad, then he doesn't need to be running an athletics department. However, I have read reports that say Currie's search has been sabotaged by people inside of Tennessee including Philip Fulmer. This information comes from ESPN's Brett McMurphy in a series of tweets. And just when I didn't think this coaching job couldn't get anymore unattractive.
The University of Tennessee needs to take control of its institution. As it seems now, the fans have way too much say. I understand Greg Schiano isn't the most likable guy but we can't ignore the fact that he made Rutgers relevant. That is an accomplishment you'll find on the resumes of very few individuals. It's something Jon Gruden hasn't done. And let's get real people. Jon Gruden is having way too much fun calling Monday Night Football to deal with Tennessee. Gruden's name being in the equation created delusional excitement and unrealistic expectations. As I said, the Vols didn't win a game in the SEC this year. I don't care if Bill Belichick comes down there. The Vols have dug a deep hole that will require some time to dig out of.
Let's get back to Fulmer. If the information from McMurphy is credible this is downright frightening. Philip Fulmer is a big name and he was a great coach. Yet I don't see how this makes the job more attractive. The only concrete answer we got from the press conference was that Fulmer isn't going to be the coach. That doesn't mean he won't meddle and have his fingerprints on the program. And what established head coach will want to deal with that? During Fulmer's statement the words "winning championships" were mentioned. Really? You don't even have a coach. You didn't win a conference game this year. You lost to Vanderbilt by 18 points. You haven't had a 10 win season since 2007. Why are we talking about winning championships?
Davenport and Fulmer referred to the Volunteer fans as the best in the country. Obviously they can't say their fan base is hot garbage but this is another example of flat-out foolishness. The fans are what got Tennessee into this mess. Installing Philip Fulmer looks like an attempt to appease the fans. It's the fan base that appears to be in control of Tennessee football. That creates unrealistic expectations. That will only create more fan outrage. This is a mess for the ages. Greg Schiano has got to be breathing a deep sigh of relief he didn't take this job. But then again he's preparing for a conference championship with Ohio State. Something Tennessee is nowhere near achieving.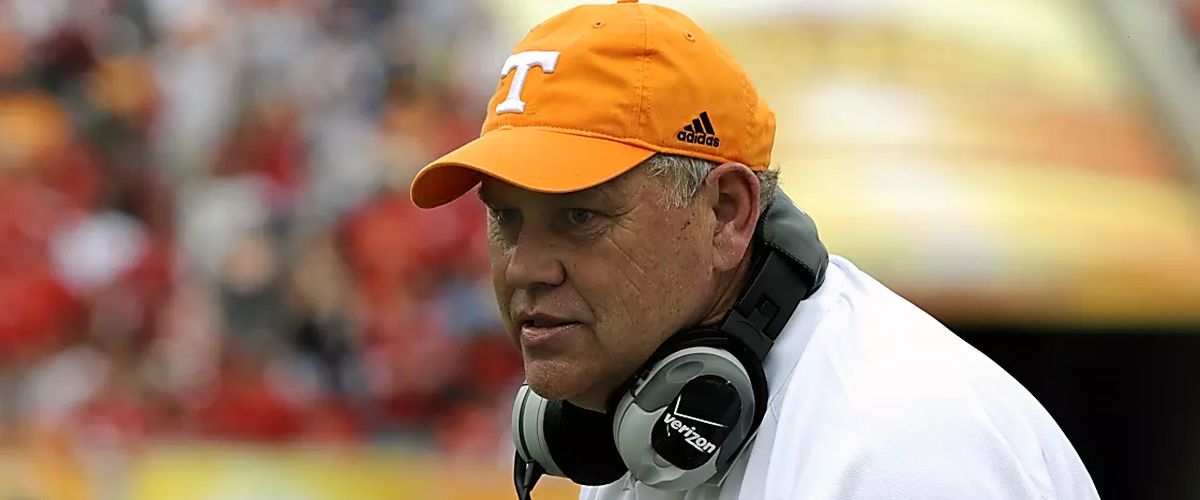 ---