NFL Draft Recap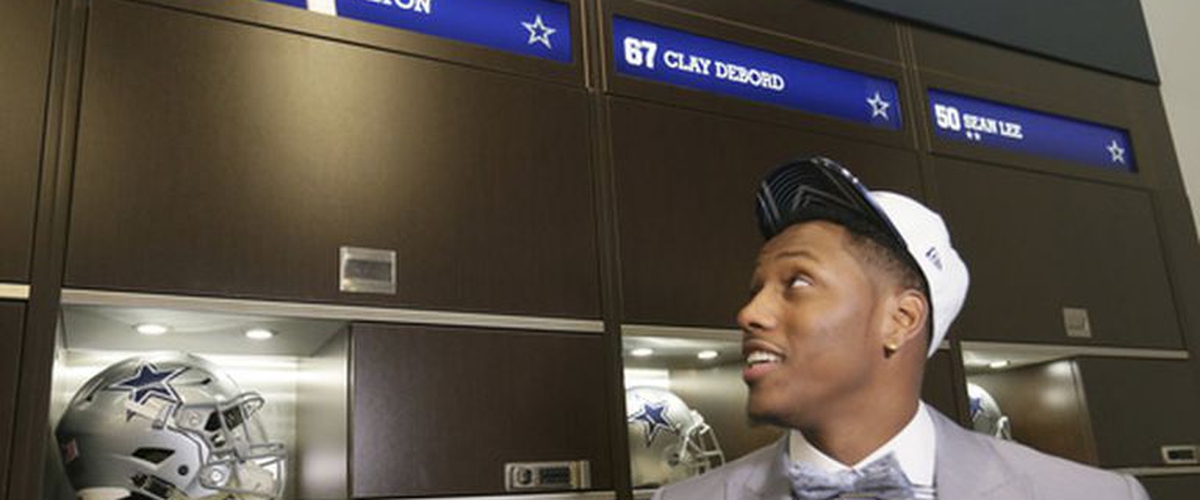 What a weekend...
So much happened in the first round of the draft on Thursday. I'm sure we all watched the opening picks of the draft, while scratching our heads at the Chicago Bears.
I want to take a minute to state the obvious on that trade: SF wasn't going to take Mitch Trubisky. They were shooting for Solomon Thomas the entire time, making John Lynch a very smart General Manager. To move up ONE spot, the Bears gave away:
Bears Receive: 2nd overall pick
Bears Give: 3rd overall pick, 3rd-rd pick (67), 4th-rd pick (111), 2018 3rd-rd pick
Not only did the Bears give up a ton of picks, but they didn't even get the best Quarterback in the draft. I mean, have you watched the tape on good ol' Mitch?
This extreme blunder of a decision would only be the highlight (or low-light) of the draft for a few moments. Then, the 2017 NFL Draft turned into the Cleveland Browns show. There were a ton of teams that had really good drafts, but I think it's important to shine light on the good things Cleveland did in this draft. They started the day with 2 first round picks, and ended the day with 3 first round picks.
Round 1 - 1: Myles Garrett, DE, Texas A&M
Round 1 - 25: Jabrill Peppers, S, Michigan
Round 1 - 29: David Njoku, TE, Miami
I expect Garrett and Peppers to contribute immediately, with Peppers being the heart of that Gregg Williams defense. This team was seriously upgraded with some solid, young talent. Cleveland may not be a playoff team yet, but look for them to finish at .500 or better in the 2017 season.
The Baltimore Ravens were another team that benefited from the draft. They really focused in on getting back to Raven football. Solid defense, mediocre offense with a Top 10 QB in Joe Flacco.
Noteable Picks:
Marlon Humphrey, CB, Alabama
Tyus Bowser, OLB, Houston
Tim Williams, OLB, Alabama
I would be wrong in not mentioning that other team in Texas, the Houston Texans. In the first round, they moved up to the number 12 spot in a trade with Cleveland. Houston gave up a lot to get there, sending their 2018 1st-rd pick to Cleveland, but they also snagged the best Quarterback in the draft - Deshaun Watson. This kid is going to be exactly what Houston needs under Bill O'Brien. He will contribute immediately, and hopefully he can find a way to get the ball to Deondre Hopkins. They followed that pick up with Zach Cunningham, an ILB from Vanderbilt. The very athletic linebacker will join an already solid defense, led by JJ Watt, as he lines up inside of that 3-4 defense.
Now that we've talked about the other team, we have to talk about America's team, the Dallas Cowboys. I promise not to Drew Pearson this post.
After the first round pick of Taco Charlton, I was concerned. I didn't feel that Taco brought enough to the table to be a first round pick. Don't get me wrong, Taco has fast hands and is quick through the gaps, but we had obvious glaring holes in the secondary. Jerry quickly made me feel better by taking Chidobe Awuzie, cornerback, in the second round.
That pick was a steal. Awuzie has everything he needs to be in the starting lineup against the Giants next season. He will be joined by Jourdan Lewis and Xavier Woods in the secondary. Marquez White was another corner drafted, but I feel like he still has a lot to prove before we're talking about his future in Dallas.
After seeing the first 5 picks, I felt a lot more comfortable with Taco being the first pick. Jerry, Stephen and Coach Garrett really focused on defense this draft, which was a sigh of relief for Cowboys Nation.
Other Noteable Picks Around the League:
Oakland Raiders - Gareon Conely, Obi Melifonwu
New Orleans Saints - Marshon Lattimore, Ryan Ramczyk
Pittsburgh Steelers - TJ Watt, JuJu Smith-Schuster
Tampa Bay Buccaneers - Justin Evans