"Romo, Doing Romo Things."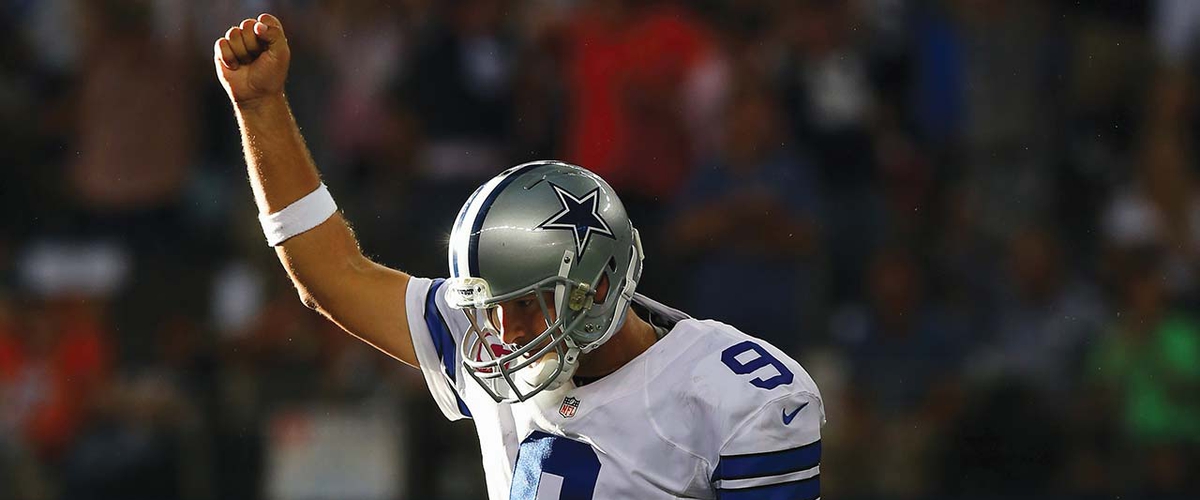 Photograph by Ronald Martinez
October 15, 2006 - I'm watching the Cowboys as they're stomping the Houston Texans. I don't remember the exact score, but I remember we were clearing dominating that game. Drew Bledsoe, Dallas' starting QB at the time, was just flowing. This was a big deal because Bledsoe was at the end of his career and was spotty, at best. With the Boys sitting comfortably in the lead, Bill Parcells made the decision to let some undrafted, unproven kid get a few snaps.
That "kid" was Tony Romo.
Romo hands the ball off, twice. On 3rd and 9, Tony get's his first shot to show off his arm. He drops back and let's it go. Sam Hurd, a rookie, is double covered down the sideline and the ball is headed his way...
This moment is a moment that Cowboys fans around the world would come to know and love. It's called "hope." For 10 years, Tony Romo brought hope back to Dallas. A team and fan base that stuck it out through 3-straight 5-11 seasons, Quincy Carter, and the entire Dave Campo regime. Our sorrows started way before that, though. See, there's another game that I remember very well... but it came 6 years earlier.
December 10, 2000 - I was 13 years old. Troy rolls right. LaVar Arrington follows. LaVar hits Troy. Troy hits the ground and the lights go out. With the lights went the career of Troy Aikman. A 3-time Superbowl champion and the outright leader of the Dallas Cowboys. The Cowboys would finish 4th in the East that year, with the first of those three 5-11 seasons.
I mean, let's be real. That was the last time, for 6 years, we would see a legitimate, franchise quarterback. From there, it was like someone torched the place. In 2001, we used the #53 pick to take Quincy Carter. While that pick has a story of it's own, it would be a short story at best. He would be one of 11 quarterbacks to start for the Boys in five years.
We, as fans, were lost.
In 2003, the Cowboys would hand the team over to Bill Parcells. Oh, and they would make one small free agent signing of an undrafted rookie -- Tony Romo. Truth is, we had failed at the QB position so much, I was starting to lose hope. Just to be clear, I was losing hope. I NEVER turned my back on my team.
On October 29, 2006, Tony would make his first start. The rest, as they say, is history. Romo would lead the Boys to a victory against Carolina. That moment was like someone turning a light on in your room while you're sleeping. You gradually start to open your eyes to see the rays of light beating down on you. You're annoyed, but somewhat intrigued as to what is happening.
Tony Romo made me crazy. He would throw interceptions at the most important times. Remember the Buffalo game in 2007? Romo threw 5 picks and WON the game. Romo got hurt -- a lot... or at least that's what the media wants you to believe.
Tony Romo did Romo things. Tony brought a team back to life with his explosive plays, his competitive drive and his leadership on the field. Romo set the example for behavior off the field too. This man, our quarterback, made us scratch our heads and jump out of our seats with excitement in the same game. Then there were times when Romo simply left us sitting in wonder while he played with broken ribs and a punctured lung.
The narrative around Romo will always be about his injuries, interceptions and 1 playoff victory. That same narrative will never discuss the Cowboys defense throughout his tenure. It will never discuss how Tony still won despite throwing forty times a game because we had no running back. It will never discuss the terrible play calling in the most important times of the game.
If we're talking about Tony Romo, as an individual, he is an elite quarterback that can STILL play the game at the highest level. He give his team a chance to win every time he straps up. Tony holds every quarterback record in Cowboys history. That means his name is on top of other names, like Aikman and Staubach.
The difference? They had teammates around them to carry some of the burden.
We all knew that Romo was coming to the end of his career. A year ago, I was sitting in a friend's apartment discussing life after our franchise QBs career was over. He's a Giants fan, so obviously my side of the conversation was way more important.
The thought of life after Romo was scary. Then, in the 2017 preseason, the "thought" of life after Romo became reality. Throughout the joys of the 2017 season, my fears were no longer life after Romo, but instead turned to seeing Romo in a different uniform.
Tony, I am grateful for every single moment that you were doing Romo things. Evading JJ Watt. Turning a bad snap - that went 30 yards in the wrong direction - into a first down. Throwing a fade to Dez on 4th down (that he caught), instead of dumping off to Beasley. The 4th quarter comebacks. The inspiration. The leadership.
Thank you, Tony Romo.
... Sam Hurd goes up and makes the catch. Tony Romo completes his first pass for a 33 yard first down on 3rd and 9.
His second pass -- touchdown to Terrell Owens.
Just Romo doing Romo things.
"Work hard, do things the right way, and things will go your way." -Tony Romo