USA defeats Puerto Rico 8-1 to capture their first ever World Baseball Classic Championship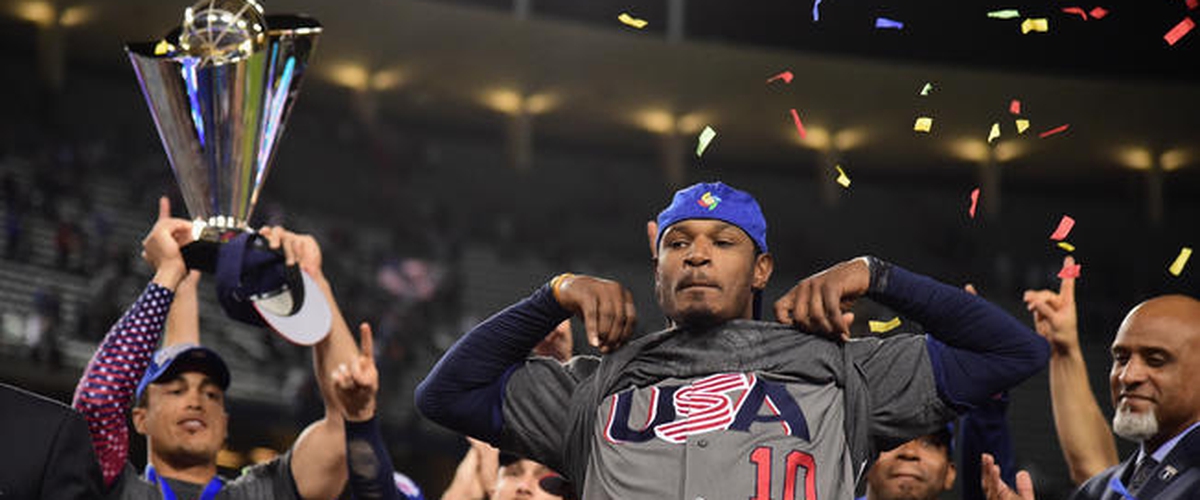 After a three week tournament that featured 16 different countries, it's the United States that comes out on top. Team USA defeated the once unbeaten Puerto Rico squad to win their first World Baseball Classic Championship since the tournament began in 2006. The United Sates was led by an almost dominate pitching performance from starter Marcus Stroman, who was named the tournaments MVP. Stroman was dazzling, nearly pitching a no-hitter until Puerto Rico
left fielder Angel Pagan broke it up with a double in the sixth inning. He gave up one hit through six strong innings, striking out three and getting a lethal Puerto Rico lineup to ground out 12 times without giving up a run.
Stroman had plenty of help behind 8 USA runs on 13 hits. It's ironic that the team that struggled to put runs up on the board throughout the tournament put up 8 runs in the Championship winning game. Second baseman Ian Kinsler got the scoring going in the top of the 3rd, hitting a two-run home run off Puerto Rico starter Seth Lugo to give USA an early 2-0 lead. Although Lugo was solid through 4 innings, striking out 8 USA hitters, it still wasn't enough to stop this lineup. Team USA put up two more runs in the 5th. Left fielder Christian Yelich hit an RBI single to right that scored Ian Kinsler, followed by an RBI infield single from Andrew McCutchen that allowed Yelich to score.
In the 7th, team USA put the game away. Shortstop Brandon Crawford continued his WBC success, hitting a two-run single to drive in Nolan Arenado and Eric Hosmer for two more USA runs.
After Three shutout innings from USA's bullpen, Manager Jim Leyland's USA team finally hoisted the WBC trophy. It was an emotional moment for the former World Series champion manager, who announced that this would be the last game he will manage when he was first announced as team USA's manager. Leyland is 16th on MLB's all time managers win list, and currently works for the Detroit Tigers as a special assistant.
Now, team USA will quickly return to their respective teams overnight. A team that spent three weeks chasing the tournaments crown will walk back into their teams clubhouses with gold medals and a newly found team bond. This title could be exactly what could get baseball fans to rally around the classic in 2021.