The Detroit Tigers Will Contend in 2017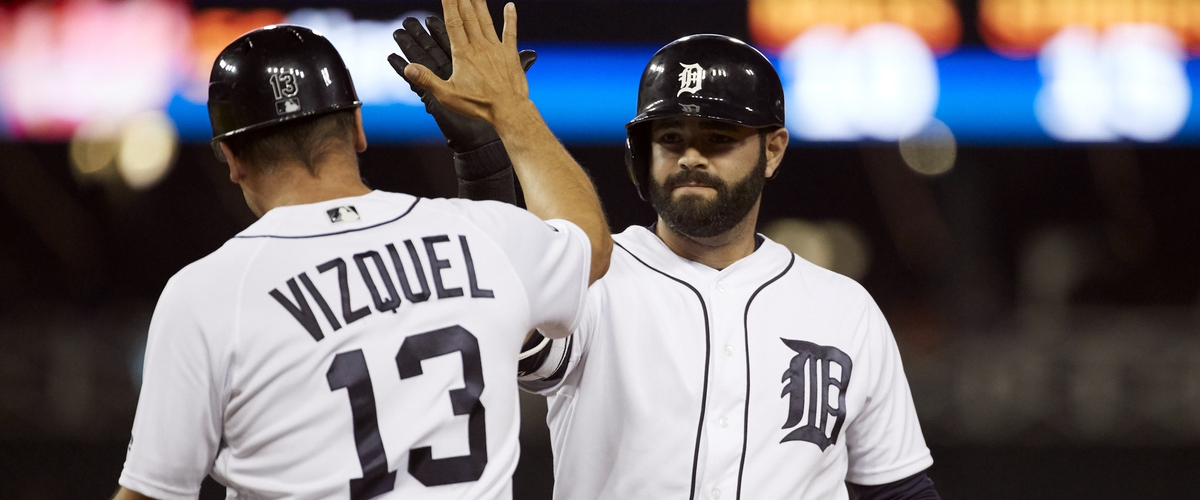 Back in February the over/unders for the 2017 MLB Season were announced. On February 10th the Atlantis Casino Resort gave the Detroit Tigers an over/under of 85.5. Just 11 days later Westgate Las Vegas SuperBook attached an over/under of 83.5 to the Detroit Tigers. With those two numbers, let's play it safe and call Detroit's over/under 84.5.
If you look back to 2013, the first season two wildcard teams made the playoffs; teams have needed an average of 89 wins to earn a wildcard berth. By these numbers alone, if Detroit were to finish with 84 wins in 2017, by Vegas odds, they would be 5.0 games back of earning a berth. I'm here to assert that, with recent play; the Detroit Tigers will be in the over and contend for a playoff berth this season.
Let's break it down….
On the offensive side of the ball, the Tigers lineup has been riddled with injuries from the get go. Slugger J.D. Martinez missed a total of 33 games to start the season. Over the last two seasons, Martinez has hit for a .292 average, while hitting 60 dingers and driving in 170 runs. Since being activated from the disabled list Martinez is hitting a .500 going 6-for-12 at the plate with 4 homeruns (one of which is a grand slam) while driving in eight. Martinez should continue to be a huge boost to the lineup; additionally he is in a contract year.
Second Baseman Ian Kinsler has been off to a slow start, batting just .233 and missed a number of games between May 5th and 9th. It's important to note Kinsler's track record shows he will be .270 or better hit. When you look back on his past five seasons the veteran second baseman has not batted below .275 and has averaged 174 hits a season.
With both Miguel Cabrera and Jose Iglesias hitting the DL this season the Tigers lost a total of 17 man games. Luckily for the Tigers, Triple-A Toledo call-ups John Hicks and Jim Adduci were impressive during their stints with the big club.
According to ESPN.com John Hicks batted .423/.444/.654 tallying 11 hits while scoring six runs and driving in 7 in just 7 games. Jim Adduci was able to spend a little more time with the Tigers before being sent to the DL on 5/12 for an oblique injury. During his time, Adduci hit .317/.391/.512 collecting six extra base hits and 7 RBI while scoring eight runs.
The Tigers have also seen an increase in power from the lineup. Justin Upton has already hit 8 round trippers to lead the team. Other hitters with some pop are James McCann with 7 homers and Alex Avila with 4 in limited play time. According to MLB.com statistics the Tigers are currently No. 6 in Runs scored (181) and No. 4 in walks (144) in the American League. The team has also shown some impressive power numbers clubbing 43 homers, 64 doubles and 9 triples.
The next area I want to focus on is the starting rotation. The Tigers are lucky to have a solid 1, 2, 3 punch in Justin Verlander, Michael Fulmer and Matt Boyd.
When you look at Verlander over the course of his last three starts, he's thrown 20.0 innings, allowing just 5 earned runs, while averaging a strikeout an inning. He's going 2-1 in those three starts with a 2.25 ERA. According to Fangraphs Verlander is averaging 94.9 MPH on his fastball which is the highest he's averaged since 2011 when he was at 95.0 MPH.
Michael Fulmer continues his dominance from his Rookie of the Year campaign in 2016. Fulmer is currently 4-1 on the season with an ERA of 2.54 in seven starts. The second year starter has thrown 46.0 innings and struck out 42 batters. The budding star as a WHIP of 1.00, allowing just 33 hits while walking 13. Fulmer has also held opposing batters to a .198 batting average. It is likely that Fulmer will find himself in the Cy Young discussion once again this season.
Lefty Matt Boyd has emerged as a solid No. 3 starter this season. If you eliminate is start from May 16th against the Baltimore Orioles, Boyd has ERA of 3.89 with a BAA of .255. On a more analytical note, Boyd has been less reliant on his fastball this season. According to Fangraphs Boyd has thrown his devastating changeup at a 24.5 clip. When you dive even deeper into it, Boyd has a 10 MPH difference between his fastball (91.3 MPH) and the changeup (81.1 MPH). The changeup has also been a strike 63% of the time he's thrown it.
The Tigers bullpen was a dumpster fire to begin the season. Francisco Rodriquez blew 4 of his first 11 save opportunities of the season, which was paired with an 8.49 ERA. Since K-Rod's demotion the bullpen has seemingly settled into their new roles. Alex Wilson is locking down the 7th inning, Shane Greene is the new 8th inning setup man and flame throwing Justin Wilson is now the closer and will hopefully remain in that position for seasons to come.
Justin Wilson has been stupid good in 2017, according to Fangraphs Wilson did not surrender a hit through his first 11 appearances (9.2 innings pitched). In fact, the flame thrower has only given up a total of 5 hits in 17.0 innings. Wilson has a microscopic ERA of 1.59 to go along with a WHIP of 0.53 and a BAA of .088. With Wilson installed as the closer it is the first time in a long time the Detroit Tigers have a closer with elite capabilities. Wilson has a fastball averaging 96.8 MPH with a 14.94 K/9.
While Alex Wilson is holding down the 7th innings of games, Blaine Hardy has become an exceptional situational lefty. Since his recall Hardy has posted a 2.45 ERA in 12 appearances. With the new success of the bullpen Shane Greene cannot be overlooked. Greene has earned 4 holds surrendered 3 earned runs in 17.2 innings. The setup man is also striking batters out at a 9.77 K/9 clip and inducing ground balls nearly 51% of the time. With the K rate and Ground Ball rate Greene has held opponents to a .215 batting average.
With the bullpen settled into their new roles, if the starting rotation can hand games over to the pen with a lead in the 6th or 7th Detroit Tigers fans can keep an easy feeling about themselves and trust the pen to close out games.
There are a few wild cards within the Tiger's organization that could play pivotal roles in helping the team contend for playoff berth in 2017; starting pitcher Daniel Norris, catcher James McCann and manager Brad Ausmus.
Starting Pitcher Daniel Norris has not taken a step forward or backward this season, however, he has shown flashes of brilliance at times. Norris seems to be learning how to use his breaking pitches. There have been times this season where Norris has used his breaking ball in predictable fastball counts, thus throwing hitters off balance. Of his seven starts this season three have been of the quality variety. If Norris can put it all together by the All Star Break the Tigers will have four starting pitchers the rest of Major Leagues can be envious of.
James McCann has been painful to watch at times this year. Through the first six games of the season, however, since then has gone 14-for-74 (.189) in 21 games since. The oddity in McCann's batting this year is the fact that of his 18 hits he has slugged 7 homeruns driving in 16 and scoring 11 runs. The one saving grace is with the Unicorn of Alex Avila playing the backup role, if McCann can pick it up at the plate the Tigers will have two outstanding defensive catchers who can provide some pop at the plate.
Finally, manager Brad Ausmus; one of the biggest knocks against him in his tenure as the Tigers manager is his decision making, however, it seems that he has finally realized what he has to do. With the demotion K-Rod and installation of Justin Wilson at closer Ausmus seems to have turned the page on bad decision making. With his improved decision making there are still some issues with Ausmus' managing style; he seems to be afraid to challenge close calls during games. There have been a number of times where I as a fan felt that Ausmus should have challenged calls made on the field and he chose not to. And finally, Ausmus has been overly loyal to specific players, similar to how Jim Leyland was loyal during his tenure in Detroit. In particular Ausmus has been loyal to Francisco Rodriguez, Anibal Sanchez and James McCann.
With the team seemingly on the up the Detroit Tigers have a chance to contend in a weak American League Central Division as well as for a wildcard berth. As it sits today the Tigers are 18-19 just 2.0 games behind the first place Minnesota Twins. I expect the Tigers to make some noise by the All Star break and to make a move to add players to make a push for the post season.