Detroit Lions look to fix mediocre run game for 2018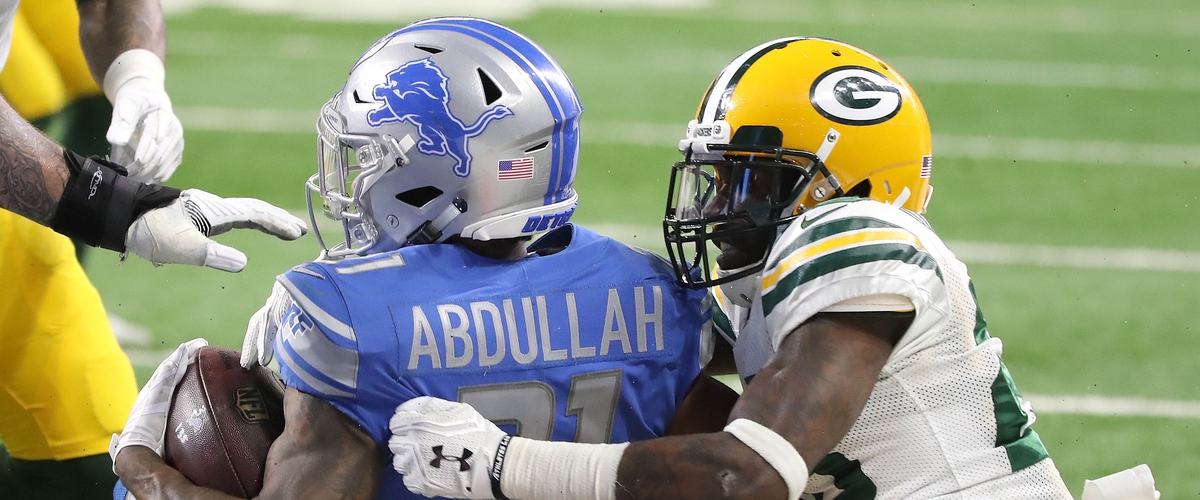 One of the most consistent things with the Detroit Lions over the past several seasons is how consistently absent their run game has been. They have long lacked the run support needed to give balance to a pass heavy offense and allow some pressure to fall off the shoulders of quarterback Matthew Stafford. They have not had a player rush for 100 yards in a game since Reggie Bush did it on Thanksgiving back in 2013 against the Green Bay Packers. Bush was also the last player to rush for 1,000 yards in a season as well, which he did in 2013 and before the that Kevin Jones eclipsed the 1,000 yard mark all the way back in 2004. This has been an issue for years and this year looks like the Lions have looked to address this longtime issue.
Entering training camp this season they have returning backs Ameer Abdullah, Zach Zenner, Theo Riddick, as well as Dwayne Washington. They acquired LeGarrette Blount during free agency and Kerryon Johnson with the 43rd overall pick in the 2018 draft. The lions have said they will most likely keep 5 backs on the season roster which would leave one back not making it. Newly acquired Blount and Johnson will be locks to make the roster as will Theo Riddick because of what he is able to do out of the backfield as a receiving threat. That leaves Washington, Abdullah, and Zenner as players that are on the fence and fighting to make the team.
What does each player on the fringe bring to the table?
Ameer Abdullah, Entering 4th season
Ameer has shown flashes and moments of being a potential number one running back but has also shown some inconsistency as well. Last season he rushed for 552 yards, 4TDs, and a lowly 3.3 yards per rush. Numbers which have decreased since his rookie season. Along with inconsistent play he has had some trouble staying healthy as he only played 16 games in his past two seasons and has yet to play a full season. He's on record saying he is unsure where he stands in the future of the Lions but is continuing to focus on getting better.
Zach Zenner, Entering 4th season
Zenner is an interesting player and has shown he can pick up yards after contact and is a total workhorse. He isn't your every down back but can certainly pick up extra yards in goal line situations and short yard downs. He has done in in his previous 3 seasons and continued to make the team for his hard work ethic and power running. In 2016 he had his best season rushing for 334 yard and 4 TDs along with 18 catches for 198 yards. He gives you effort, toughness, and a good locker room guy to build a strong locker room.
Dwayne Washington, Entering 3rd season
Washington is a little more interesting. He has experience in the running back slot as well as special teams. His numbers aren't what Abdullah has put up, nor Zenner, and has less experience. He is certainly on the outside looking in. He's an athletic body and can drive through contact much like Zenner and can catch out of the backfield as well. He's not a very good pass blocker for Stafford. He has shown flashes and could a be a diamond in the rough, who was a 7th rounder for Bob Quinn.
Lions fans are extremely excited to see what Kerryon Johnson can bring after a very successful stint with Auburn and Blount brings experience, toughness, goal line/short yardage ability, but also brings championship pedigree after winning Super Bowls with the Patriots and Eagles (Seems to win wherever he goes). Theo Riddick always dazzles fans with his exciting play catching the ball and is a threat against any team. I believe he is the best receiving running back in the entire NFL (yes even better than Le'Veon Bell).
I believe this is the year the Lions can finally have a respectable run game. They will not only have a 100 yard rusher in a game, but also a 1,000 yard rusher for the season. This will provide Matthew Stafford the run game he needs to push the lions back into the playoffs and finally get the ugly rushing statistics out of the players heads.
---